At Craftsman Concrete Floors, we've been polishing concrete floors in Austin since 1999. We offer a wide range of services for residential and commercial projects and service both new construction and renovation projects. If you're working on a project that would benefit from polished concrete floors, call us for a free consultation.
For more information about our proprietary concrete polishing process, continue reading this article.
Concrete Polishing Basics
Polishing concrete is a process with some similarities to sanding wood. When polishing concrete floors, we apply progressively finer sanding and polishing tools to the concrete slab until we achieve the desired texture and reflectivity. We may use more aggressive or less aggressive tooling depending on the project's goal.
Diamond tooling is attached to a planetary concrete floor grinder. These grinders are large, ranging in weight from 500 lbs to over 1500 lbs. This extreme weight is a requirement to effectively grind and polish concrete due to the concrete's high hardness.
Due to the large size of concrete grinders, properly scheduling your concrete polishing process is essential. The next section of this article will discuss timing for a new construction process.
When to schedule Concrete Polishing for a New Construction Project
Scheduling concrete polishing at the correct time is essential for achieving the best quality floor at the lowest price. At Craftsman Concrete, we install polished concrete floors in three mobilizations.
Mobilization #1. Initial grind and polish. We schedule this 5 to 28 days after the concrete foundation is poured and prior to framing. Polishing on an open slab is extremely helpful because we can use larger equipment. This helps to reduce costs and create a more attractive finished floor.
Mobilization #2. Covering with Protective Paper. Polished concrete floors must be protected while finishing trades work (drywall, texture, paint, trim, etc.), so we cover all the floors we install with protective paper. We schedule this phase after a roof and windows are installed but before drywall.
Mobilization #3. Final cleaning and buffing. We do a final clean and buff just before a home is ready to be occupied. This stage is designed to remove construction contaminants from the floor before a homeowner moves in. We schedule this stage immediately before the house is cleaned for move-in.
One question we frequently get is "why don't you install polished concrete floors at the end of a build?". While this may seem counterintuitive, concrete is much less susceptible to liquid spills and stains after we have polished it. For this reason, polishing as early as possible is the best technique for minimizing the risk of damage during construction.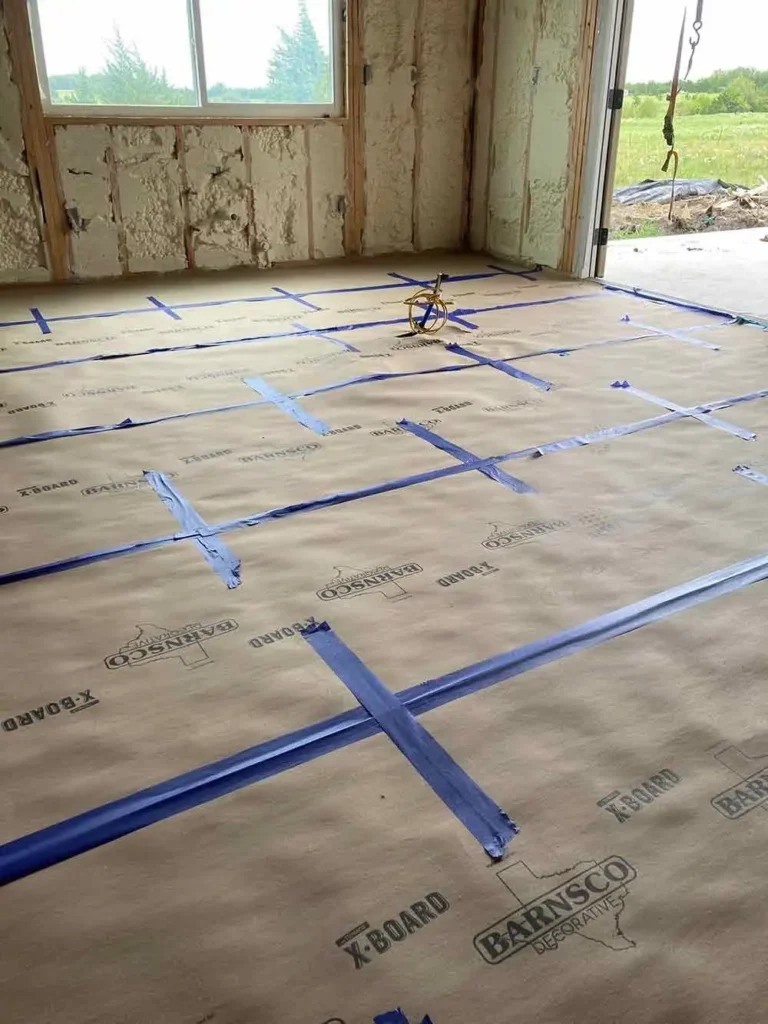 Mobilization #2. A polished concrete floor covered with protective paper.

DURABLE
Polished concrete floors withstand heavy foot traffic & tons of wear and tear. Unlike carpet, polished concrete floors can last 100 years or more!

SAFE & STYLISH
Polished concrete floors are modern and attractive much like hardwoods or tile. These floors are slip-resistant and safe for many environments.

LOW MAINTENANCE
Polished concrete floor surfaces require minimal maintenance. Upkeep requires simple sweeping & light mopping to remove surface debris.

ENERGY SAVING
Light reflective polished concrete floors reduce artificial lighting needs inside your establishment and concrete floors stay warmer in winter & cooler in summer lowering energy costs.

AFFORDABLE
Polishing the native concrete floor slab saves the property owner substantially over the life of the floor, especially when compared to replacing carpet or tile flooring over time.

ECO-FRIENDLY
Polished concrete floors require minimum materials and don't use harsh chemicals such as adhesives or other byproducts which can release VOCs & harmful gasses into the atmosphere.
Stain Resistance of Polished Concrete Floors
While the name 'polished concrete' indicates that the magic of these floors is due to the concrete polishing process, it's a penetrating liquid called a 'silicate densifier' that does the heavy lifting. These liquids aren't caustic and have no VOCs or smell, but they're the key to polished concrete floors' extreme durability and stain resistance.
Silicate densifiers are added between polishing steps (typically around 100 grit) and penetrate deeply into the concrete. They then react with loose minerals in the concrete, creating an extremely hard 'glass-like' molecule that fills the porosity of the concrete. This reaction significantly hardens the concrete and reduces its propensity for absorbing liquids by up to 95%. Liquids spilled on a properly densified floor will bead up like water on a freshly waxed car.
Design Choices For Concrete Polishing
Polished concrete is a modern-looking flooring solution with a very natural appearance. Because of this, most of the finished floor's appearance is a function of the quality of the initial concrete pour. However, we adjust three variables during the concrete polishing process to achieve different aesthetic outcomes.
Depth of Grind. The amount of material removed from the slab's surface before polishing greatly impacts the finished appearance of the floor. When there is no surface removal, the 'swirly' texture left by a power trowel is very apparent. When heavily ground, rocks within the concrete mix are exposed, creating a terrazzo-like appearance. Regardless of the depth of the grind, all polished concrete floors are functionally the same.
Level of Reflectivity. The specific concrete polishing tools used determine the level of reflectivity of the finished floor. Concrete flooring can be installed as matte, semi-gloss, high-gloss, or mirror reflectivity. However, it's important to remember that this is primarily an aesthetic decision. Matte floors and mirror gloss floors are both considered low-slip surfaces.
Color. Pigments may be added to concrete flooring to impact their finished color. Gray is the most common pigment, as concrete can often be more brown or tan than expected. It's important to remember that pigment may need to be periodically reapplied, so adding color to a floor theoretically reduces its durability. Further, we can only make a floor darker with dye, so color options may be limited depending on the color of your concrete. Even still, more than 95% of our customers decide not to use pigments, instead just using the natural color of their concrete slab.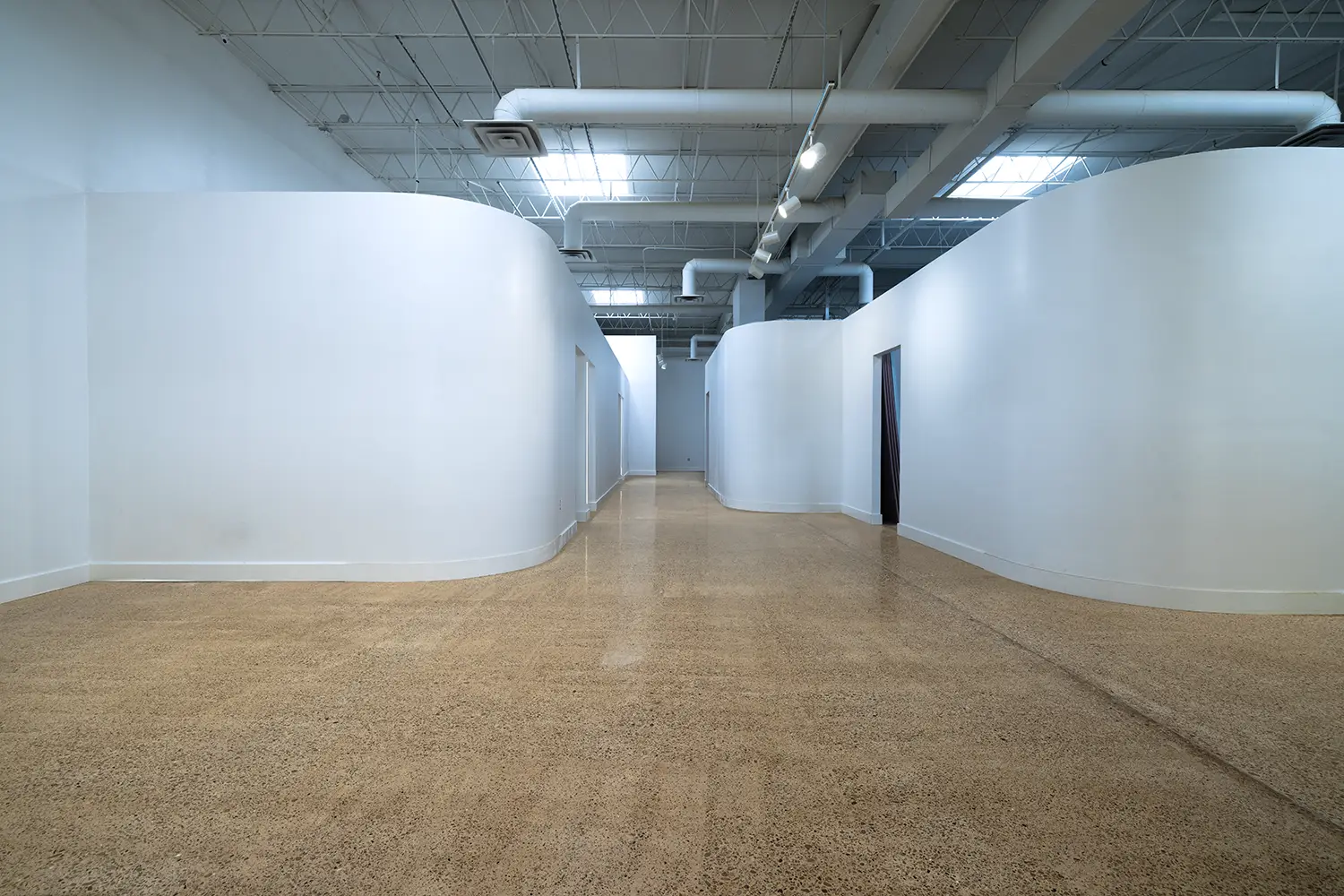 Heavily cut polished concrete floors show large aggregates, similar to terrazzo floors.
Environmental Impact of Polished Concrete Floors
Because polished concrete floors utilize the structural foundation of a building, not additional materials (like wood, tile, etc.), they're one of the most environmentally friendly flooring solutions available. Generous tax incentives and LEED project credits are given to large commercial construction projects utilizing polished concrete floors.
At Craftsman Concrete Floors, we're seriously committed to reducing the environmental impact of our flooring. We utilize only renewable energy in our facilities and use electric vehicles whenever possible. 
What Our Houston Customers Say About Our Polished Concrete Floors

Impeccable customer service!…The floor looks amazing!…I highly recommend "Craftsman Concrete floors"!

Craftsman's crew showed up on time, did everything they said they would, did it for a good price and the quality of the job was outstanding.

They were very professional, respectful, and did flawless work…. Do yourself a favor…Call Jeremy at Craftsman Concrete!
Craftsman Concrete Floors
At Craftsman Concrete Floors, we've been polishing concrete in Austin since 1999. If you're working on a project that would benefit from polished concrete floors, call us for a free consultation.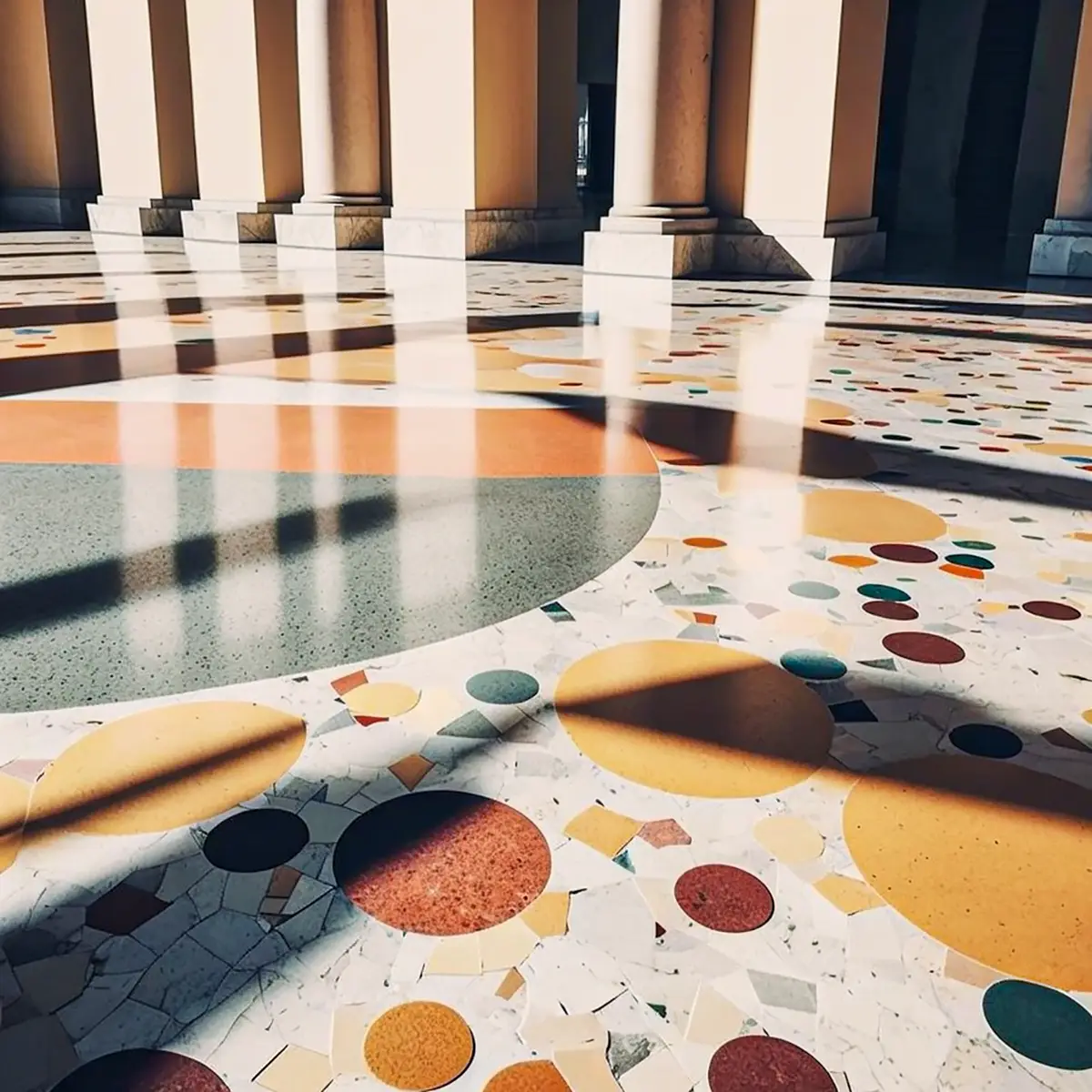 Discuss Ideas & Get a Quote
Discuss your requirements with an expert and get a no obligation estimate