San Antonio Polished Concrete Floors & Epoxy Coatings
Modern Concrete Floor Finishes to Elevate Your Style
Are you looking for the best Residential Polished Concrete Flooring contractors in San Antonio to provide high-quality concrete floor finishes for your property? Nobody outshines Craftsman Concrete Floors! We not only serve residential properties but also serve commercial areas with our Commercial Polished Concrete Flooring in San Antonio. We service residential and commercial properties, providing polished concrete and epoxy floors in San Antonio and surrounding areas.
Call for a free, no-obligation estimate for polished concrete floors, stained concrete, decorative concrete & concrete resurfacing in your San Antonio home, office, or commercial building.
Why Choose Polished Concrete Flooring in San Antonio, TX?
San Antonio residential & commercial concrete flooring contractors, Craftsman Concrete Floors, provides a variety of concrete floor finishes in San Antonio suitable for residential and commercial properties. Decorative, polished concrete floors are an increasingly popular flooring option chosen by builders, homeowners, and contractors for their safety, sustainability, and easy-to-maintain, high-gloss finishes.
Modern homeowners and builders in San Antonio choose eye-catching polished concrete floors and decorative epoxy coatings for their:

DURABLE
Polished concrete floors can last up to 100 years; even under harsh commercial environments with heavy foot traffic, they are damage-resistant.

ECO-FRIENDLY
Polished concrete floors consume minimum raw materials, which are applied to existing concrete floor slabs with no hazardous materials.

AFFORDABLE
Polished concrete floors cost less than most other flooring options, square foot prices vary, and lifetime savings are substantial.

SUSTAINABLE
Limestone, Earth's most abundant mineral, is the primary raw material used in the production of the cement foundation, which forms the base for polished concrete floors.

LOW MAINTENANCE
Professionally polished concrete floors require minimal maintenance to retain their shine and luster while resisting moisture and repelling stains, spills, dirt & dust.

SAFE & HEALTHY
Polished concrete floors in San Antonio are slip-resistant, free from VOCs and other toxins, and they do not require harsh chemicals for cleaning & maintaining shine.
Professional Concrete Polishing in San Antonio, Texas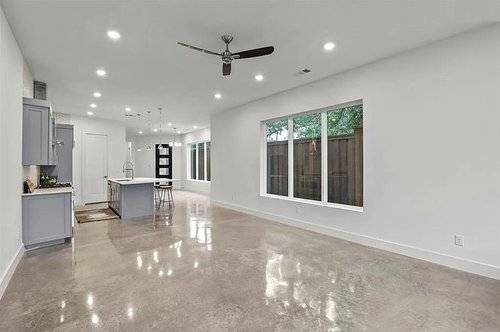 Craftsman Concrete Floors frequently works with clients ranging from full-service general contractors to first-time homebuyers. So whether you're engaging in your first barndominium build along the southern edge of Texas Hill Country, or you're renovating a Texas-sized retail establishment in San Antonio, luxury polished concrete floors are a durable, long-lasting & ecologically responsible flooring solution. They'll save you time and money while adding value to your commercial, industrial, or residential property in San Antonio.
Polished Concrete Floors in San Antonio can be installed for a FRACTION of the cost of tile, carpet, or hardwood flooring, and the installation requires virtually ZERO downtime!
San Antonio Polished Concrete Floors We Service
At Craftsman Concrete Floors, we work one-on-one with San Antonio home builders and homeowners to achieve the desired concrete flooring finish that's most appropriate for the particular property and the anticipated use. Few concrete flooring companies in San Antonio have the experience and expertise that our team brings to each and every project. Whether you're looking for whole-house concrete floor resurfacing or you're interested in testing the aesthetic appeal of a polished concrete floor in a man cave, shop, or garage, we've got you covered!
New Construction
Remodels & Renovations
Warehouses
Man Caves
Aviation Hangars
Factory Floors
Food Processing Facilities
Food & Beverage Services
Winery
Dog Kennels
Salon Floors
Basements
Machine Shops
Showroom Floors
Mechanic & Automotive Shops
Bars & Pubs
Polished concrete floors are not just for commercial and industrial environments! While great for everything from wineries to weight rooms, the highly experienced team at Craftsman Concrete Floors provides concrete flooring solutions in a variety of finishes and styles that are perfect for residential settings, too! From polished concrete to stained concrete, San Antonio property owners have many different polished concrete flooring finishes to choose from. Polished concrete floors meet the needs of today's most discerning property owners.
Why San Antonio Clients Love Us
These are just a few of the reviews that our clients have left from past San Antonio concrete floor polishing projects.

We get regular compliments on our floors. Others have even shared that they wish their polished concrete had a shine like ours. For us, they are both stylish and functional. Overall, we couldn't be happier with the outcome. We continue recommending Craftsman Concrete to neighbors, friends, and family.

Call them first! Jeremy and his team came in to fix a previous companies' less-than-desirable handiwork and did a beautiful job fixing the floors and making this exactly what we wanted. They are gorgeous and perfect for our barn build.

Jeremy and his crew were head and shoulders above the average subbie level in terms of quality, reliability and value for money….The end result was exactly what we wanted and Craftsman gained another satisfied customer. Thank you Jeremy, Tyler and the rest of the crew.
San Antonio Polished Concrete Flooring a Modern Upgrade to Your Home
Concrete has been a staple building material for centuries, but today's decorative concrete finishes are nothing like the dull, grey concrete surfaces that most of us think of when we hear the phrase, "concrete floors." Concrete is superior to virtually all other indoor flooring options you may consider for your property in San Antonio. Polished concrete floors are durable, hypoallergenic, easy to clean and maintain, and eco-friendly.
Polished concrete floors are exquisitely rendered for quality craftsmanship, longstanding durability, and prestige that no other modern flooring option can provide. Particularly suited to today's most popular architectural styles, polished concrete floors elevate your property's appearance and are a great alternative to carpeting or hardwoods.
Concrete Flooring Solutions for Builders, Architects, Designers, Contractors & Homeowners
Whether you're a boutique shop owner nestled somewhere along Main Street, a bar or pub owner on River Walk, or a builder involved in new construction or renovations in San Antonio, polished concrete floors provide affordable luxury while meeting the economically conscious demands of the modern property owner.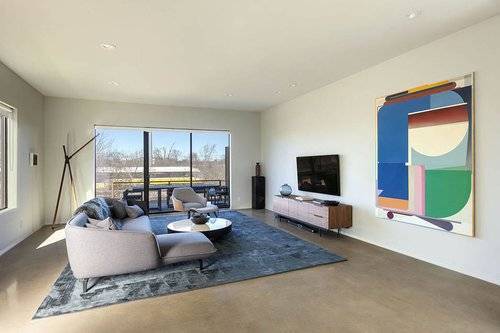 The Future of Building is Here "Green"
Polished Concrete Floors in San Antonio
San Antonio has experienced extensive growth over the past decade and as communities see unprecedented building taking place, society is becoming more conscious of sustainability. Today's modern property owners are more economically responsible than ever before and they're largely shifting toward more viable construction materials and green building options. But many general contractors, custom home builders and renovation specialists are just beginning to pick up on eco-friendly building solutions like polished concrete flooring for their San Antonio properties.

Concrete is made out of limestone, the Earth's most abundant mineral. Polished concrete floors have a very minimal footprint requiring only water-based hardeners for increased durability during the polishing process.

Many flooring solutions emit VOCs from adhesives, stains, varnishes, and flooring finishes. Polished concrete floors are VOC-free and they don't require any harsh chemicals during the cleaning or upkeep process.

Carpets are a breeding ground for mold, mildew, dust mites, and other allergens that can be troublesome for allergy sufferers. Polished concrete floors are hypoallergenic, free from dust mites & other allergens.

In environments where there are windows allowing natural light to enter and "Bounce" off polished concrete floors ambient lighting levels are increased as much as 30% over carpets and hardwood flooring.

Polished concrete floors, when installed in conjunction with direct solar radiation that enters through windows, have thermal mass which retains heat. This keeps them warmer in the winter, and when sunlight is blocked from the floors they stay cooler in the warm San Antonio summer.

Polished concrete floors can substantially reduce build costs starting immediately, when the builder doesn't require any floor covering for the concrete slab, and extending over the life of the building with no major recurring maintenance bills or replacement costs.

Traditional flooring contracts require all other contractors to "exit" the premises in order for flooring to be installed, and it can sometimes take weeks to complete! Polished concrete floors can be finished while other construction functions continue with virtually no downtime!

You probably don't think of a concrete floor as something that is clean or sanitary, but with proper maintenance these floors are much cleaner than tile, carpet, or hardwood surfaces because the floors are not as porous or prone to bacterial growth as other flooring options.
Contact us for all of your San Antonio Concrete Flooring Needs!
Call us: (210) 510-8900
Email us: info@craftsmanconcretefloors.com
Or click here to fill out our contact form and we'll get back to you!
We provide polished concrete floors in San Antonio and every major city within the area. Contacts us for all of your concrete polishing, staining, refurbishing & resurfacing needs in and around San Antonio, TX.
Craftsman Concrete Floors Serves Clients in Many Major San Antonio Neighborhoods
& Picturesque Small Towns Including:
Alamo Heights, Boerne, Bulverde, Brackenridge Park, Canyon Lake, Caslt Hills, Cibola, Fair Oaks Ranch, Garden Ridge, Gruene, Helotes, Hollywood Park, Monte Vista, New Braunfels, Olmos Park, River Walk, Schertz, Shavano Park, Spring Beach, Southtown and Terrell Hills.
Discuss Ideas & Get a Quote
Discuss your requirements with an expert and get a no obligation estimate