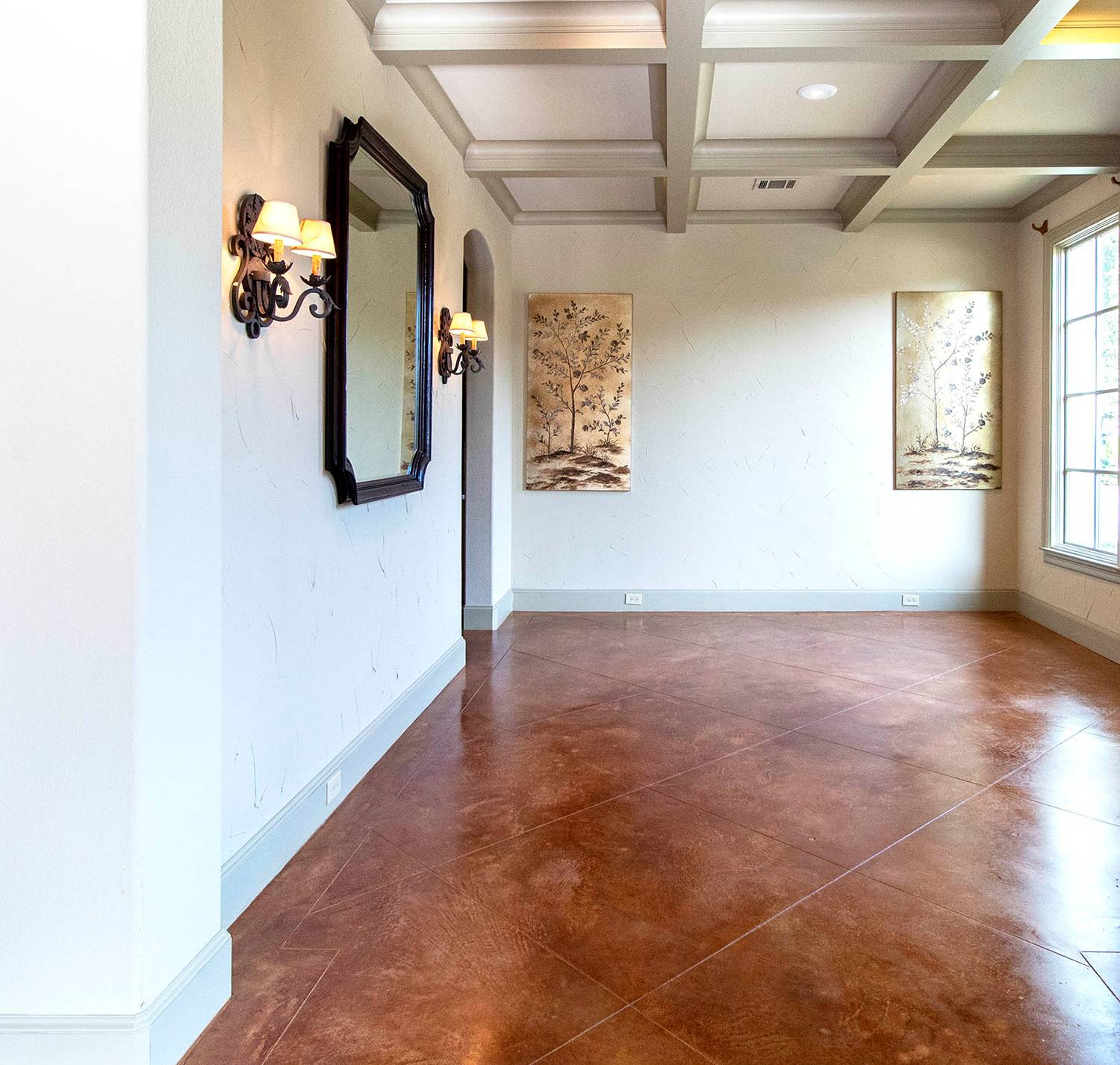 About Stained Concrete Floors
These floors are one of the most prevalent floor finishes in residential new construction and renovation. This is due to the wide variety of finishes that can be achieved with concrete pigments and stains. Stains can be applied to unpolished slabs for a low-cost natural look, or combined with polishing for a luxury high-gloss residential finish.







Frequently Asked Questions
Yes. Stains, like water-based stains or acid stains, penetrate into the concrete while paints sit on the surface of the concrete slab. Paint is easier to peel or chip over time, especially with high traffic. On the other hand, concrete stains give you the beautiful aesthetics of decorative concrete without compromising its durability.
When applying the stain by yourself, keep in mind that once the stain is applied, it's permanent—there's no going back. So make sure you use the right tools and techniques to get good results.
Both acid-based stain and water-based concrete stain can be applied to new concrete or existing concrete. Whether it's for your living room floor or your outdoor concrete, concrete stains can be used on every concrete surface.
A basic one-coat application of stain on concrete floors with minimal surface prep will cost $2-4 per square foot. Staining projects that need multiple colors and special design details can cost $15 per square foot or more.
After the concrete is fully cured (3-4 weeks old at least), the staining process would take about 2 days.
Step 1: Clean concrete and prepare for stain
Step 2: Appy the stain evenly
Step 3: Neutralize the stain and let it dry. Drying time varies from 12 to 24 hours.
Step 4: Apply the sealer to protect it for the long term.
Want to Learn More?
Click here to learn more about our company and the products and services we provide. As always, give us a call for a free consultation.
Looking for a Concrete Stain?
See our concrete stain color chart page for acid stain, water-based stain, and pigment-based concrete colors.
Stained Concrete Floor Articles
With over 2,000 projects completed, browse the Gallery to view some of our recent work and get inspired.