Professional Houston Polished Concrete Floors
In Houston, polished concrete floors are becoming increasingly popular due largely to their clean, sleek appearance, but also for their cost-effectiveness. As price-savvy property owners seek affordable flooring options that are durable, long-lasting, & aesthetically appealing, polished concrete floors continue to be the best solution!
With more than 11,000 restaurant establishments, over 800,000 residential households, and many other commercial spaces including retail stores and warehouses, the need for sustainable flooring options is certainly evident throughout Houston. Call Craftsman Concrete Floors to speak with a concrete flooring expert about the best concrete flooring solution for your space.
Benefits of Choosing Polished Concrete Floors in Houston, TX
Polished concrete floor benefits extend beyond basic needs to include a direct connection to survival and increased monitoring of one of the most durable, flexible flooring systems available for installation in residential, industrial, and commercial settings.
Contrary to myths surrounding polished concrete, Luxury Polished Concrete Floors in Houston are not slippery or expensive when compared to other flooring options such as carpet or tile. Houston concrete floors have the following benefits:

DURABLE
Polished concrete floors withstand heavy foot traffic & tons of wear and tear. Unlike carpet, polished concrete floors can last 100 years or more!

SAFE & STYLISH
Polished concrete floors are modern and attractive much like hardwoods or tile. These floors are slip-resistant and safe for many environments.

LOW MAINTENANCE
Polished concrete floor surfaces require minimal maintenance. Upkeep requires simple sweeping & light mopping to remove surface debris.

ENERGY SAVING
Light reflective polished concrete floors reduce artificial lighting needs inside your establishment and concrete floors stay warmer in winter & cooler in summer lowering energy costs.

AFFORDABLE
Polishing the native concrete floor slab saves the property owner substantially over the life of the floor, especially when compared to replacing carpet or tile flooring over time.

ECO-FRIENDLY
Polished concrete floors require minimum materials and don't use harsh chemicals such as adhesives or other byproducts which can release VOCs & harmful gasses into the atmosphere.
Professional Concrete Floor Polishing in Houston Texas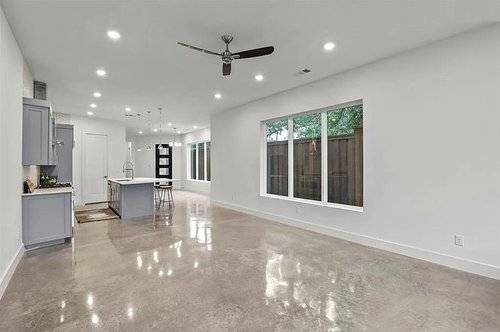 The strength, low maintenance, and anticipated long lifespan of your polished concrete flooring is likely to add value to your space should you decide to sell a property that has polished concrete floors. Houston concrete floors are particularly suitable in properties that are up for sale due to their flexibility. Concrete can easily be covered in carpet, tile, linolium or hardwoods. And, since they're a sustainable flooring choice, they can withstand the test of time, lasting 100 years or more with minimal maintenance.
THE DIFFERENCE IS IN THE DETAILS
Craftsman Concrete Floors in Houston, TX has a passion for perfection & we can't wait to give you the floor of your dreams!
What Types of Concrete Flooring in Houston can Craftsman Concrete Floors Resurface?
Polished concrete floors in Houston are versatile and attractive. They are ideal for many different environments including residential homes and offices, as well as commercial establishments and businesses. For property owners in Houston, Residential Polished Concrete Flooring are available in various styles & sheens as well as stained concrete. Houston property owners are particularly satisfied with the level of customization available when choosing concrete flooring finishes and, all polished concrete floors are durable, modern, and easy to maintain making them suitable for a variety of applications.
RESIDENTIAL POLISHED CONCRETE FLOORS IN HOUSTON
Residential polished concrete floors in Houston have amazing flexibility and craftsmanship. In fact, many homeowners are happy to know that residential polished concrete & stained concrete flooring is a safe, aesthetically appealing concrete flooring option which is ideal for a variety of uses throughout the home including:
New Construction
Kitchens
Bathrooms
Remodels & Renovations
Man Caves
Basements
Living Areas
It is important to note that floors which are not recently poured may require professional concrete grinding. Houston expert concrete flooring specialists, Craftsman Concrete Floors, can explain the concrete grinding process that may be required if your floors have aged. Contact us to learn more.
COMMERCIAL POLISHED CONCRETE FLOORS IN HOUSTON
Polished concrete flooring is used in many major industries for its safety, durability, and cleanliness. From hospitals to hotels, restaurants and bars, to commercial food processing facilities, commercial polished concrete floors in Houston are the chosen flooring option for many commercial & industry applications include:
Food & Beverage Services
Winery
Dog Kennels
Salon Floors
Machine Shops
Showroom Floors
Aviation Hangars
Factory Floors
Bars & Pubs
What Our Houston Customers Say About Our Polished Concrete Floors

Impeccable customer service!…The floor looks amazing!…I highly recommend "Craftsman Concrete floors"!

Craftsman's crew showed up on time, did everything they said they would, did it for a good price and the quality of the job was outstanding.

They were very professional, respectful, and did flawless work…. Do yourself a favor…Call Jeremy at Craftsman Concrete!
Houston Polished Concrete Flooring
FREQUENTLY ASKED QUESTIONS
ARE POLISHED CONCRETE FLOORS SLIPPERY?
Polished concrete floors are generally not slippery unless they are wet. Applying anti-slip coatings or grit-containing conditioners to polished concrete floors will improve slip resistance.
ARE POLISHED CONCRETE FLOORS COLD, WET OR DAMP?
A common misconception is that polished concrete floors are going to make your house, or your feet, feel cold and damp – but that couldn't be more wrong! When proper consideration is taken, polished concrete flooring maximizes the amount of sunlight entering your space during winter allowing polished concrete floors to radiate heat keeping your home warmer in the winter and cooler in the summer.
Polished concrete floors will not feel damp unless the original concrete slab is not properly installed. Current building codes require steps to be taken to improve moisture barriers under concrete blocking moisture migration
ARE POLISHED CONCRETE FLOORS LOUD?
Like wood and tile, polished concrete floors can produce a sort of echo effect, especially in larger, more open environments. To reduce echo, area rugs, curtains, wall fabrics, pillows, and of course furniture can be installed in the space. These sound-absorbing materials are going to minimize any echo to create a more comfortable space.
ARE POLISHED CONCRETE FLOORS 100% MAINTENANCE FREE?
Polished concrete flooring is incredibly easy to maintain and requires substantially less maintenance than other flooring surfaces such as carpets, tiles, or hardwoods. Although it's not 100% maintenance-free, the overall maintenance requirements for your polished concrete flooring will depend on the total amount of foot traffic in your space. Residential concrete floors naturally require less maintenance than commercial flooring solutions.
Who Needs Polished Concrete Floors?
Our exclusive polished concrete floor finishes are ideal for many Houston property owners including:
Homeowners
Luxury Home Builders
General Contractors
Architects
Designers
Industrial & Commercial Property Owners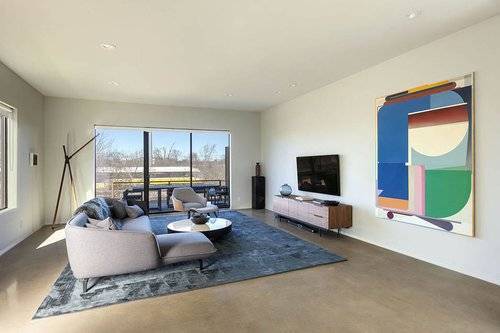 Economically Responsible Property Owners Choose
Polished Concrete Floors in Houston, TX
Houston polished concrete floors are the chosen option throughout the Theater District, in local museums downtown, and inside many local restaurants, hospitals, schools, and homes. Economically responsible property owners choose polished concrete not only for their scratch-resistance, longevity, and modern, aesthetic appearance but also because polished concrete is one of the greenest flooring solutions available to today's builders.
When compared to other flooring options, polished concrete floors in Houston, Texas are safer, healthier, and more economically responsible than carpets, tiles, linoleum, and hardwoods. Consider the following green benefits of polished concrete flooring:

Concrete is a necessary element used in the build of most buildings. The subsequent concrete polishing process requires no harmful chemicals or harsh products making this flooring option minimally invasive to the environment

Carpets, and many wood floors particularly, use various adhesives, stains and varnishes which contain VOCs that emit harmful gases and toxins into the environment whereas polished concrete floors do not.

Dust, mold and other allergens build up in many flooring surfaces, especially carpet. This can be a nightmare for allergy sufferers whereas polished concrete floors stay clean & allergen-free with basic cleaning.

Polished concrete flooring surfaces are not porous like wood, linoleum, and tile grouts. These surfaces can foster bacterial growth that simply isn't possible on polished concrete floors which lack the porous surface.
Experts in Concrete Floor Polishing in Houston Texas
Call us: (281) 928-0566
Email us: info@craftsmanconcretefloors.com
Or click here to fill out our contact form and we'll get back to you!
Even today's most discerning buyers love our polished concrete floors. Houston property owners will be happy to know we provide professional concrete polishing, refurbishing & resurfacing in and around Space City.
Craftsman Concrete Floors Serves Clients in Many Major Houston Neighborhoods Including:
Downtown Houston, Houston Heights, the Museum District, Kingwood, the Skyline District, Denver Harbor, Port Houston, Pasadena, Pearland, Sugar Land, League City, Conroe, Baytown, Missouri City, the Woodlands, the Katy Area, Baytown, Friendswood, Fort Bend, Spring, Chinatown, River Oaks, Almeda, Montrose, Uptown, Rice Village, Memorial City, Greater Third Ward, Theater District, Southbelt, Ellington, St. George Pl., Greater Heights, South Acres, Crestmont Park, Central Northwest & many more!
Discuss Ideas & Get a Quote
Discuss your requirements with an expert and get a no obligation estimate