Terrazzo Installation in Greeley
Welcome to the vibrant city of Greeley, Colorado, where homeowners and businesses alike seek flooring options that effortlessly combine beauty and durability. Terrazzo flooring has emerged as a timeless and captivating choice, adding elegance to Greeley spaces.
In this article, we will delve into the allure of terrazzo, explore its limitless design possibilities, and provide valuable insights into maintaining and caring for your terrazzo floors. Discover how Craftsman Concrete, your trusted terrazzo flooring partner, can elevate your Greeley space with exceptional services.
Why Choose Craftsman Concrete Floors?
At Craftsman Concrete Floors in Greeley, Co, we specialize in luxury residential and commercial terrazzo installations. With nearly 25 years of experience installing decorative concrete overlays and terrazzo, we're the preferred installer of countless luxury designers and builders.
Our in-house design team is available at no cost. We employ well-known veterans of the decorative concrete industry, many with decades of experience. Proudly, all our employees are full-time W-2 employees receiving a living wage. At Craftsman Concrete Floors, we never subcontract jobs.
No Square Footage Minimums
All in-house, W-2 labor
Servicing Colorado since 1999
Craftsman Concrete, Your Terrazzo Partner in Greeley
Craftsman Concrete is the trusted provider of superior terrazzo flooring services in Greeley. With our unwavering commitment to craftsmanship and customer satisfaction, we bring your design visions to life. Our skilled artisans combine high-quality materials, precise installation techniques, and a keen eye for design aesthetics to create breathtaking terrazzo masterpieces that enhance the ambiance and value of your Greeley space. Contact us for all your terrazzo services in The Garden Spot of the West.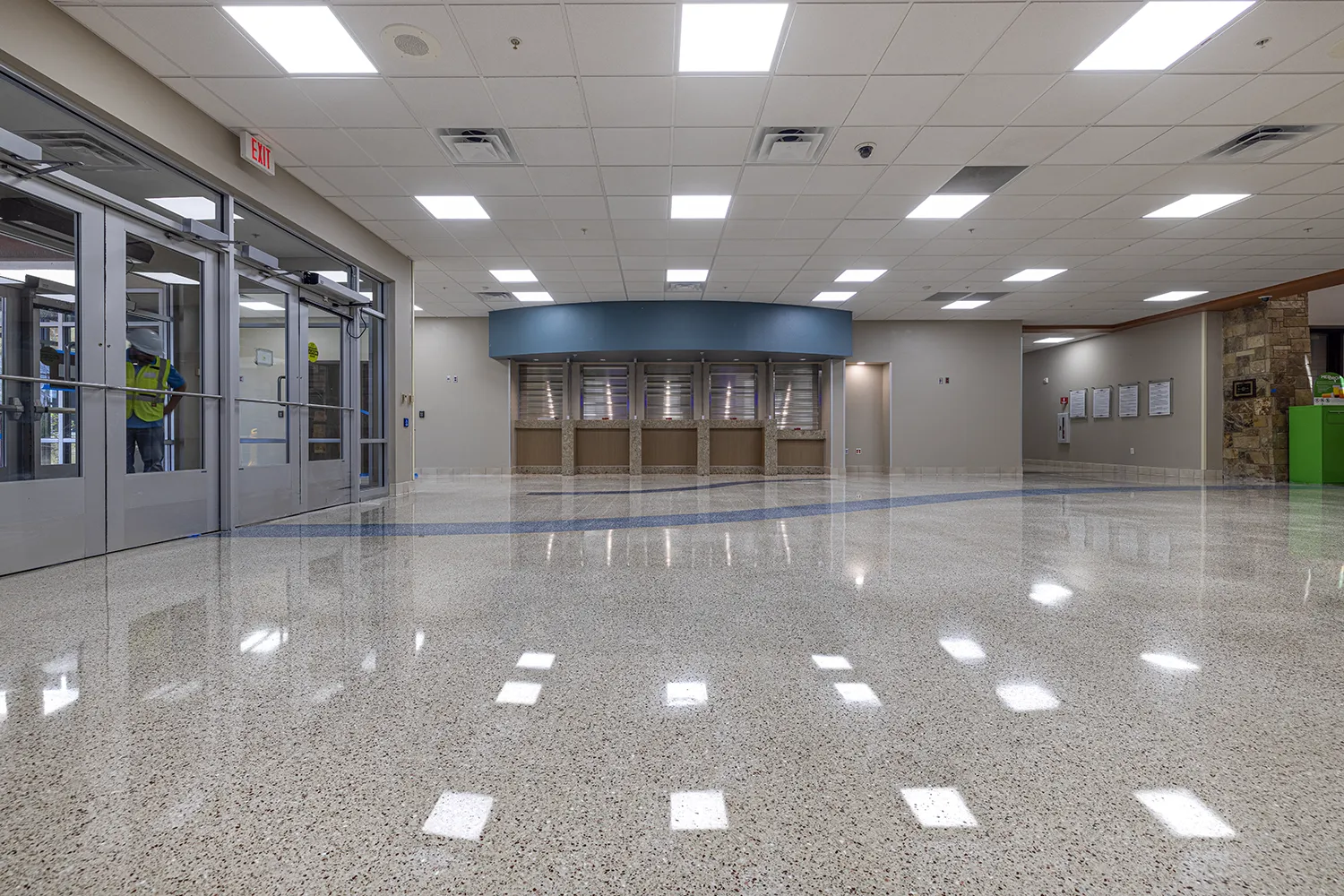 Want to Learn More About Terrazzo Flooring?
We're happy to provide a free terrazzo estimate. A Concrete Floor Specialist will get in touch with you within 1 business day.
Why choose craftsman Terrazzo Floors?
What is Terrazzo?
Terrazzo flooring is a composite material that combines aggregates such as marble, quartz, granite, glass, or other materials with a binder, typically epoxy or cement. This unique combination creates a visually stunning, durable, and long-lasting surface that exudes timeless charm and sophistication.
Terrazzo's Beauty in Greeley
Terrazzo flooring is renowned for its exquisite beauty and unparalleled durability. By skillfully blending high-quality aggregates like marble, quartz, and glass with a binder, terrazzo creates a seamless and visually striking surface that transforms any Greeley space into a genuine work of art. With its versatility and timeless appeal, terrazzo becomes the perfect choice for homeowners and businesses in Greeley, seeking to make a lasting impression.
Elevate Your Greeley Space with Terrazzo Designs
Terrazzo offers limitless design possibilities, allowing you to customize your Greeley space to reflect your unique style and vision. Whether you prefer a sleek and modern aesthetic or intricate patterns and bold color combinations, terrazzo can bring your design dreams to life. From entryways to kitchens, bathrooms to living rooms, terrazzo adds a touch of elegance and sophistication to every corner of your Greeley space.
Maintaining the Timeless Appeal of Terrazzo Floors
Terrazzo floors not only captivate with their beauty but are also relatively easy to maintain. Regular care ensures their longevity and preserves their natural shine. To clean terrazzo floors in Greeley, start by sweeping or dust mopping to remove loose dirt and debris. For routine cleaning, use a pH-neutral cleaner mixed with warm water and gently mop the floor. Avoid harsh chemicals and abrasive cleaners that can damage the surface. Promptly clean up spills to prevent staining, and consider using mats or rugs in high-traffic areas for added protection.
Terrazzo Floor Polishing and Maintenance
Over time, terrazzo floors may benefit from professional polishing to restore their luster and shine. The frequency of polishing depends on factors such as foot traffic and wear. We recommend terrazzo floors in Greeley should be polished every 3 to 5 years to maintain their glossy appearance and keep them looking their best. Craftsman Concrete specializes in terrazzo floor maintenance services in Greeley, ensuring your floors receive the expert care they deserve.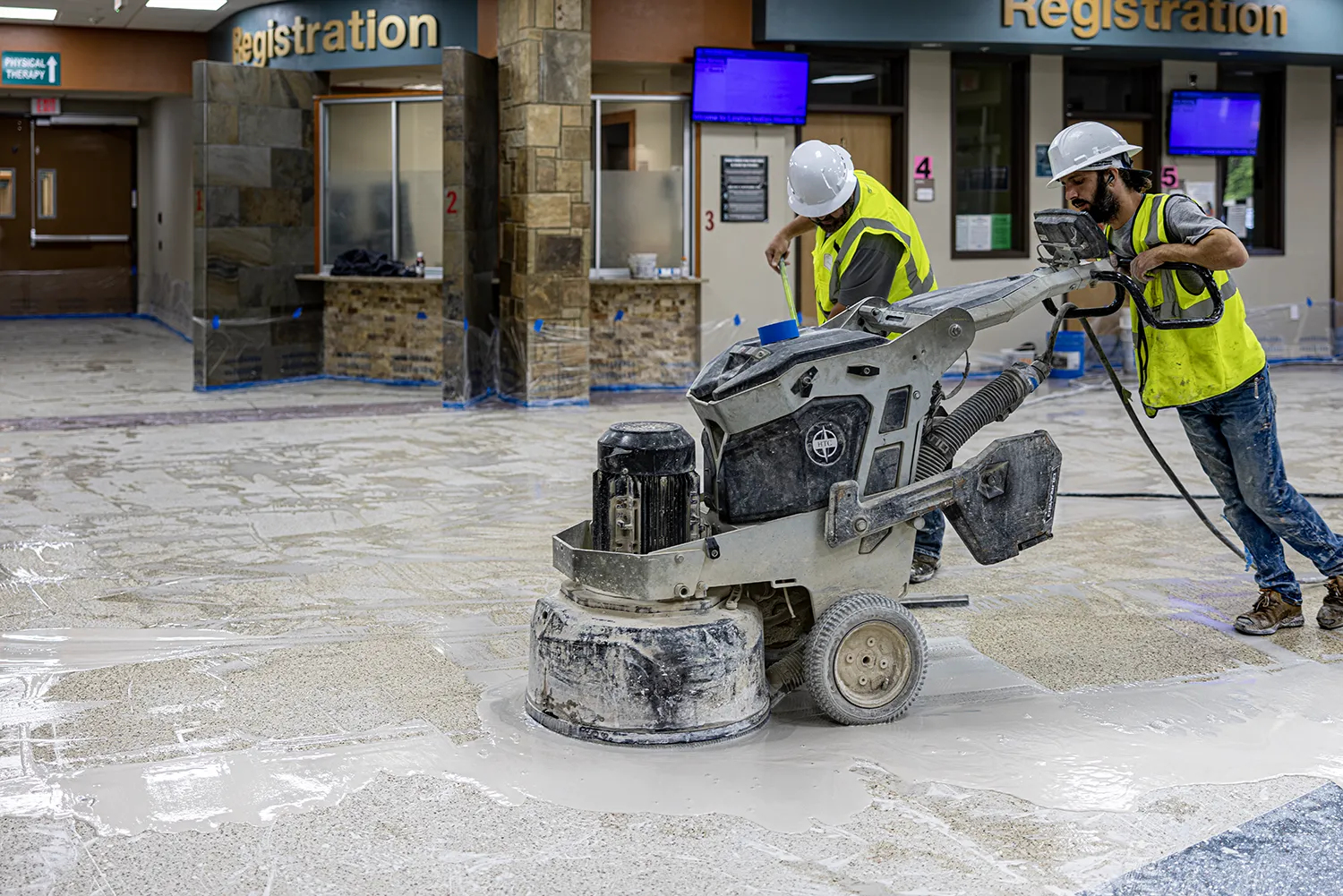 Locations We Service
Texas
Dallas, Austin, Houston, McKinney, Waco, San Antonio, El Paso, Fort Worth, Arlington, Corpus Christi, Plano, and Lubbock.
Colorado
Centennial, Colorado Springs, Aurora, Arvada, Boulder, Denver, Fort Collins, Lakewood, Highlands Ranch, Greeley, Longmont, Pueblo, Thornton, Westminster.
Frequently Asked Questions about Terrazzo Floors
While terrazzo floors are incredibly durable, they require a specific maintenance protocol. At Craftsman Concrete Floors, we provide customized terrazzo maintenance systems to accommodate all types of terrazzo installations.
Most modern terrazzo floors are installed between 1/4″ and 1/2″ in thickness.