Epoxy vs. Polished Concrete Garage Floor?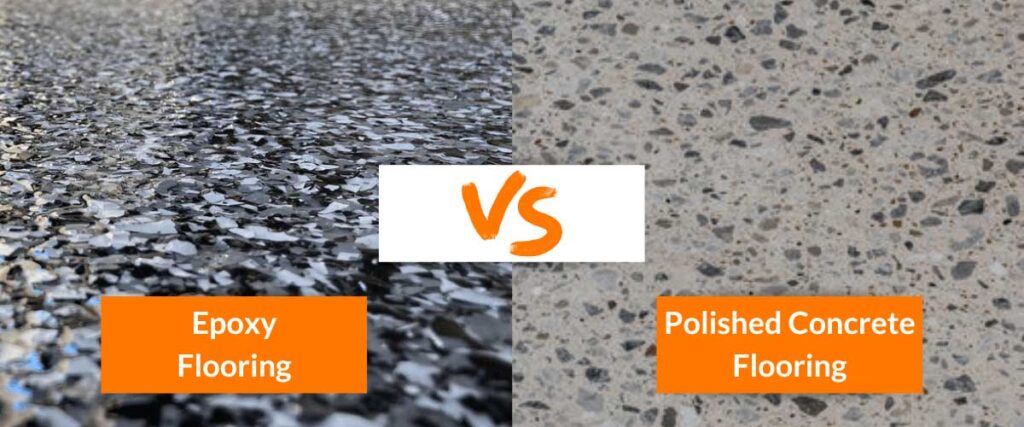 When you're trying to decide between polished concrete and epoxy for your garage floors it pays to understand the primary differences between the strength and longevity of both flooring options as well as the price comparisons so that you can make an informed decision on what's best for your garage floor needs.
JULY 2022
The decision between polished concrete vs epoxy floors for a garage or residential property generally comes down to how the area will be used and how much the property owner wants to invest (or what's within the flooring budget and available to spend). Certainly a polished concrete garage floor has benefits over epoxy flooring applications, but for many homeowners, use cases largely dictate the flooring choice that's right for the consumer.
Top Reasons to Choose Polished Concrete for Garage Floors
If potential cost savings have you leaning more toward polished concrete floors for your garage a look at how you intend to use the garage is the next step in deciding between epoxy flooring vs polished concrete. in a garage that will be subject to light traffic and minimal use that does not include auto repairs or the parking of older model vehicles, lawn equipment or other machinery that may leak gas, oils or other chemicals, you might be able to safely choose polished concrete floors.
In fact, there are several reasons to go with a polished concrete garage floor vs epoxy finishes:
REASON 1: NEW CONSTRUCTION
Polished concrete is generally only suitable for residential garages in new construction projects. In renovation projects, previously untreated garage floors are often already oil-stained or otherwise damaged: making them unpolishable. Therefore, for renovation garage floor applications, when choosing between polished concrete vs. epoxy, we recommend a flake-epoxy garage floor system.
If you're installing a polished concrete garage floor in your new residential construction, your builder or general contractor should plan for this installation ahead of time. Protecting the concrete slab is essential to achieve a superior polished concrete floor finish. It's often best to install the polished concrete floor as early as possible in the project, and since concrete polishing can take place while other contractors continue working within the home, polished concrete probably more convenient than you realize. Once the concrete polishing is complete, your floor can easily be covered with protective paper until your house is move-in ready.
REASON 2: YOU DON'T WORK ON CARS
While polished concrete floors can be resistant to oils and other spills, they can not stand up to repeated exposures to brake fluid or gear oil. If you're a hobbyist mechanic, there's no better garage floor system than a flake epoxy floor. Even fluid spills that sit on a flake epoxy floor for days will not discolor or damage a luxury flake epoxy floor.
REASON 3: YOUR GARAGE IS A LIVING SPACE
We have plenty of customers who use their garage to park cars and as a space to work out, entertain, or even as an office. If your garage is truly an extension of your house, you may prefer the look and feel of a polished concrete floor to a flake epoxy system.
There are many benefits to polished concrete floors, including that their high level of reflectivity. This reflectivity will better showcase your car collection while making your garage feel more open and natural.
REASON 4: YOUR CARS ARE NEW AND WELL MAINTAINED
As discussed above, the main issue with installing polished concrete floors in a residential garage is that exposure to vehicle fluids such as motor oil will damage your floor.
If you own new cars or cars that are unlikely to leak fluids, a polished concrete floor can be a modern-looking, attractive installation for your new construction.
REASON 5: ENVIRONMENTALLY FRIENDLY
Unlike an epoxy floor coating, there are no petroleum-based products in a polished concrete floor. For this reason, polished concrete is a growing trend in residential construction. Polished concrete is the most green flooring install available. If environmental consciousness is built into your new construction project, polished concrete is the ideal solution.
Top Reasons to Choose Expoxy Flooring for a Garage
The decision between epoxy vs polished concrete floors for your garage can depend on what you'll use your garage for specifically. If you're a mechanic, have older model cars, or anticipate heavy use of hazardous chemicals inside your garage where spills, leaks, or heavy traffic and wear are likely, flake epoxy flooring for your garage is potentially a better option.
Residential property and business owners should consider epoxy garage floor coatings for heavy use where there is greater potential for wear and tear caused by machinery or contact with oils, gas, or other potentially hazardous chemicals. Flake epoxy creates a chemically resistant surface protecting the concrete from exposure whereas polished concrete would not hold up as well under these types of conditions.
There are several additional reasons to choose epoxy over polished concrete floors for your garage:
Need More Information About Epoxy Garage Floors?
Our Dallas epoxy garage floors page has articles, resources, and galleries to teach you about the products we install. As always, give us a call for a free consultation.