How to Cover Polished Concrete Floors During Construction
When polished, stained, or sealed concrete floors are installed in new residential construction, they're most frequently installed as one of the first trades on a project. This timing ensures the best-looking and most durable installation at the lowest possible price.
However, this also leaves the finished floor exposed to potential damage and contamination throughout the remainder of the construction project. For this reason, properly covering finished concrete floors is essential.
PRO-TIPS FOR POLISHED CONCRETE FLOOR PROTECTION
Never cover a slab that hasn't cured for at least 28 days.
If the floors were polished before framing, wait until the house is dried in to cover the floor. During the framing and roofing process, use a magnetic roller to dispose of any nails or other ferric metal that may be on the polished slab. Rust can stain a decorative concrete slab.
Always cover the floor with a product durable enough to last through the entire construction process. Ram Board is the most common brand-name product, although there are many similar products sold at specialty construction stores. Materials such as painter's paper generally lack the durability to survive an entire home construction, especially in high traffic areas.
Always tape the floor covering to itself and to base-plate, never to the floor itself. When left for any period of time, tape can leave adhesive on the surface of the floor, requiring costly repair. This is the most common way to incorrectly install a floor covering.
Be especially cautious with purple PVC primer, and pipe thread cutting oil on the slab. When spilled, these liquids can find their way below protective floors coverings, staining the concrete if not cleaned up.
Never use plastic to cover a polished concrete floor. Newly poured concrete slabs have high moisture content and plastic coverings can disrupt the curing process. For the same reason, materials such as plywood and masonite should also be avoided.
At what point in the construction process should concrete be polished?
Because concrete polishing removes paint overspray and spilled drywall mud from concrete slabs, many builders and contractors like to polish slabs near the end of the construction process.
However, this is generally not advisable. Keep in mind that polished concrete floors are much more resistant to scratching, chipping, and staining than untreated concrete slabs. For this reason, it's nearly always advisable to polish the slab as early in the construction process as possible.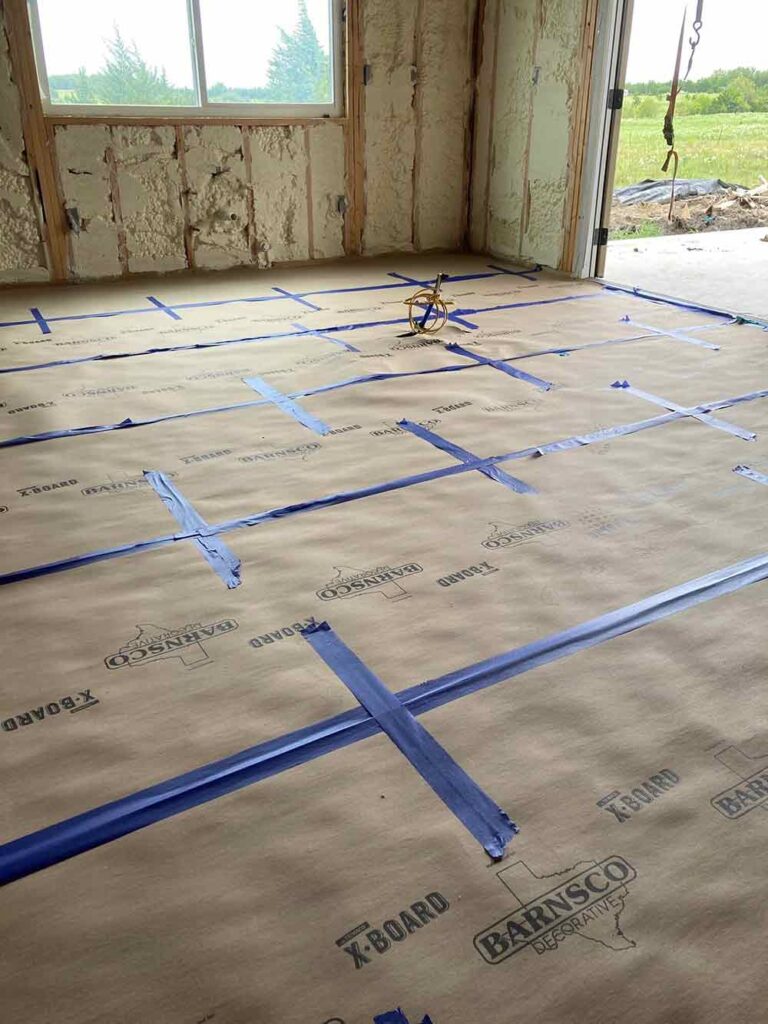 Further, without interior walls, cabinets or trim to polish around, the finished floor will have a more uniform appearance at a lower cost. This is especially true for stained concrete floors, where pigment must be uniformly applied across the entire floor.
If it's not practical to polish the concrete until the end of your project, the concrete slab should be covered prior to polishing, following the same guidelines listed above.
HOW MUCH DOES IT COST TO COVER A CONCRETE FLOOR WITH RAM BOARD?
March 2022 update
At Craftsman Concrete Floors, we offer protective floor covering as an itemized option on our bids. Based on March 2022 material costs, protective covering costs average 45 to 60 cents per square foot. This varies based on project square footage.
WE SPECIALIZE IN LUXURY RESIDENTIAL POLISHED CONCRETE FLOORS.