Terrazzo Installation in Mckinney
Among flooring options, terrazzo is popular among commercial property owners and luxury home builders in Austin, Texas. Terrazzo floors are comprised of marble, quartz, and glass chips bonded by a cementitious or epoxy matrix. This produces strong and visually appealing flooring that enhances property value. If you want to improve the look and function of your current building or you're undertaking a new build, then Craftsman Concrete is the perfect reliable terrazzo contractor in Austin, Texas.
In this article, we'll discuss why you should install terrazzo floors, the differences between poured terrazzo floors and terrazzo tiles, maintenance tips for terrazzo floors, and design services offered by Craftsman Concrete Floors.
Why Choose Craftsman Concrete Floors?
At Craftsman Concrete Floors in Austin, Tx, we specialize in luxury residential and commercial terrazzo installations. With nearly 25 years of experience installing decorative concrete overlays and terrazzo, we're the preferred installer of countless luxury designers and builders.
Our in-house design team is available at no cost. We employ well-known veterans of the decorative concrete industry, many with decades of experience. Proudly, all our employees are full-time W-2 employees receiving a living wage. At Craftsman Concrete Floors, we never subcontract jobs.
No Square Footage Minimums
All in-house, W-2 labor
Servicing Texas since 1999
Terrazzo Floor Maintenance in Austin, Tx
Professional terrazzo floor maintenance involves removing the specialized terrazzo sealer and any dirt or grime embedded into the floor's surface. We use specialized terrazzo cleaning tools fitted to a planetary concrete grinder for this process. We recommend having terrazzo floors maintained when they lose their luster or show discoloration in high-traffic areas.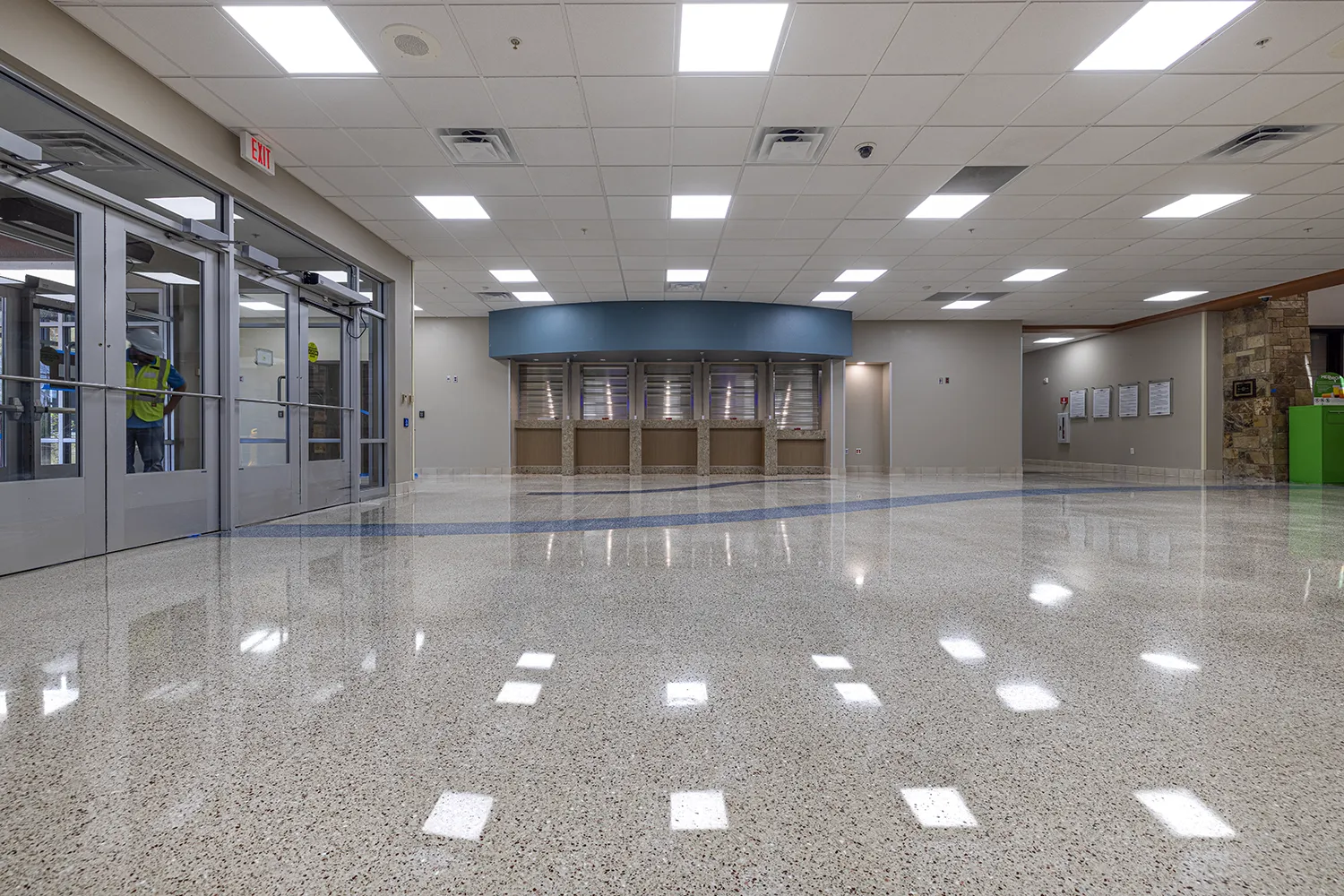 Want to Learn More About Terrazzo Flooring?
We're happy to provide a free terrazzo estimate. A Concrete Floor Specialist will get in touch with you within 1 business day.
Why choose craftsman Terrazzo Floors?
Terrazzo floors combine durability, low maintenance, plentiful customization options, and environmental friendliness. There are clear reasons why terrazzo flooring reigns supreme in the commercial flooring realm.
infinite Design Flexibility
The design potential of terrazzo flooring is limitless, with endless options to personalize the color, pattern, and size of the chips used in the matrix. This makes terrazzo flooring a fantastic and unique choice for commercial and residential properties.
Modern Aesthetics
Terrazzo flooring has made a comeback in recent years for luxury residential projects. With its sleek and modern aesthetic, it's no wonder why terrazzo flooring has become popular among architects, designers, and builders. Terrazzo floors add a touch of modernity to any property, making it a wise investment for property owners.
Industrial-Grade Durability
Terrazzo flooring is known for its extreme durability. It's the industry standard for commercial and industrial use cases because it can withstand heavy foot and vehicle traffic while being heavily resistant to scratches and stains. In addition, Terrazzo floors can last for many decades with proper maintenance, making them a cost-effective choice in the long run.
Low Maintenance
Terrazzo floors are easy to maintain. Regular cleaning with a neutral pH cleaner and occasional sealer removal and resealing will keep your terrazzo floors looking brand new for years.
Poured Terrazzo Floors vs Terrazzo Tiles
Poured terrazzo floors are created on-site by pouring a mixture of chips and matrix directly onto the subfloor. This allows for a seamless and continuous flooring design. Unlike poured terrazzo, terrazzo tiles are pre-cast and installed like regular tiles. However, poured terrazzo has several advantages over terrazzo tiles.
Firstly, poured terrazzo can be customized to fit any space, whereas tiles are restricted by their predetermined size and shape. Poured terrazzo creates exclusive and imaginative designs that tiles cannot achieve.
Secondly, poured terrazzo is a more durable option. Terrazzo tiles can crack and become damaged over time, whereas poured terrazzo is incredibly resistant to wear and tear.
Finally, poured terrazzo uses fewer resources and energy to produce and install than manufacturing and shipping terrazzo tiles. While terrazzo tiles have their benefits, poured terrazzo is the superior option for builders and property owners looking for a durable, customizable, eco-friendly flooring solution.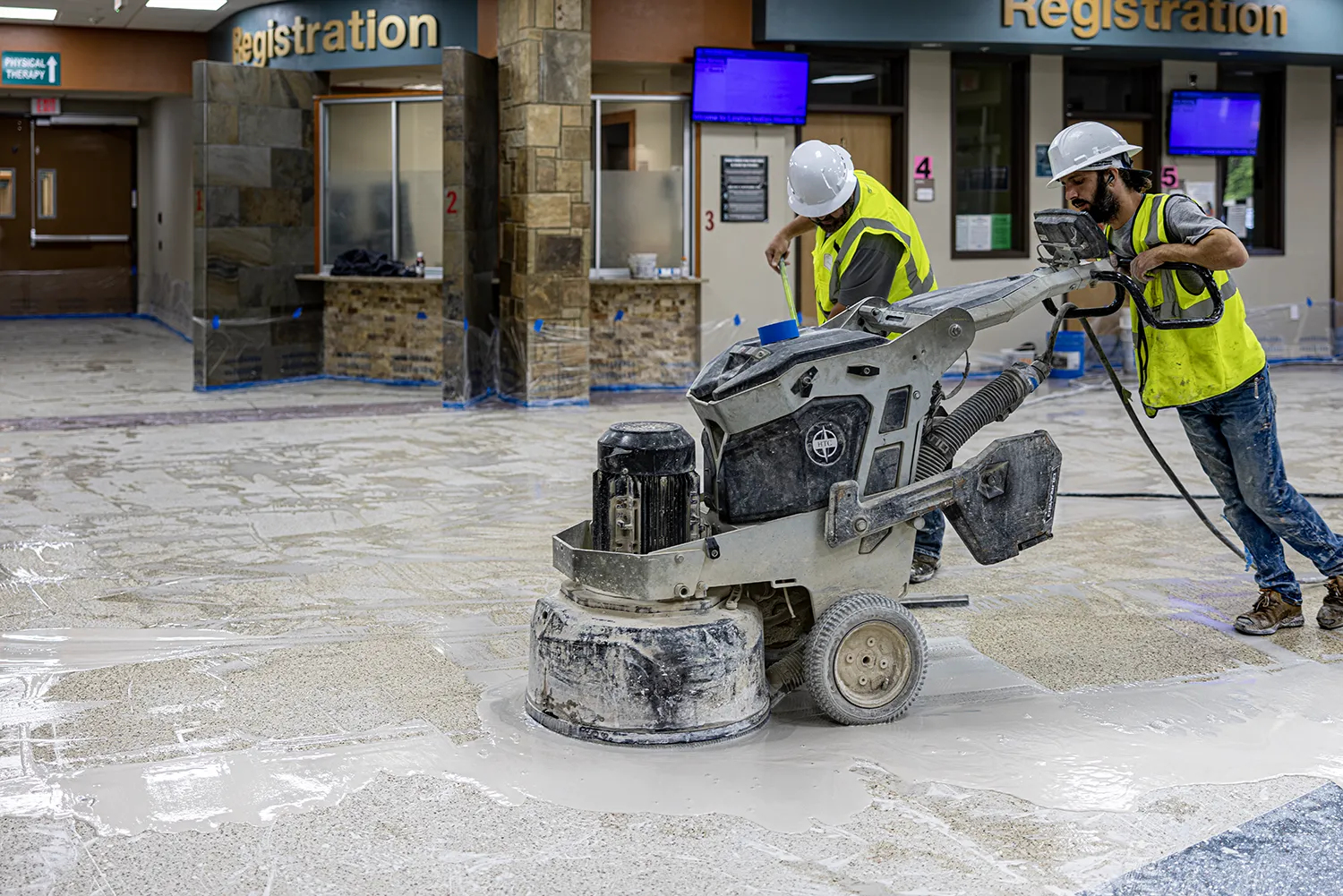 Terrazzo Repairs
If your terrazzo floors have chips or voids, we can repair them to restore the flooring's structural integrity. This will prevent further damage and extend the life of your terrazzo floors.
Terrazzo Design Services
Craftsman Concrete also offers custom design services for your terrazzo floors. Our team of experts can help you choose the right color, pattern, and chip size used in your terrazzo flooring design. We'll work with you to create a unique design that reflects your style and budget.
Frequently Asked Questions about Terrazzo Floors
While terrazzo floors are incredibly durable, they require a specific maintenance protocol. At Craftsman Concrete Floors, we provide customized terrazzo maintenance systems to accommodate all types of terrazzo installations.
Most modern terrazzo floors are installed between 1/4″ and 1/2″ in thickness.