SILICATE DENSIFIERS ARE AN ABSOLUTELY VITAL PART OF CONCRETE POLISHING, HOWEVER, WHEN EDUCATING OUR CUSTOMERS ABOUT THE CONCRETE POLISHING PROCESS, IT'S SILICATE DENSIFIERS THAT SEEM TO CAUSE MORE CONFUSION THAN ANYTHING ELSE. THIS ARTICLE WILL CLEAR UP THE CONFUSION.
Why Silicate Densifiers?
In the most basic terms, silicate densifiers fill all the microscopic holes left in concrete from when it was poured. As you'll read in this article, this benefits the concrete polishing process in many ways. In fact, it's silicate densifiers that are the key to the low maintenance and high durability of polished concrete floors.
To understand why densifiers are important in concrete polishing, we must first understand how concrete is made. Concrete is a structural material created by a chemical reaction with water. Water evaporates out of concrete as it cures, leaving behind pores and capillaries. Further, this reaction creates significant non-structural bi-products, the most prevalent of which is calcium hydroxide.
Calcium hydroxide is a water-soluble, white, powdery molecule that can account for as much as 25% of cement volume in a cured concrete floor. Because calcium hydroxide is water-soluble, it easily dissolves into the water that is naturally transported through a concrete slab, leading to white chalky deposits on the concrete surface.
This process is the source of concrete dusting, resulting in air quality and cleaning issues in spaces with untreated concrete surfaces. Further, untreated concrete is susceptible to staining, as any liquid spilled on its surface will be quickly absorbed into the concrete's pores. Silicate densifiers are the most common concrete floor treatment because they effectively reduce porosity and eliminate excess calcium hydroxide.
How Silicate Densifiers Work
Silicate densifiers work by bonding to lose calcium hydroxide, creating a very hard molecule that can be thought of as a cement-like material. This additional material fills the pores of the concrete surface, increasing concrete density and strength.
Because porosity is decreased, vapor transmission and dusting are also decreased, creating a more stable and durable surface. By decreasing porosity, silicate densifiers increase the surface area of the concrete floor, thereby increasing reflectivity when burnished or polished.
Finally, concrete densifiers increase the compressive strength of concrete floors by as much as 2000 psi, thereby increasing abrasion resistance and decreasing chipping from impacts. Because the goal of concrete polishing is a healthy, shiny, and maintenance-free floor, these benefits are essential to concrete polishing.
Polished Concrete Floors are Highly Stain Resistant
Silicate densifiers are one of the reasons why polished concrete floors are stain-resistant, but there's a lot more to the subject. See our page 'does polished concrete stain?' to learn more. As always, if you have any questions about your project please give us a call for a free consultation.
Benefits of Silicate Densifiers
INCREASED DURABILITY
INCREASED STAIN REJECTION
INCREASED REFLECTIVITY
IMPROVED AIR QUALITY
REDUCED MAINTENANCE
REDUCED POROSITY AND DUSTING
REDUCED VAPOR TRANSMISSION
Polished Concrete Vs Sealed Concrete
Concrete is inherently porous, which is problematic because if untreated, porous concrete is prone to staining and releasing dust into the atmosphere. Therefore, the goal of all concrete finishing is to reduce porosity. There are two ways to address this —by installing a concrete sealer or a silicate densifier.
These two solutions belong to two different categories of concrete floor treatments—film-forming and non-film forming treatments. Film-forming treatments include concrete sealers and coatings and work by adhering superficially to the concrete surface. Silicate densifiers belong to the non-film forming category of concrete treatments. This means they're absorbed into the concrete surface rather than installed superficially. As you'll read below, this has significant benefits, especially when your goal is a low-maintenance floor.
Concrete Sealers can Fail
CONCRETE SEALERS don't actually alter the porosity of the concrete. Instead, they create a barrier between the concrete surface and any spills or traffic. While this might sound ideal, this type of installation comes with drawbacks. Primarily, they're prone to failure due to water vapor building under the sealer surface. This is because, unlike silicate densifiers, concrete sealers do not reduce vapor transmission in a concrete slab. A film-forming sealer completely encloses the slab, trapping water and eventually causing the failure of the sealer. And because, unlike silicate densifiers, film-forming sealers do not bond to the loose calcium particles in the concrete, deposits of white calcium can form between the surface of the concrete and the coating, leading to an unattractive appearance. Finally, as concrete sealers are superficial to the concrete surface, they can be scratched off the floor, leading to areas of concrete that are no longer protected. The takeaway here is that concrete sealers have higher maintenance costs and shorter service life than polished concrete.
SILICATE DENSIFIERS on the other hand belong to a group of treatments that are non-film forming. These treatments chemically modify the cement in the floor, meaning there's nothing on the surface of the concrete floor to fail. This essentially eliminates maintenance and repair, a significant benefit versus film-forming treatments. Silicate densifiers are installed until the floor will no longer absorb them, meaning all the loose lime has bonded to silica and all the porosity has been physically eliminated. This is important for concrete polishing because the goal is a maintenance-free floor.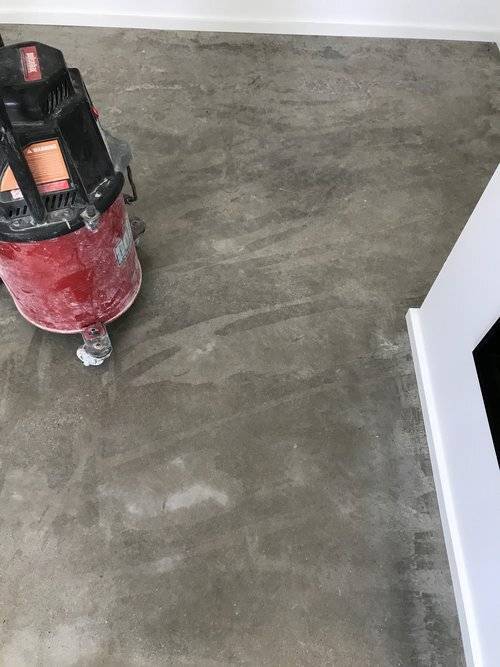 TYPES OF SILICATE DENSIFIERS
There are two categories of densifiers: reactive metal ion densifiers and colloidal densifiers.
METAL ION DENSIFIERS are made by attaching sodium or lithium atoms to silicate molecules. The result is inorganic salts that only dissolve in high pH (11+) solutions. Due to the pH of these solutions, reactive metal ion densifiers are slightly caustic. Application and cleanup of these compounds do require some safety precautions. Regardless, these are very safe products and have been used for many decades in concrete construction. Different metal ions have different pros and cons, including ease of installation, reaction time, penetrating depth, and cost. Lithium is the preferred metal densifier for concrete polishing, as its reaction time is shorter than sodium. Sodium densifiers are less expensive than lithium densifiers as their constituent compounds are more abundant. Sodium densifiers are more frequently used in large-scale concrete densification, such as warehouse floors, as the longer reaction time is less likely to cause project delays in this application.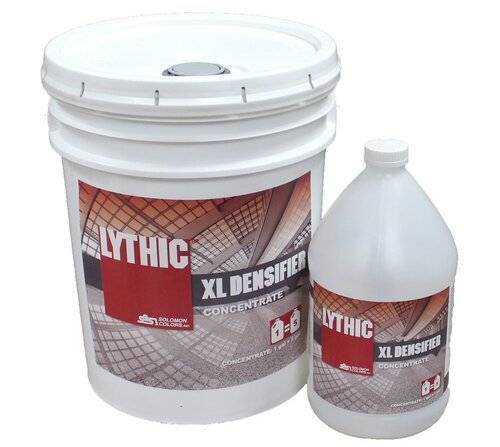 There's a new class of silicate densifiers called COLLOIDAL DENSIFIERS. Colloidal densifiers are made by suspending microscopic particles of silica in a more neutral pH solution (<9). This type of densifier contains no metal. One significant benefit of this type of densifier is that the suspended silica particles can bond to themselves as well as calcium hydroxide molecules. This provides better results at eliminating porosity and increasing abrasion resistance. Further, colloidal densifiers have very short reaction times, often less than one hour. These advantages make colloidal densifiers especially well suited for luxury residential concrete polishing, where high performance and fast installation times are worth the extra cost. Finally, due to their pH colloidal densifiers are less caustic than metal densifiers, making them easier to handle and install.
SILICATE DENSIFIERS TO REDUCE VAPOR TRANSMISSION
As stated above, silicate densifiers significantly reduce vapor transmission in concrete slabs. Although this is outside the scope of concrete polishing, silicate densifiers can be used as or in conjunction with a vapor barrier for other types of flooring installations. Depending on the specific product, some densifiers claim a 90% or more reduction in vapor transmission. Further, there are densifiers that are specifically designed for this application. This type of installation can be helpful underneath wood or laminate floors, especially in high moisture locations such as basements.
LIMITATIONS OF SILICATE DENSIFIERS
The main limitation of silicate densifiers is that they have low chemical resistance relative to concrete sealers. Therefore, there are certain applications where epoxy concrete coatings are the most appropriate treatment.
IDEAL APPLICATIONS FOR EPOXY CONCRETE COATINGS
Commercial Kitchen Floors
Laboratory Floors
Auto Body Shop Floors
Breweries
Public Restrooms
Looking for More Information about Residential Polished Concrete Floors?
See our polished concrete page for links to articles about the types of polished concrete floors, galleries, and other content. As always, give us a call for a free consultation.