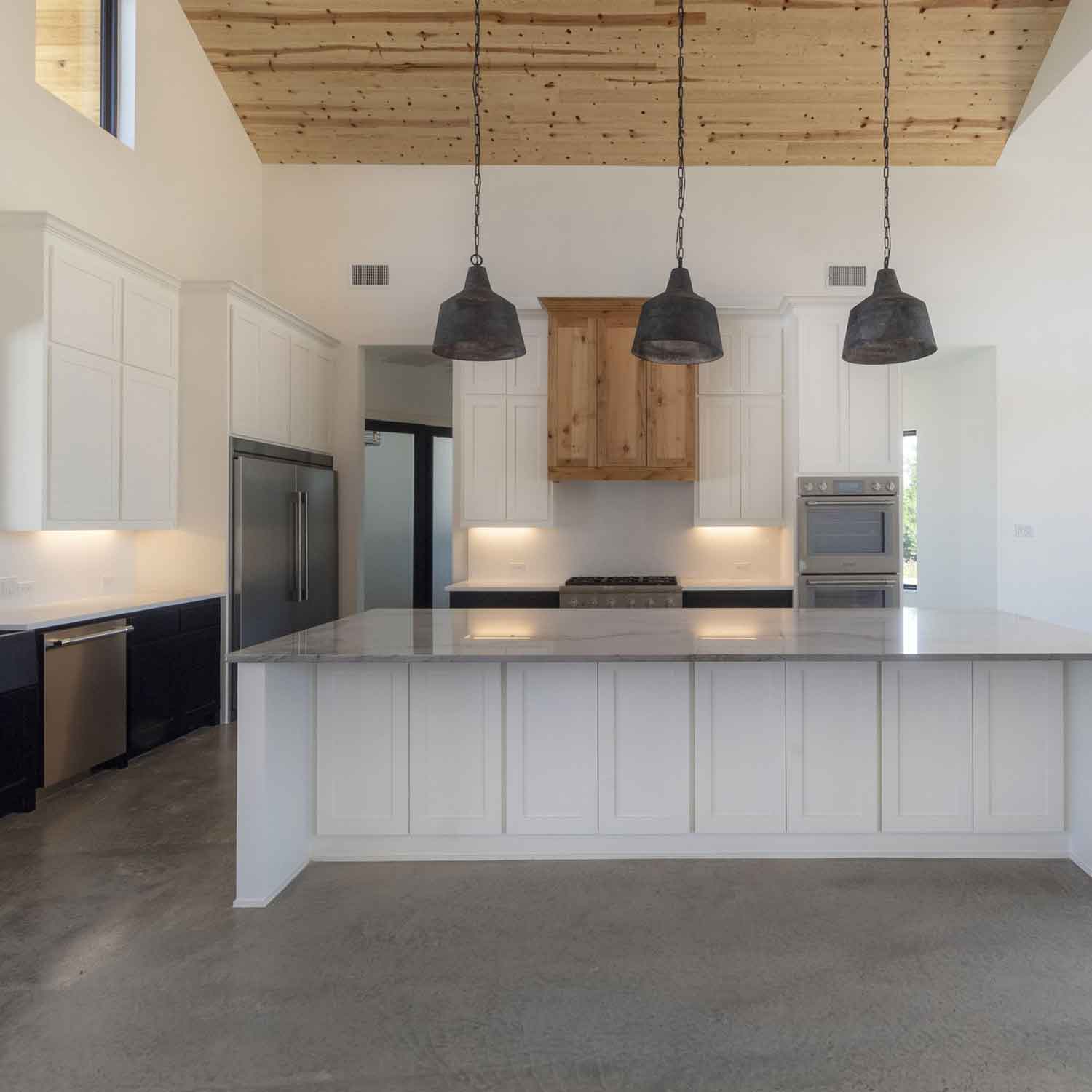 A Modern Kitchen With Polished Concrete Floors in Fort Worth, Texas.
Polished concrete floors are synonymous with modern luxury. Over the last decade, they've become one of the most prevalent flooring solutions for luxury home construction. One of the main attractions to polished concrete floors is the wide variety of achievable finishes. In new home construction, architects and designers specify many aspects of concrete floors, from the concrete mix and troweling of a new slab to the grinding, finishing, and polishing of a slab after it's cured. This article is an overview of these decisions. If you need assistance achieving the perfect finish for your new house, contact us for a consultation.
Polished concrete floors are installed by grinding a concrete slab multiple times with progressively finer diamond grinding tools. The first several steps are called 'cutting' and utilize aggressive grinding tools to remove imperfections and flatten and homogenize the floor's surface. The number of cutting steps is a function of the desired finish and the concrete mix and pour quality. It's during this stage that stone aggregate in the concrete can be exposed. The final 'polishing' steps utilize less aggressive diamond tools and progressively increase the reflectivity of the concrete surface. The number of polishing steps is dependent on the desired level of reflectivity.
Aggregate Exposure Levels
There are three main styles of polished concrete floor finishes, and they're differentiated by the amount of concrete material removed from the surface of the concrete slab.
These are the Polished Concrete Aggregate Exposure Levels:
CREAM POLISHED CONCRETE
A cream polished concrete floor is a floor where the surface of a new concrete pour is polished. In other words, we skip the 'cutting' step, so there is no concrete removal from the floor's surface. Therefore, the natural variations from the concrete pour will be visible, creating an organic, variegated, or marble-like appearance. Of the different types of polished concrete, this is by far the most common installation for new residential construction.
CONS OF CREAM POLISHED CONCRETE
Can only be installed on new concrete pours, not renovations
Appearance is highly dependent on pour and mix quality
SALT AND PEPPER POLISHED CONCRETE
A salt and pepper finished floor, or class b concrete finish, is one in which the surface of the concrete is lightly ground, exposing the smallest aggregate in the concrete mix. While this finish is often used in new residential construction, it is extremely widespread in commercial or industrial applications. In residential renovations, cream polished concrete is not an option, so a salt and pepper finish is commonly specified.
A salt and pepper finish is generally thought of to be a higher-end or more luxurious installation, so this finish is frequently specified in luxury residential construction.
PROS OF SALT AND PEPPER POLISHED CONCRETE
Slightly more durable than cream polished concrete
Can be installed in renovations and new constructions
Well suited for high-gloss polishing
Can increase consistency on slabs with low quality pours
CONS OF SALT AND PEPPER POLISHED CONCRETE
More expensive than cream polished concrete
Can expose porosity, especially on concrete slabs with excess fillers.
Consistent aggregate exposure may be difficult to achieve
Longer install time
AGGREGATE EXPOSED POLISHED CONCRETE
An aggregate exposed polished concrete floor is one in which the surface of the concrete is heavily ground, consistently exposing the largest aggregate in a concrete mix. Due to its terrazzo-like appearance, this polished concrete finish is commonly specified in luxury residential projects. Although it's possible to grind any concrete slab to a large aggregate exposure, not all slabs will be aesthetically pleasing when finished with this technique. For this reason, samples are recommended for all large aggregate projects.
PROS OF AGGREGATE EXPOSED POLISHED CONCRETE
Highly desirable appearance
Extremely high durability
Well suited for high-gloss polishing
Can be installed in renovations and new constructions
CONS OF AGGREGATE EXPOSED POLISHED CONCRETE
High Install Cost
Long install time
Samples required for renovation installations
Can expose porosity that requires repairs.
Get Professional Advice on Polished Concrete Floor Styles
Get a specialist to help you with Styles of Polished Concrete Floors and the best options for your Residential or Commercial Property.
Adding Color To Polished Concrete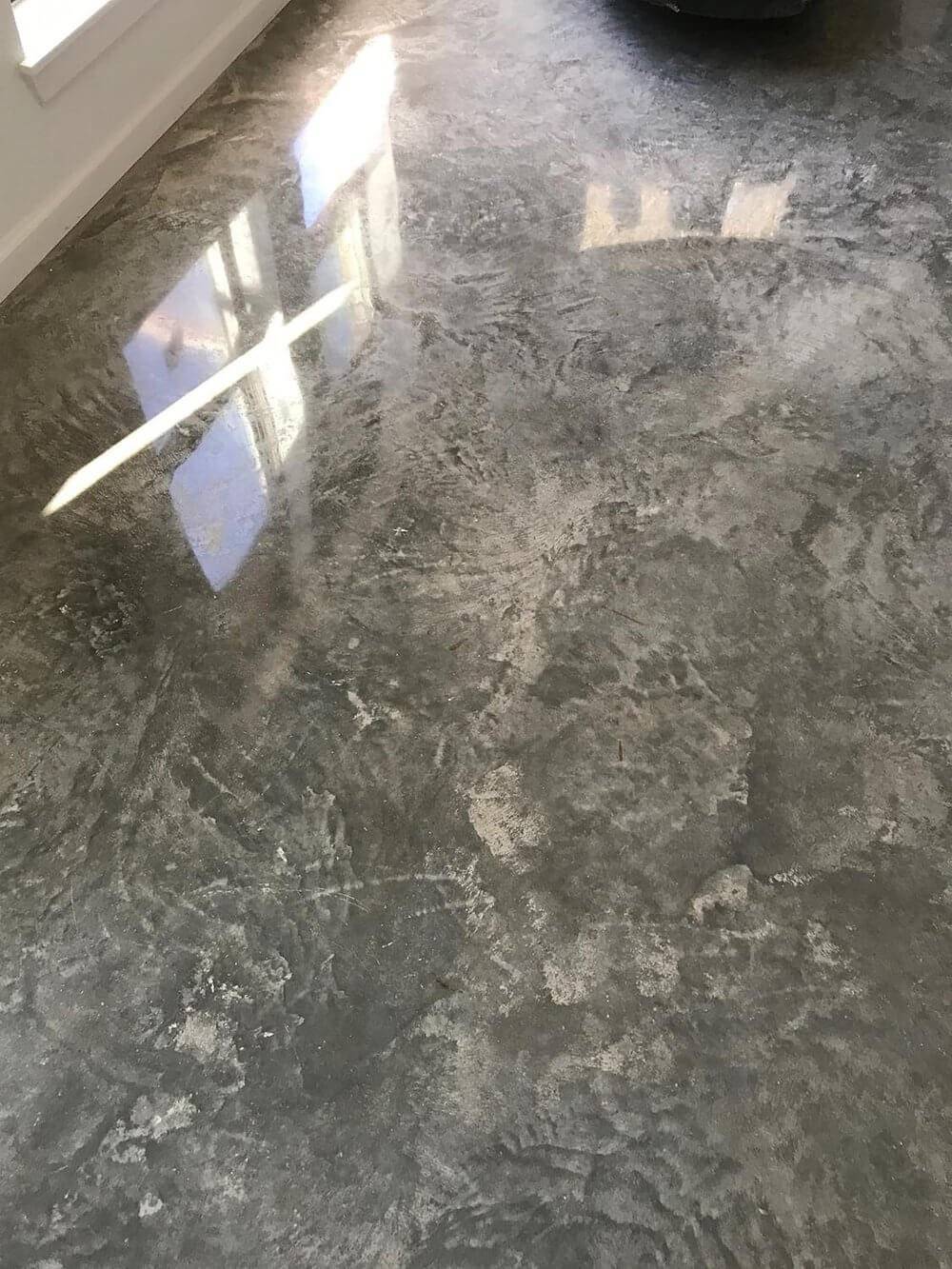 A 10% fly ash, cream polished Craftsman Concrete floor. The high fly ash content increases the depth of the natural design on the floor's surface and allows for a highly reflective finish.
Color can be added to concrete floors in the form of stains, dyes, or pigments. In new construction, we prefer when color is added directly to the concrete mix, rather than to the surface as a stain. Adding color directly to a concrete mix has many benefits over staining, including an improved appearance, higher durability, and better consistency. Stained concrete floors may also discolor in high traffic areas, requiring touchups and maintenance.
In new construction, we can also change the concrete's color by manipulating the amount of certain concrete additives such as fly ash. Fly ash is a byproduct of coal combustion. This light-weight, anthracite-colored particle is added as a filler to most concrete mixtures to increase a concrete slab's finished strength and hardness.
A standard concrete mix contains about 5% fly ash. Increasing the fly ash content of a slab will both darken and harden the finished floor. For light gray concrete floors, you'll want to leave out additives altogether. See our page how-to make light gray polished concrete floors for expert tips and tricks for achieving this ultra-modern finish.
Additives such as fly ash or slag should also be avoided for any type of polished concrete other than cream polished. These finishes require the removal of the most superficial layer of concrete, and clumping of these additives may cause an unwanted increase in finished porosity.
Selecting Aggregates For New Construction
Aggregates (rock and sand) are added to concrete to increase its finished strength and durability. In a typical concrete mix, aggregates account for 60% to 75% of the volume of the concrete. Aggregates are much stronger than the other materials in concrete and serve to prevent cracking and deterioration. When concrete is poured and troweled, the aggregate separates by size, with smaller sand and rock particles rising to the floor's surface.
Sourced from quarries, oceans, rivers, or crushed recycled materials, aggregates can be specified for size, sharpness of edges, and color. For certain types of finishes, the choice of aggregate will dramatically impact the appearance of a finished concrete floor. These finishes are ones where the surface of the concrete floor is removed, exposing the aggregate to be polished. For salt and pepper exposures, where only sand and very small aggregate is desired, using 'native' or river rock may be ideal as its rounded edges allow larger rocks to separate and sink in a concrete mix. This separation ensures that only tiny rocks and sand are exposed to the surface of the floor.
For floors with exposed aggregate, rocks with jagged edges and varying sizes will give the floor a 'tighter' appearance. The jagged edges fit together like a puzzle, keeping the rocks suspended near the top of the concrete mix. For these types of floor, it's ideal to have as much rock exposed as possible as the aggregate will polish to a higher shine than the concrete in which it's suspended. For polished concrete floors with exposed aggregate, the color and size of the aggregate are carefully selected to complement the design of your home. In general, architects or interior designers will help a homeowner determine what specifications will work best.
Another consideration — Troweling Technique
For most applications, it's ideal to power trowel a concrete slab using float pans under the power trowel's blades. Pans will create the flattest floor possible while helping to keep the cream layer intact. For floors being finished to a cream polish, water must not be hosed onto the slab to keep the slab workable. While this might allow for a flatter concrete floor, it may cause the power trowel to wash the cream away from the slab.
Over troweling a concrete slab can significantly darken its surface. To achieve light-colored concrete, plastic blades should be used on a power trowel. We suggest two passes with plastic blades and two passes with a trowel float pan.
More About Concrete Polishing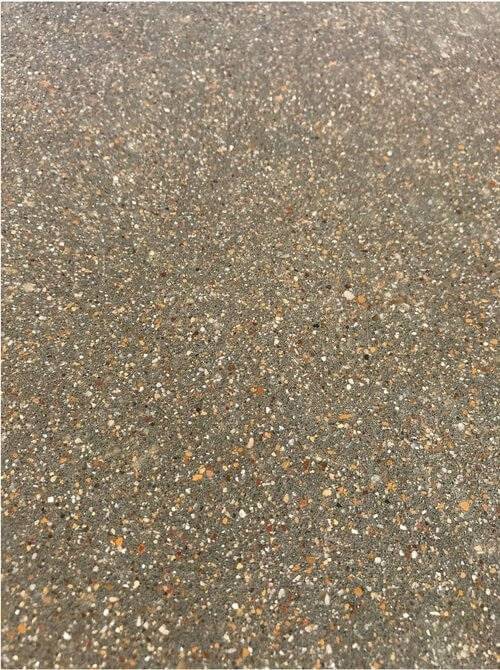 CUTTING
For polished concrete floors specified with exposed aggregate, we refer to the first step as 'cutting.' Several exposed aggregate concrete colors and styles exist including cream, salt and pepper, small rock, and large rock. For cream polished floors, the poured surface of the concrete is polished, so the cutting step is skipped. Diamonds bonded in a metal matrix compose the tools used to cut concrete. This tooling is aggressive and designed to quickly and effectively remove the surface of a concrete slab. A typical cut is at least three steps, utilizing, for example, tooling of 40, 80, and 120 grit.
Architectural documents may specify different amounts of exposed aggregate on polished concrete floors. The Concrete Polishing Association of America classifies these levels from A to D, with D having the most aggregate exposed. Below is a chart containing these concrete polishing standards. Larger aggregate exposures take significantly more time and skill to achieve but offer breathtakingly modern finishes that are not achievable by any other method. At Craftsman Concrete Floors, we specialize in polishing floors for modern finishes, including large aggregate exposure.
CLASS
EXPOSURE
CUT DEPTH
A
CREAM
NONE
B
SALT AND
PEPPER
1/16TH INCH
C
SMALL ROCK
1/8TH INCH
D
LARGE ROCK
1/4 INCH+
POLISHING
The steps of the finishing process where a floor becomes reflective are referred to as the polishing steps. Polishing is executed by tooling composed of diamonds bonded in plastic or resin. This tooling isn't aggressive and is designed to modify only the surface of the floor. During the polishing steps, only a minimal amount of material is removed. A basic polish is four steps, using tooling of 100, 200, 400, and 800 grit. For the highest reflectivity possible, additional 1500 and 3000 grit steps may be added.
REFLECTIVITY
Specifications for polished concrete floors generally list one of four levels of reflectivity, depending on the application and aesthetic taste. The Concrete Polishing Association of America classifies these from 1 to 4, with 4 being the most reflective. Below is a chart containing these concrete polishing standards. Most residential applications specify level 3 and level 4 floors, with higher levels of reflectivity requiring significantly more skill to execute.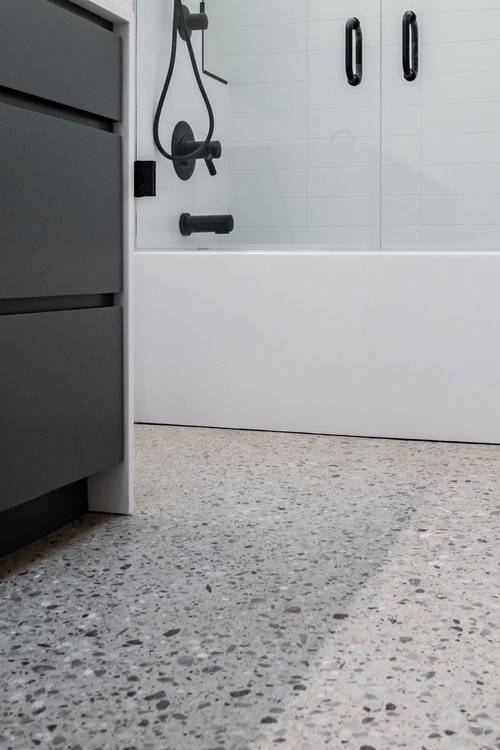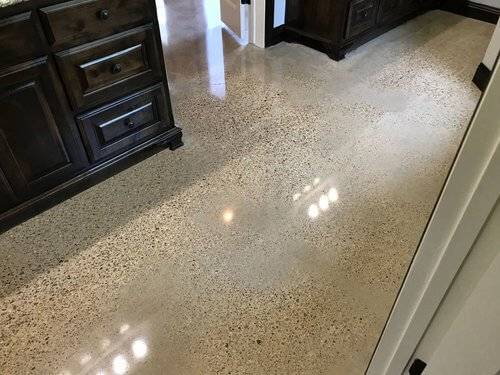 IMAGE CLARITY
There's more to a high-quality polished concrete finish than just reflectivity. Reflectivity measures the percentage of light that is reflected off of a concrete floor. More importantly for creating a beautiful polished concrete floor is clarity. Clarity is a function of floor flatness, density, and porosity. Dense, nonporous, flat floors reflect an image like a mirror, without waves or distortion. In properly polished concrete floors, reflections will look sharp and clear without haze.
LEVEL
GRIT
APPEARANCE
1
100
Matte and non-reflective
2
100-400
Satin – Difusely reflects light.
3
800
Polished – Reflections can be identified.
4
1500+
Highly polished – Mirror like finish.
Looking for More Information about Residential Polished Concrete Floors?
While polished concrete is currently the most popular decorative concrete installation in luxury residential construction, it's not the only available option. For more information about other types of residential concrete finishes, see our page 'what is the best finish for a concrete floor'.