Step by Step Guide to Install Polished Concrete Floors
Polished concrete is a unique flooring solution that is functionally very different from other decorative flooring installs such as stained concrete. Unlike stained concrete, polished concrete floors do not utilize a coating on the surface of the floor and therefore do not fail or show wear. This makes polished concrete floors low maintenance and especially well suited for residential installs.
The guide below covers the decisions you will need to make when having polished concrete floors installed in a project.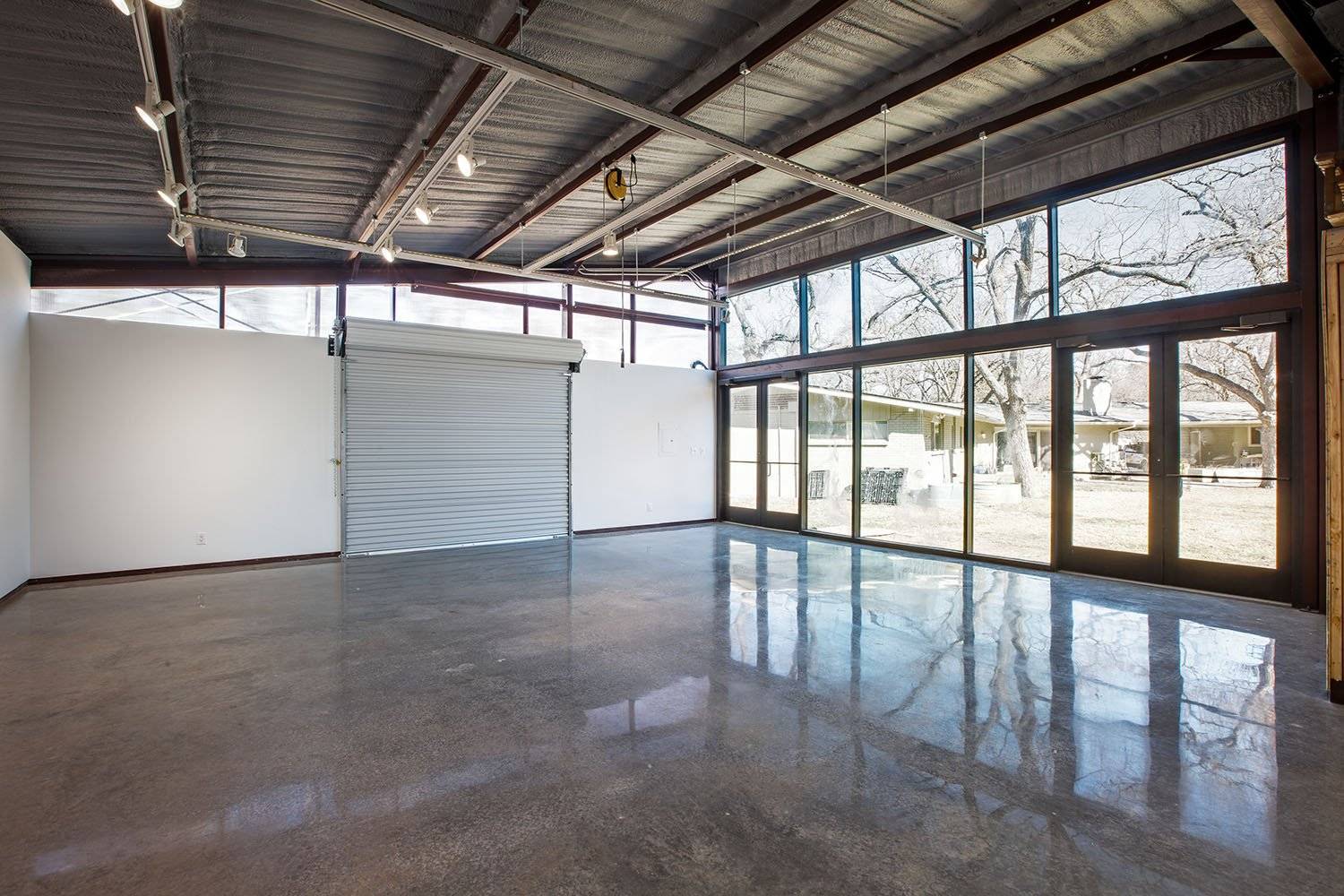 800 Grit Gloss Level – This is the most commonly specified level of reflectivity for residential applications.
Reflectivity is often the most important decision on a polished concrete floor install. Concrete floors are polished with progressively finer tools to increase their level of gloss, therefore the grit of the finest tool used is how gloss level is specified.
The difference in cost between levels of reflectivity is small, so floors should be specified based on aesthetic goals.
MATTE POLISHED CONCRETE FLOORS

Matte polished concrete floors are specified at a 200 or 400 grit finish. Floors must be polished to at least this level of reflectivity to ensure a consistent and easily cleanable surface.

Many architects, designers, and project managers find this level of reflectivity to have the most modern appearance.
STANDARD-GLOSS POLISHED CONCRETE FLOORS

Standard polished concrete floors are specified at an 800 grit finish. This finish level will provide detailed, mirror-like reflections.

This level of reflectivity is used to make spaces larger, brighter, and more open.
HIGH-GLOSS POLISHED CONCRETE FLOORS

1500 and 3000 grit finishes are specified to achieve the highest gloss finish possible. While the difference in reflectivity between a 3000 and 800 grit finish is subtle, the benefit from these grits is seen as an increase in clarity of reflections.

For the best quality high-gloss finish, we always specify a 3000 grit finish.
To learn more about polished concrete floors and our installation process, visit our main polished concrete floors page
Level of Aggregate Exposure
The level of aggregate exposure is another important aesthetic decision for a polished concrete floor install. When the surface of a concrete slab is polished without removing any material there will be no aggregate exposure. This is referred to as a 'cream polish'.
The concrete surface may also be ground to remove material and therefore provide a different aesthetic appearance. When the surface is lightly ground, the sand and small rocks in the concrete will be exposed. This is referred to as a 'salt and pepper' finish.
When the surface is heavily ground, the largest rock in the slab will be exposed. This is referred to as an 'aggregate exposed' or 'rock cut' concrete floor.
The difference in cost between levels of aggregate exposure is large, so budget often is considered. Cream polished concrete floors provide the most value, while salt and pepper and rock-cut floors can offer a more exciting aesthetic.
Dye for Polished Concrete Floors
Dye is used to gently shift the color of a polished concrete floor. While concrete dye is optional, it can be very helping a floor to complement the color palette of a project. Because concrete dyes are transparent they have a very natural appearance.
The most common residential use of concrete dye is to add gray tones to warmer colored concrete. Gray-colored concrete is very desirable in modern residential construction. Brown tones are often used for more rustic styles, such as lake houses and barndominiums.
On most residential projects, concrete polishing is executed in two phases. The bulk of the polishing process is done as soon as a home is dried in, while the final polishing steps are scheduled just before a homeowner moves into their house. This method provides the best pricing while also ensuring any construction contaminants are cleaned from the floor prior to move-in.
The floor should be covered with a protective paper product between these two phases, so we offer this service on every polished concrete floor installation.