MODERN AND SUSTAINABLE FLOORING
About
Founded in 1999, Craftsman Concrete Floors specializes in polished concrete for both new residential construction and renovations, as well as commercial projects. As one of the largest installers of residential polished concrete floors in the country, we've developed a proprietary concrete polishing system that meets the stringent quality demands of luxury construction.
We employ many well-known veterans of the concrete polishing industry, with backgrounds in installation, materials manufacturing, and product development. We proudly partner with many manufacturers to provide certified installation.
We know that our customers install concrete flooring to reduce waste and environmental impact. To further this commitment, we use 100% renewable energy in our facilities, utilize electric cars when possible, and purchase carbon credits to offset the greenhouse gasses produced by our other vehicles.
What is Polished Concrete?
Polished concrete is a type of flooring installation that utilizes the existing concrete surface to create a durable and attractive finished floor. Originally developed as a commercial installation, concrete polishing is now widely used in residential, retail, and commercial applications.
Polished concrete is installed by grinding concrete surfaces with progressively finer diamond abrasives. This process is very similar to polishing natural stone, such as a granite countertop, and leaves the concrete surfaces with a similar feel and wear characteristics.
While polished concrete and stained concrete might appear to be very similar installations, they're actually quite different. While stained floors depend on a sealer over the concrete floor's surface, all of the sealers used in a polished concrete floor penetrate into the floor. On a stained concrete install, the concrete sealer is the weakest link and is prone to wear and failure. Polished concrete is much more durable due to the fact that there is no sealer layer on the surfaces of the concrete to wear or fail.
Polished Concrete Floors Installation Guide
When installing a polished concrete floor, there are a few decisions to make including time, room type, design options, what to expect from a contractor, Finish options, foot traffic and decorative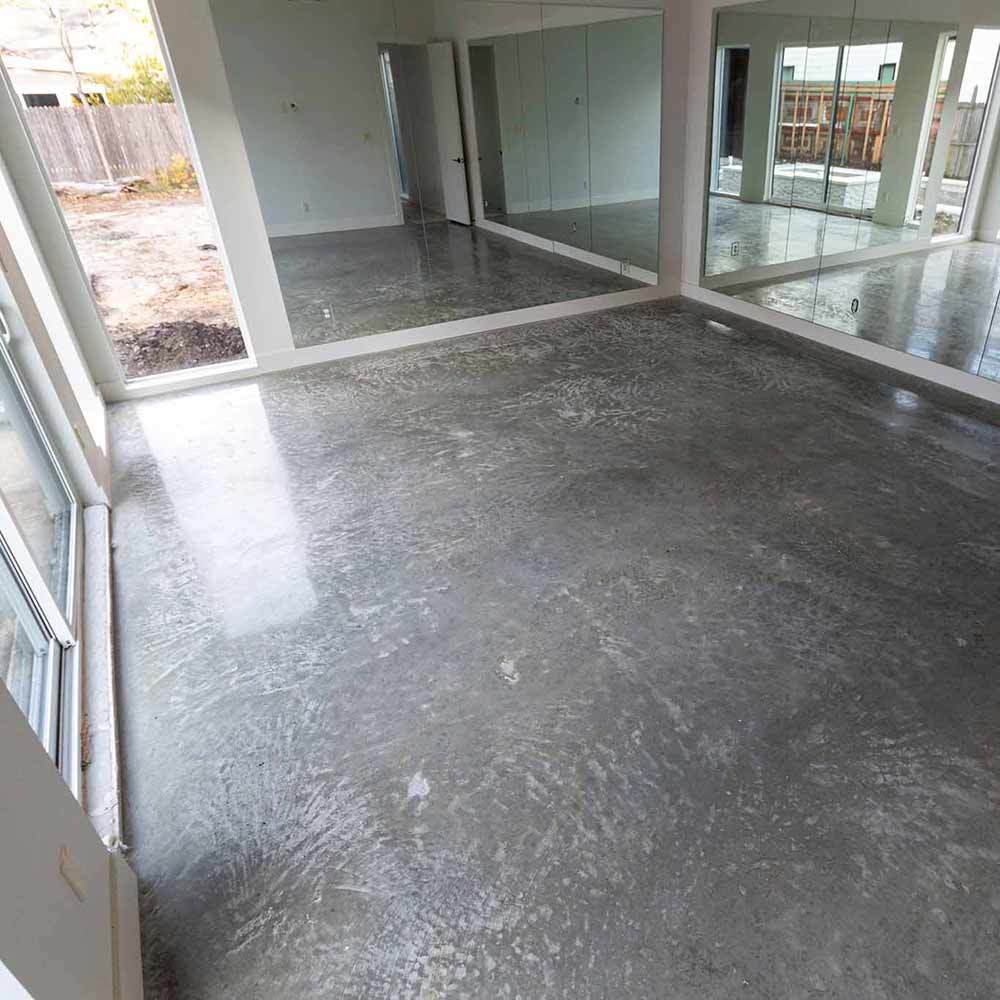 POLISHED CONCRETE – THE NAME
The name, polished concrete, is a source of plenty of confusion. Does the name polish concrete refer to the level of reflectivity of the concrete surface? In fact, it does not. The name polished concrete signifies that penetrating sealers are used to increase the stain resistance of concrete surfaces, not its level of reflectivity. While the industry standard level of reflectivity is a semi-gloss (800 grit diamond polish), polished concrete floors can be both matte and mirror finished.
One thing that's consistent between the levels of reflectivity, however, is their finely honed surface. Polished is extremely smooth and consistent to the touch, regardless of the level of gloss. This is important because its smooth concrete surfaces that create a slip-resistant and durable flooring installation.
LEVEL OF REFLECTIVITY
One of the most important aesthetic decisions to take when installing concrete flooring is the level of reflectivity. While there's no hard and fast rule, matte floors are often used in modern construction designs, while higher levels of reflectivity are used to increase light and openness in dark or cramped spaces.
Regardless of the level of reflectivity, the performance of all the floors we install is identical—reflectivity is a purely aesthetic decision. Floor Reflectivity has a minimal impact on the install price per square foot.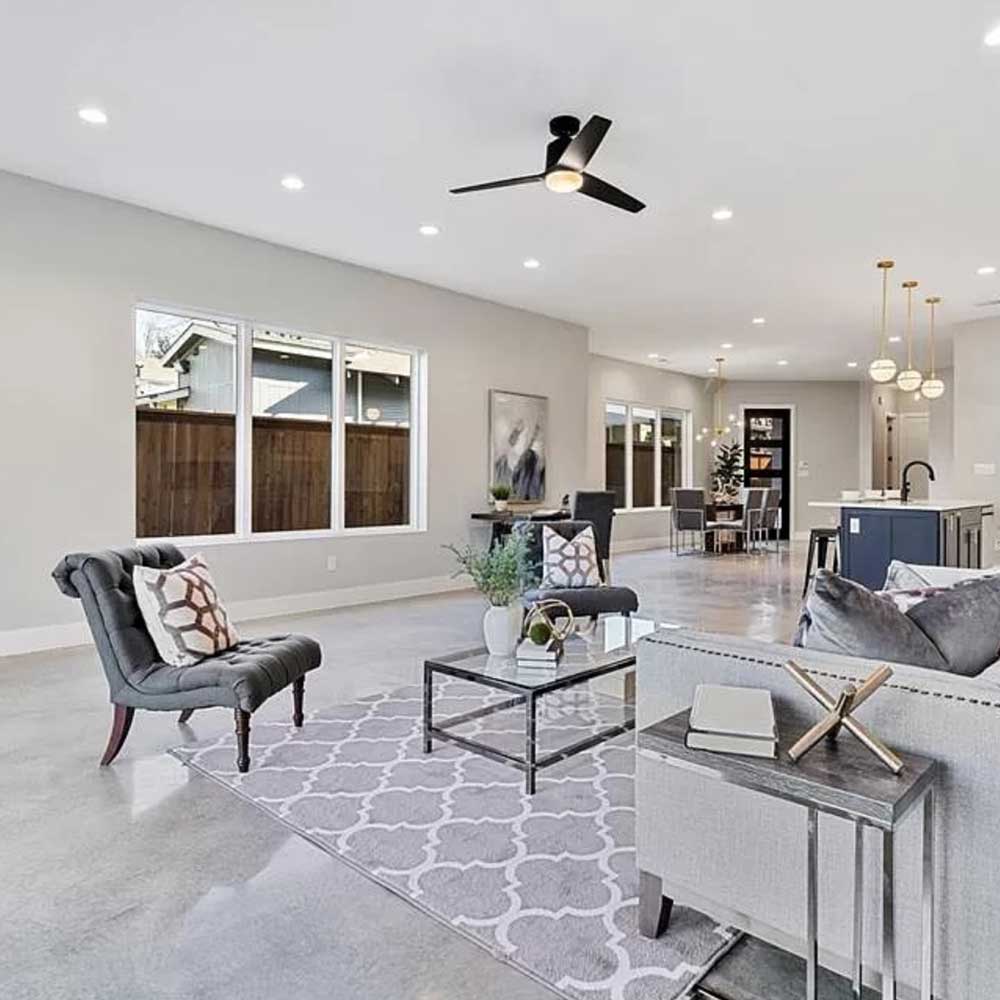 LEVEL OF AGGREGATE EXPOSURE
Another very important aesthetic decision is the level of aggregate exposure on a concrete floor. Aggregate exposure is achieved by removing the most superficial surface layers of the concrete prior to polishing. Because concrete is a combination of liquid cement, rocks, and sand, as you grind more material off of the surface of a concrete slab more aggregate will be exposed. These aggregates naturally separate by partial size in a poured concrete slab, meaning that grinding deeper into a slab will expose larger aggregates.
A concrete slab that is polished without any aggregate removal is referred to as a cream-polished concrete floor. These will show some variations in the texture that are often compared to any number of variations in a piece of marble. Because surface removal is time-consuming and adds cost, cream polishes are often used in residential construction as a way of saving on budget. That doesn't mean they're not great-looking floors though—when finished properly cream polished concrete floors can be very attractive.
When the surface of a concrete slab is lightly ground to remove all of the marble-like variations, fine pieces of sand and rock are exposed. We refer to these types of floors as 'salt and pepper' polished concrete floors. These are commonly installed by retailers such as Costco, Walmart, and Home Depot, so it would be a good idea to visit these company stores to get design inspirations. Because they offer a very homogenous surface finish, they're the most commonly installed floor in luxury residential construction.
A rock-cut concrete floor is one in which the concrete surface is heavily ground to expose large aggregates. Rock-cut concrete has a beautiful, terrazzo-like appearance that nicely compliments modern construction. While this finish is very desirable, it's also the most expensive and time-consuming installation. These floors are best installed in either new construction or fully gutted renovations. The large amount of material removal required makes this finish difficult to achieve with obstacles such as trim or millwork.
How Much Do Polished Concrete Floors Cost?
Due to the fact that a concrete floors inherently have low associated costs, polished concrete is often the lowest-priced luxury flooring installation available.
For new construction projects, polished concrete floors costs range between four and seven dollars per square foot. The main factor that increases the costs of a polished concrete floor is the amount of material removal specified.
Because of the minimal amount of materials removed, cream polished concrete floors are the most cost-effective installation available.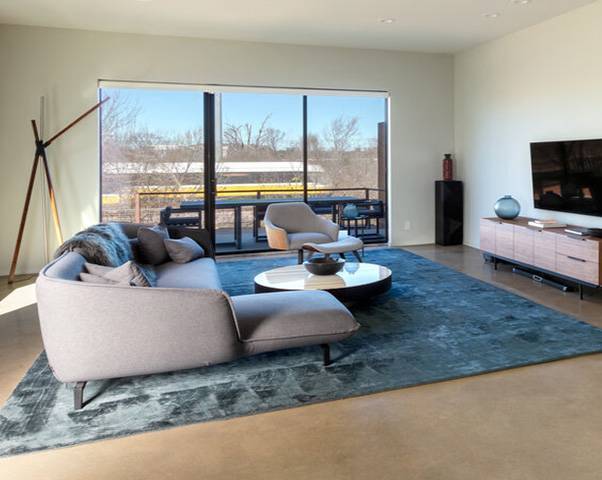 Want to Learn More About Polished Concrete Floors?
We're glad to educate our audience on the design, advantages and cost aspects. A Concrete Floor Specialist will get in touch with you within 1 business day.
Benefits of Polished Concrete Floors



LOW MAINTENANCE
Polished concrete flooring provides both a beautiful flooring installation and very low maintenance costs. It is easy to clean simple with a vacuum and wet microfiber mop. Harsh cleaning chemicals and floor wax are never needed to keep your entire floor looking great.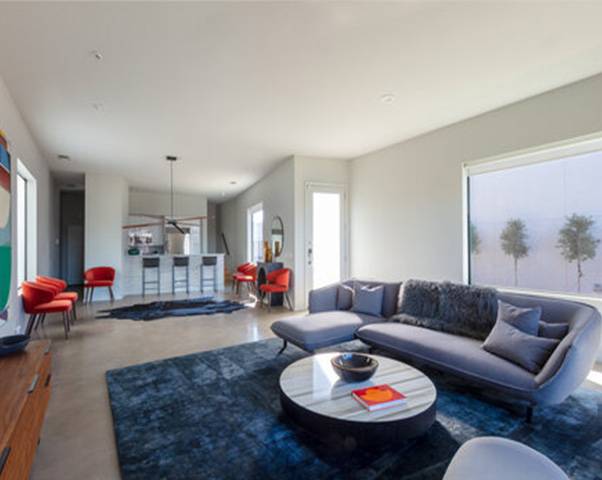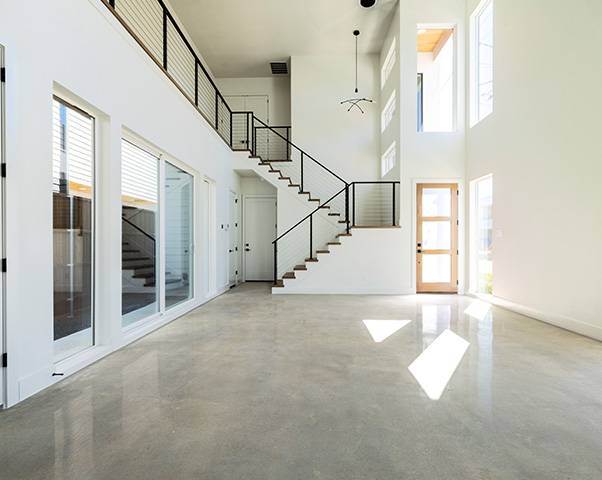 INDUSTRIAL-GRADE DURABILITY
Polished concrete is an industrial installation that we've adapted to meet the aesthetic requirements of luxury residential projects. Because of this, polished concrete provides a level of durability that's difficult to match with any other type of flooring install.
LONG SERVICE LIFE
In residential installation, a polished concrete floor can last upwards of twenty years without requiring maintenance by a professional contractor. Because there's no waxing or other maintenance, polished concrete floors are a great way of reducing waste.
SUSTAINABLE AND ENVIRONMENTALLY FRIENDLY
Polished concrete floors are the most environmentally conscious flooring solution available. By choosing them in your home or business, you're reducing lifetime waste by up to 97%. This reduction is due to the fact that we polish your existing concrete slab instead of adding additional materials to the surface.
HEALTHIER FLOORING
By polishing concrete in your home or business, you're making a commitment to the health of your family or employees. Unlike wood, carpet, or laminate floors, polished concrete floors don't release volatile organic compounds into the air you breathe — dust and chemicals that are linked to harmful respiratory and immune effects.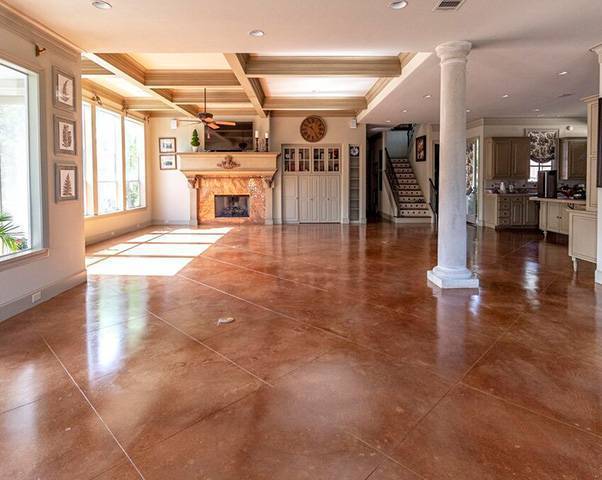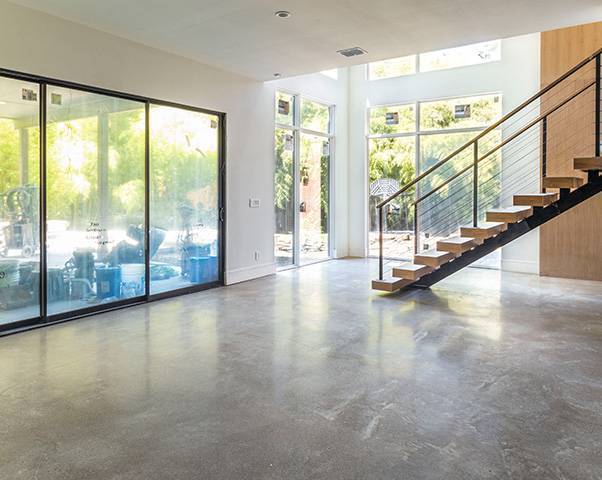 MODERN FLOORING AESTHETICS
A concrete floor with the right choice of design and details can add value and enhance the aesthetics of project spaces.
ELIGIBLE FOR LEED CERTIFICATION CREDITS
Concrete Floor has advantages over other flooring formats to help homeowners get Leed Certification Credits.
SLIP RESISTANT
This floor finish is known for anti slip properties and proves to be safer compared to wood and other flooring formats all while being cost efficient.
Polished Concrete Floors Gallery
Browse Our Recent Projects
Learn More About Polished Concrete Floors
Hear What Our Customers Say About Polished Concrete Floors
Suzanne S
Where to begin . . . stellar customer service, unbeatable pricing, and exemplary knowledge! Jeremy and his crew where amazing collaborators on our small patio project and made sure we were pleased during and afterwards. Couldn't be happier and have recommended them to others. WELL DONE!!!
John W
Very happy with the service! Had these guys do maintenance on the stained concrete floors in our house in McKinney. The floors were originally installed by the builder 9 years ago and the sealer was starting to flake in the walkways. We also had some fading of the stain in the areas where the sealer was coming off of the floor. They suggested a more durable sealer than the one the builder installed and our floors look pretty much as good as when we moved into the house.
Skip M
I had Craftsman polish 550sqft in my barndominium. They were very responsive and quickly moved me into the schedule. The field crew was very professional and did an excellent job!
Melinda L
Call them first! Jeremy and his team came in to fix a previous companies' less-than-desirable handiwork and did a beautiful job fixing the floors and making this exactly what we wanted. They are gorgeous and perfect for our barn build.
Marion H
Positive: Professionalism, Punctuality, Quality, Responsiveness, Value My wife and I recently built a modern home and to do it right it became very overwhelming. The concrete cost portion of our home as part of the budget was in excess of 25%(8% or less in most homes). My wife and I became very knowledgeable about concrete. When we called on Jeremy we needed to polish a basement bedroom floor. We needed to polish a foundation grade concrete floor to a slightly less than museum quality grade, Craftsman did the job. Craftsman's crew showed up on time, did everything they said they would, did it for a good price and the quality of the job was outstanding. Unfortunately for Jeremy I was in a part of my construction job where most of the remaining work was extremely detailed and painstaking. I was so impressed with Jeremy I asked if he would GC the rest of my job. He declined but Craftsman did refer other subs to me that did outstanding work. Could not have been more impressed with Craftsman.
Chloe S
Jeremy and his team are wonderful to work with. If 10 starts were possible, I would give them! I am very thankful that we hired him for this job and would recommend him to anyone. He is very knowledgeable with concrete and answered all of my questions. Jeremy helped guide us to achieve the look we wanted in our new build with polished concrete. He worked seamlessly with us and our builder to complete work in a timely and respectful manner. We absolutely love our floors! We will use Jeremy in the future if we need any further concrete work completed.
Anton N
Jeremy and his crew were head and shoulders above the average subbie level in terms of quality, reliability and value for money. The process started with careful and intelligent discussion of our options and then proceeded through the actual work where the crews always showed up on time, were extremely respectful and kept the work area tidy and clean. Whenever, there was an issue, Jeremy and his crew patiently worked through it, offering several different options for us to choose. The end result was exactly what we wanted and Craftsman gained another satisfied customer.
Our professional team of expert concrete flooring contractors are highly trained in the unique skill set to handle specialized concrete grinding & resurfacing equipment. Over 2,000 Projects completed since 2018, Craftsman Concrete Floors has grown beyond our home service area, the Dallas-Forth Worth region, to include expert concrete flooring teams in Austin, Houston, and San Antonio as well as many other cities and suburbs throughout Texas.
We are proud to serve builders, architects, designers, homeowners, and commercial establishments throughout these areas. Our expert team offers affordable, sustainable & eco-friendly concrete flooring options in the following regions: