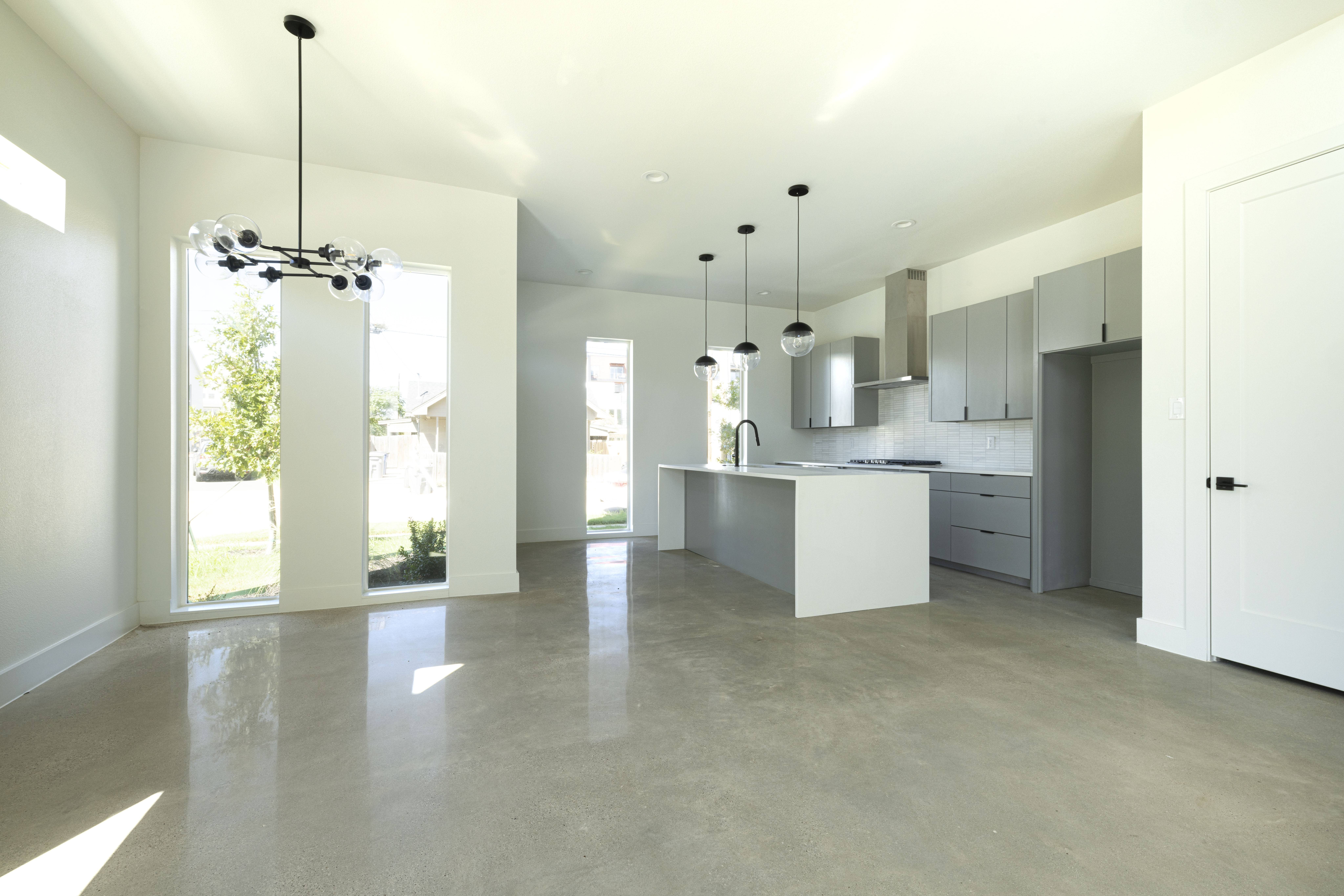 March 2022 Update
When people think of polished concrete floors they generally consider their durability and modern aesthetics. However, our customers are often surprised to learn that they offer unparalleled slip resistance as well. This might seem counter-intuitive, as high reflectivity is often associated with being slippery.
However, polished concrete floors are often installed because they're one of the most slip-resistant floors available.
Keep reading to learn about how slippery polished concrete is when wet, and for tips on how to increase the slip resistance floors.
To learn more about polished concrete floors and our installation process, visit our main polished concrete floors page
Why Aren't Polished Concrete Floors Slippery?
EASY TO KEEP CLEAN
Clean floors are up to 20 times less slippery than floors with contaminants on their surface.
Polished concrete is extremely easy to keep clean! Because of their uniform surface, robot vacuums and microfiber mops are all that's needed to clean residential polished concrete floors.
For commercial applications, walk-behind or ride-on floor scrubbers are generally recommended because they can clean large areas very quickly.
HIGH COEFFICIENT OF FRICTION
Because of their high coefficient of friction, polished concrete floors are 20% to 50% more slip-resistant than the national standard for a low slip floor.
In physics, the coefficient of friction measures the resistance of motion between two surfaces relative to the force (gravity) holding the two surfaces together. This is measured as a number between 0 and 1, where larger numbers indicate more slip resistance.
While this might sound pretty technical, what's important to note is that the national standard for a non-slip floor is .42. In other words, on a non-slip floor, at least 42% of one's weight must be converted into grip between your shoes and the floor.
As you can see on the chart below, the coefficient of friction for polished concrete floors is between .49 and .59 depending on the details of the installation. This is the reason why polished concrete floors are incredibly safe, whether in a residential, retail, or industrial installation.
SAFER FLOORS FOR RETAIL AND RESIDENTIAL
America's largest installers of polished concrete floors, such as Home Depot and Costco, use our install because of its high slip resistance.
In the United States, slip-related injury lawsuits cost businesses more than 80 billion dollars a year.
Even when wet, polished concrete floors offer significantly higher slip resistance than tile or wood floors. When installed properly, polished concrete flooring reduces slip and fall liabilities and insurance costs for business owners.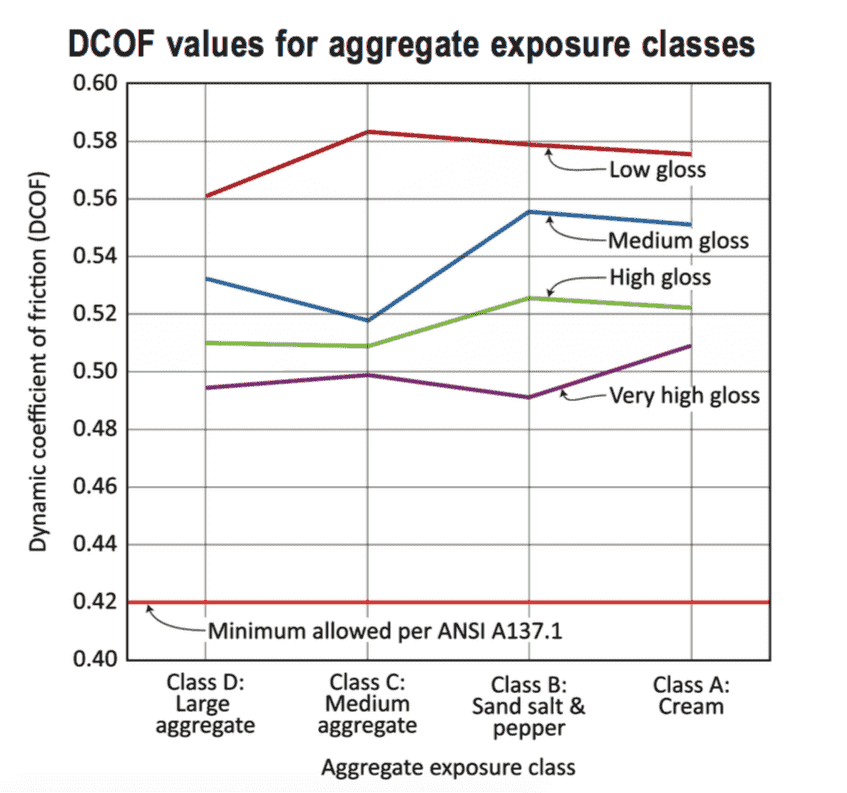 Residential Polished Concrete Floors
So far what we've discussed is primarily focused on commercial concrete floor installations and the national standards that govern them.
For residential floors, what's important to know is that even the most highly polished concrete floors offer plenty of slip resistance. In fact, our residential customers are often shocked by how grippy their floors feel—even when wet!

For this reason, we believe that aesthetics should dictate what type of polished concrete finish is specified for indoor residential concrete floors.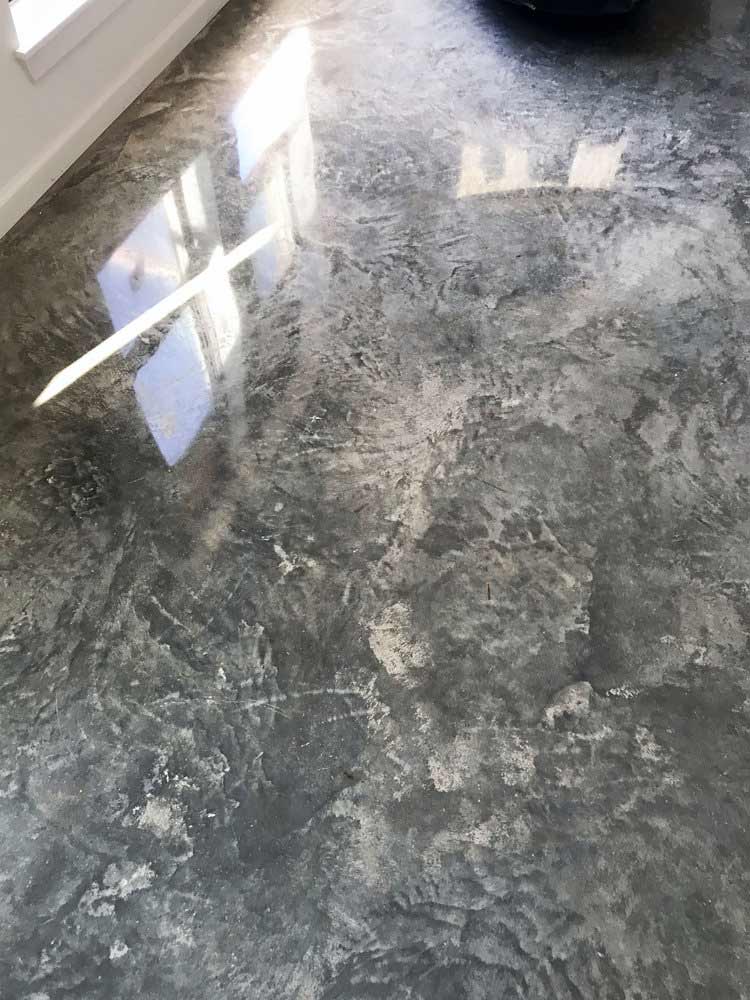 A High-Gloss Polished Concrete Floor. This type of finish is called a 'cream polish'.
For more information on the different types of polished concrete floors, see our page Types of Polished Concrete Floors.
How Do You Make Polished Concrete Less Slippery?
In high slip-hazard spaces such as locker rooms, public bathrooms, and business entryways, it's vital to do everything possible to maximize your concrete floor's grip. Here are a few tips:
ROUTINE CLEANING
Government tests show that clean concrete floors are nearly 20 times less likely to cause slip and fall accidents and injuries than dirty floors.
ABSORPTIVE RUGS
Even in a very high traffic area, there is no need to use rubber mats. However, absorptive rugs can dramatically reduce slip incidents in indoor spaces prone to standing water.
ANTI-SLIP CONDITIONERS FOR POLISHED CONCRETE
Mop on an anti-slip grip additive such as SlipDoctors Polish Grip. There's no quicker or easier solution than a slip-resistant coating to make wet surfaces safer.
Looking for more information about polished concrete floors?

See our Texas polished concrete floors page for articles about polished concrete floors, galleries, and other helpful content.
As always, give us a call for a free consultation.