Polished Concrete Floors in Restaurants
Whether you're designing a brand new restaurant, or you're remodeling an existing restaurant floor plan, you're certain to have polished concrete flooring on your list of potential flooring options for review. Polished concrete flooring represents a modern, attractive medium that is frequently used in restaurants for front-of-house applications, while epoxy floors are commonly used in the back-of-house including commercial kitchens and food preparation environments.
Polished concrete floors are extremely popular in commercial restaurants, particularly for their durability, slip resistance, ease of maintenance, and because polished concrete can be dyed or stained to achieve a variety of different tones or colors that coordinate with the restaurant's interior design style.
Polished concrete flooring is able to withstand high traffic, grease, oil, coffee, alcohol, and citrus acids that could damage or deteriorate other flooring surfaces. In order to withstand the regular foot traffic, food carts, and food spills you need an industrial flooring solution, but that doesn't mean your restaurant needs to look industrial! Polished concrete floors provide an industrial-strength flooring solution for your restaurant that's aesthetically pleasing, too!
Craftsman Concrete Floors has many different flooring solutions for restaurants. Give us a call to learn more!
Are Polished Concrete Floors in Restaurants the Best Choice?
Commercial polished concrete floors in restaurants must regularly endure extensive foot traffic and frequent exposure to excessive spills and stains from water, grease, and various foods. You need a flooring solution that is strong, durable, and long-lasting without requiring extensive maintenance that jeopardizes your dining schedule.
Quarry tile and other flooring surfaces that are typically used in restaurant settings regularly require extensive schedule maintenance that involves closing the restaurant down for several days or more in order for floor maintenance to take place. However, polished concrete floors can be rejuvenated overnight, during your restaurant's regular downtime. Therefore, there is no need for extensive closure, changes to the dining schedule, or missed shifts.
Commercial kitchens are best served by epoxy flooring and in most municipalities build code specifies the use of epoxy flooring for food prep areas. Epoxy flooring is a durable choice for back-of-the-house operations inside your restaurant. Epoxy floors are durable and easier to clean than other industrial kitchen flooring surfaces. Coarse sand is broadcasted into the epoxy floor coating to increase slip resistance and to improve the floor's resistance to aggressive cleaners and harsh chemicals that are necessary for the removal of tough grease or grime.
Polished concrete floors are the best flooring option for customer-facing, front-of-the-house applications in restaurants whereas epoxy is the chosen concrete flooring application for back-of-the-house operations in most restaurants.
Additional Concrete Flooring Options for Restaurants
Several polished concrete flooring options exist to complement your existing design theme or restaurant plan. Whether refinishing or resurfacing an existing concrete slab or building a restaurant from the ground up, the current phase of your restaurant's overall construction will play a significant role in determining the most appropriate concrete flooring application for your needs.
Industrial flooring, such as is required in a restaurant setting, has the burden of remaining durable, aesthetically pleasing, and viable despite consistent wear and tear, impacts from equipment, and frequent spills or stains from grease, food, and other liquids. Finding the right finish for your restaurant's concrete floor surface is vital to the safety of your staff and patrons, as well as to the success of your business. While polished concrete flooring is an eco-friendly, long-lasting, visually-pleasing flooring option suitable for many restaurant environments, some owners do find other concrete flooring options to be more suitable to their needs.
Finding and choosing the right flooring option for a restaurant or commercial establishment requires an understanding of the various flooring solutions that are available and approved for use in a restaurant setting. While polished concrete floors are an amazing solution for the front of the house, they're not for everyone! Consider the following other concrete flooring options for use in a restaurant setting:
CONCRETE OVERLAYS
Concrete overlays offer amazing flexibility in regards to the choice of color, texture, and ultimate finished style for your concrete floor surface. Ideal for restaurant settings where the existing concrete slab was damaged or unappealing, an overlay provides a thin concrete coating to cover any existing damage, stain, or unappealing surface. This allows for a brand-new finish such as polished, stained, or dyed concrete of the chosen color and style to be installed based on what works best with the current design of your restaurant's interior.
EPOXY FLOORS
Epoxy flooring can provide some additional protection and industry-specific advantages that polished concrete does not offer. Generally resistant to abrasion and impact, epoxy is important in the restaurant setting as heavy food carts, furniture, and certain chemicals could damage the concrete floor's surface. Epoxy is ideal for "back of the house" uses where chemical damage from fats, oils, or spills are likely to occur. Epoxy flooring for restaurants provides unique protection against spills, grease, food stains, and other chemicals.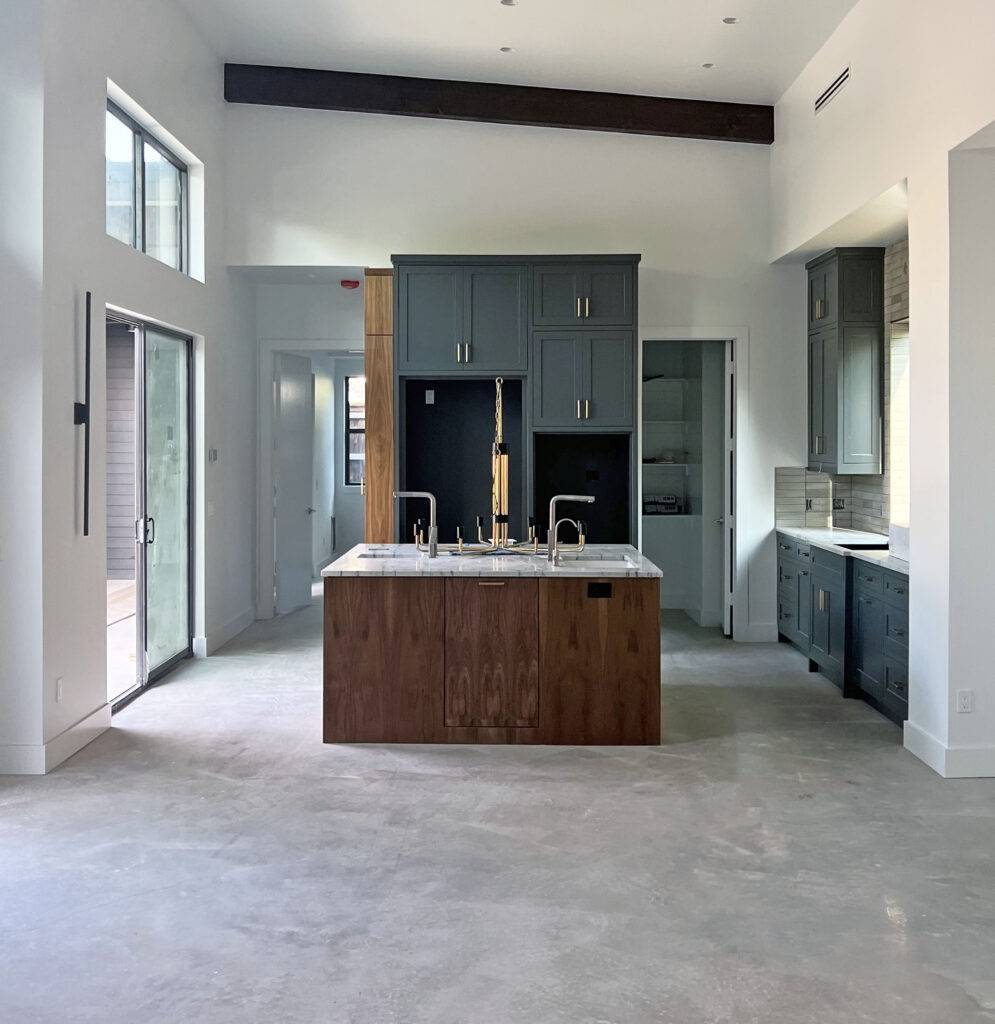 Why Choose Polished Concrete Floors for Restaurants?
The majority of commercial buildings and restaurants already have concrete floors when the restaurant owner purchases the property. Therefore, it makes sense to use what you have and improve the existing concrete with a long-lasting, durable finish rather than install carpet, tile, or vinyl overtop. Many other flooring finishes are not allowed per "building code" or "city ordinance."
From a design standpoint, restaurant owners typically want their flooring to coordinate with their branding, which is entirely possible with polished concrete. Not only do restaurant owners choose polished concrete floors because they can be customized to virtually any shade with acid staining and dying techniques, but many restaurant owners are making the shift to polished concrete floors because they are safe, durable, and easy to maintain, too!
Polished Concrete Floors in Restaurants are Durable
Restaurant floors see very constant foot traffic which means you need to have a flooring that won't chip, crack, peel, or otherwise break under the pressure. Polished concrete floors can withstand the consistent foot traffic and ongoing wear and tear that most restaurant floors endure.
In fact, polished concrete is generally able to withstand heavy use, extreme wear, and constant foot traffic in addition to the traffic of food carts or restaurant equipment being moved across the surface on a regular basis. Few flooring options are as durable as polished concrete is and certainly not for the long periods of time that polished concrete can go without requiring maintenance.
Craftsman Concrete Floors has many polished concrete flooring and epoxy coatings for restaurants. Give us a call to learn more!
Polished Concrete Floors in Restaurants are Low Maintenance
Polished concrete flooring is durable and safe, even after the equivalent of hundreds of people walking on the floors daily, for months or years on end. The typical restaurant expects to serve upwards of 30 customers per hour or upwards of 300 people per day. All of that foot traffic, in addition to the foot traffic of wait staff, kitchen staff, management and various others can quickly add up day after day.
In between professional maintenance of polished concrete floors, restaurant owners can take care of their polished concrete flooring by cleaning regularly with a dry microfiber dust mop and mopping with lukewarm water to remove any surface stains or spills. Fortunately, polished concrete floors do not have any grout lines or joints to worry about which are otherwise a top complaint from restaurant owners that choose tile or vinyl flooring solutions.
Minimal cleaning is required for polished concrete restaurant floors. Most restaurants perform very little maintenance on polished concrete floors in between the regular professional maintenance schedule. These floors generally require professional maintenance every 2-3 years to ensure continued luster and shine which can be minimized over time as a result of food and grease spills, spatter, and the use of harsh cleaning chemicals which break down the polished concrete floor's surface shine.
Polished Concrete Floors are Safe & Slip Resistant
In commercial food preparation areas and restaurant settings, The Occupational Safety and Health Administration (OSHA) is responsible for ensuring that restaurant owners take staff and employee safety seriously. The overall emphasis on safety in restaurant settings is to ensure the prevention of any kind of slip and fall accident both for employees and for restaurant patrons. Polished concrete floors are less slippery than most other restaurant flooring options such as tile, linoleum, vinyl or even unpolished concrete flooring.
Polished concrete floors are incredibly slip-resistant and actually minimize the potential for slip and fall injuries inside the restaurant setting. In fact, polished concrete floors exceed the high traction specifications that are set by the American National Standards Institute (ANSI) in regards to slip resistance and they all fall within the "conditionally slip-resistant" ranges set by the ADA and OSHA.
Polished Concrete Floors in Restaurants are Sanitary & Clean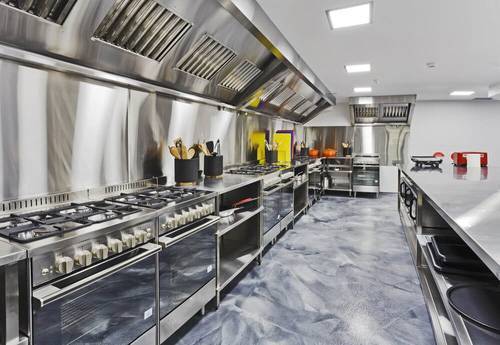 In the restaurant industry, polished concrete floors are an ideal choice largely for sanitization and cleanliness purposes. Professionally polished concrete floors in restaurants meet USDA and FDA safety requirements for commercial food preparation and handling. There are plenty of other flooring options that meet FDA Food Code requirements, but polished concrete floors in restaurants have fewer negative drawbacks compared to other flooring solutions such as MMA or other epoxies.
Installing a polished concrete floor in a restaurant or commercial kitchen certainly has many benefits that you may be hard-pressed to find relative to various other commercial flooring for restaurants. Polished concrete floors are a cost-effective, long-lasting, durable and aesthetically-pleasing choice for restaurant owners.
Contact Craftsman Concrete Floors
If you're thinking about polished concrete floors for your restaurant, contact us at Craftsman Concrete Floors. We specialize in the installation of new and existing polished concrete floors for restaurants throughout Texas. We believe that polished concrete floor surfaces are the most durable, long-lasting, and sustainable approach for today's restaurant owner.