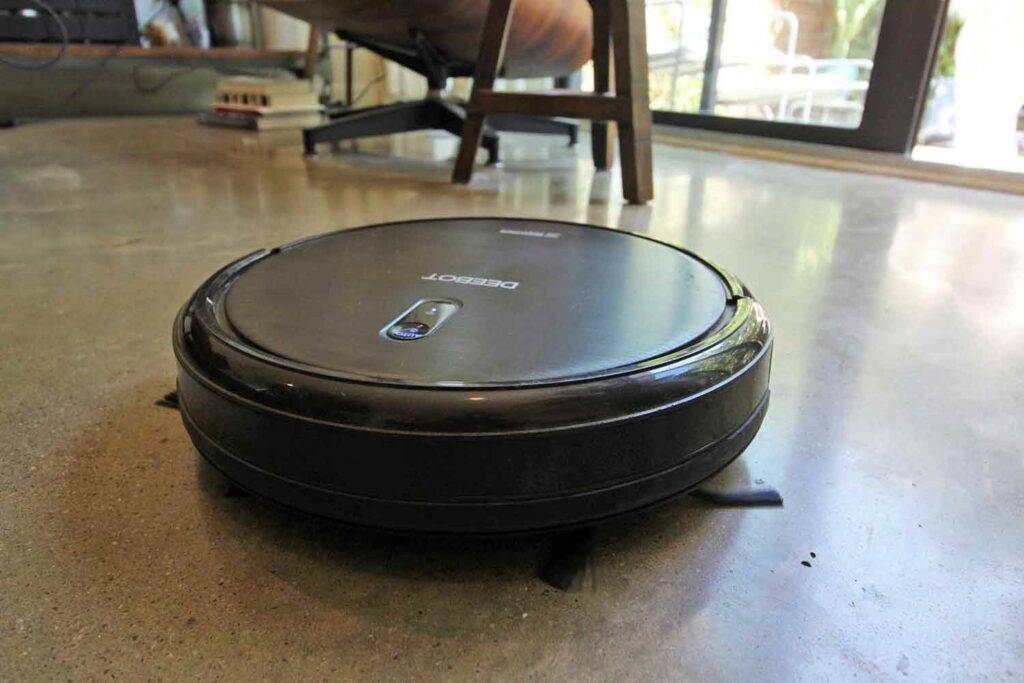 A Robot Vacuum Cleaning Polished Concrete Floors in Austin, Texas.
Concrete floors are in high demand because they offer modern aesthetics, easy cleaning, and low maintenance. Combining a simple floor care routine and occasional professional service is all that is needed to keep your floors as good as looking new.
In this article, you will learn what products you should use to clean your concrete floors and how to know when they may need to be serviced by a professional.
About Craftsman Concrete floors
At Craftsman Concrete Floors, we specialize in luxury residential and commercial polished concrete installations. With nearly 25 years of experience installing concrete floors and terrazzo, we're the preferred installer of countless luxury designers, builders, and architects.
Our in-house design team is available at no cost to help you achieve your project's desired goals. We employ well-known veterans of the decorative concrete industry, many with decades of experience. Proudly, all our employees are full-time W-2 employees receiving a living wage. At Craftsman Concrete Floors, we never subcontract jobs.
Concrete Floor Care Basics
Keep your Floor Clear of Dust, Dirt and Grime
The key to a long life is keeping the surface of your concrete floor clear of dust, dirt, and grime. Excessive surface contaminants act as abrasive, dulling, and discoloring decorative concrete floors. Frequent concrete floor cleaning will dramatically prolong the interval between professional service calls.
Use a Vacuum
We recommend robotic vacuums designed for hardwood flooring to take care of daily floor cleaning duties. They're efficient and reliable and can keep up with contaminants from foot traffic. If a vacuum is not an option, dust mopping is your second best choice. We recommend using a standard microfiber dust mop both dry and with clean water. These dust mops are machine washable and reusable
What's The Best Cleaner For Polished Concrete Floors?
When mopping polished concrete floors it is important to use the correct cleaning solution. We recommend Ameripolish® Rejuvenating Floor Cleaner. This product is designed for polished concrete floors and will increase stain resistance when used regularly.
If this product is unavailable, we suggest using natural soap, such as Dr. Bronner's castile soap when mopping your floor. Dr. Bronner's is gentle, nearly pH-neutral, and concentrated—a few drops in a mop bucket is all that's required for an effective cleaning solution. For mopping, use warm water and a microfiber-style wet mop.

Never use cleaners such as Pine-Sol, ammonia, vinegar, or bleach as they will dull, discolor or etch polished concrete and stained concrete floors.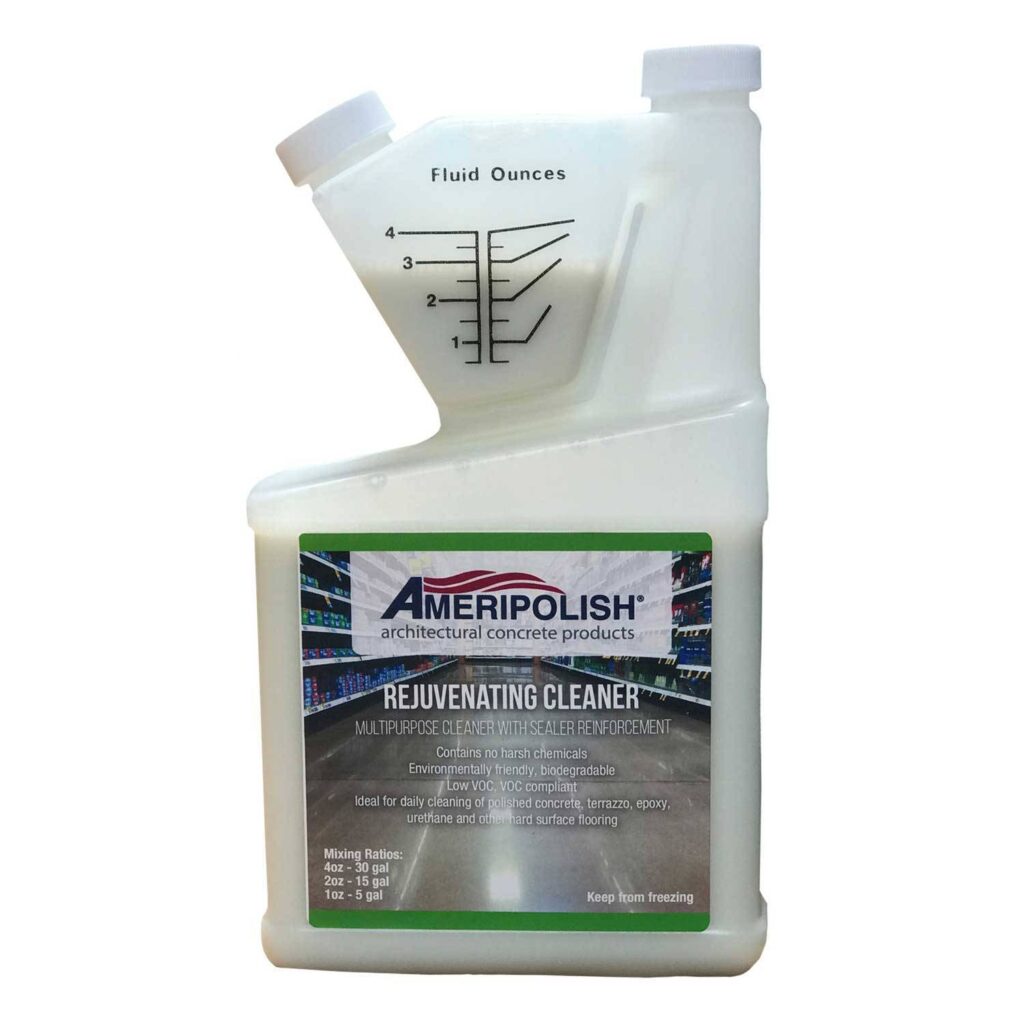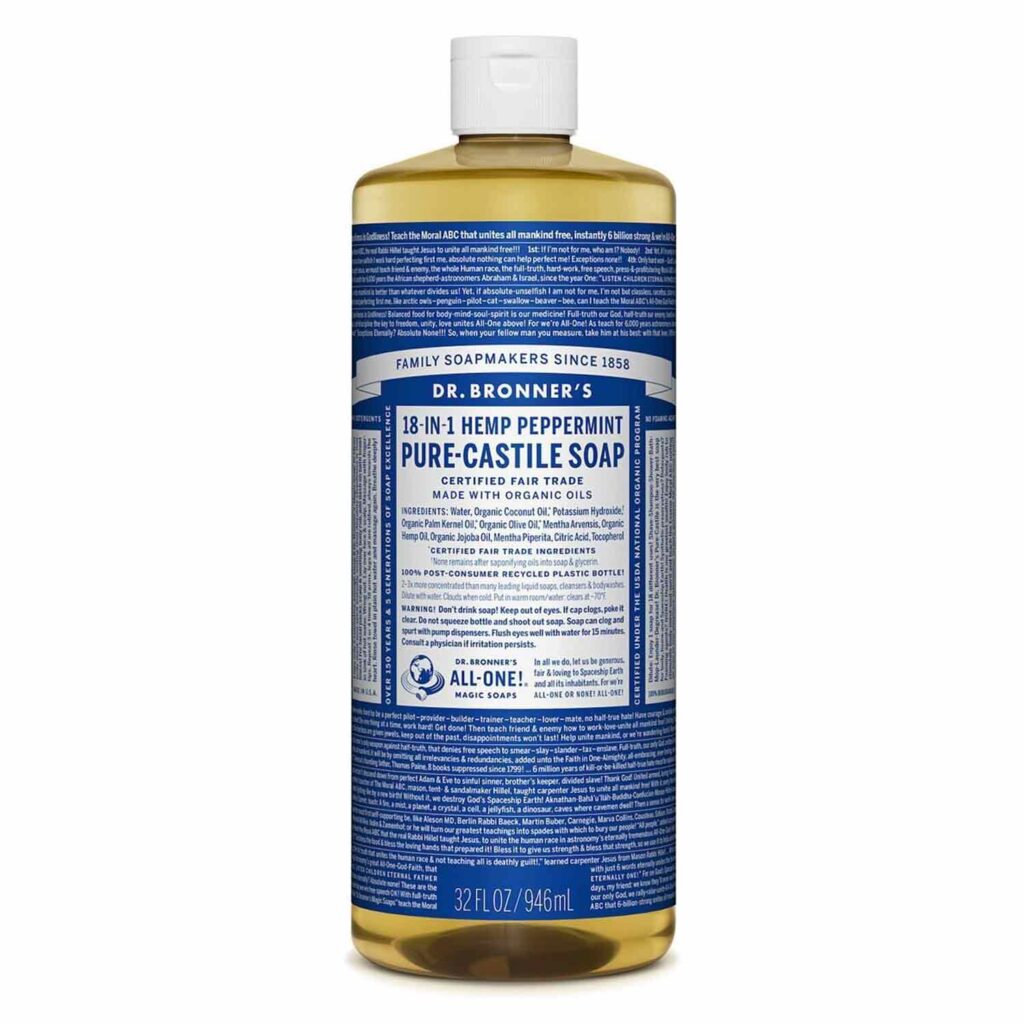 Get Professional Advice on Polished Concrete Floors
Get a specialist to help you with maintaining your polished concrete floors.
How Often Should you Have Your Polished Concrete Floors Professionally Serviced?
We recommend professional inspections every two years and servicing every six years.

If your concrete floors are starting to look dull, especially in high foot traffic areas, it may be time to have your floors serviced. If your floors look different from when they were installed, a professional inspection is needed.

In our standard residential servicing, we deep clean your floors with a specialized automatic floor scrubber and then use a high-powered buffer to bring back their original luster. This one-day service will revitalize your floors and increase their resistance to stains.
How-To Minimize Concrete Maintenance Costs
Always Keep your Floor clean
Use a dust mop or vacuum to remove surface contaminants such as dust and dirt. We recommend a robotic vacuum over a dust mop, as robotic vacuums can clean hard floors and rugs at the same time. Keeping your floor clean is the #1 thing you can do to ensure a long service life
USE RUGS – BUT NEVER WITH A RUBBER RUG BACKING
Rugs are a great idea on concrete floors, especially in entryways. They'll reduce the volume of contaminants tracked onto the floor from daily foot traffic.
However, rubber rug backings can dull the shine of polished concrete flooring. Instead, use felt-style rug backers. Polished concrete isn't slippery, so you may find no need for a rug backer.
Never wax your polished concrete floors
Wax is a contaminant on polished concrete flooring and can cause costly repairs. Wax buildup is difficult to strip and will only temporarily improve the appearance of your floor.
Take care not to use a floor cleaner with added wax. Mop & Glo is the primary culprit. Again, a damp mop with a small amount of gentle soap is all that's required.
Never stick tape to a decorative concrete floor
Even blue painter's tape can damage the surface of a decorative concrete floor if installed for an extended period. Tape damage is one of the most common and costly maintenance issues associated with concrete flooring. For more information, see this page on protecting concrete floors during construction.
Choose the concrete floor installation that best fits your needs
Some concrete floor finishes are more durable than others, so choosing the correct installation is essential. For most uses, polished concrete tends to be much more durable than sealed or stained concrete.
Clean Spills Promptly
Always clean liquid spills promptly. Spills allowed to dry on polished concrete can seep into the floor, causing stains.
Pay special attention to liquids such as vinegar, soaps, or wine–these liquids are notorious for damaging polished concrete floors. Oil stains are also common, especially in kitchens.
Have your floor periodically inspected by an experienced concrete floor polisher
If the surface of your floor looks different from when we installed it, it's probably time to have it professionally evaluated. Worn floors are more prone to staining than properly maintained floors – leading to potentially costly repairs.
Looking for More Information about Polished Concrete Floors?
For more information about polished concrete floors, including pictures of different finishes, see our page 'styles of polished concrete floors'.