Light gray polished concrete floors are our most-common installation in 2022. Achieving them in new residential construction requires planning and skill. Here are our top tips: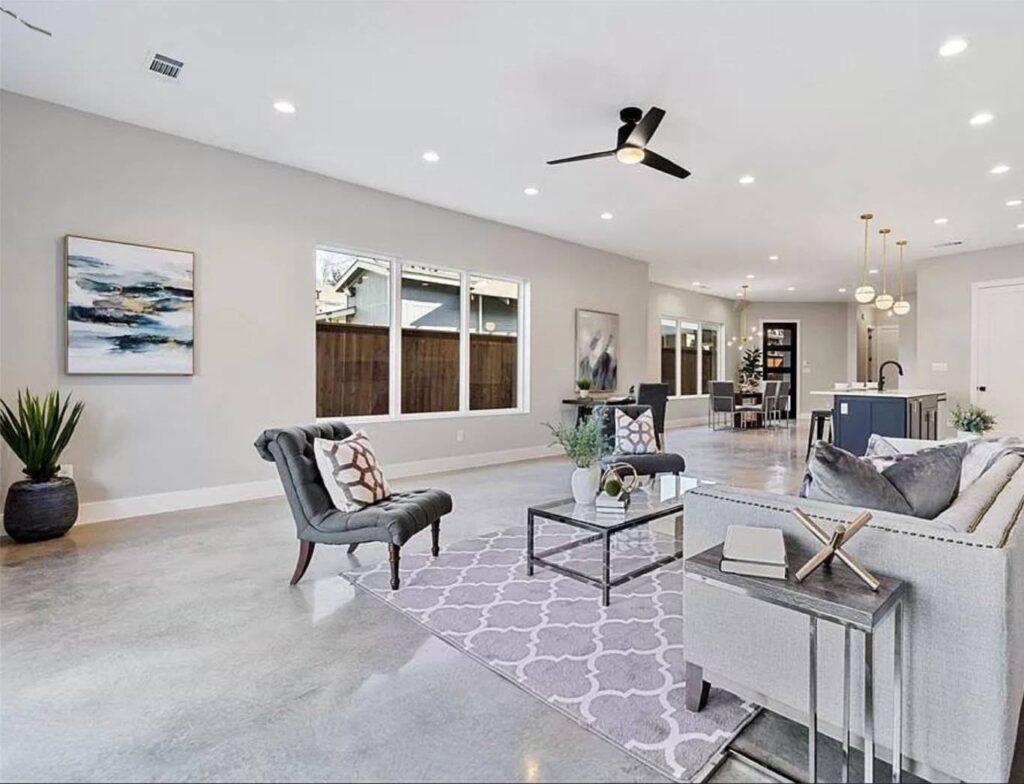 Tip One: Leave Out the Additives
Concrete additives such as fly ash and slag can be unpredictably colored and always darken the color of a concrete floor. For this ultra-modern concrete finish, straight portland cement is the way to go.
Tip Two: Don't Overwork the Concrete
Overworking concrete during the pour will 'burn' its surface and darken its appearance. To achieve light-colored concrete, plastic blades should be used on a power trowel. We suggest two passes with plastic blades and two passes with a trowel float pan.
Tip Three: Don't Use Cold-Weather Accelerators
To shorten concrete curing time, concrete suppliers add accelerators such as Calcium Chloride to concrete mixes. These additives can leave slabs looking blotchy and should be avoided for any decorative concrete floor.
Tip Four: Pour a Sample
If you're building your forever home, it's often prudent to have your concrete subcontractor mock-up a sample for polishing. This will allow you to tweak the pouring process and concrete mix to achieve your color goals.
Tip Five: Add Pigment
Integral color can increase the depth and beauty of a polished concrete floor. Adding some to the concrete mix is a bulletproof way to turn the gray up in a concrete pour.
To learn more about polished concrete floors and our installation process, visit our main polished concrete floors page
IMAGE GALLERY—LIGHT GRAY CONCRETE FLOORS DURING THE POLISHING PROCESS
Visit our home page, Concrete Floors in Dallas, to learn about our company along with the products and services we provide.
About Craftsman Concrete Floors
WE SPECIALIZE IN LUXURY RESIDENTIAL CONSTRUCTION
While most decorative concrete companies target large commercial projects, our focus is on luxury residential floors. We're so committed to providing consistent, quality installations that we design and manufacture our own high-quality tools and materials, and have a 100% full-time W-2 labor force.
Looking for More Information about Residential Polished Concrete Floors?
See our polished concrete page for links to articles about the types of polished concrete floors, galleries, and other content. As always, give us a call for a free consultation.