Polished Concrete Floors in Retail Stores
Retail spaces require durable, slip-resistant, and easy-to-clean flooring solutions that are as aesthetically pleasing as they are functional. From big-box stores and grocers to shopping malls and stand-alone retailers, finding a concrete flooring solution that fits all of these requirements can be tough!
Most concrete floor solutions for retailers end up requiring extensive maintenance plans and invasive cleaning operations such as waxing, shampooing, and regular buffing to keep the floors looking acceptable. Floors like this result in extensive downtime and interruptions in the customer experience. In short, flooring solutions like this are invasive, costly, and certainly not ideal!
At Craftsman Concrete Floors we offer several concrete flooring solutions. Visit our polished concrete floors page to learn more about our many decorative concrete flooring styles.
A variety of concrete flooring options including polished concrete floors and decorative epoxy coatings can be achieved by our team of professionals and they do not require extensive maintenance or downtime, are easy to clean without harsh chemicals or invasive treatments, and last decades with minimally required maintenance that can be performed overnight!
Polished concrete flooring and epoxy coatings provide industrial-strength, fully-customizable solutions that are ideal for retail stores. Store owners can choose between different textures and styles of polished concrete flooring to encourage specific traffic patterns throughout the space or to delineate individual departments from one area to another. Our high-performance retail flooring solutions are built to withstand the test of time under the extensive foot traffic that is to be expected in a retail setting.
Retail locations with polished concrete floors feature durable, long-lasting finishes that are beautifully crafted with seamless integration throughout the space. Polished concrete creates a more contemporary and current look compared to outdated peel and stick tile finishes or dull concrete surfaces that many earlier retail and commercial establishments may have had.
Low Maintenance & Lasting Performance
No matter how busy your store or shop is, you need a flooring system that will provide long-lasting durability without requiring extensive maintenance that could otherwise require your store to close down. Polished concrete floors create a modernized appearance that doesn't break the bank. In fact, polished concrete floors for retail stores are often the chosen flooring solution when decisions are made based on long-term budget outlooks and maintenance requirements.
Our polished concrete floor solutions will set your retail space apart from the competition. At Craftsman Concrete Floors, we work closely with clients to establish commercial concrete flooring solutions that are most suited to their unique environment and individual needs. Our polished concrete floors, epoxy floor coatings, and decorative concrete overlays feature a variety of color choices and design options represent retail flooring solutions that can be used to improve your retail space without adding to your maintenance routine.
Many retailers can easily care for their floors with just a dry broom and nightly mopping with warm water. After several years of high traffic abuse, when wear and tear begin to break down the original luster and shine of the floor, overnight maintenance can rejuvenate a polished concrete floor to its original beauty without requiring any long-term downtime or store closure.
Why Choose A Polished Concrete Floor For Your Retail Space?
Polished concrete floors are available in several style and finish options that can accommodate the interior design of your retail store. Typical costs to grind and polish a concrete floor in a commercial establishment can vary greatly depending largely on the complexity of the project, the grade level, necessary repairs, and the timeline upon which the project must be completed. Despite the range of cost, which generally keeps polished concrete floors well within the reasonable pricing margin for store owners, there are several benefits to polished concrete floors for retail store owners.
DURABILITY
The primary benefit of course is the fact that polished concrete is durable and can stand up to the daily heavy foot traffic that a typical retail floor is subjected to. Polished concrete is not easy to stain, the way carpet is. It's also not easy to damage, the way vinyl is. A properly cared for polished concrete floor can withstand extensive foot traffic during the busiest seasons and will even hold up through years of weathering in locations where direct sunlight strikes the floor on a regular basis.
In fact, when concrete floors are polished professionally, the natural hardness and durability of the concrete surface are improved. This strengthens the concrete floor beyond its previous density for a long-lasting, durable finish.
LOW-MAINTENANCE
Polished concrete floors are ideal for retail spaces largely because they are a low-maintenance flooring option that seldom requires professional intervention. The surface can be cleaned with a soft, microfiber mop and warm water. Concrete-safe chemicals, including conditioners that help to extend the shine of the floor's surface in-between periods of professional maintenance, may also be used as needed. Re-buffing of the concrete's surface is only required after years of wear and tear and chemical buildup resulting from the use of chemicals in-between maintenance which reduce the floor's original polish and shine.
The typical retailer can get away with basic, in-house maintenance of their polished concrete floors for up to 5 years before they must perform professional maintenance on the floor to restore original luster and shine – that's several years longer than carpet and other retail flooring solutions which are prone to staining and general destruction due to heavy foot traffic.
LONG LASTING
While maintenance for any polished concrete flooring in a retail shop is generally required every 3-5 years, as long as this maintenance is performed the polished concrete floor surface can maintain its shine and durability for at least 20 years or more. Polished concrete doesn't chip, dent, or otherwise lose durability over time the way many other flooring surfaces such as carpet, tile, and vinyl do. The floors will last decades as long as they are properly cared for and professionally maintained.
AFFORDABLE
Although the upfront cost of polishing a concrete floor surface might seem high, the overall cost of polished concrete floors is generally quite affordable from a long-term perspective. Upfront, polished concrete floors require grinding and polishing the surface which can take some time and requires special equipment.
When considering the long-term costs of carpet (which needs to be replaced generally every 5 years or less), tile (which needs to be replaced every 10 years or less), and vinyl (which needs to be replaced every 5-8 years or less) the cost of polished concrete is generally more affordable overall. This is especially true when you factor in the downtime for your retail store when flooring replacement is required! Very few retailers can "easily" afford to have their store closed for the several days (or weeks) that it will take to repair, relay, or otherwise replace flooring at approximately 5-year intervals.
BEAUTY
Polished concrete floors for retail stores are a modern choice that is both elegant and attractive. When compared to dull concrete slabs that have not been polished, or to dingy stick on vinyl-type flooring that is commonly applied to retail concrete floors, polished concrete is exceptionally pleasing. The smooth, glossy surface is an attractive option that adds visible style to your floor's surface, and concrete dyes and stains can be used to add further customization of color, texture, and surface composition.
SAFETY
It's easy to look at the high gloss texture of polished concrete floors in a retail store and think, "Wow, those must be slippery!" But the reality is, polished concrete floors maintain much of the porosity that a standard concrete slab would have and, this porosity means the floor has better overall foot traction than marble flooring, linoleum surfaces, and many types of stick-on vinyl or tile.
While polished concrete floors are generally not very slippery when wet, it is important to understand that the polished concrete surface can be slippery if dry powder or dust is present on the surface. Therefore, polished concrete floors are not recommended in areas where dust or debris, such as sawdust or other powdery elements can tarnish the floor's surface.
What If My Concrete Slab is Ugly?
Polished concrete floors are certainly a durable, long-lasting, and affordable option for retail spaces. Undoubtedly, this is why more and more store owners are choosing polished concrete flooring options. However, it is important to note that when polished concrete is the chosen flooring solution for your retail store that is already pre-established and built, you have little (basically no) control over what your concrete surface looks like – especially when there are years of carpet or tile on top of the concrete surface. You really never know what you're going to get!
Fortunately, there are options even if you're unhappy with the design, texture, or visible appearance of the concrete surface that lies under your existing carpet or tile. If you really want polished concrete, but you know you're working with an ugly concrete surface, you have the following options:
Bust the old concrete out and start over. This is NOT the option most would choose because it's incredibly expensive, time-consuming, and outright messy! You would not be able to operate your store during the time period in which your floor was being resurfaced.
Install a concrete overlay and polish. This is the chosen option that would be relatively inexpensive when compared to other options and wouldn't be overly time-consuming. This option would give you many options in color and style to choose from while offering many years of high performance too.
As a retailer, flooring solutions must be long lasting, durable, and safe. If you really want polished concrete floors for their lasting durability and aesthetic qualities, you have options, even if the existing concrete surface that you're dealing with isn't "pretty."
A Concrete Flooring Solution for Every Retail Store
If you're a retail store owner considering polished concrete floors for your establishment, we can assist you with the process of choosing the most appropriate flooring for your retail store needs. At Craftsman Concrete Floors, we specialize in polished concrete floor surfaces for retail establishments, commercial buildings, and a wide variety of industrial use cases.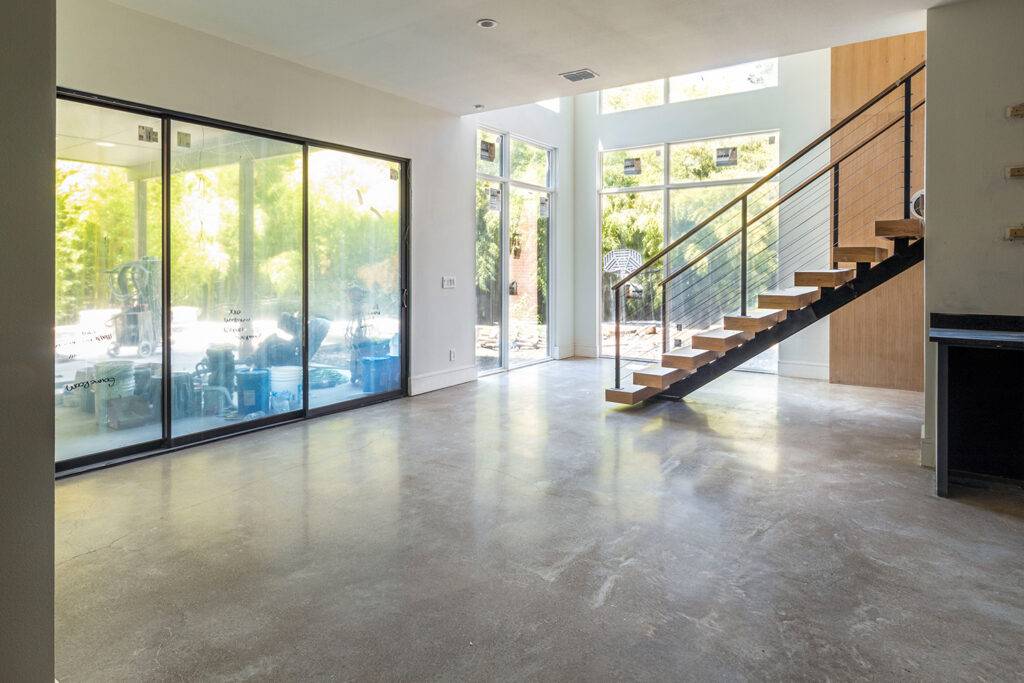 Ready to Get Started?
It is our honor and privilege to provide quality craftsmanship, at affordable prices, with absolute integrity for our customers. Contact us for information about polished concrete floors in your retail store.