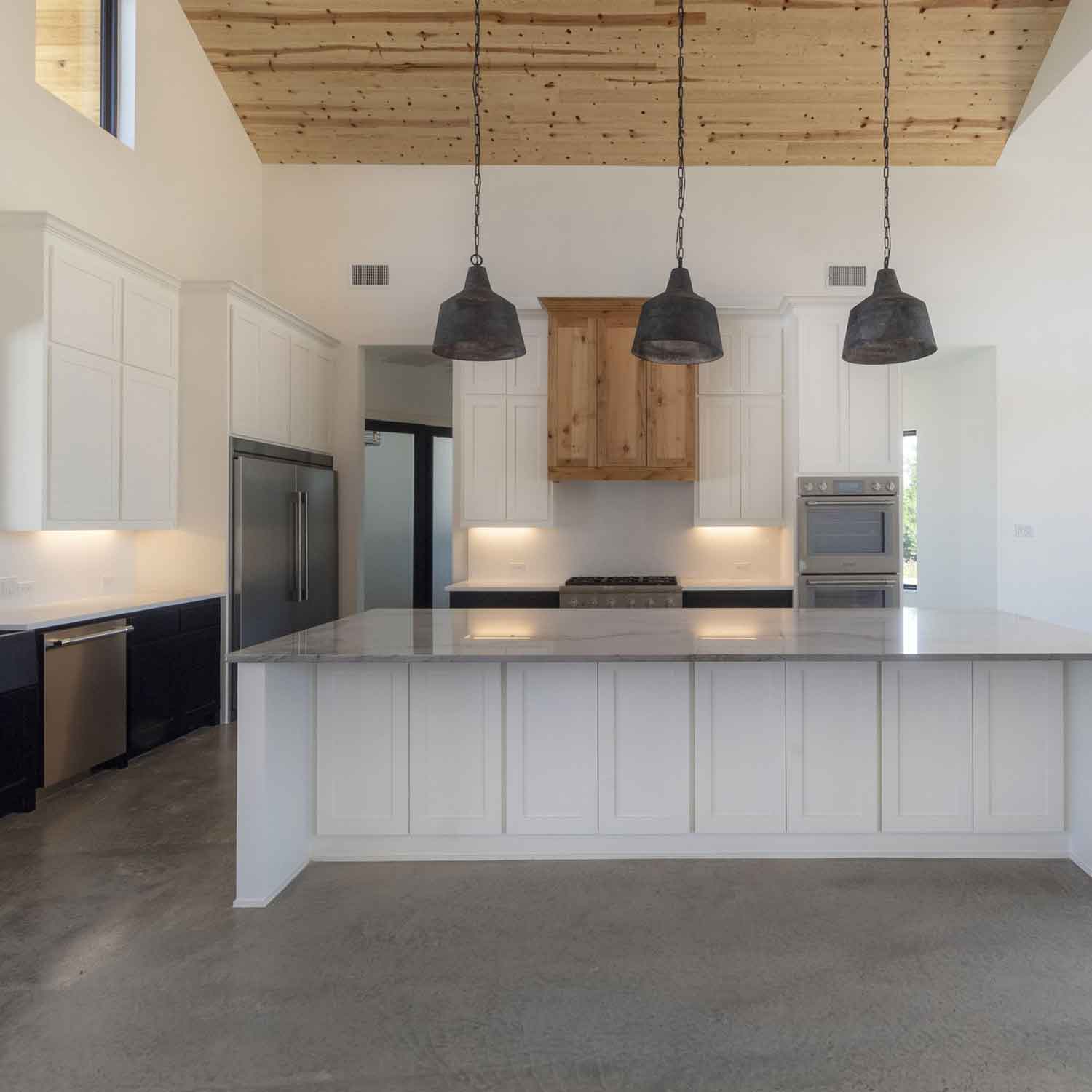 A Modern Kitchen With Polished Concrete Floors in Fort Worth, Texas.
Residential Concrete Flooring
Are you looking for a cost-effective flooring solution with modern style? Residential concrete floors offer that, plus easy upkeep! This guide covers all the features of residential concrete floors, from their high durability to broad design versatility. We also give you best practices and tips about installation scheduling and pouring the best slab for polishing.
Why Choose Craftsman Concrete Floors?
At Craftsman Concrete Floors, we specialize in luxury residential concrete floor installations. With nearly 25 years of experience installing residential concrete flooring, we're the preferred installer of countless designers and builders.
Our in-house design team is available at no cost. We employ well-known veterans of the decorative concrete industry, many with decades of experience. Proudly, all our employees are full-time W-2 employees receiving a living wage. At Craftsman Concrete Floors, we never subcontract jobs.
No Square Footage Minimums
All in-house, W-2 labor
Servicing Texas since 1999
Types of Residential Concrete Floors
There are three main styles of residential concrete floor finishes: Polished Concrete, Stained Concrete, and Terrazzo/Concrete Overlays.
Polished Concrete
Polished concrete floors are a popular flooring choice for modern homes because of their sleek and sophisticated looks. Unlike traditional flooring options, polished concrete floors utilize a houses' structural subfloor–modifying it into a finished floor. This means polished concrete floors are incredibly durably, low-maintenance, cost-effective, and environmentally friendly.
For more pictures of residential concrete floors, visit our 'Gallery' page
Stained Concrete
Stained concrete floors are an extremely versatile and stylish flooring choice for any residential project. Like polished concrete, stained concrete floors convert the structural concrete slab of a house into a finished floor. Stained concrete floors can be installed in nearly any color to complement the design language of a project.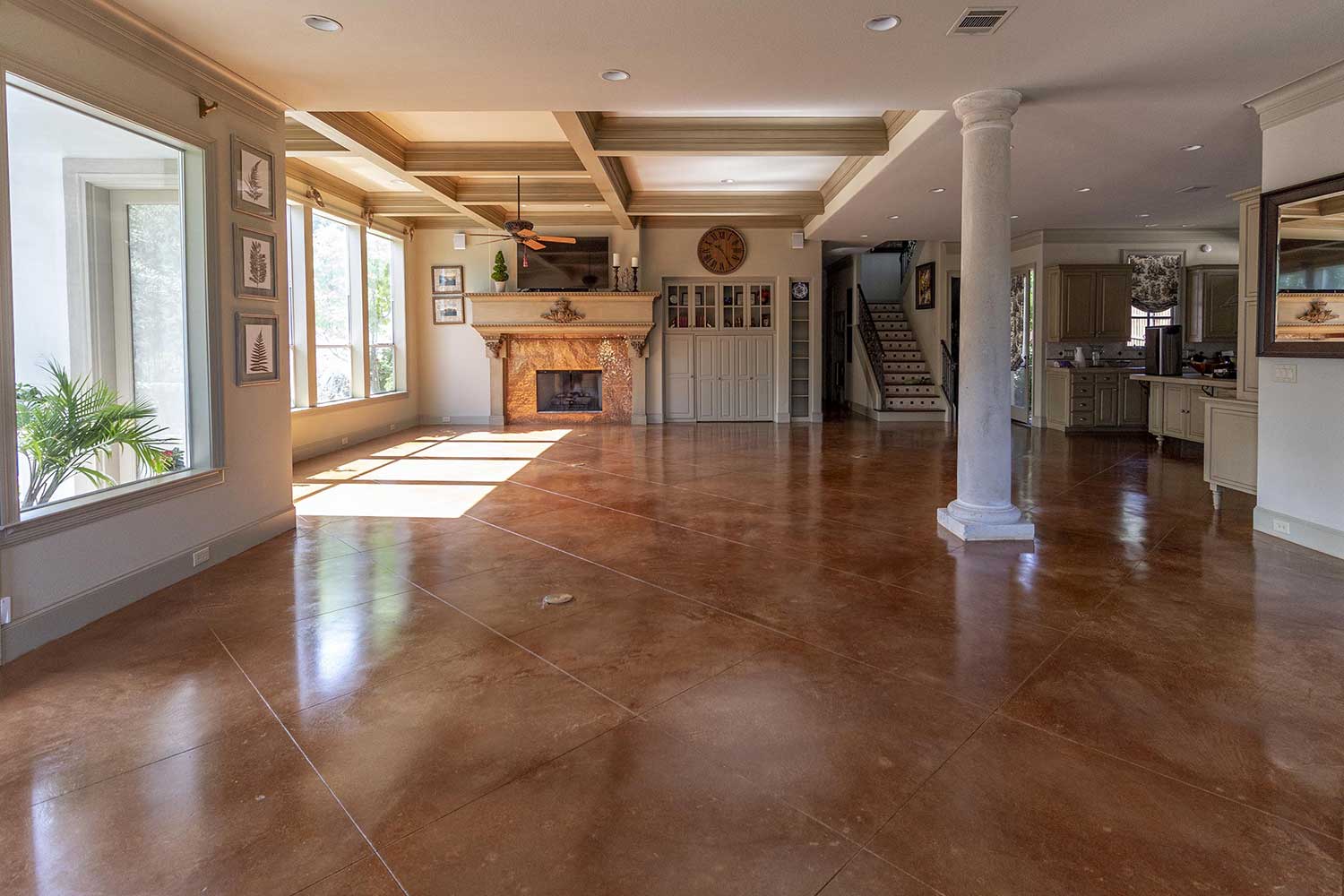 Terrazzo
For those looking for a decorative concrete flooring option that offers endless design control, terrazzo floors are an ideal choice. Constructed by mixing concrete or epoxy with beautiful aggregates, this unique surface has a timeless texture that compliments any residential construction project.
Want to Learn More About Residential concrete Flooring?
We're happy to provide a free flooring estimate. A Concrete Floor Specialist will get in touch with you within 1 business day.
When To Install Residential Concrete Floors
The ideal time to install residential concrete floors is when the house is in the early stages of construction. This allows the floor the best pricing as the floor is polished before obstacles such as walls and millwork are installed.
TYPICALLY INSTALLED IN 3 MOBILIZATIONS
For most new residential construction projects, our installation process is divided into 3 main steps. Each of them is equally important, and having the right concrete flooring company is essential in making this process as efficient as possible.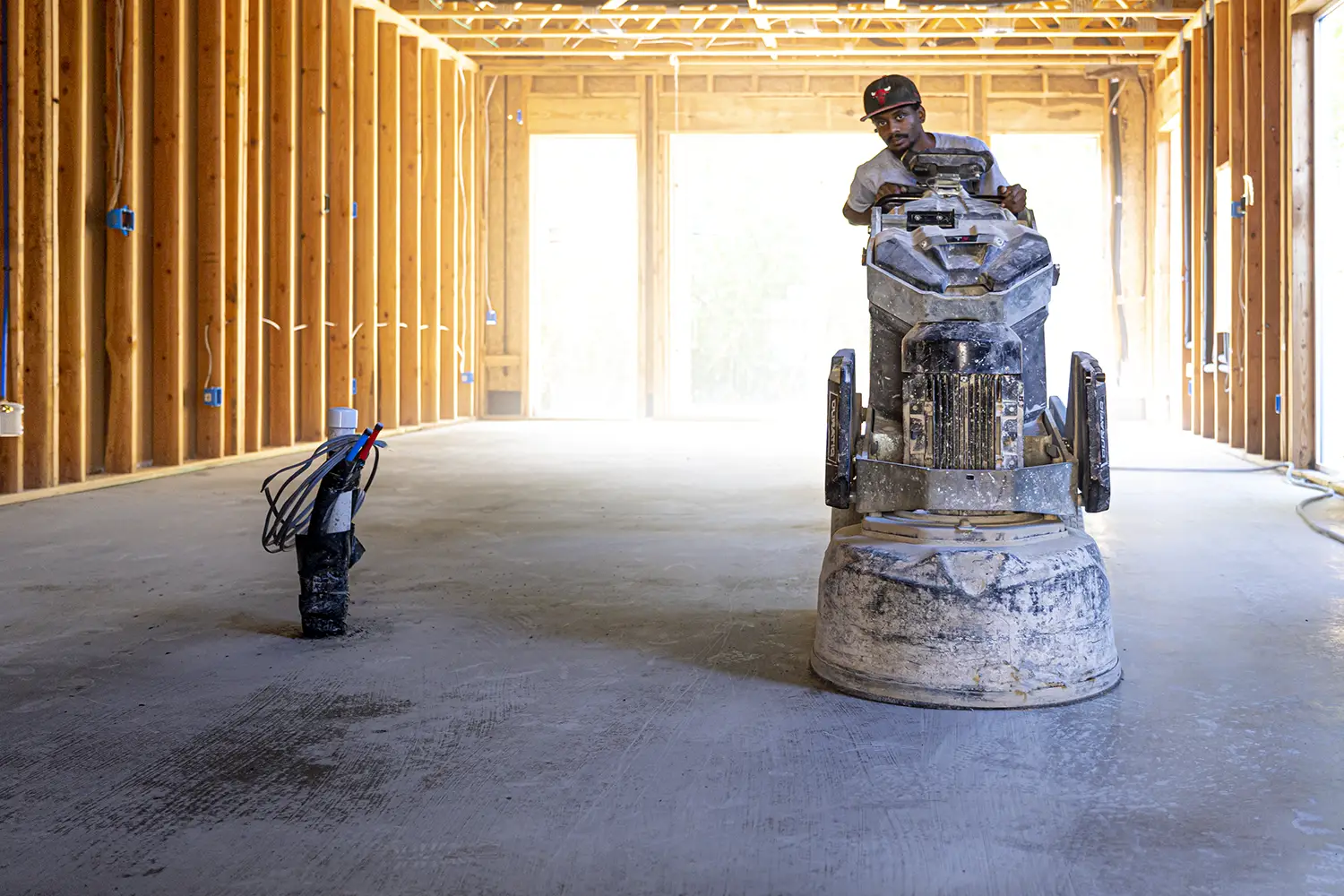 .
First Mobilization
When: Approximately one week after a slab is poured but before framing begins
How: The slab is densified, and the first polishing steps are installed. Densifiers are introduced into the slab and left to react, hardening the slab. After densification is complete, the floor is cleaned, and the most aggressive polishing steps are run.
Key Takeaway: Complete the heavy polishing work before the walls are framed to create a better-looking and more cost-effective floor.
Note: Densifier increases the durability of the floor to reduce staining and abrasion risks during the construction process.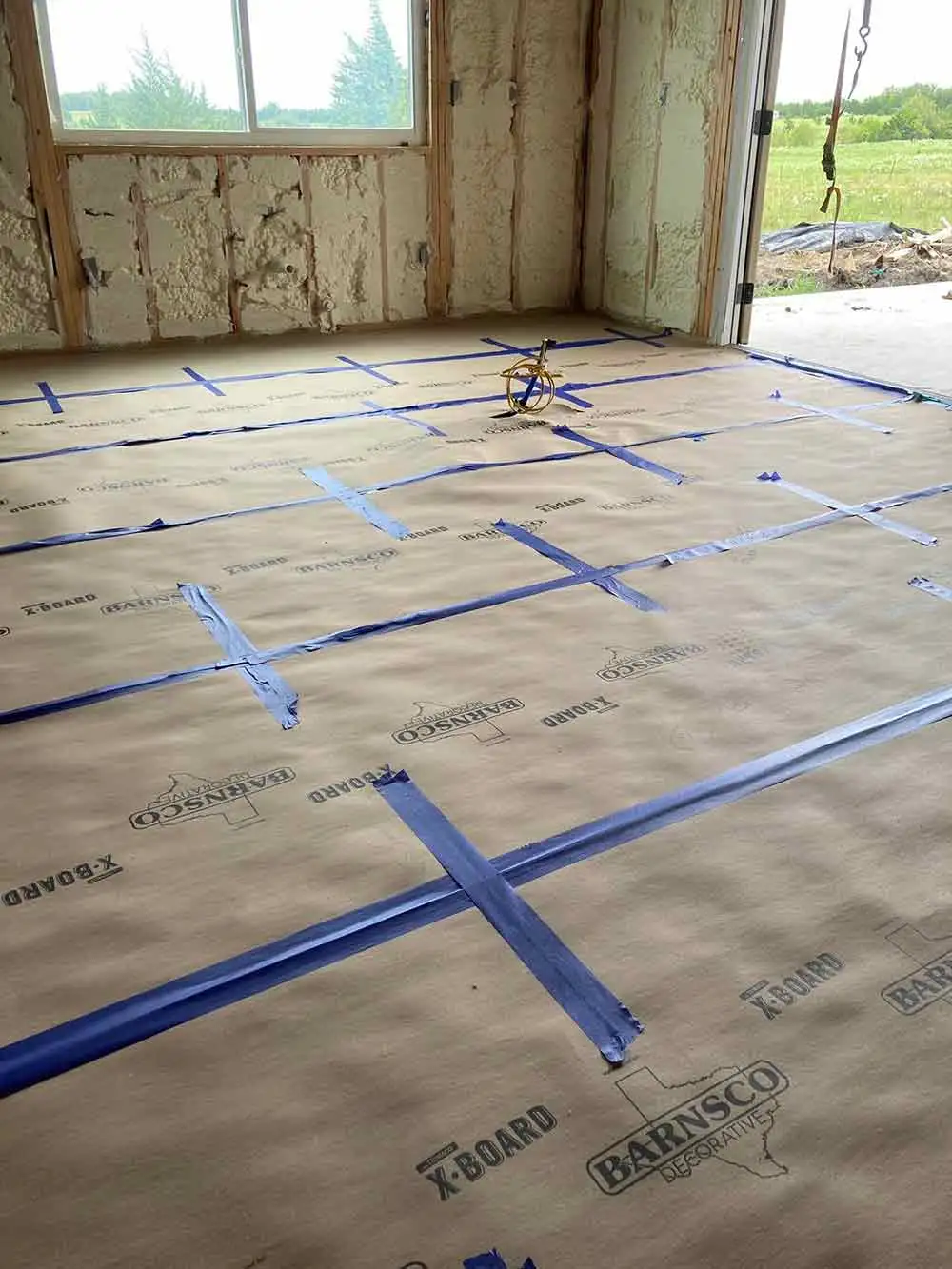 .
Second Mobilization
When: As soon as the project is dried in
How: The floor is cleaned, and any construction surface contaminants are removed. The next steps of polishing are run until the desired level of reflectivity. The slab is covered with a protective paper product such as a Ram Board.
Why: This allows subsequent finishing subs to work directly on the floor without covering it every time.
Key Takeaway: Insulation, drywall, tape/bed, texture, and paint can utilize the floor covering to save time. Trades that may create a mess, such as texture, should use drop cloths on top of the ram board to increase job site cleanliness.
Note: Painters can apply painter's paper directly to the ram board to eliminate contaminants being blown onto the wall when spraying paint. Since Ram Board is only tacked to the framing, the trim can be installed directly on top of the Ram Board. Ram board can then be pulled, and the trim caulked to the floor.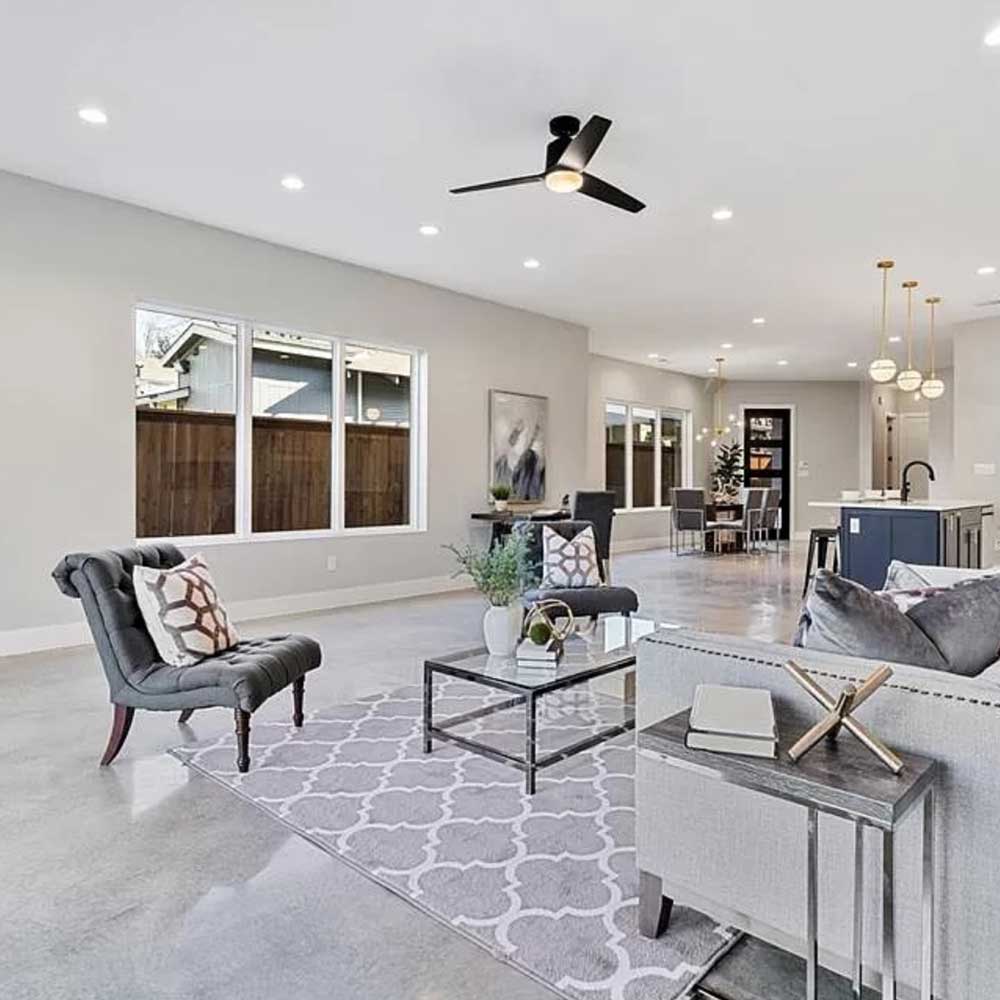 .
Third Mobilization
These are the final steps to complete the installation.
When: 'Pre-move-in' or during final site cleaning
How: One final polishing pass is performed on the floor to remove any contaminants on the floor from the construction process. The floor is then cleaned, and a penetrating stain protector is applied. Stain protectors increase a floor's resistance to liquid spills and are friction cured with a high-speed burnisher.
Key Takeaway: Work and foot traffic can be resumed on the site the next day
5 Tips for the Perfect Residential Concrete Pour
Tip One: Leave Out the Additives
Concrete additives such as fly ash and slag can be unpredictably color a concrete slab. For the best looking concrete floor, straight Portland cement is the way to go.
Tip Two: Don't Overwork the Concrete
Overworking concrete during the pour will 'burn' its surface and darken its appearance. To achieve light-colored concrete, plastic blades should be used on a power trowel. We suggest two passes with plastic blades and two passes with a trowel float pan.
Tip Three: Don't Use Cold-Weather Accelerators
To shorten concrete curing time, concrete suppliers add accelerators such as calcium chloride to concrete mixes. These additives can leave slabs looking blotchy and should be avoided for any decorative concrete floor.
Tip Four: Pour a Sample
If you're building your forever home, it's often prudent to have your concrete subcontractor mock-up a sample for polishing. This will allow you to tweak the pouring process and concrete mix to achieve your color goals.
Tip Five: Add Pigment
Integral color can increase the depth and beauty of a polished concrete floor. Adding some to the concrete mix is a bulletproof way to turn the gray up in a concrete pour.
Frequently Asked Questions about Residential Concrete Floors
While most of our projects are new construction, renovation projects may be viable in some cases. However, finishes such as cabinets and doors can get in the way of our polishing process, so gutted renovations are the best candidate.
Concrete flooring can be cold to the touch, especially in cooler climates. However, concrete floors are no cooler than other common flooring materials, such as tile. To help make floors warmer, we suggest using area rugs or installing radiant heating systems.