For the last month, we've been working on a very exciting terrazzo floor project at NorthPark Center in Dallas, Texas. This flooring installation for Australian fashion designer Scanlan Theodore features a two-toned terrazzo system with native rock aggregates. The two flooring colors are separated by a brass strip, creating a striking, modern aesthetic.
About Craftsman Concrete Floors
At Craftsman Concrete Floors in Dallas, Tx, we specialize in luxury residential and commercial terrazzo installations. With nearly 25 years of experience installing decorative concrete overlays and terrazzos, we're the preferred installer of countless designers and builders.
Our in-house design team is available at no cost to specify the correct installation and materials required to achieve the desired finish for your project.
We employ well-known veterans of the decorative concrete industry, many with decades of experience. Proudly, all of our employees are full-time W-2 employees receiving a living wage. At Craftsman Concrete Floors, we never subcontract jobs.
Give us a call at 214.663.5848 for a free design consultation.
What is terrazzo, and why is it used so frequently in luxury retail installation?
Terrazzo flooring is a unique composite material that combines rock aggregates with an epoxy binder. The rocks used can vary, but most traditionally are marble, granite, quartz, or glass. In this project, we used a native aggregate, which is also known as river rock. The smooth texture of this aggregate creates a more organic-looking terrazzo installation than more traditional crushed granite or marble chips.
Terrazzo flooring is frequently used in luxury retail both because designers have complete control its finished aesthetic and it offers very high levels of durability. The rock chips added to terrazzo floors are extremely hard, providing high levels of scratch and wear resistance. Further, terrazzo installations are environmentally friendly and offer great design flexibility (including integrated flooring logos, endless color and materials options, etc.).
How are terrazzo floors finished?
Custom terrazzo flooring is mixed in a specialized concrete mixer and then poured on top of an existing concrete subfloor. The depth of these installations can vary, but on this Dallas, Texas job, we poured the floor at less than 1 inch. Tradition terrazzo, dating back to ancient Rome, may be poured as thick as 5" inches. However, material advancements now allow for much thinner pour depth.
Once cured, this product is polished much in the same way as polished concrete, although different tools are used for this type of polishing. The terrazzo is first ground aggressively to expose the integrated aggregates. Then, progressively finer polishing tools are used to bring the surface to the desired gloss level.
Can terrazzo be installed in homes?
Yes, terrazzo flooring can be installed in homes. In fact, terrazzo was a very popular residential installation in the 1950s and 1960s. As we see finishes from this era become increasingly popular, terrazzo specs in residential installations become more and more common.
One important thing to note is that a quality terrazzo installation is often only possible in new construction or fully gutted renovations.
Because terrazzo goes directly on top of the concrete slab, it may necessitate modification to existing trim work and millwork in a home. Further, because terrazzo floors must be heavily ground as a part of their finishing process, it's important that there are no existing finishes in a home to get in the way of a concrete grinder.
If you're looking for a terrazzo floor in your home and are not committed to a full renovation, terrazzo tile may be your best option. Terrazzo tiles offer a wide variety of prefinished looks and textures in both standard and large format sizes. It's possible to incorporate zinc strips into terrazzo tile installations as well for a more authentic terrazzo appearance.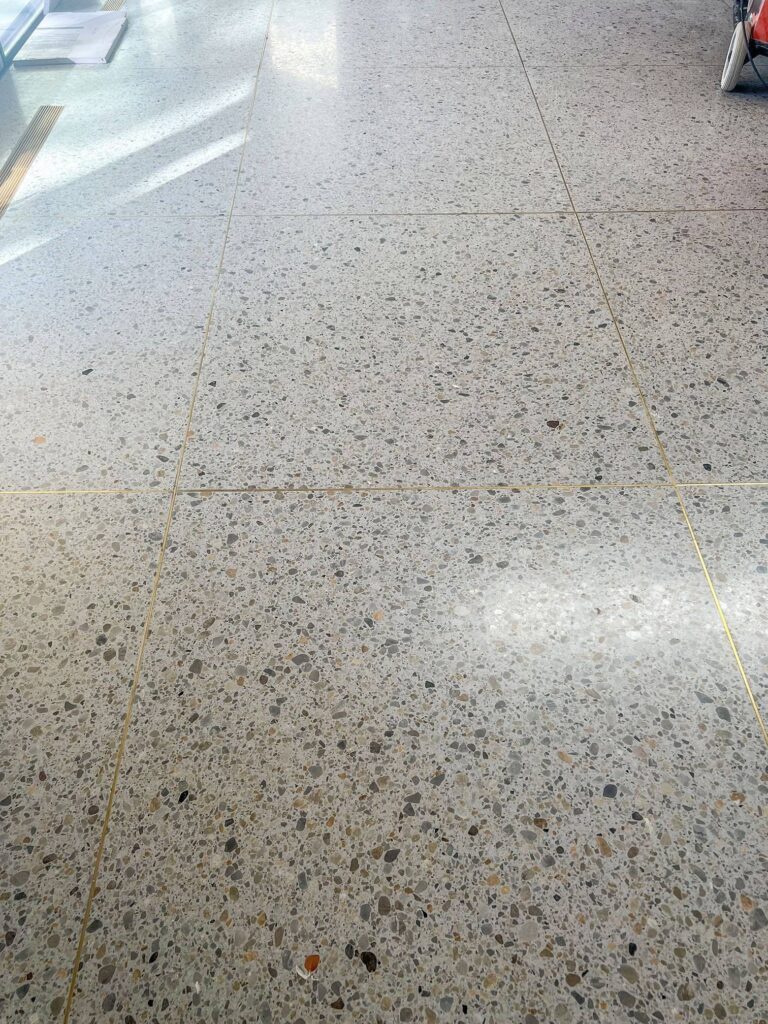 A terrazzo tile floor during the installation process
Do you provide terrazzo maintenance and restoration services?
Whether you have a large format terrazzo tile or a poured marble and granite finish, we provide terrazzo maintenance services in Dallas Tx, and other Texas metro areas, including Austin, Houston, and San Antonio.
Terrazzo Maintenance Services we offer
Wax Stripping and sealer reapplication
Diamond Grinding and Refinishing
Void Repair and Grout Coating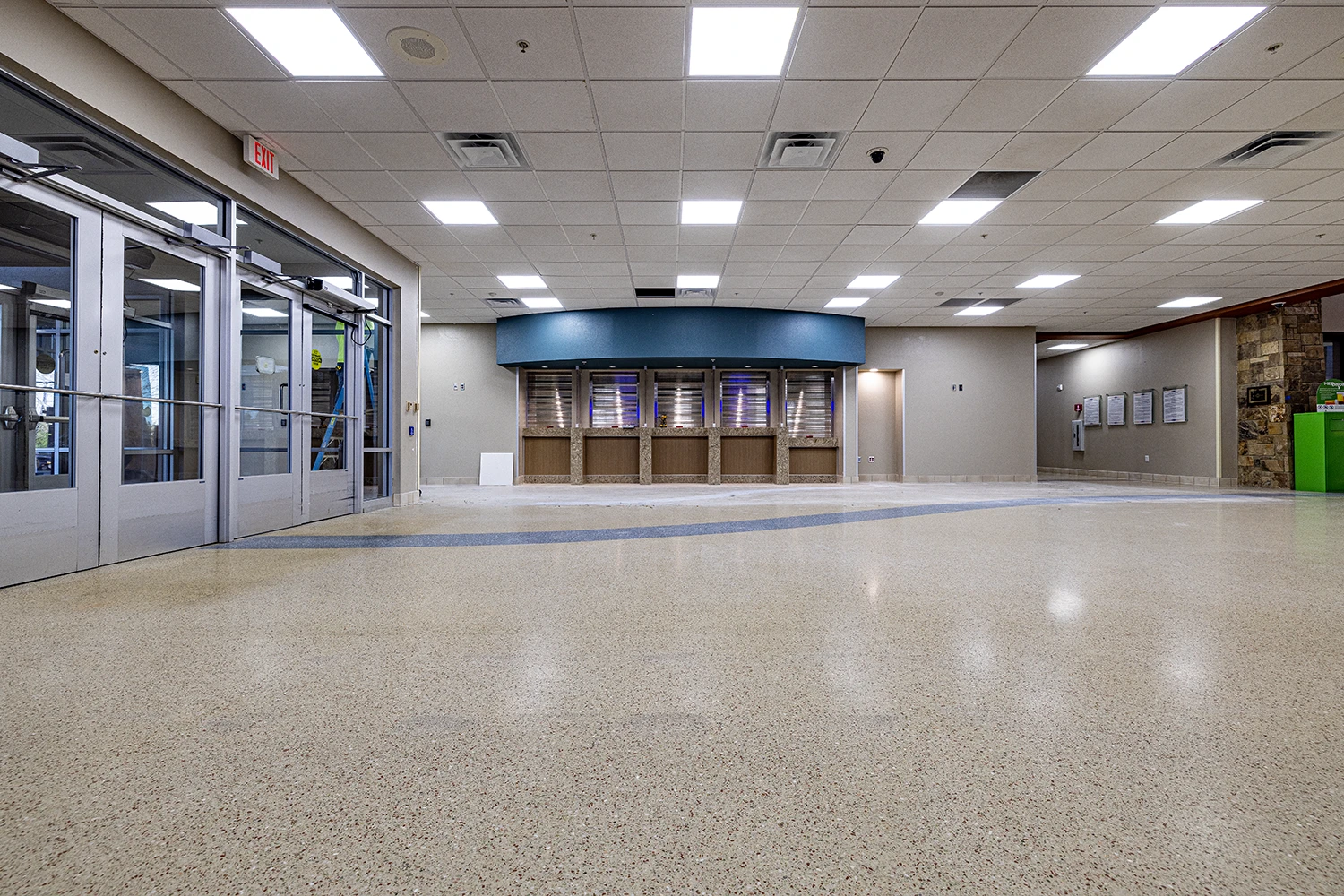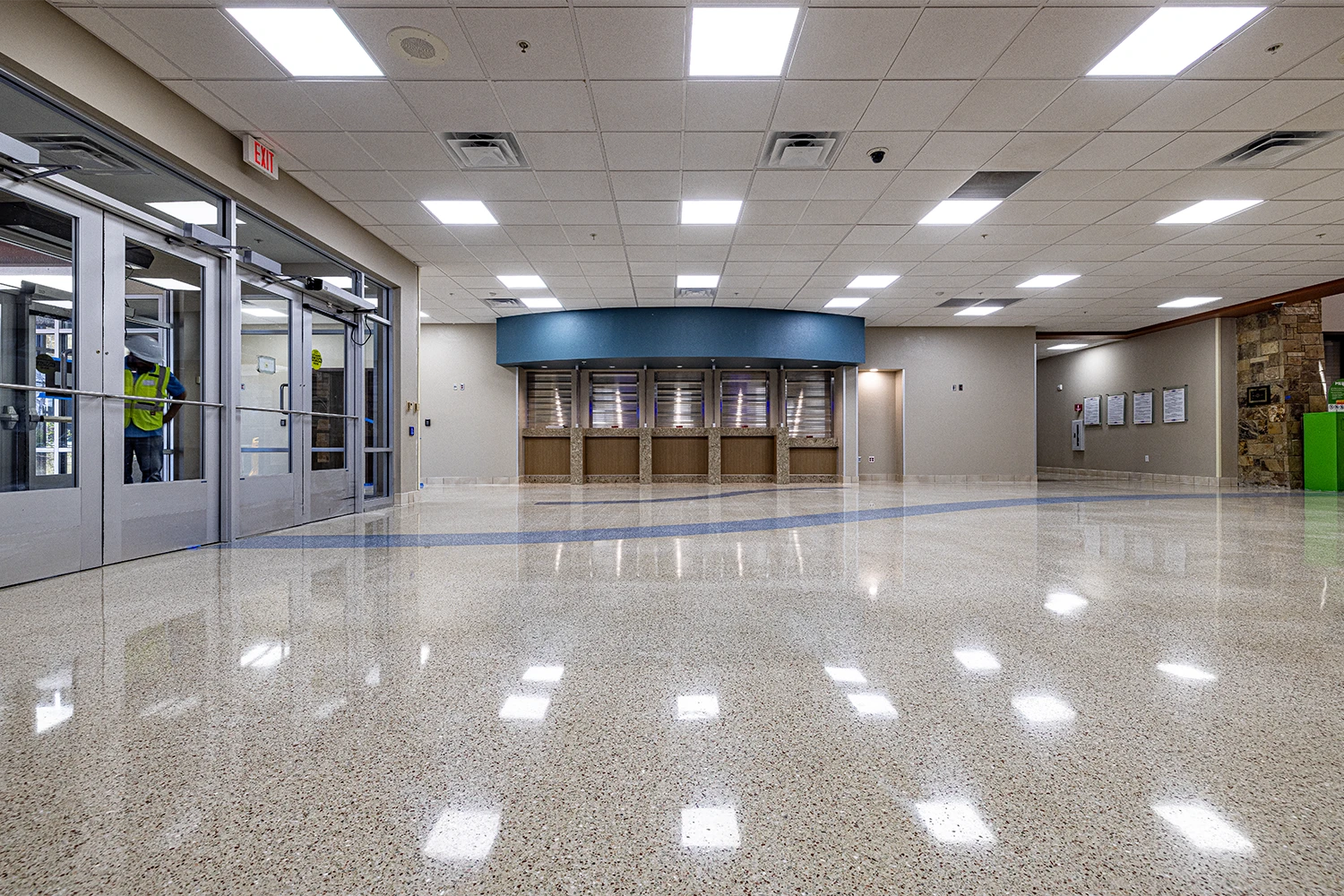 A Terrazzo Floor Before and After Comprehensive Maintenance
---
Locations We Service
Texas
Dallas, Austin, Houston, McKinney, Waco, San Antonio, El Paso, Fort Worth, Arlington, Corpus Christi, Plano, and Lubbock.
Colorado