From the sheer durability to their inherent sustainability, polished concrete floors can be an excellent choice for your office or home. There's one particular feature that can make your polished concrete floors even more sustainable and comfortable and that's radiant floor heating.
Radiant floor heating offers several desirable benefits, even if you live in a moderate climate like Texas. In-floor heating solutions can provide warmth during the coldest months, lowering your electric bill and ultimately contributing to global sustainability efforts.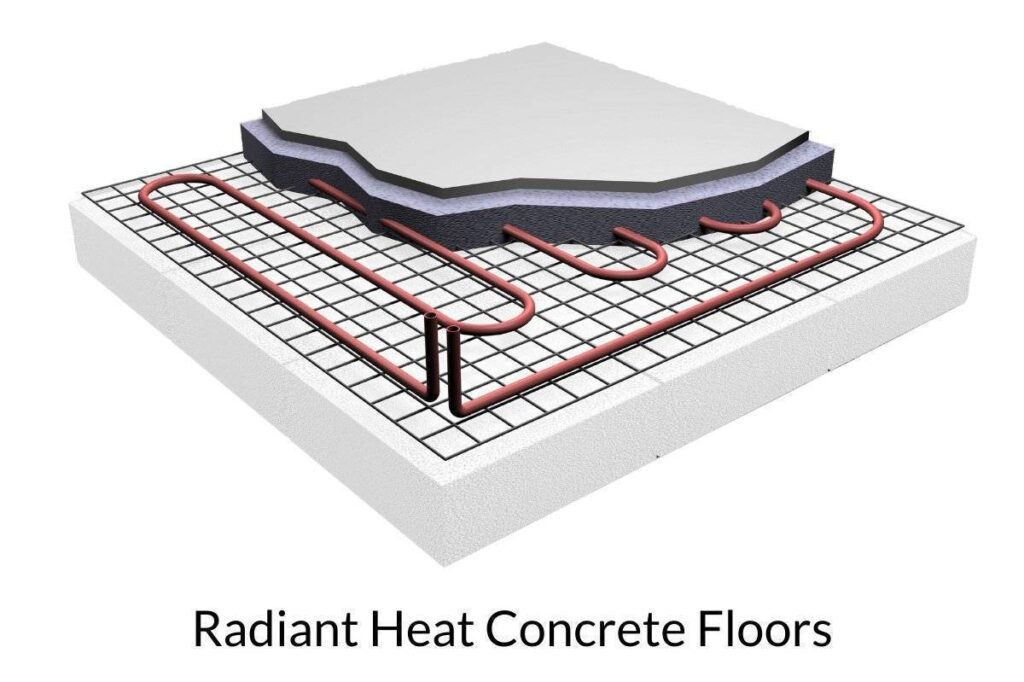 Investing into heated concrete floors allows you, your family, or your colleagues to focus on work or play without the distraction of a cold room. Concrete floor heating is even appropriate in Texas where the weather can turn colder at certain times of the year.
Hydronic heating systems provide localized warming of concrete floors for thermal comfort while offering significant health, financial, and environmental benefits. Create a comfortable, healthy living environment by having the floor distribute bottom-up heating via a professionally installed radiant floor heating system.
To learn more about polished concrete floors and our installation process, visit our main polished concrete floors page
What is Radiant Floor Heating?
Radiant floor heating is suitable for new builds and remodels in which a concrete floor or subfloor is installed. Several radiant heating styles, including electrical radiant floor heating and hydronic radiant floor heating systems are available, depending on your project needs.
These systems are referred to as radiant floor heating due to the scientific nature of the warming process in which heat from the concrete slab rises evenly from floor to ceiling resulting in a more uniform temperature than would be provided by forced-air systems.
Looking for more Information About Radiant Heating In Polished Concrete Floors?
How Radiant Floor Heating Works
To better understand how radiant floor heating works, consider the simple science behind radiant energy.
Radiant energy is a form of electromagnetic energy in which a warm surface surrenders its heat to a cooler surface.
The sun is a natural ball of radiant energy, it just happens to be 10,000°F.
The sun radiates energy towards the Earth which is just 61°F.
The Sun's warm surface surrenders its heat to the Earth's cooler surface.
The Earth absorbs the energy and releases it as heat.
Radiant floor heating provides a similar effect in your home or office. Electric heating coils or water-heated PEX tubing are installed into the concrete slab before it is poured. Through the process of radiant heating, the thermal mass of concrete is transformed into a radiator of warm, even heat. Heat then radiates upward from the floor to evenly warm the room.
With the installation of radiant floor heating in your polished concrete floors, you will notice that the room's temperature is constant. In fact, the temperature may feel even more constant than that of a standard forced-air system since forced-air systems release warm air that rises, cools, and then falls to the floor resulting in a mixed thermal environment.
Radiant floor heating mimics a heating process that occurs naturally in our environment. It is a simple and easy way to provide consistent heat in your home or office.
Ideal for New Builds & Remodels
Concrete floor heating solutions can be incorporated into existing polished concrete floors or into new builds in which concrete floors and finishes are planned. Hydronic radiant heat options can easily be incorporated into a new build or addition prior to pouring the concrete slab whereas electric radiant heat options offer a suitable choice for adding warm, radiant heat to an existing polished concrete floor.
HYDRONIC RADIANT HEAT FLOORS FOR NEW BUILDS
Easy to Install. PEX tubing installed prior to concrete slab pour for new construction.
Ultra-efficient. High efficient boiler system heats water which is then pumped through PEX tubing.
Consistent. System carries heated water throughout the concrete floor.
Aesthetically Pleasing. Heating system remains hidden beneath the floor with no sign of vent, radiator, or other equipment.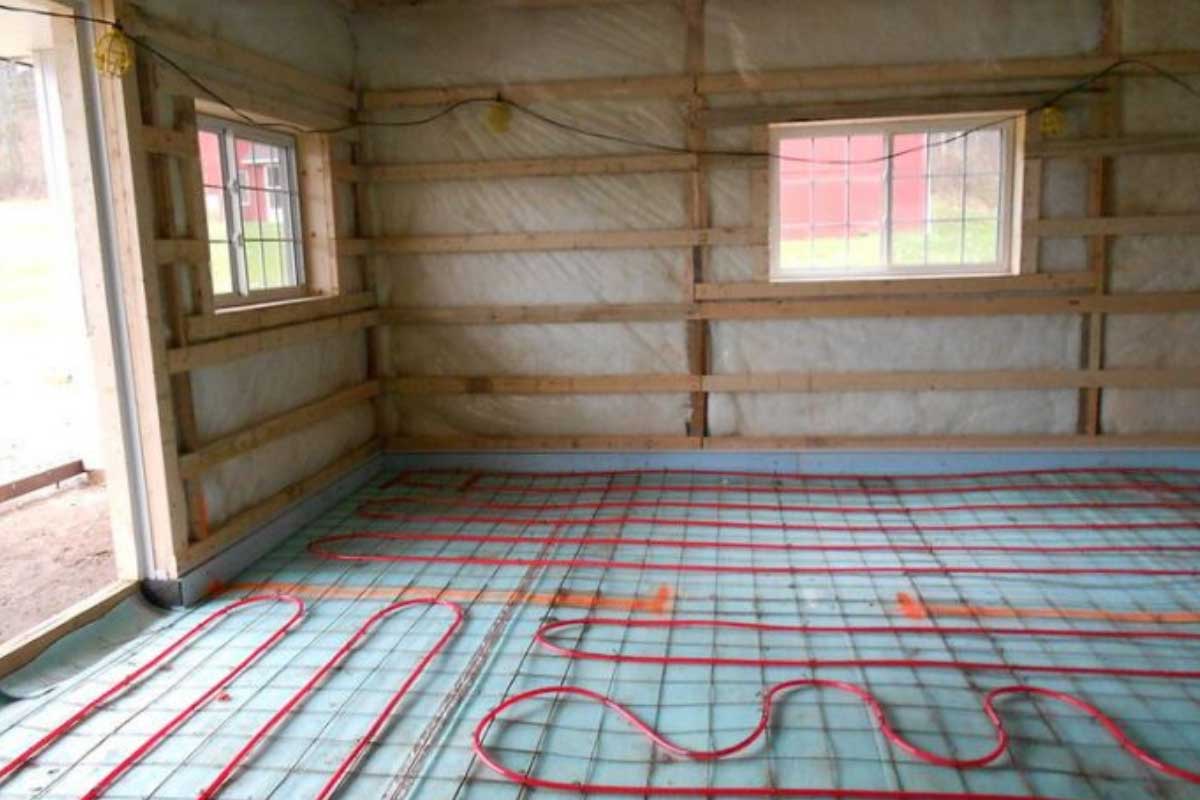 ELECTRIC RADIANT HEAT FLOORS FOR RETROFITTING & REMODELS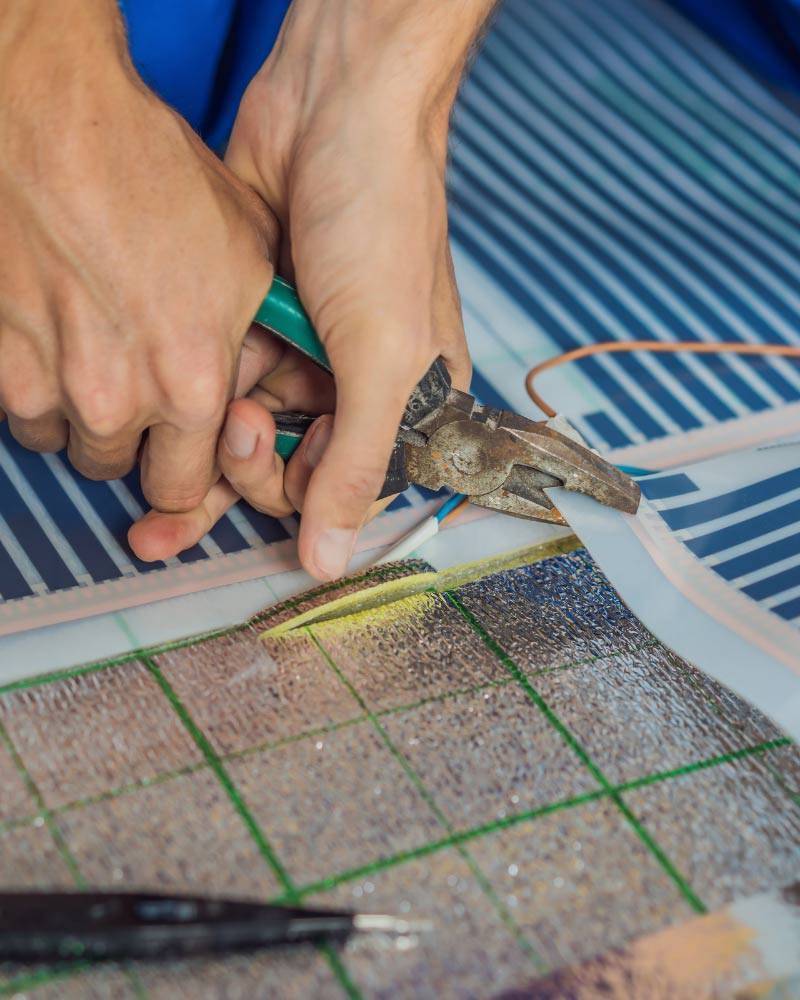 Remodel Friendly. Install under subfloor or on top of an existing concrete slab.
Ultra-thin Low Profile. Wire heating systems add just 3mm beneath the concrete overlay.
Rapid Heating. Heating mats quickly heat the floor surface in as little as 30 minutes.
Aesthetically Pleasing. Heating system remains hidden beneath the floor with no sign of vent, radiator, or other equipment.
Ultimately, whether or not you have existing polished concrete floors, radiant floor heating is an option for your home or office building. Ask your concrete floor specialist about concrete floor heating options that are most suitable for your project
Benefits of Radiant Floor Heating
Heated polished concrete floors offer several major health, environment, and savings benefits. Consider the following advantages of radiant floor heating over unheated concrete floors:
Comfort. Warmth from the floor is evenly distributed throughout the room.
Convenience. Year-around heating that doesn't have to be "turned on."
Healthy. Reduced allergens when compared to forced-air heating systems which circulate dust and other allergens throughout the room.
Energy Savings. Heat concentration remains in the lower-half of the room reducing overall heat loss.
Cost Savings. Hydronic floor heat systems cost substantially less to operate compared to forced-air heat systems.
Noise Reduction. Radiant heat systems are silent unlike distracting foced-air systems which can rattle, whistle, or create other noisy interruptions each time the heat kicks on.
Low Maintenance. Radiant floor heating systems can keep your concrete floors comfortably heated for up to 100 years.
Beyond these basic heating and health benefits, radiant floor heating in polished or stained concrete floors can save you cash. Quite obviously, this is because you don't need to invest in an external heater or forced-air system. But along with this, radiant floor heating in polished concrete floors consumes less energy while simultaneously offering the same level of heat and comfort.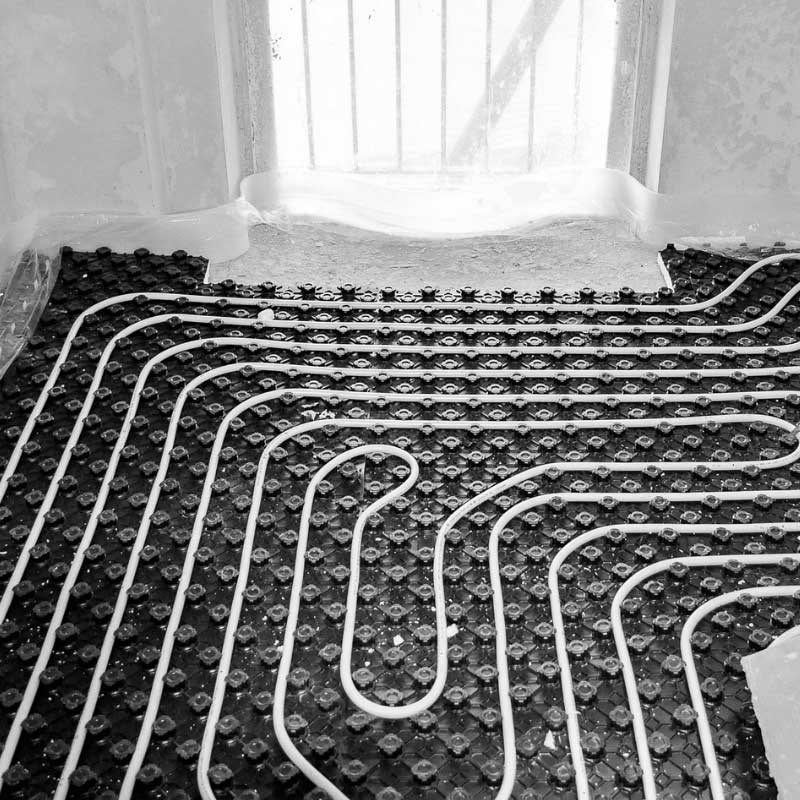 This has massive ramifications. Instead of making that initial purchase and paying small, yet recurring costs in your electric bill, radiant floor heating only requires one upfront investment. Once it is installed in your home or office, you won't have to make additional, recurring payments. In fact, according to one study by the U.S. Department of Energy, radiant floor heating can lower heating costs by 25 to 50 percent. This is real money in your pocket and can make a significant difference if you are looking to heat a large home or office building.
Radiant heated concrete floors also offer a wide range of environmental benefits. In addition to reducing forced-air energy use, radiant floor heating requires minimal building materials as there is no ductwork to conceal. The result is a smaller environmental footprint for your home or office.
By purchasing radiant floor heating, you also may qualify for green building points under the Leadership in Energy and Environmental Design ("LEED") program and the National Association of Home Builders Green Building Program.
While you will need to investigate these opportunities further, the fact remains that radiant floor heating is an attractive choice if you want to both help maintain our environment and keep a few extra dollars in your pocket. Combined with the inherent sustainability of polished concrete floors, you will certainly be doing your part to protect our world.
How Long Do Radiant Heating Systems Last?
Homeowners are usually very excited to learn that radiant heating systems require very low maintenance and can last up to 100 years. While boilers and pumps which heat and push water throughout the PEX tubing hydronic heating systems may require occasional maintenance to extend the longevity of the floor heating system, the tubing installed into the concrete slab generally does not require any upkeep.
If you suspect your hydronic heating system has a damaged pump or boiler, be sure to seek repair in a timely manner to prevent potential damage to other parts of the radiant floor heating system. With minimal essential maintenance, radiant floor heating systems can keep your concrete floors comfortably heated for many years to come.
Is Radiant Floor Heating Worth the Investment?
Professional installation of a polished concrete floor with underfloor heating is certainly an investment that requires a bit more upfront costs compared to the installation of an unheated floor, but is it worth it?
Absolutely!
Rising energy costs alone make investing in radiant floor heating a smart choice simply because homeowners can save long-term on home heating costs compared to forced-air heating systems.
Concrete floor heating solutions offer a wealth of benefits including energy savings, cost savings, and a host of environmental benefits, too. By leveraging radiant floor heating, you're contributing to global sustainability. All of these benefits are experienced regardless of whether or not you already have a polished concrete floor that requires a heating solution.
To learn more about radiant floor heating in polished concrete floors, don't hesitate to schedule a consultation. You can also email us at info@craftsmanconcretefloors.comor call (214) 663-5848.