Polished Concrete Floors in Hotels & Resorts
The hotel industry is incredibly competitive by nature, with resorts all vying for the interest of the traveler looking for more than just a place to stay. One of the ways for top hotels and resorts to differentiate themselves and their properties from their competitors is through the visual statements they make throughout the property. Seamless polished concrete flooring applications are being chosen across major chains in the hotel and hospitality industry for their aesthetics and because they are long-lasting, low-maintenance, and affordable.
Industrial Flooring Solutions for Warehouses
Modern polished concrete flooring systems are perfect for major hotel entryways, lobbies, foyers, and guest rooms, and for operations taking place in the kitchen or food service areas, epoxy flooring is now largely replacing the old, quarry tile flooring systems of the past. At Craftsman Concrete Floors, we provide several concrete flooring solutions including polished concrete, decorative concrete overlays, and epoxy flooring for the hotel and hospitality industry.
Craftsman Concrete Floors has many different flooring solutions for hotels and resorts. Give us a call to learn more!
Decorative Concrete Flooring Renovations in the Hotel Industry
Throughout the hotel and hospitality industry, guests frequently state that old, worn carpets and dated tile flooring are what makes a hotel stand out as "old" or past its prime. Nothing ages common areas throughout a hotel like worn-out, threadbare, over-stained carpets or cracked, grimy tile. There's only so much frequent spot cleaning and time-consuming overhauls can do for these worn floors.
Eventually, a renovation is necessary to eliminate stains, smells, and the ghastly appearance of those old floors. But for the budget-conscious hotel owner, replacing the flooring of a hotel, whether with like carpet or tile, can pose some major challenges. Replacing these floors means closing down the hotel for weeks at a time, or making large areas of the hotel unusable to guests, and with carpets lasting 5 years or less, the expense can be nearly bankrupting for a smaller resort.
Wondering how much polished concrete floors will cost to install in your hotel? Checkout our How much do polished concrete floors cost? page or Contact Us to for a free estimate.
As hotel owners seek a modern, alternative flooring solution that's going to outlast carpet, vinyl, and similar flooring long-term, and doesn't require costly and burdensome maintenance there's an upscale opportunity that immediately comes to mind – polished concrete floors and decorative concrete overlays.
Durable Hotel Flooring that Impresses Guests
Your hotel's lobby and reception areas are some of the first areas your guests will see and you know what they say about first impressions! As important as the first impression maybe, you need to know that the flooring in these areas is not only visually pleasing but that it is durable, too!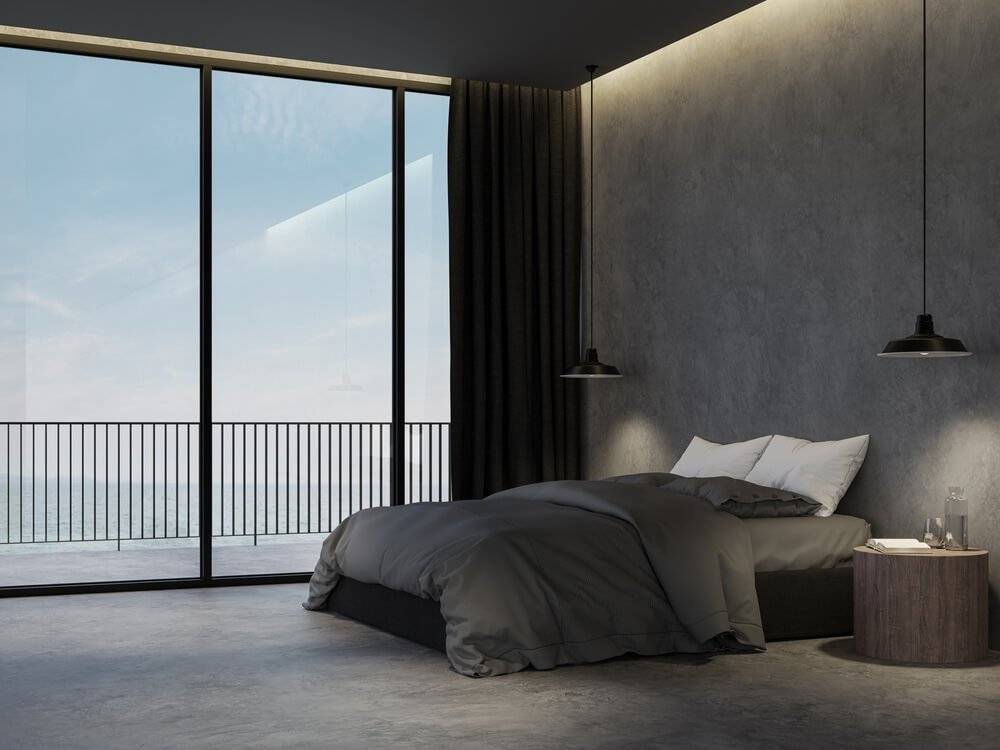 Some of your hotel's most used areas will undergo the foot traffic of hundreds or even thousands of people each day. Many will have luggage, strollers, or bell carts that they're pushing or pulling along with them. Inferior flooring systems can quickly get scuffed, scratched, and marked up from all this wear and tear making your first impression not so pretty.
Durable polished concrete hotel flooring and epoxy coatings protect your hotel floors from wear and tear so that your first impression is always an incredible one. Protective coatings resist damage leaving your hotel floor shiny and welcoming, day-after-day.
Benefits of Polished Concrete Flooring in Hotels
These flooring solutions provide a variety of benefits, many of which stand out to travelers too. Polished concrete floors are naturally beautiful and have a seamless appearance similar to expensive granite or stone. There are no grout lines to attract dirt and debris or to interrupt the smooth rolling of luggage wheels.
For hotel travelers that make their lodging decisions based on indoor air quality (IAQ), particularly those with allergies or underlying health conditions such as asthma, polished concrete floors are a safe, healthier option that does not emit any VOCs or hold dust or bacteria which can lead to mold, mildew or other allergens. There is no outgassing or emissions from the installation of a polished concrete floor surface and there are no harsh chemicals used in the polishing process, so hotels can trust that they are preserving the health and safety of their guests and their staff.
Additional benefits of polished concrete hotel floors include:
Modern design – polished concrete floors give your hotel or resort an updated appearance.
Chemical resistant – polished concrete floors do not require harsh chemical cleaning agents.
UV resistance – polished concrete surfaces resist weathering damage caused by the sun and will not fade.
Longevity – polished concrete floors can last decades and when rejuvenation is required, the process is quick and easy!
Durable – polished concrete floors are abrasion-resistant, do not scratch easily, and can withstand heavy foot traffic, luggage, strollers, and bell carts that are frequently used in hotels.
Moisture resistant – polished concrete floors resist moisture and are less prone to moisture vapor transmission which is common in southern states.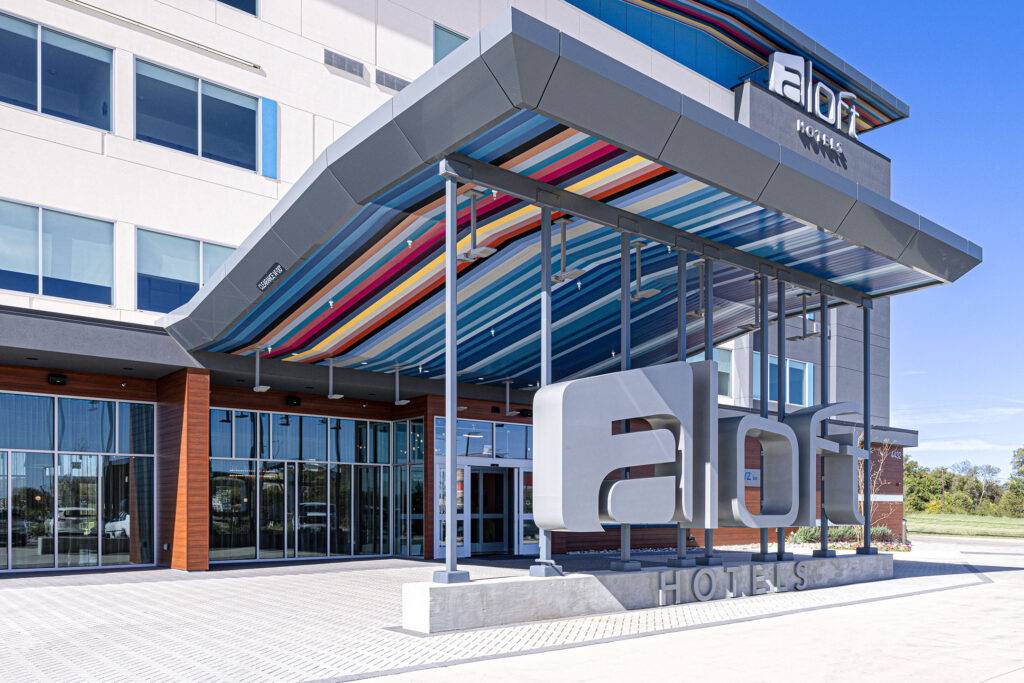 GOT MORE QUESTIONS ABOUT POLISHED CONCRETE FLOORING FOR YOUR HOTEL?
Polished Concrete Hotel Floors are Exceptionally Easy to Clean & Maintain
Large hotel lobbies and open areas present their own unique challenges in regards to cleaning when travelers are present. The use of harsh cleaning agents and heavy cleaning equipment is intrusive and unpleasant for travelers. Keeping these areas clean and safe is important, but at what cost to your guests?
Tile surfaces require scrubbing and frequent sanitization to eliminate harsh odor-causing bacteria that can get in grout lines and under the tiles themselves. Carpets are absorbent to spills, smells, dirt, and grime and must be professionally cleaned regularly which eventually wears them down to mere threads.
Polished concrete floors in hotels and resorts represent a cost-effective solution that will last many years with basic care and minimal maintenance. These floors are easily cleaned with warm water and don't require intensive waxing or harsh chemical procedures to maintain their luster. The nonporous surface is resistant to odor-causing bacteria and repels stains. The result is a clean, sanitary floor that will leave a lasting first impression on your guests.
To learn more about maintenance visit our How to Clean Polished Concrete Floors page.
Since polished concrete floors are resistant to wear and tear from heavy foot traffic and frequent cleaning, recommended maintenance is generally only required about every 5 years. Rejuvenating dull floors that have lost their shine is easily accomplished overnight, during times when guests are less likely to be found in lobby areas. Hotel owners save substantially on in-house floor cleaning and maintenance without lacking in the overall quality or aesthetic appeal of the floor itself.
Customizable Flooring Solutions
In the recreation and entertainment areas of your resort, making a statement that attracts guests and delivers an amazing experience is equally as important as is ensuring the safety of your guests. Our epoxy flooring for hotel and resort recreation areas can be customized to meet individual colors, styles, and textures for optimal slip or skid resistance. These floors do not require extensive repeat polishing or waxing making them ideally suited for hotel recreation areas where guests are likely to spend a lot of their time.
Make a Memorable Impression on Guests
Choosing the right flooring for your hotel or resort can go a long way in creating a lasting impression on the travelers and guests that visit your facility. Creating a safe, memorable experience that your guests will recall many years later is key. At Craftsman Concrete Floors, our concrete flooring experts will help you decide on the most suitable polished concrete flooring, decorative coatings, or epoxy flooring solutions for use throughout your hotel so that you can make a memorable impression on your guests.
Ready to Get Started?
To talk with an expert flooring specialist at Craftsman Concrete Floors about your hotel or resort flooring needs, contact us now. We look forward to working with you!