Polished Concrete Warehouse Floors
In distribution facilities and warehouse environments flooring must be able to withstand excessive foot traffic as well as the extent of abuse from forklifts, pallet jacks, and various other types of heavy equipment and tools. These environments are less about aesthetics, although a professional appearance is important, and more about cleanliness, strength, durability, and functionality.
Craftsman Concrete Floors offers both epoxy coatings and polished concrete for warehouse floors. Both represent inexpensive, safe, and easy to maintain flooring finishes chosen by property owners for their durability, low maintenance, and beautiful presentation despite extensive wear and tear.
Industrial Flooring Solutions for Warehouses
As a warehouse manager, your choice of flooring is dependent upon what is stored within the warehouse and what your day-to-day operations look like. Warehouses that primarily store dry goods such as clothing, wares, or pre-packaged retail products are going to have fewer unique concerns in flooring choices compared to a warehouse that stores corrosive chemicals or potentially dangerous liquids. Likewise, a warehouse that stores electronics and various computer goods might require flooring that is resistant to static electricity that can otherwise damage the goods being stowed away.
At Craftsman Concrete Floors, we have a variety of warehouse flooring solutions that can meet the specifications required by your warehouse whether you're looking for industrial concrete floor polishing or another industrial flooring system that is simply durable and easy to clean for wares or retail goods, or you require a more advanced flooring that can withstand chemical spills or stains. It's very important to choose the right flooring approach for any warehouse as when the existing concrete is bare it can break down under harsh conditions, and chemical spills can seep beneath the concrete's surface to negatively impact the environment.
Contact us to learn more about polished concrete floors and our installation process, or visit our main polished concrete floors page.
Considerations when Choosing Warehouse Floors
The typical warehouse or storage environment is going to have several major considerations when it comes to choosing the most appropriate concrete flooring solution for the facility. When considering various polished concrete or epoxy floor coating options for a warehouse or storage facility, the property owner must consider things like maintenance, floor coatings to prevent chemicals from seeping into the environment, slip-resistance, and various other needs. And there's a lot of space to worry about in a typical warehouse which means pricing & longevity will almost certainly play a role in the decision.
Customer Presentation
Commercial warehouse floors are generally confined to areas that are off-limits to customers or clients, but not always! Warehouse owners, therefore, are responsible for ensuring that the flooring throughout the warehouse is both functional for day-to-day operations and presentable for client or customer interaction.
Long-Term Maintenance Needs
Flooring systems that require closure of the warehouse for maintenance are not always feasible or ideal Polished concrete and epoxy coatings last several years with very minimal maintenance which generally does not require warehouse closure.
Floor Protection Needs
In areas where batteries or other acid-based hazardous chemicals are present unique acid-resistant epoxy coatings are necessary. Typical warehouse concrete floor finishes need to focus on minimizing the repercussions from heavy equipment, vehicle tire marks, skids, and damage in loading bays or heavy traffic areas. Tons of potential damage can occur in a warehouse where heavy equipment, pallet jacks, and other vehicles routinely operate, especially if proper care isn't taken to choose the appropriate concrete coating to protect the surface.
Regular Cleaning Needs
Unfinished concrete slabs are soft and particularly prone to dust as the surface gradually breaks down. This will make a warehouse extremely dusty and dirty, even with multiple cleanings and constant sweeping. Polished concrete floors are easily cleaned with a dry microfiber dust broom and can be mopped with warm water unless a tougher cleaning agent is required to break up grease or grime from a spill. In areas where scratches, tire marks, and other stains occur a polished concrete floor might require overnight restoration to restore the floor to its previous beauty.
Slip-Resistance and Traction Needs
Some warehouses and storage facilities are required to follow OSHA standards to minimize slip & fall injuries. Dry powders can make polished concrete floors very slippery and should be cleaned immediately to prevent workplace hazards. Chemical spills or wet areas of a warehouse might require an epoxy coating to prevent the chemical from seeping below the surface as well as to maintain proper traction and slip-resistance in the area. These are important considerations for any warehouse owner to make when preparing the area for operation.
Commercial warehouse flooring can certainly take a beating under standard day-to-day operations and any downtime required for scheduled maintenance can negatively affect business. That's why most warehouse owners seek the most economical, long-lasting, durable solution when choosing the right flooring for commercial spaces. Polished concrete is suitable for many warehouse floors while epoxy coatings are a better choice for others. Talk with a Craftsman Concrete Floors specialist about the most appropriate flooring solution for your warehouse.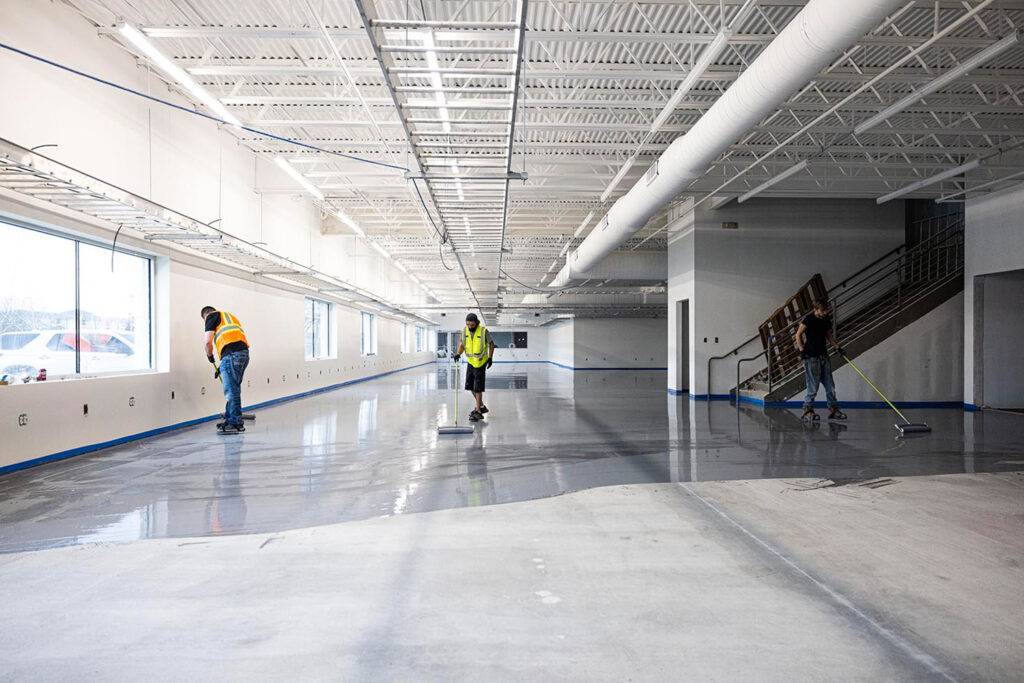 Why Consider Epoxy Coatings on Concrete Floors in Warehouses?
Certainly, there are many benefits that come along with choosing an epoxy coating or polished concrete floors for a warehouse. In heavy traffic areas that require added resistance to chemicals, damage from heavy equipment, or constant impact & abrasion a carefully chosen epoxy coating that's right for your warehouse is likely the most suitable choice. Epoxy coatings can:
Provide years of durable protection for a concrete surface.
Withstand heavy equipment traffic, excessive foot traffic, and extensive wear & tear.
Survive constant abrasion and frequent contact with corrosive chemicals and harmful substances.
Minimize cracks, crevices, or grout lines that could contribute to mold, mildew, or bacterial growth.
Withstand extreme temperatures in warehouses where heat or refrigeration impacts interior conditions.
Many epoxy coatings are available to protect the concrete floors of your warehouse while providing a wide range of unique benefits that are specific to each individual use case. Whether you need USDA-compliant epoxy flooring for a warehouse that provides industrial-grade food storage, or you're just looking for a decorative, easy to clean coating that will withstand extensive foot traffic and the use of pallet jacks to move goods from one area to another, Craftsman Concrete Floors has a warehouse epoxy flooring solution that's right for you!
Why Consider Polished Concrete Floors in Warehouses?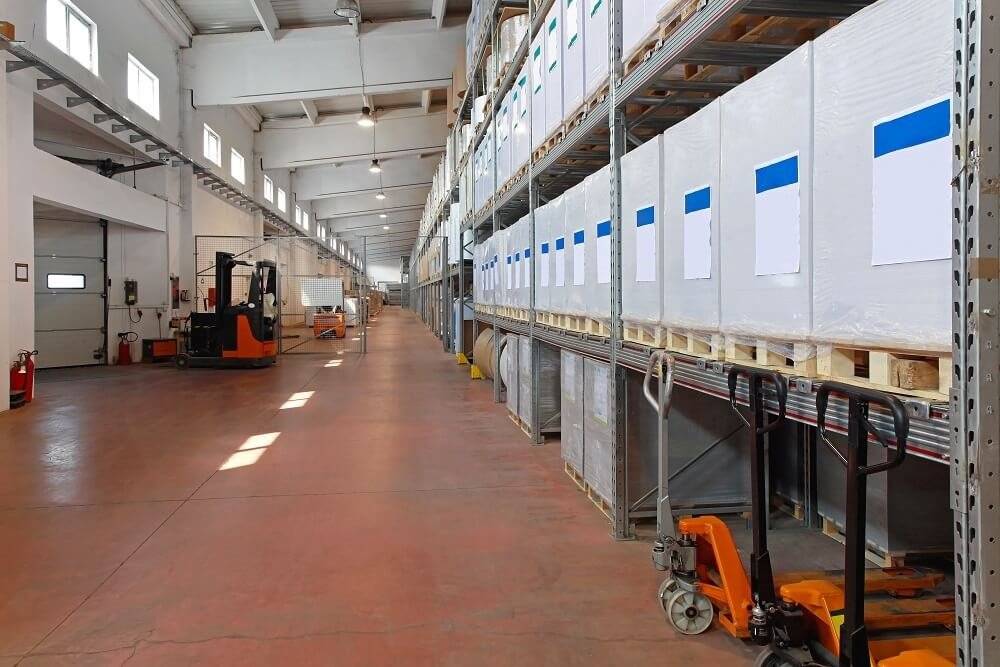 In large, industrial warehouses where durability, low maintenance, and an easy-to-clean space are of most importance, polished concrete flooring may be suitable. The polishing process actually makes your existing concrete floor more durable when the process is finished. This is the primary reason for many warehouse owners and distribution center managers to choose a polished concrete flooring solution for their space.
Maintenance, or the lack thereof, is another major reason to choose polished concrete for a warehouse floor. Polished concrete floors in a warehouse setting can withstand extensive foot traffic without showing any real sign of wear and tear. In the event that floor rejuvenation is required, maintenance can take place overnight, or during phases, in which the warehouse is never fully out of commission. A polished concrete surface is ready for continued operations immediately after the polishing process has been performed. There is no extensive cure time or required downtime for maintenance.
Polished Concrete & Epoxy Coatings for Your Warehouse Floors
Craftsman Concrete Floors is dedicated to helping our customers choose the most long-lasting, affordable flooring solution for their individual needs. Whether you own a 5,000 square foot warehouse that houses small business products that you prepare in-house for shipment or a 50,000 square foot distribution center that ships products worldwide, we've got a polished concrete flooring or epoxy coating solution that's right for your commercial warehouse and storage center needs.
Ready to Get Started?
To speak with a dedicated flooring professional about polished concrete and epoxy flooring solutions for your commercial warehouse or storage needs, contact us today. We look forward to working with you!