Terrazzo Installation in Mckinney
A picturesque city known for its charming historic downtown, vibrant community, and growing economy. Boasting beautifully restored buildings dating back to the 19th century, creating a charming and nostalgic atmosphere.
If you're in McKinney and looking to elevate your space with style and durability like that of the attractive city architecture, then consider Craftsman Concrete's top-quality terrazzo flooring. Our talented crew can turn your floors into awe-inspiring works of art, adding elegance and sophistication to any space. Whether renovating your home, opening a business, or working on a commercial project, our versatile terrazzo flooring is designed to meet your aesthetic, functional, and budgetary needs.
Craftsman Concrete provides high-quality flooring solutions to the McKinney community. With years of experience and expertise, we bring craftsmanship and creativity to every terrazzo installation, restoration, and maintenance project across the country . Our goal is to ensure that your floors retain their beauty and durability for years.
Why Choose Craftsman Concrete Floors?
At Craftsman Concrete Floors in McKinney, Tx, we specialize in luxury residential and commercial terrazzo installations. With nearly 25 years of experience installing decorative concrete overlays and terrazzo, we're the preferred installer of countless luxury designers and builders.
Our in-house design team is available at no cost. We employ well-known veterans of the decorative concrete industry, many with decades of experience. Proudly, all our employees are full-time W-2 employees receiving a living wage. At Craftsman Concrete Floors, we never subcontract jobs.
No Square Footage Minimums
All in-house, W-2 labor
Servicing Texas since 1999
Interested? Transform Your McKinney Property Today
Contact us to elevate your property with beautiful, durable terrazzo flooring. Whether you want to enhance your home, office, retail space, or any other property, our team is here to provide outstanding service and exceptional results. With our commitment to quality and customer satisfaction, we are ready to bring the timeless elegance of terrazzo to your space.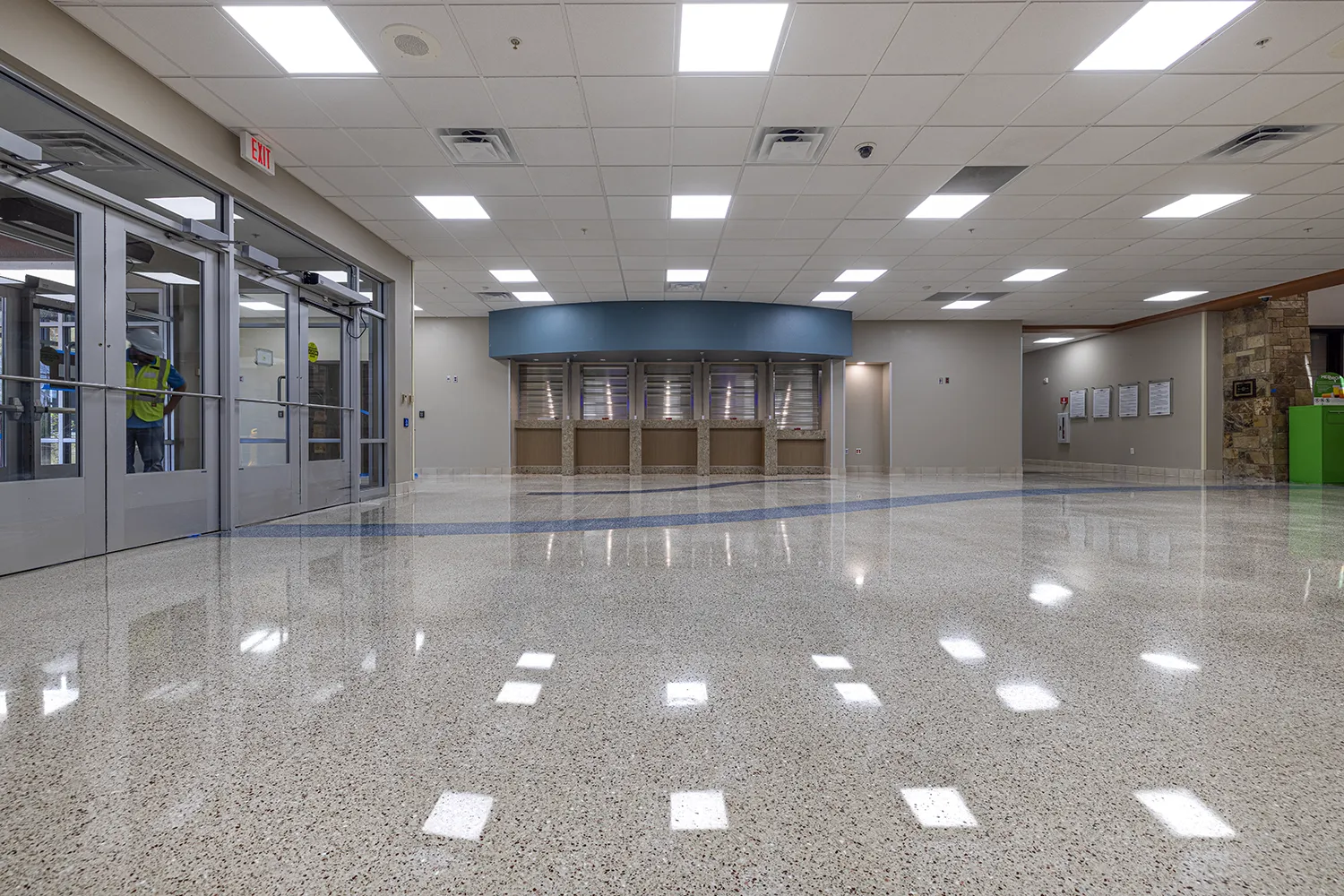 Want to Learn More About Terrazzo Flooring?
We're happy to provide a free terrazzo estimate. A Concrete Floor Specialist will get in touch with you within 1 business day.
Why choose craftsman Terrazzo Floors?
Endless design options
We offer many design options for Terrazzo flooring in McKinney, allowing you to create a unique and personalized look for your property. With a wide selection of colors, patterns, and chip sizes, the possibilities are endless. Whether you prefer a classic, contemporary, or eclectic style, our terrazzo flooring effortlessly complements any design aesthetic, enhancing the overall ambiance of your space.
Flooring Strength that Lasts
Terrazzo flooring is renowned for its durability, ability to withstand heavy foot traffic, resist scratches and stains, and maintain its beauty over time. We understand the importance of long-lasting flooring solutions, which is why our terrazzo floors are built to withstand the demands of everyday life. With proper maintenance, your terrazzo floors can endure for decades, making it a wise investment for property owners in McKinney.
Preserving Terrazzo
Once your beautiful terrazzo installation is complete, we offer a complete terrazzo maintenance service in McKinney to ensure your floors remain in excellent condition. Our team handles regular cleaning, wax stripping, polishing, and repairs, using eco-friendly products and innovative techniques to achieve exceptional results while prioritizing sustainability.
Craftsmanship and Attention to Detail
When it comes to terrazzo flooring in McKinney, Craftsman Concrete stands out with our dedication to superior craftsmanship and attention to detail. Our years of experience and expertise bring your vision to life, transforming your space into something extraordinary. For top-quality McKinney terrazzo flooring services, choose Craftsman Concrete to enhance your project.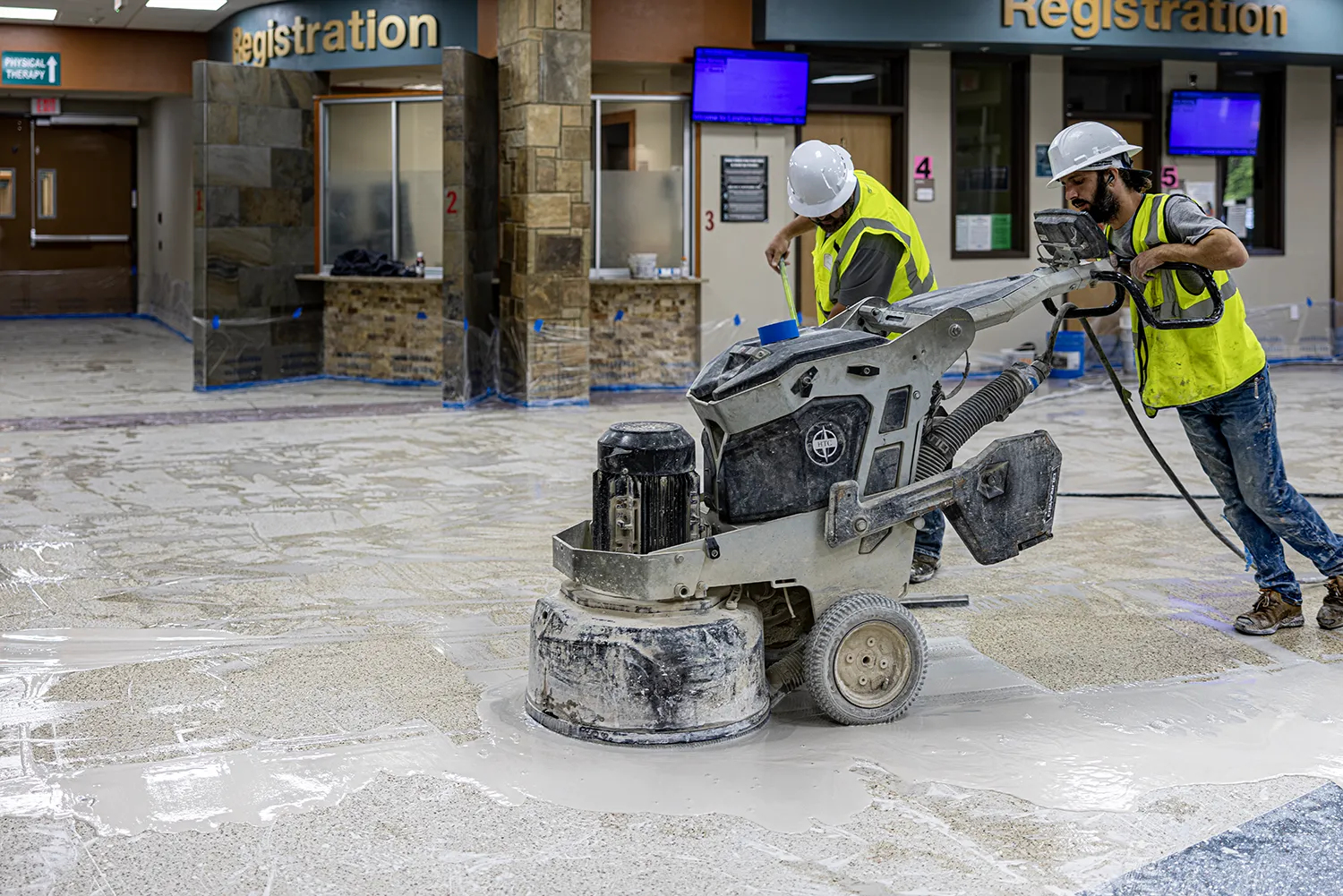 Frequently Asked Questions about Terrazzo Floors
While terrazzo floors are incredibly durable, they require a specific maintenance protocol. At Craftsman Concrete Floors, we provide customized terrazzo maintenance systems to accommodate all types of terrazzo installations.
Most modern terrazzo floors are installed between 1/4″ and 1/2″ in thickness.