Terrazzo Installation in Houston
Houston, Texas, a vibrant city known for its diverse culture and thriving economy, offers residents countless opportunities to enhance the beauty of their properties. Terrazzo flooring stands out as an excellent option when achieving both style and durability.
As a trusted terrazzo contractor in Houston, we take pride in providing top-notch installation services. Our team of skilled professionals can transform your floors into stunning works of art that will impress residents and visitors alike. Whether you're a homeowner, business owner, or property developer, terrazzo flooring offers versatility that can elevate the aesthetic appeal of any space.
Serving various areas in Houston, including Downtown, The Heights, Montrose, and more, we have built a reputation for exceptional craftsmanship and customer satisfaction across many states.
Why Choose Craftsman Concrete Floors?
At Craftsman Concrete Floors in Houston, Tx, we specialize in luxury residential and commercial terrazzo installations. With nearly 25 years of experience installing decorative concrete overlays and terrazzo, we're the preferred installer of countless luxury designers and builders.
Our in-house design team is available at no cost. We employ well-known veterans of the decorative concrete industry, many with decades of experience. Proudly, all our employees are full-time W-2 employees receiving a living wage. At Craftsman Concrete Floors, we never subcontract jobs.
No Square Footage Minimums
All in-house, W-2 labor
Servicing Texas since 1999
Interested? Transform Your Houston Property Today
Contact us to elevate your property with beautiful, durable terrazzo flooring. Whether you want to enhance your home, office, retail space, or any other property, our team is here to provide outstanding service and exceptional results. With our commitment to quality and customer satisfaction, we are ready to bring the timeless elegance of terrazzo to your space.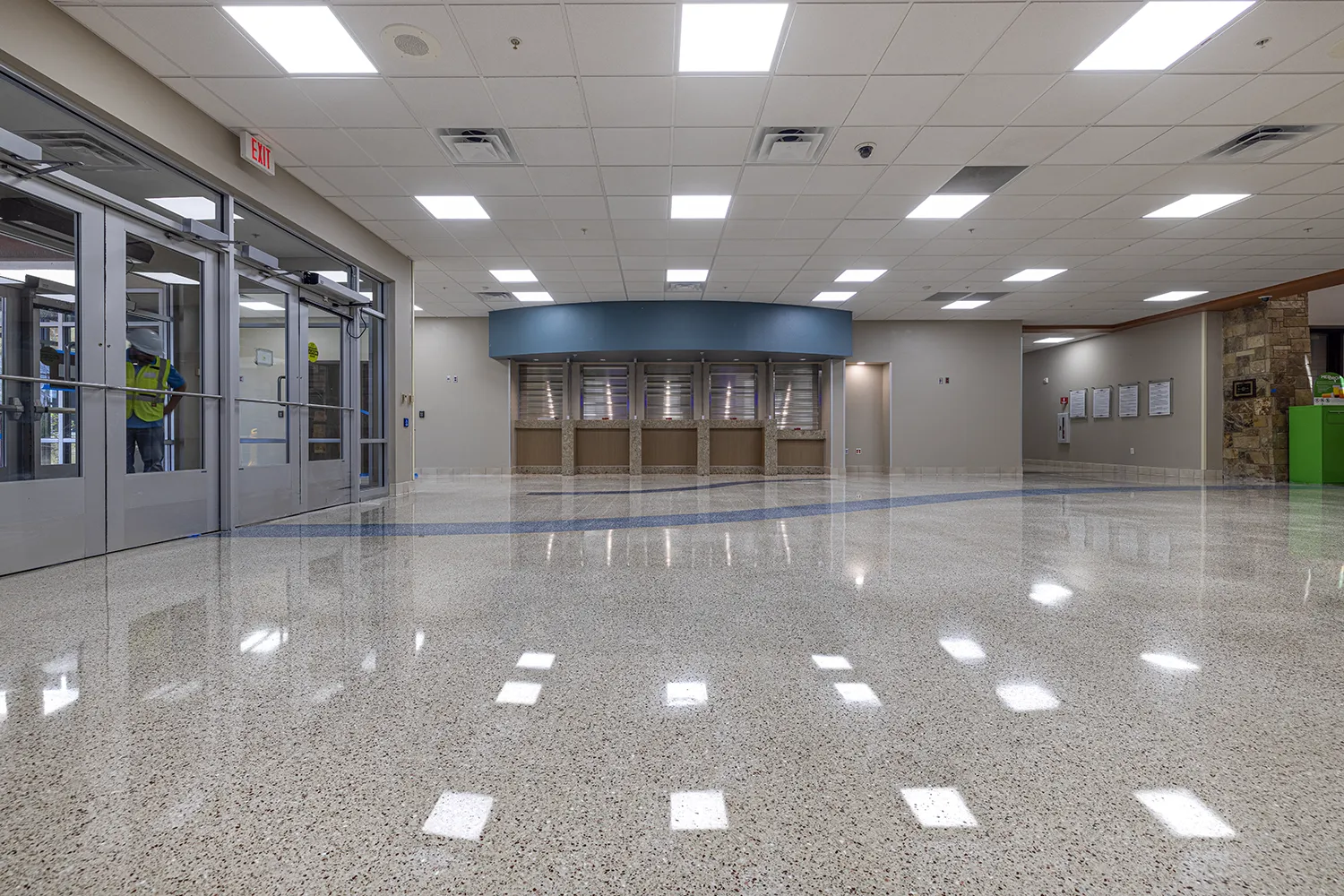 Want to Learn More About Terrazzo Flooring?
We're happy to provide a free terrazzo estimate. A Concrete Floor Specialist will get in touch with you within 1 business day.
Why choose craftsman Terrazzo Floors?
Endless Design Possibilities
The design flexibility of terrazzo allows for infinite possibilities. With a wide range of colors, patterns, and chip sizes, you can create a personalized look that complements your style and enhances the ambiance of your property. From sleek and contemporary to timeless and classic, terrazzo flooring offers options for any taste.
Unmatched Durability
Terrazzo floors are renowned for their durability, making them a smart investment for Houston home and business owners. With the ability to withstand heavy foot traffic, resist scratches and stains, and retain their beauty for decades, terrazzo floors provide long-lasting value. In addition, our professional installation ensures that your terrazzo floors are built to withstand the bustling city of Houston.
Maintenance, Lasting Beauty
Keeping your terrazzo floors looking brand new is hassle-free with our comprehensive maintenance services. Our team is skilled in regular cleaning, wax stripping, polishing, and repairs, ensuring your terrazzo floors remain in top condition. We prioritize sustainability by using environmentally friendly products and modern techniques to achieve stunning results while minimizing environmental impact.
Craftsmanship You Can Trust
With years of experience and a passion for excellence, we bring your vision to life. Our expertise lies in terrazzo installation, restoration, and maintenance, ensuring your floors remain beautiful for years. We take pride in our dedication to excellence, attention to detail, and customer-centric approach, making us Houston's go-to terrazzo contractor.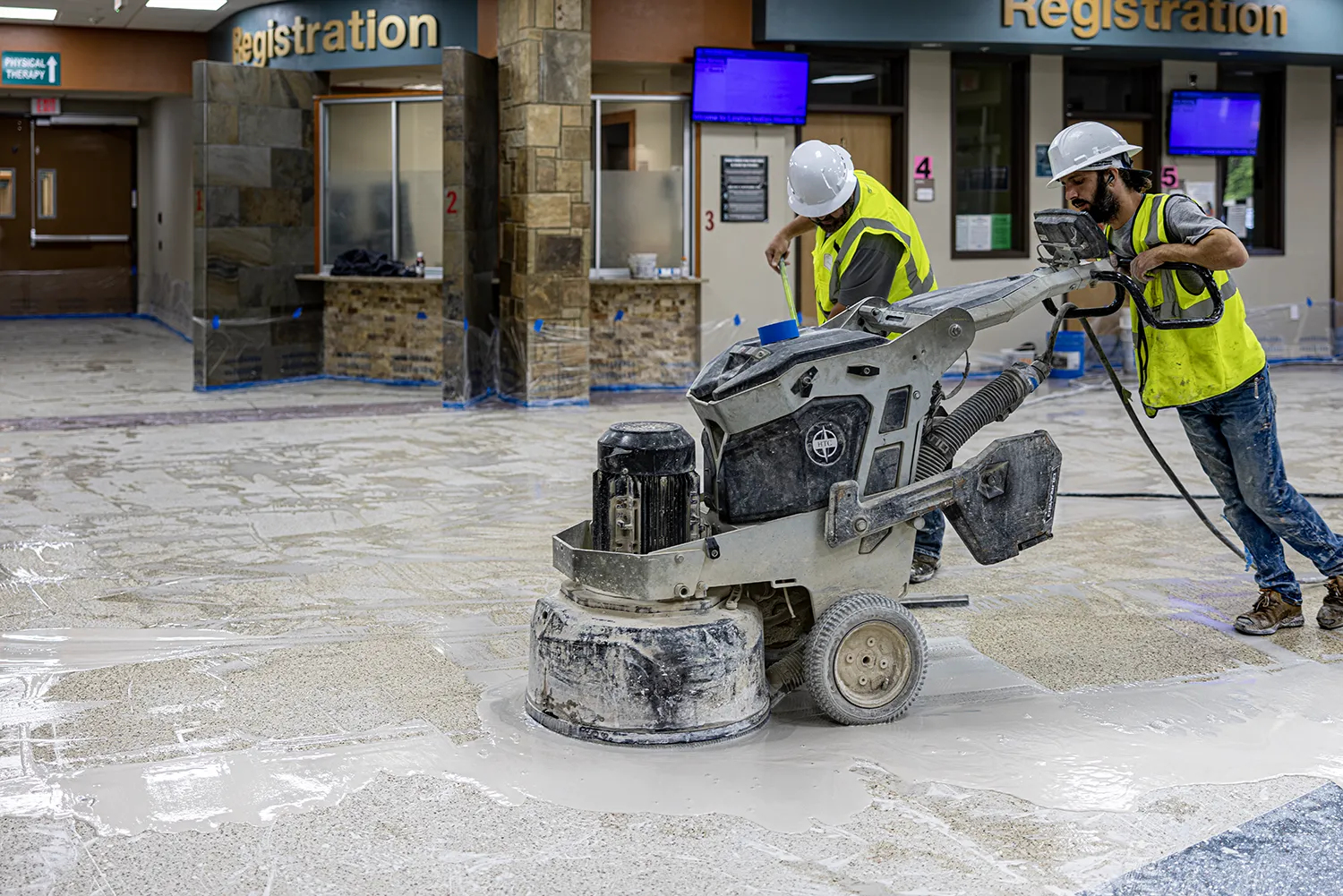 Locations We Service
Texas
Dallas, Austin, Houston, McKinney, Waco, San Antonio, El Paso, Fort Worth, Arlington, Corpus Christi, Plano, and Lubbock.
Colorado
Frequently Asked Questions about Terrazzo Floors
While terrazzo floors are incredibly durable, they require a specific maintenance protocol. At Craftsman Concrete Floors, we provide customized terrazzo maintenance systems to accommodate all types of terrazzo installations.
Most modern terrazzo floors are installed between 1/4″ and 1/2″ in thickness.