Terrazzo Installation in Denver
Welcome to Denver, Colorado, a city nestled amidst the breathtaking beauty of the Rocky Mountains. With a rich blend of historical landmarks and modern architectural wonders, Denver is a place where timeless beauty meets innovation.
At Craftsman Concrete, we understand the allure of terrazzo flooring and its significance in the Colorado community. With us, you'll discover the magic of terrazzo floors in Colorado and why we are the only choice for residents pursuing impeccable terrazzo services in Denver.
Why Choose Craftsman Concrete Floors?
At Craftsman Concrete Floors in Denver, Co, we specialize in luxury residential and commercial terrazzo installations. With nearly 25 years of experience installing decorative concrete overlays and terrazzo, we're the preferred installer of countless luxury designers and builders.
Our in-house design team is available at no cost. We employ well-known veterans of the decorative concrete industry, many with decades of experience. Proudly, all our employees are full-time W-2 employees receiving a living wage. At Craftsman Concrete Floors, we never subcontract jobs.
No Square Footage Minimums
All in-house, W-2 labor
Servicing Colorado since 1999
Unveiling Timeless Beauty
Residents of the Mile High City have long been captivated by the charm of terrazzo floors, as they seamlessly blend functionality and artistic expression. From prominent landmarks to cherished residential spaces, terrazzo has left an indelible mark, impressing all who encounter its allure. With its durability, versatility, and aesthetic appeal, it's no wonder that terrazzo has become the preferred choice for both residential and commercial properties across the state.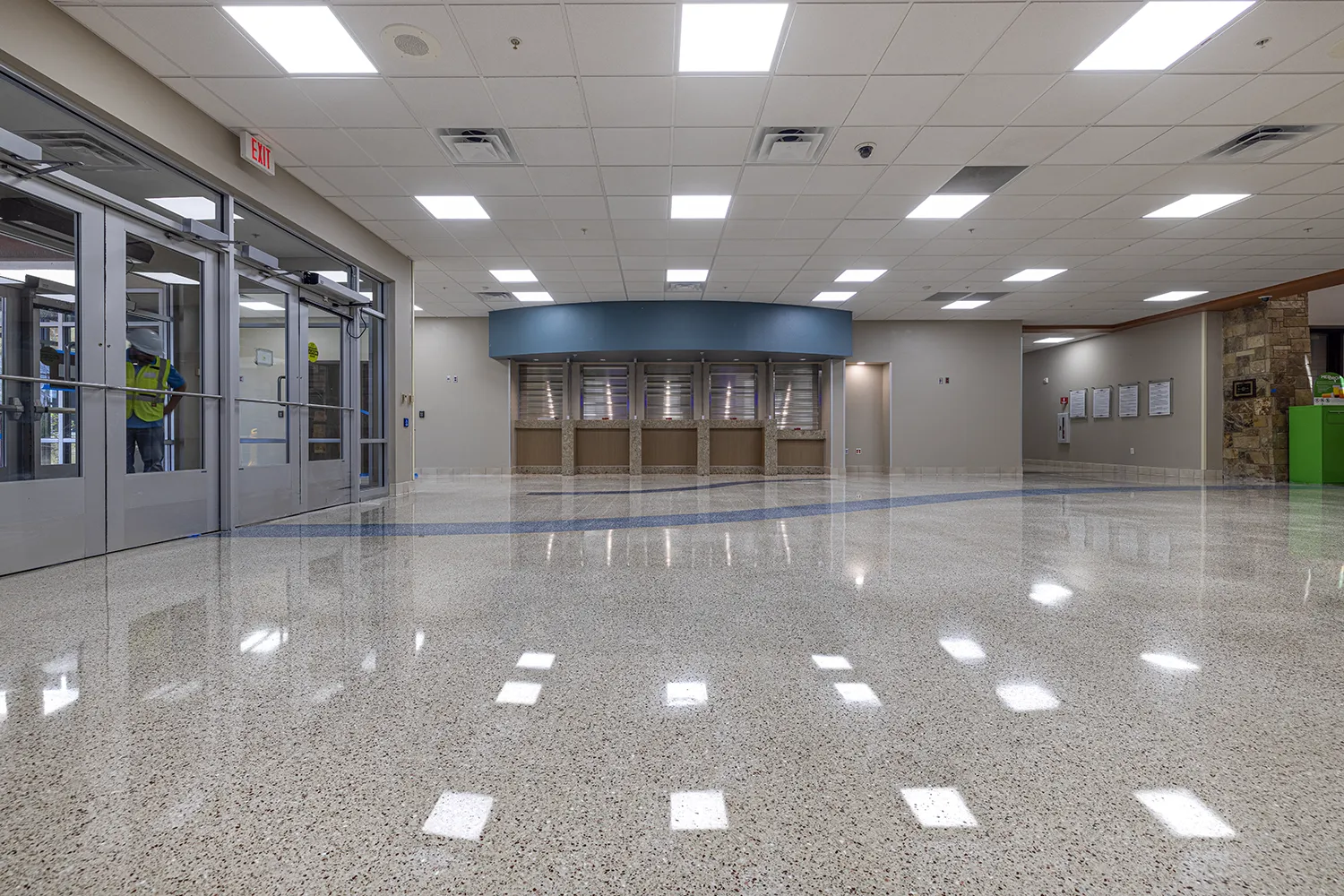 Want to Learn More About Terrazzo Flooring?
We're happy to provide a free terrazzo estimate. A Concrete Floor Specialist will get in touch with you within 1 business day.
Why choose craftsman Terrazzo Floors?
Understanding Terrazzo Floors
Let's explore the beauty and craftsmanship behind terrazzo flooring. This remarkable flooring choice blends together chips of marble, quartz, granite, glass, and other aggregates, skillfully bound with either epoxy or cement. The outcome is a breathtaking surface that not only showcases its visual allure but also stands the test of time. With its durability and elegance, terrazzo brings a touch of sophistication to any space, transforming it into a true work of art.
Versatility in Application
Terrazzo floors are remarkably versatile and seamlessly integrate into various environments. Whether it's the welcoming entryway of your Denver home, the heart of your kitchen, the serene bathroom oasis, the inviting living spaces, the stylish patio, or even the resplendent pool deck, terrazzo can enhance the allure of every space it graces. At Craftsman Concrete, we meticulously craft each terrazzo floor with precision, ensuring that it becomes a focal point of beauty and elegance.
Choosing the Perfect Fit
As you embark on your terrazzo flooring journey, it's important to understand the options available to you. Epoxy terrazzo offers a high-gloss finish, exceptional stain resistance, and endless design possibilities. On the other hand, cement terrazzo exudes a timeless charm with its matte finish and earthy tones. At Craftsman Concrete, our team of experts is dedicated to guiding you in choosing the most suitable terrazzo type based on your unique aesthetic preferences and functional requirements.
Unleashing Creativity
Craftsman Concrete takes pride in offering a wide selection of aggregates that allow you to personalize your terrazzo floors, ensuring they perfectly complement your style and space. From the elegance of marble chips to the vibrancy of glass and the enchantment of mother-of-pearl aggregates, the possibilities are truly endless. Our skilled artisans possess the expertise to expertly blend these aggregates, creating captivating patterns and designs that transform your floors into genuine works of art.
An Investment in Value
Investing in terrazzo flooring is not just an investment in beauty but also in durability and long-term value. While the cost of terrazzo installation may vary based on factors such as the size of the area, complexity of design, and the selected aggregates, Craftsman Concrete offers competitive pricing without compromising on quality. We understand the importance of delivering exceptional results within your budget, ensuring that your terrazzo flooring becomes a worthy and lasting investment.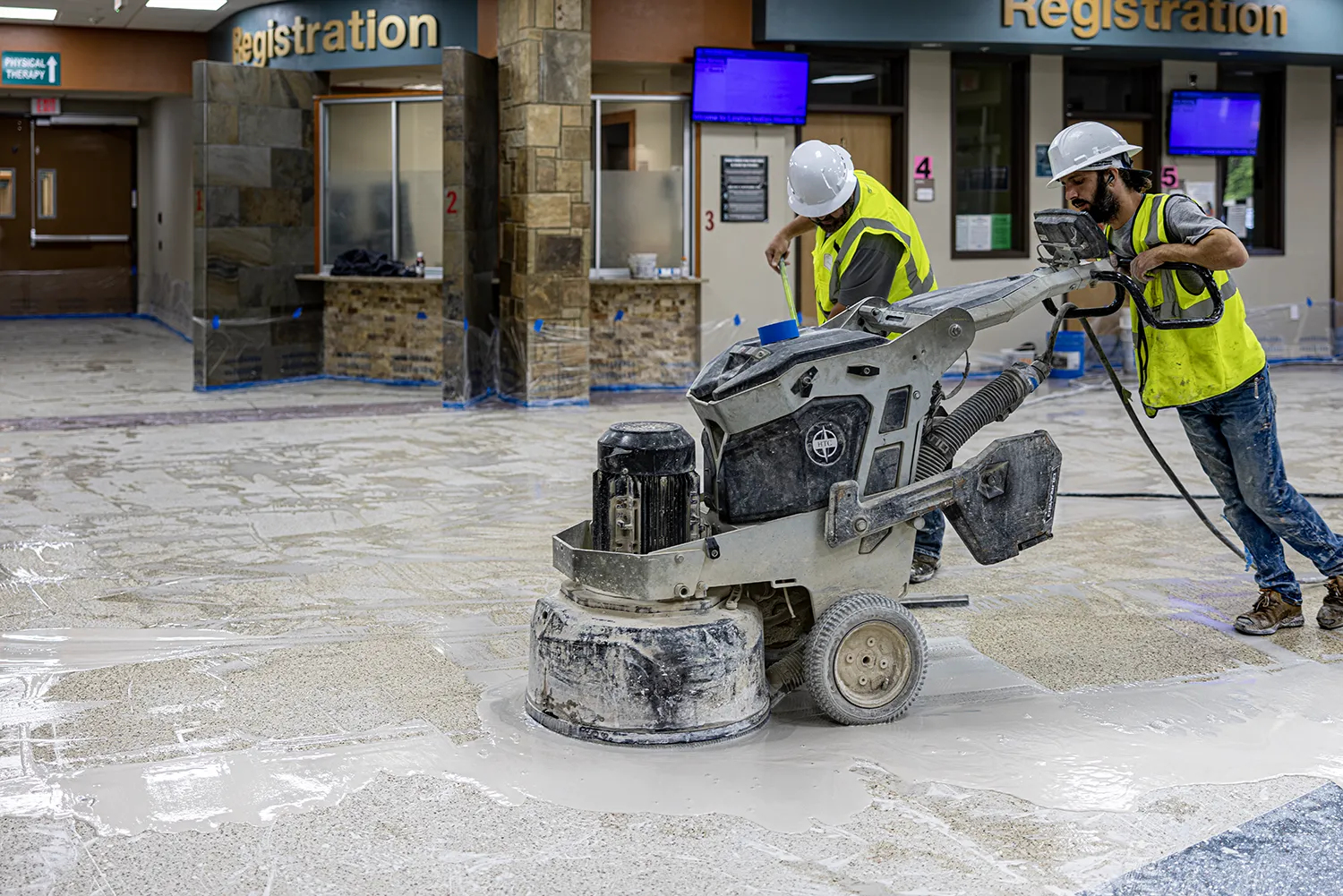 Choose Craftsman Concrete for Terrazzo Flooring in Denver
Terrazzo floors have stood the test of time, captivating people with their timeless beauty and remarkable durability. In Denver, Colorado, Craftsman Concrete emerges as the trusted name for terrazzo services, providing unmatched expertise and an unwavering commitment to customer satisfaction.
Whether you wish to elevate the ambiance of your home or enhance the allure of a commercial space, our terrazzo services offer a seamless blend of artistry and functionality. Embrace the timeless charm of terrazzo and let Craftsman Concrete transform your space into a true masterpiece. Contact us today to bring your vision to life.
Locations We Service
Texas
Dallas, Austin, Houston, McKinney, Waco, San Antonio, El Paso, Fort Worth, Arlington, Corpus Christi, Plano, and Lubbock.
Colorado
Centennial, Colorado Springs, Aurora, Arvada, Boulder, Denver, Fort Collins, Lakewood, Highlands Ranch, Greeley, Longmont, Pueblo, Thornton, Westminster.
Frequently Asked Questions about Terrazzo Floors
While terrazzo floors are incredibly durable, they require a specific maintenance protocol. At Craftsman Concrete Floors, we provide customized terrazzo maintenance systems to accommodate all types of terrazzo installations.
Most modern terrazzo floors are installed between 1/4″ and 1/2″ in thickness.