Terrazzo Floors in Fort Worth
Fort Worth, a city steeped in history, thriving arts, and a vibrant downtown atmosphere, offers a perfect backdrop for elevating your residential or commercial space to new heights. If you're seeking to transform your living environment into something truly remarkable, look no further than the breathtaking beauty of terrazzo flooring. Carefully crafted with versatility, durability, and undeniable charm in mind, terrazzo has emerged as the preferred choice for Fort Worth residents who desire stunning living spaces.
Why Choose Craftsman Concrete Floors?
At Craftsman Concrete Floors in Fort Worth, Tx, we specialize in luxury residential and commercial terrazzo installations. With nearly 25 years of experience installing decorative concrete overlays and terrazzo, we're the preferred installer of countless luxury designers and builders.
Our in-house design team is available at no cost. We employ well-known veterans of the decorative concrete industry, many with decades of experience. Proudly, all our employees are full-time W-2 employees receiving a living wage. At Craftsman Concrete Floors, we never subcontract jobs.
No Square Footage Minimums
All in-house, W-2 labor
Servicing Texas since 1999
Choose Craftsman Concrete for Terrazzo Flooring
When it comes to terrazzo flooring in Fort Worth, Craftsman Concrete is the trusted choice. We understand your desire for a space that reflects your style, withstands the demands of daily life, and exudes sheer brilliance. Allow us to transform your living environment with the unmatched beauty and durability of terrazzo floors.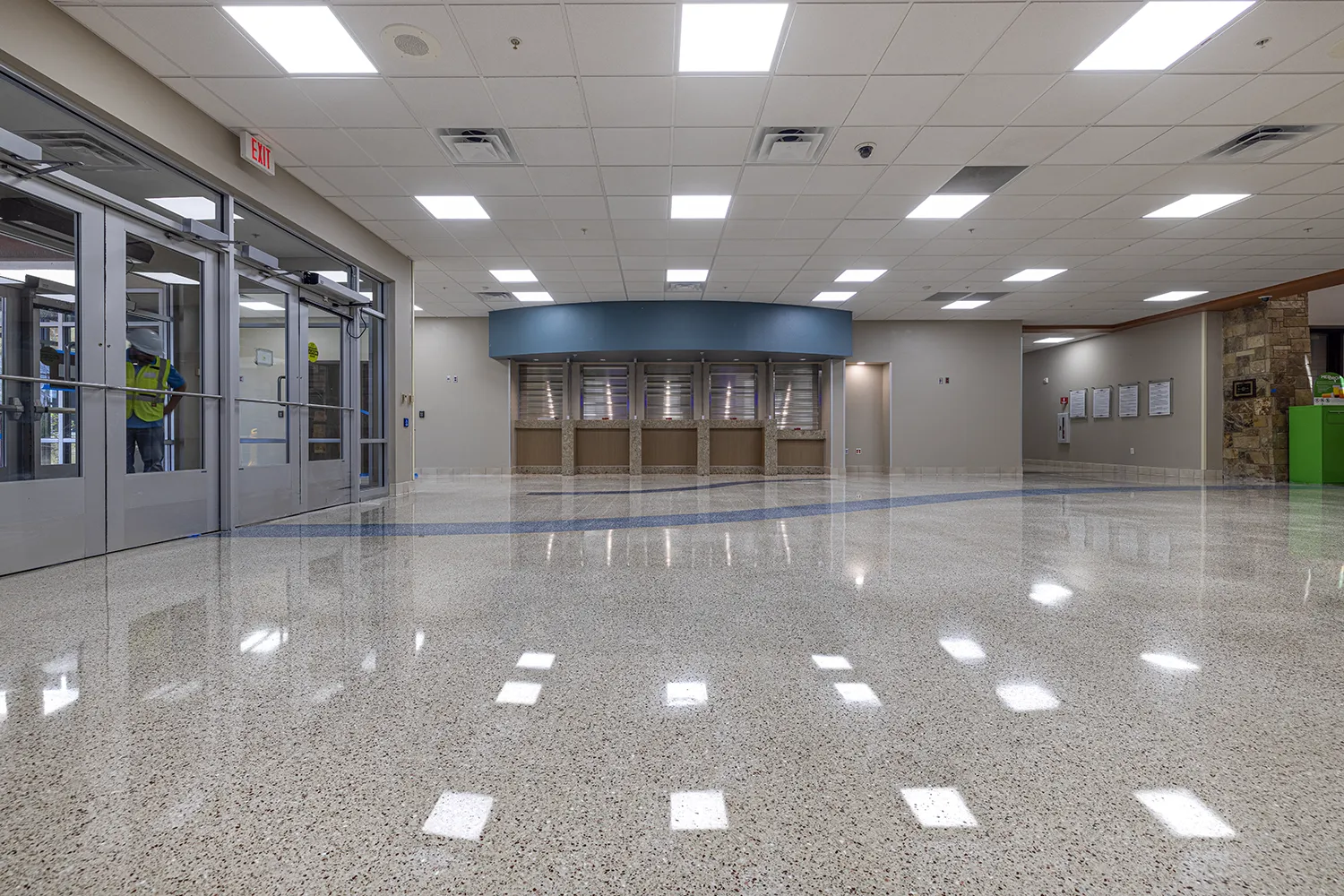 Want to Learn More About Terrazzo Flooring?
We're happy to provide a free terrazzo estimate. A Concrete Floor Specialist will get in touch with you within 1 business day.
Why choose craftsman Terrazzo Floors?
Why Choose Terrazzo Floors?
When it comes to design choices, we offer a wide range of colors, patterns, and chip sizes, enabling you to personalize your floors and blend them with your unique style and existing décor. Whether you seek classic elegance or a more contemporary vibe, we possess the resources, tools, and expertise to bring your vision to life.
Durability is a crucial factor in any flooring investment, and terrazzo excels in this regard. Engineered to withstand heavy foot traffic, scratches, and stains, choosing terrazzo floors in Fort Worth is a smart choice. We take quality seriously, ensuring that every inch of your terrazzo floor is constructed to withstand the test of time. Rest easy knowing that your investment will retain its stunning beauty for years to come.
Do Terrazzo Floors Scratch Easily?
One common question we often receive from interested customers in Fort Worth is whether terrazzo floors scratch easily. It's a legitimate concern, and here's the truth: polished terrazzo is intentionally crafted to be extremely scratch resistant. This means you can enjoy the beauty of your floors without constantly worrying about minor scuffs or marks. However, if you opt for waxed terrazzo, it's worth noting that it may require slightly more attention and care to maintain its pristine appearance and protect against potential scratches. While terrazzo is generally a durable flooring option, it's important to consider the specific finish you choose and take appropriate steps to preserve its impeccable condition. We will help you make the right decision based on your needs.
Radiant Heating and Terrazzo Floors
At Craftsman Concrete, we specialize in installing radiant heating systems beneath terrazzo floors in Fort Worth. Imagine the best of both worlds: the timeless elegance of terrazzo flooring combined with cozy warmth under your feet. It's a perfect match, creating stunning spaces that are as comfortable as they are beautiful. This approach blends style and comfort in your home or business.
Flooding and Terrazzo Floors
Water damage is always a concern, particularly in areas prone to spills and leaks. Here's the good news: terrazzo flooring is built to resist water damage, making it an excellent choice for moisture-prone spaces. At Craftsman Concrete, we go the extra mile to enhance the water resistance of your terrazzo floors through meticulous sealing and maintenance. We recommend regular sealing, depending on usage and foot traffic, to ensure your floors remain well-protected and maintain their awe-inspiring beauty over time.
Terrazzo Floor Maintenance
Our services go beyond installation. We offer comprehensive terrazzo maintenance services to keep your floors in pristine condition. From regular cleaning and expert waxing to meticulous polishing and repairs, our skilled professionals utilize environmentally friendly products and advanced techniques to ensure your terrazzo flooring retains its longevity and timeless allure.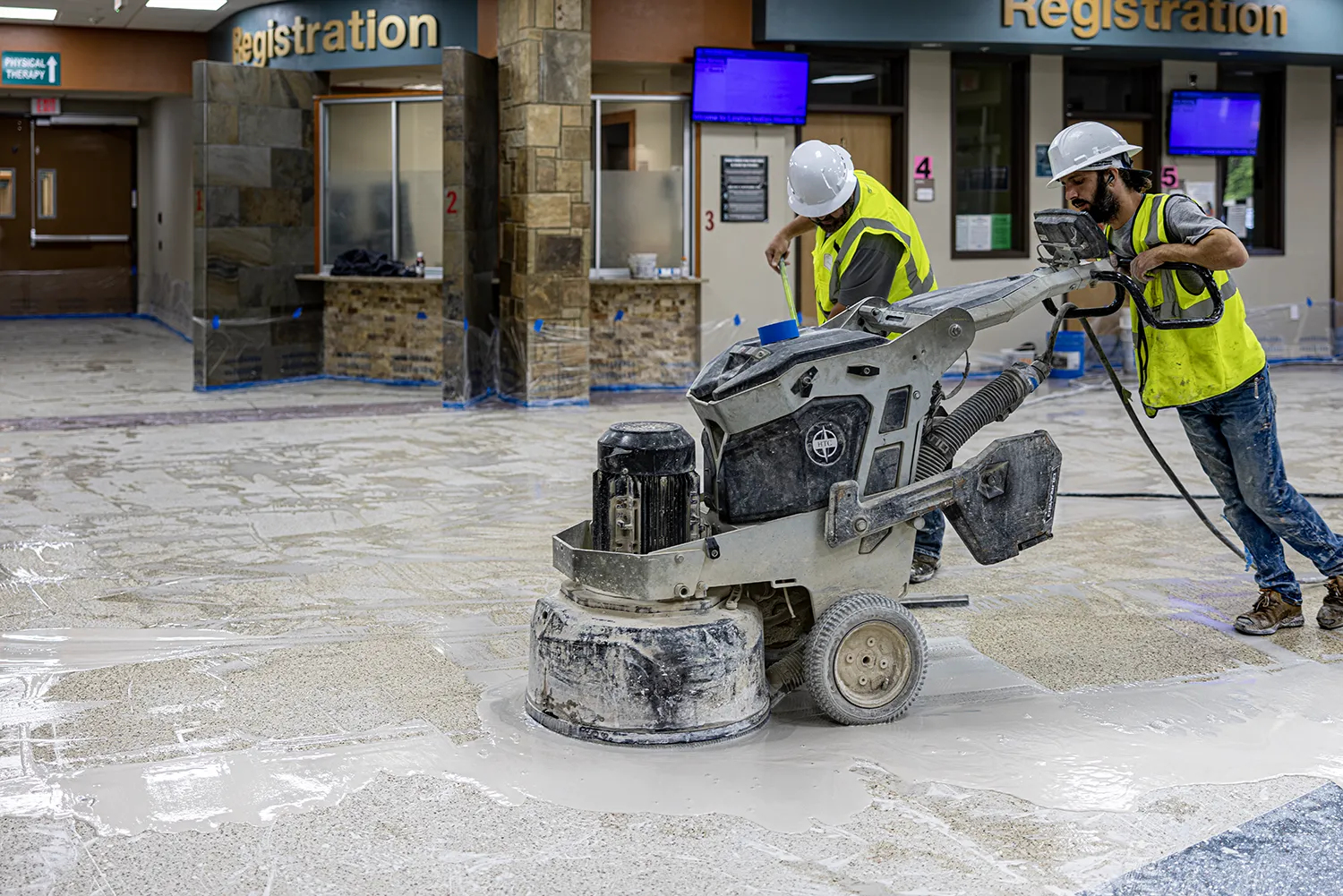 Locations We Service
Texas
Dallas, Austin, Houston, McKinney, Waco, San Antonio, El Paso, Fort Worth, Arlington, Corpus Christi, Plano, and Lubbock.
Colorado
Frequently Asked Questions about Terrazzo Floors
Terrazzo floors typically require polishing every 3 to 5 years, depending on factors such as foot traffic and wear. Polishing helps restore the shine and luster of the terrazzo surface, rejuvenating its appearance and enhancing its overall beauty. We offer terrazzo floor polishing in Fort Worth.
Yes, vacuuming is a suitable method for cleaning terrazzo floors. However, it is important to use a soft brush attachment, or a vacuum specifically designed for hard surfaces to prevent any potential scratching. Vacuuming helps remove loose dirt, dust, and debris from the surface, keeping your terrazzo floors clean and fresh.
Terrazzo floor burnishing is a specialized process that involves using a high-speed rotary machine to restore the gloss and shine of the terrazzo surface. We recommend this process when the floor starts to lose its luster or develop minor scratching. We have the expertise and equipment to perform the burnishing service in Fort Worth.