Terrazzo Installation in Arlington
Nestled between the vibrant cities of Dallas and Fort Worth, Arlington, Texas, boasts bustling neighborhoods, a thriving entertainment district, and a rich cultural heritage. The residents of Arlington take immense pride in designing stunning and functional spaces. For those seeking flooring options that offer both elegance and durability, terrazzo flooring emerges as an excellent choice.
Why Choose Craftsman Concrete Floors?
At Craftsman Concrete Floors in Arlington, Tx, we specialize in luxury residential and commercial terrazzo installations. With nearly 25 years of experience installing decorative concrete overlays and terrazzo, we're the preferred installer of countless luxury designers and builders.
Our in-house design team is available at no cost. We employ well-known veterans of the decorative concrete industry, many with decades of experience. Proudly, all our employees are full-time W-2 employees receiving a living wage. At Craftsman Concrete Floors, we never subcontract jobs.
No Square Footage Minimums
All in-house, W-2 labor
Servicing Texas since 1999
Choose Craftsman Concrete for Terrazzo Flooring in Arlington
When it comes to terrazzo flooring in Arlington, Craftsman Concrete is the number one choice. Our unwavering commitment to exceptional craftsmanship, attention to detail, and customer satisfaction sets us apart. Contact us today to discover how terrazzo flooring can elevate your Arlington space with its elegance and durability.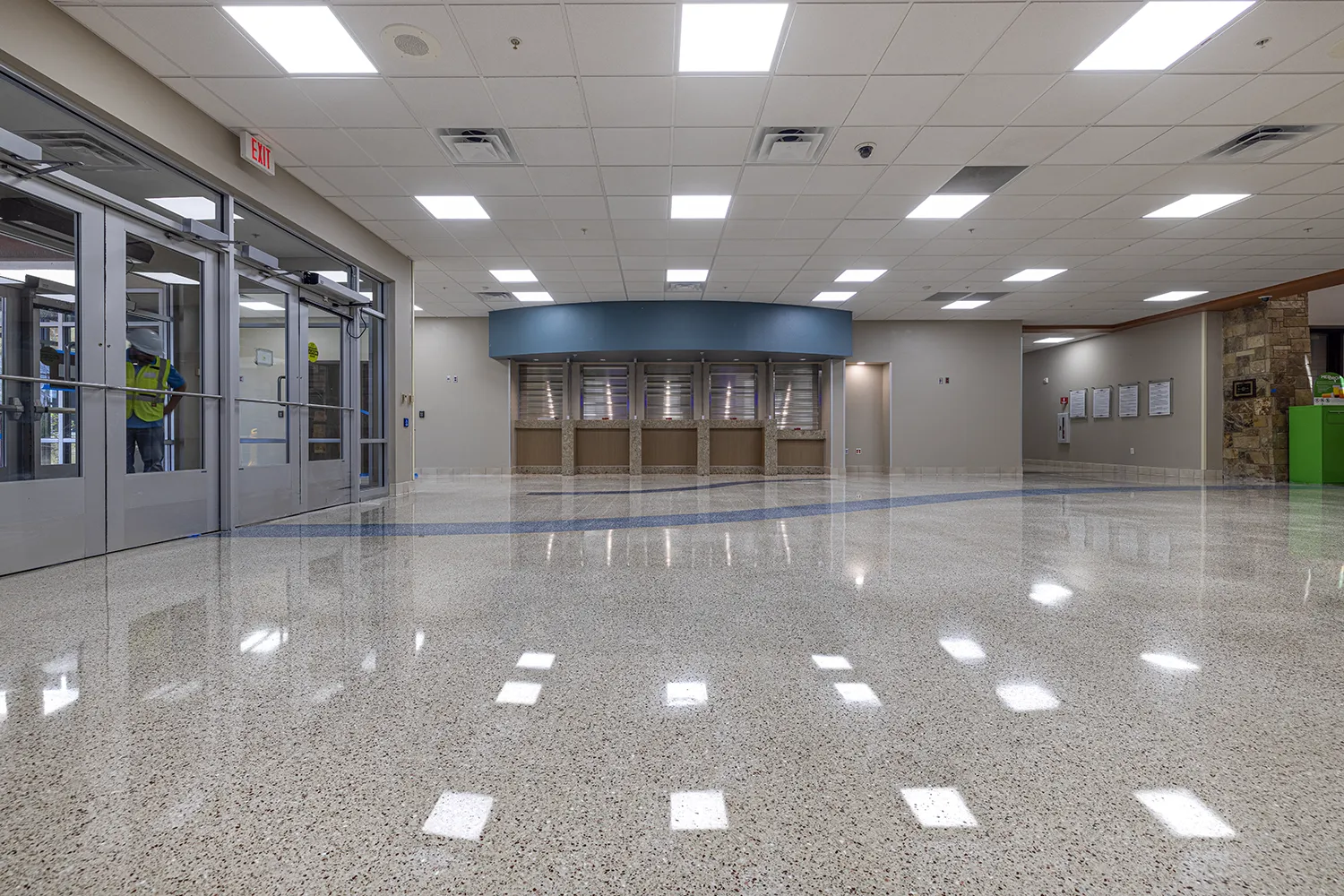 Want to Learn More About Terrazzo Flooring?
We're happy to provide a free terrazzo estimate. A Concrete Floor Specialist will get in touch with you within 1 business day.
Why choose craftsman Terrazzo Floors?
Unlimited Terrazzo Designs
Terrazzo flooring is like an open playground of design possibilities, where your imagination can run wild. Its extensive range of vibrant colors, captivating patterns, and diverse chip sizes allows you to create a look that is truly one-of-a-kind for your Arlington property. Whether you're a fan of timeless and traditional styles, want a contemporary and sleek vibe, or love to mix and match different elements for an eclectic aesthetic, terrazzo flooring allows any combination. Working closely with you, our team will create custom designs that reflect your individual style and vision.
A Lasting Investment
Beyond its aesthetic appeal, terrazzo flooring is renowned for its remarkable durability. Capable of withstanding heavy foot traffic, resisting scratches and stains, terrazzo retains its beauty for years to come. With proper maintenance, your terrazzo floors in Arlington will be a long-lasting investment, providing a stunning and durable flooring solution.
Not only do we install terrazzo flooring in Arlington, but we also offer a variety of products and services that you can use to keep your terrazzo floor looking great year-round. Here's how we ensure that any terrazzo installation in Arlington will remain beautiful.
Terrazzo Floor Maintenance
Contrary to popular belief, terrazzo is not difficult to maintain, especially with the expertise from Craftsman Concrete. With regular cleaning and proper care, your terrazzo floors can retain their brilliance for years. We provide comprehensive terrazzo maintenance services in Arlington to ensure your floors stay in pristine condition.
Terrazzo Floor Repolishing
Over time, terrazzo floors may start to lose their shine. However, with our expert terrazzo floor repolishing services, we can restore the luster and elegance of your flooring. Our skilled professionals utilize advanced techniques and high-quality products to achieve a flawless finish that will leave your terrazzo floors looking as good as new.
Terrazzo Floor Stripping and Resealing
If your terrazzo floors have become dull and lackluster (due to age or a lack of maintenance), it may be time for stripping and resealing. Craftsman Concrete offers specialized terrazzo floor stripping and resealing services in Arlington to remove any built-up residue, stains, or unavoidable scratches. We then apply a new sealer to protect and enhance the beauty of your terrazzo floors.
Terrazzo Floor Stripping and Resealing
Once you've installed your dream terrazzo floor in your Arlington home or commercial space, cleaning terrazzo floors is a straightforward process. Start by sweeping or vacuuming the floor to remove any loose debris. Next, use a mild, pH-neutral cleaner specifically designed for terrazzo. Dilute the cleaner as instructed and mop the floor, making sure to remove any excess moisture. Finally, rinse the floor thoroughly with clean water and allow it to air dry. Avoid using abrasive cleaners or tools that may scratch the surface of your terrazzo floors.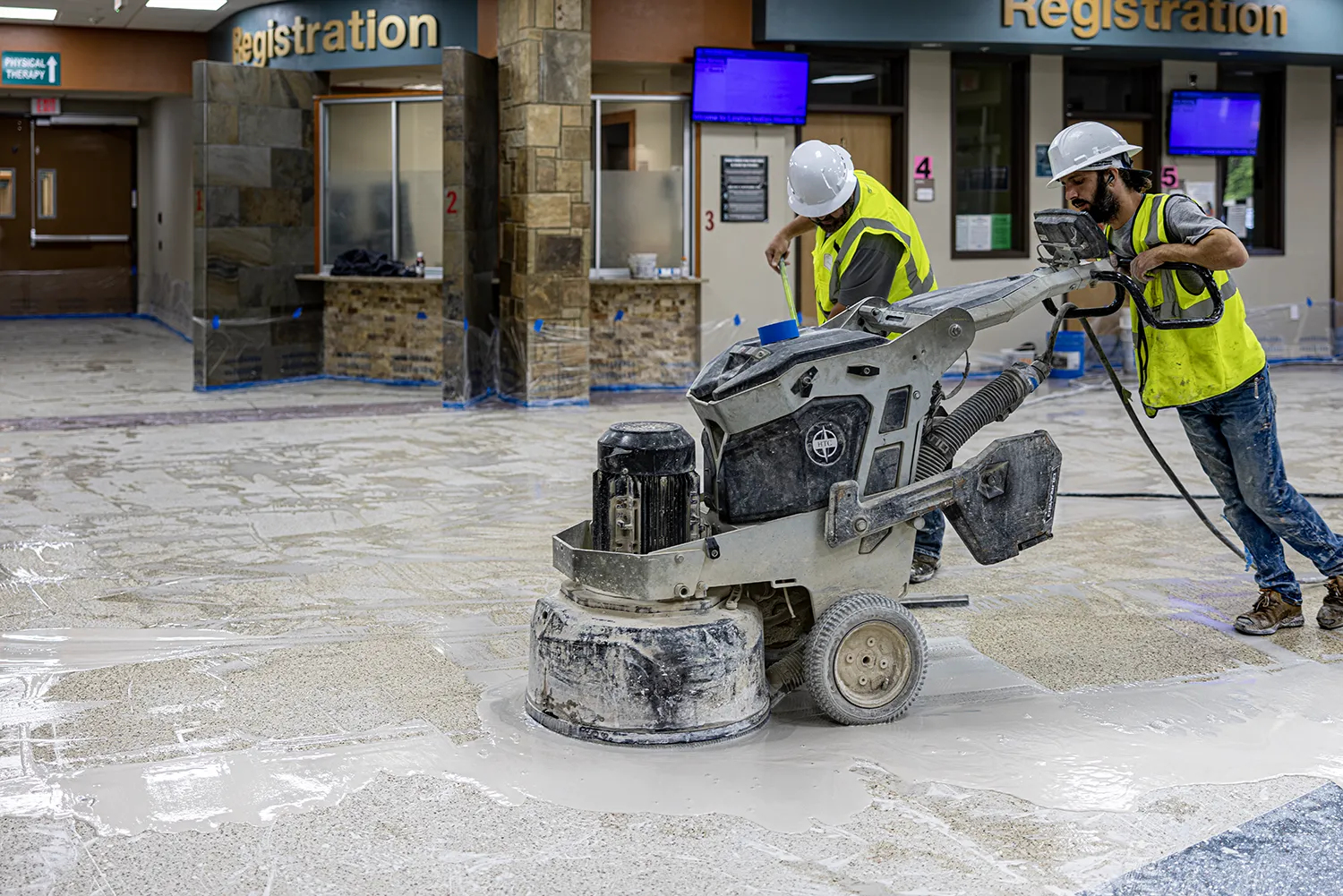 Locations We Service
Texas
Dallas, Austin, Houston, McKinney, Waco, San Antonio, El Paso, Fort Worth, Arlington, Corpus Christi, Plano, and Lubbock.
Colorado
Frequently Asked Questions about Terrazzo Floors
Terrazzo floors typically require polishing every 3 to 5 years, depending on factors such as foot traffic and wear. Polishing helps restore the shine and luster of the terrazzo surface, rejuvenating its appearance and enhancing its overall beauty. We offer terrazzo floor polishing in Arlington.
Yes, vacuuming is a suitable method for cleaning terrazzo floors. However, it is important to use a soft brush attachment, or a vacuum specifically designed for hard surfaces to prevent any potential scratching. Vacuuming helps remove loose dirt, dust, and debris from the surface, keeping your terrazzo floors clean and fresh.
Terrazzo floor burnishing is a specialized process that involves using a high-speed rotary machine to restore the gloss and shine of the terrazzo surface. We recommend this process when the floor starts to lose its luster or develop minor scratching. We have the expertise and equipment to perform the burnishing service in Arlington.