Terrazzo Installation in Plano
Plano, Texas, is a thriving city renowned for its upscale neighborhoods, excellent schools, and vibrant community. Among the various flooring options available, Plano residents have discovered the perfect blend of elegance and versatility in terrazzo flooring. Crafted with timeless beauty, durability, and design flexibility, terrazzo flooring has become a popular choice to visually improve any space.
Why Choose Craftsman Concrete Floors?
At Craftsman Concrete Floors in Plano, Tx, we specialize in luxury residential and commercial terrazzo installations. With nearly 25 years of experience installing decorative concrete overlays and terrazzo, we're the preferred installer of countless luxury designers and builders.
Our in-house design team is available at no cost. We employ well-known veterans of the decorative concrete industry, many with decades of experience. Proudly, all our employees are full-time W-2 employees receiving a living wage. At Craftsman Concrete Floors, we never subcontract jobs.
No Square Footage Minimums
All in-house, W-2 labor
Servicing Texas since 1999
Trust Craftsman Concrete for Exceptional Terrazzo Flooring in Plano
Craftsman Concrete is the reliable choice when it comes to terrazzo flooring in Plano. Our dedication to exceptional craftsmanship, attention to detail, and customer satisfaction sets us apart from the rest. Contact us today to discover how terrazzo flooring can enhance your Plano space with its elegance and versatility.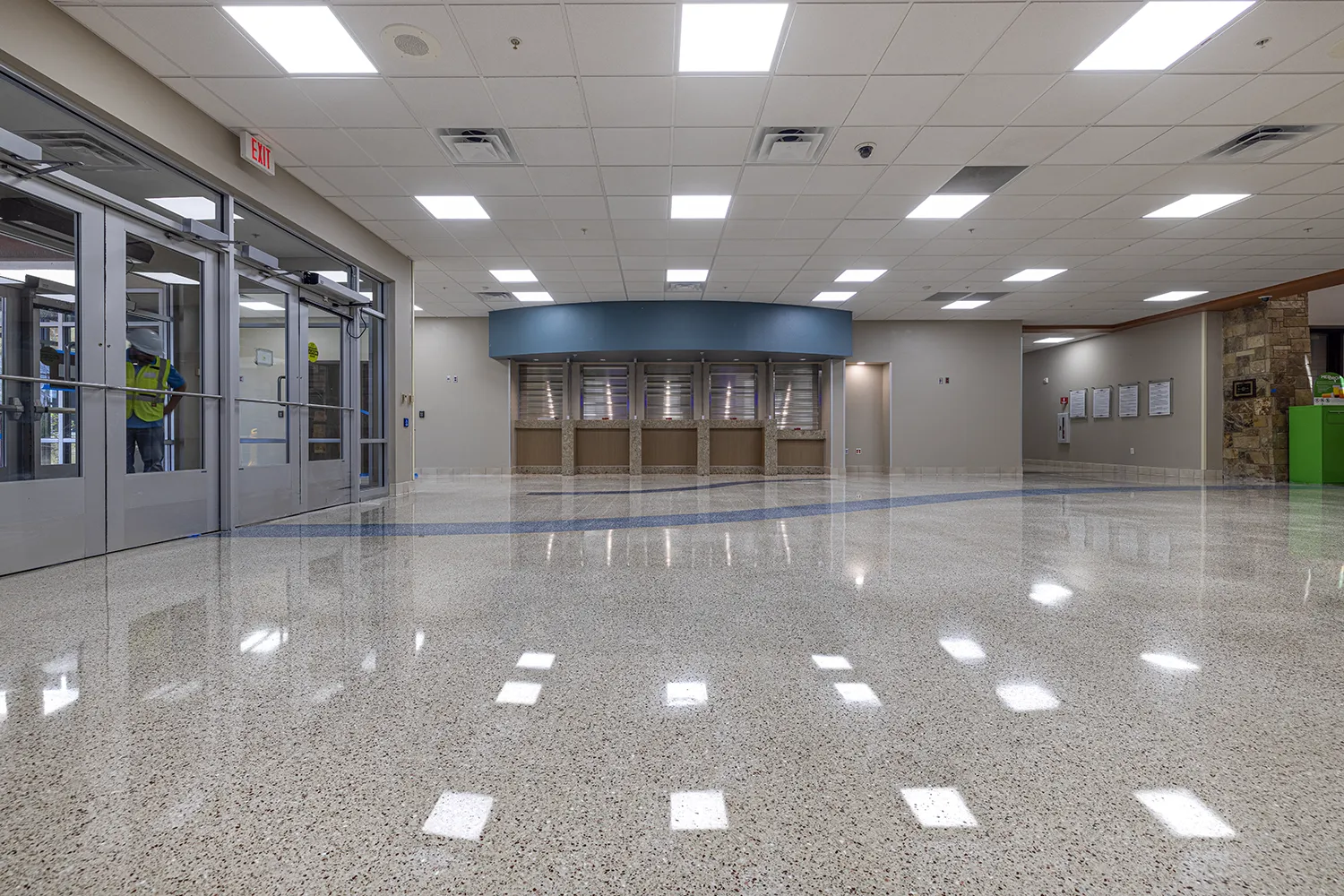 Want to Learn More About Terrazzo Flooring?
We're happy to provide a free terrazzo estimate. A Concrete Floor Specialist will get in touch with you within 1 business day.
Why choose craftsman Terrazzo Floors?
Terrazzo and its popularity across the Lone Star State
Many homeowners and contractors across Texas choose terrazzo floors because of its infinite design options and its durability. Terrazzo flooring has a fascinating history that goes back to ancient times. It was created by Venetian craftsmen who mixed marble chips with binders like cement or epoxy to develop a durable and visually appealing flooring option.
You can personalize your Plano home with a wide range of colors, patterns, and chip sizes. From classic to contemporary styles, terrazzo flooring adds elegance and sophistication to any room, complementing your existing decor.
Beyond its stunning appearance, terrazzo flooring is renowned for its durability. With the ability to withstand heavy foot traffic, resist scratches and stains, and maintain its beauty for years, terrazzo floors in Plano represents a long-term investment that combines captivating aesthetics with practical functionality.
Preserve the Beauty of Your Floors
Craftsman Concrete offers comprehensive terrazzo maintenance services to ensure that your floors remain in pristine condition. From regular cleaning and sealing to polishing and repairs, our team possesses the expertise to handle all your terrazzo maintenance needs. We employ environmentally friendly products and advanced techniques to extend the longevity and beauty of your terrazzo flooring.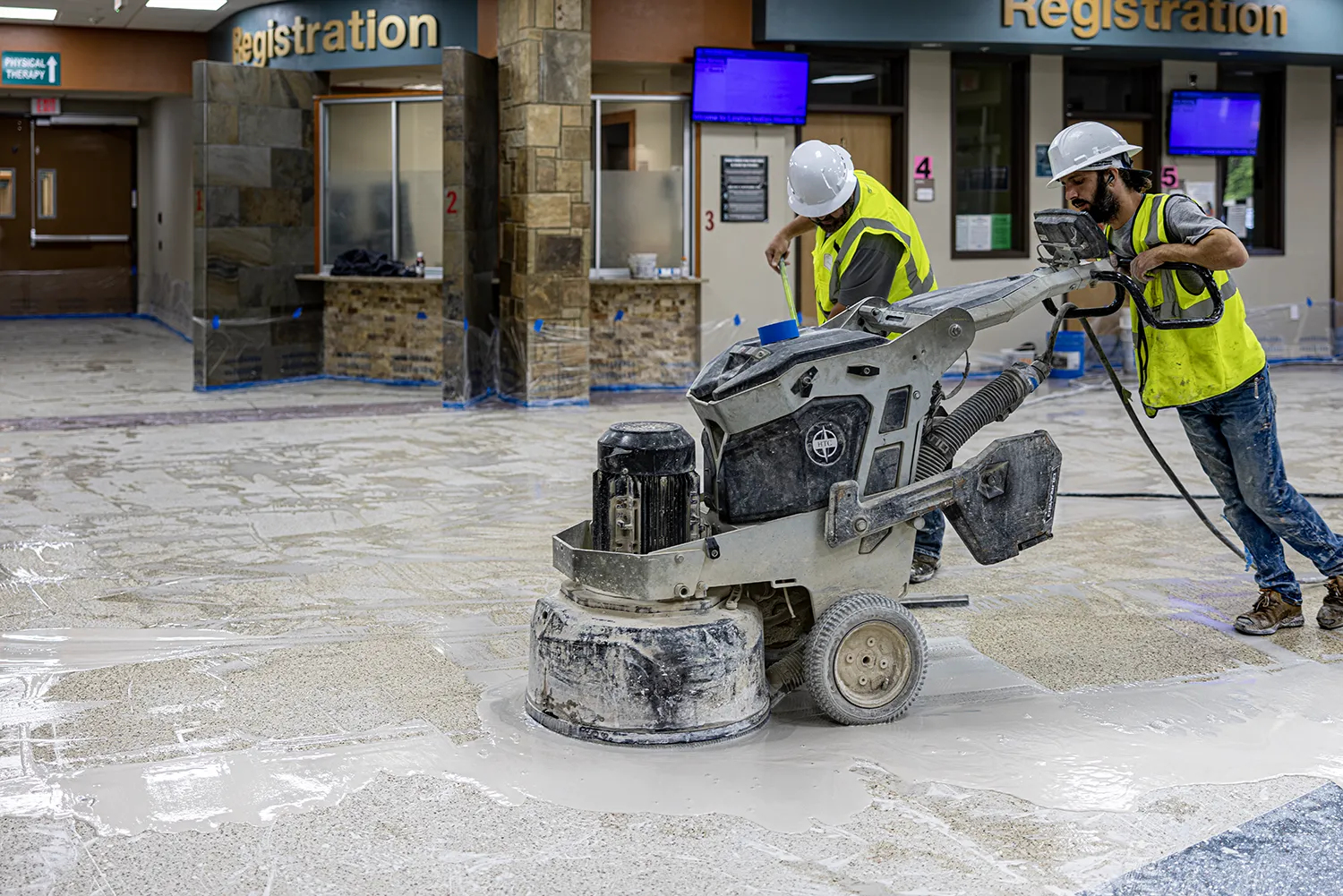 Locations We Service
Texas
Dallas, Austin, Houston, McKinney, Waco, San Antonio, El Paso, Fort Worth, Arlington, Corpus Christi, Plano, and Lubbock.
Colorado
Frequently Asked Questions about Terrazzo Floors
Pine-Sol cleaner is not recommended for terrazzo floors, as its ingredients can be abrasive and cause damage.
Mop N Glow cleaner is not suitable for terrazzo floors. Its wax-based formula can leave behind a sticky residue and diminish the natural shine of your terrazzo surface.
Exposure to UV rays can cause some discoloration and fading of terrazzo floors over time. To minimize this effect, consider using window treatments, blinds, or applying UV-protective coatings on your windows to reduce the amount of sunlight reaching your floors. Alternatively, contact us for regular terrazzo maintenance services to reverse the effects of UV light on your terrazzo flooring in Plano.