Terrazzo Installation in San Antonio
San Antonio, Texas, is renowned not only for its rich history, vibrant culture, and stunning architecture but also for the vast options available to residents looking to enhance their homes and businesses. Among these options, terrazzo flooring stands out as an exceptional choice. Craftsman Concrete takes great pride in offering terrazzo flooring services in San Antonio, specializing in installation, restoration, and maintenance. Whether you're renovating your home, designing a commercial space, or involved in a restoration project, our team of skilled professionals is dedicated to delivering exceptional craftsmanship and ensuring customer satisfaction.
Why Choose Craftsman Concrete Floors?
At Craftsman Concrete Floors in San Antonio, Tx, we specialize in luxury residential and commercial terrazzo installations. With nearly 25 years of experience installing decorative concrete overlays and terrazzo, we're the preferred installer of countless luxury designers and builders.
Our in-house design team is available at no cost. We employ well-known veterans of the decorative concrete industry, many with decades of experience. Proudly, all our employees are full-time W-2 employees receiving a living wage. At Craftsman Concrete Floors, we never subcontract jobs.
No Square Footage Minimums
All in-house, W-2 labor
Servicing Texas since 1999
San Antonio, Choose Craftsman Concrete for Your Terrazzo Floors
When it comes to spectacular terrazzo flooring in San Antonio, Craftsman Concrete is the only choice. Our commitment to exceptional craftsmanship, meticulous attention to detail, and customer satisfaction sets us apart from the competition. With our top-quality services and unparalleled expertise, we can transform your San Antonio space into a masterpiece of design and durability. Contact us today to embark on a remarkable journey with terrazzo flooring and let us bring your unique vision to life.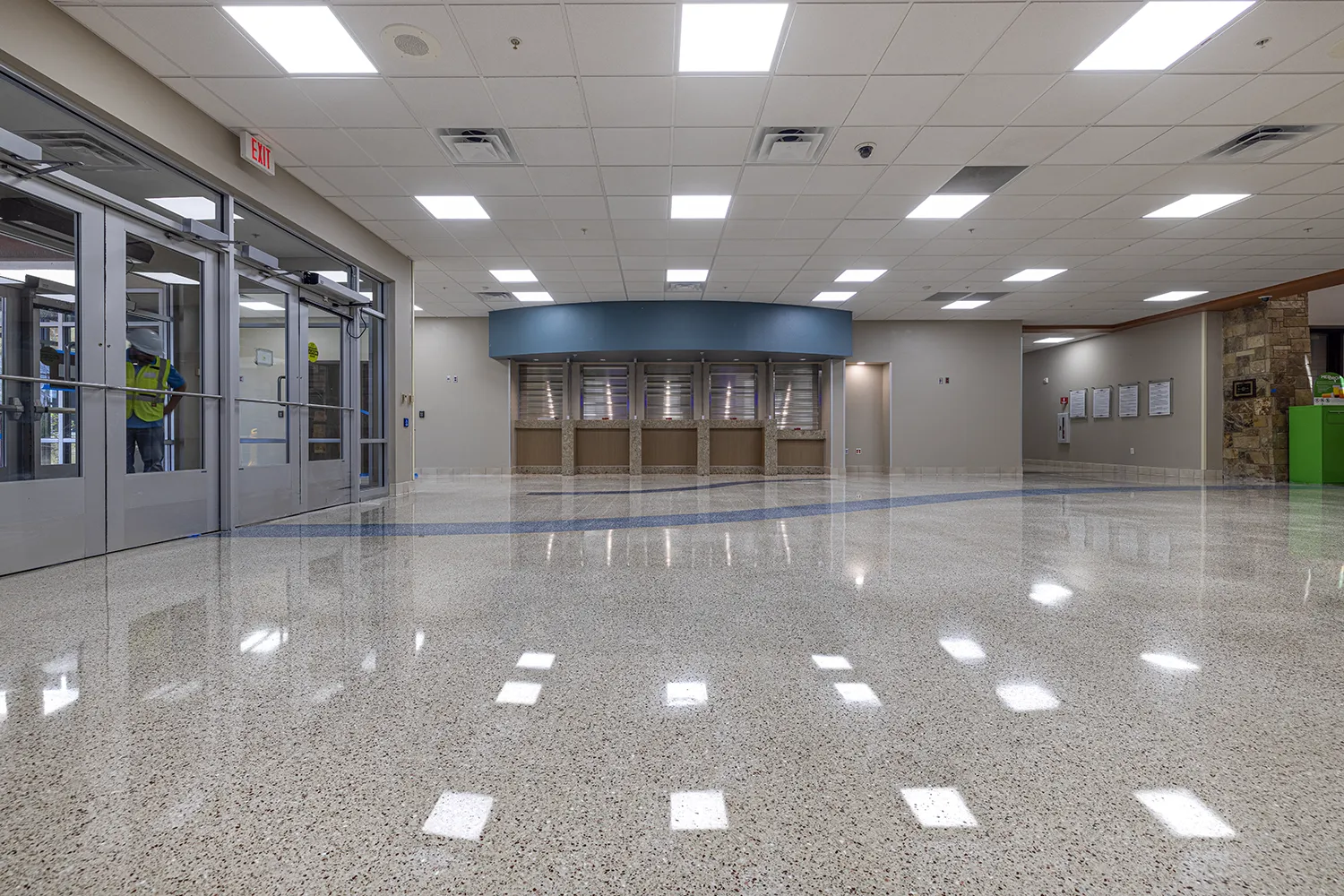 Want to Learn More About Terrazzo Flooring?
We're happy to provide a free terrazzo estimate. A Concrete Floor Specialist will get in touch with you within 1 business day.
Why choose craftsman Terrazzo Floors?
What is Terrazzo Flooring?
Terrazzo flooring boasts a fascinating history that traces back to ancient times. It originated with the skilled Venetian craftsmen who developed it as a sustainable flooring solution by blending marble chips with a binder, such as cement or epoxy. Over time, terrazzo has evolved to offer a wide range of design possibilities. In San Antonio, you can use the immense potential of terrazzo and create visually stunning, one-of-a-kind floors that reflect your personal style and elevate the aesthetic appeal of your space.
Terrazzo flooring has gained significant popularity in San Antonio, becoming a preferred choice for many different use cases. Its outstanding durability makes it a top pick, especially for places that see a lot of foot traffic, such as bustling entryways, inviting lobbies, busy kitchens, and relaxing bathrooms. Therefore, choosing the correct terrazzo installation is important. We offer a complete poured terrazzo versus a tiled terrazzo installation service in San Antonio.
Why Choose Poured Terrazzo over Terrazzo Tiles?
When comparing poured terrazzo with terrazzo tiles, the former emerges as a superior alternative. While tiled terrazzo offers aesthetic appeal and variety, it often falls short in terms of durability and longevity. Poured terrazzo flooring, on the other hand, offers unmatched resilience, withstanding the rigors of constant use and heavy foot traffic without compromising its beauty.
In addition to its durability, poured terrazzo flooring provides a unique and customizable design palette. With a vast array of colors, patterns, and chip sizes available, you have the freedom to create distinctive and visually striking floors that perfectly complement your space. Terrazzo tiles, while offering design options, may lack the flexibility and personalization that poured terrazzo brings to the table.
Maintenance is also a significant consideration when comparing poured terrazzo and tiled terrazzo floors. Poured terrazzo flooring requires minimal upkeep to retain its pristine condition, typically involving regular sweeping, mopping, and occasional polishing. In contrast, tiled terrazzo may demand more frequent cleaning and maintenance to prevent grout discoloration and deterioration.
San Antonio residents seeking a flooring solution that combines durability, aesthetic appeal, and low maintenance will find the poured terrazzo to be the superior choice.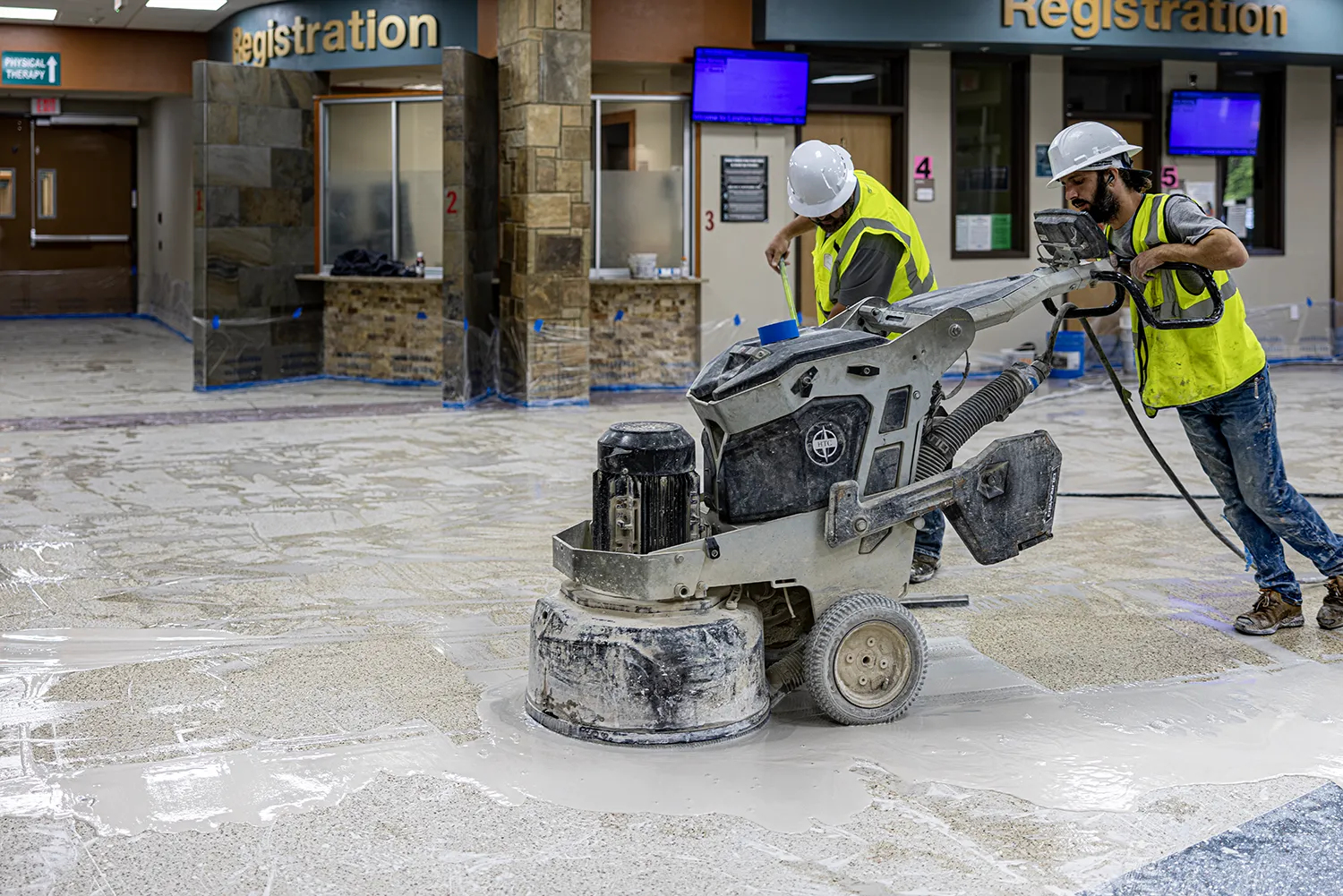 Frequently Asked Questions about Terrazzo Floors
Terrazzo floors typically require polishing every 3 to 5 years, depending on factors such as foot traffic and wear. Polishing helps restore the shine and luster of the terrazzo surface, rejuvenating its appearance and enhancing its overall beauty. We offer terrazzo floor polishing in San Antonio.
Yes, vacuuming is a suitable method for cleaning terrazzo floors. However, it is important to use a soft brush attachment, or a vacuum specifically designed for hard surfaces to prevent any potential scratching. Vacuuming helps remove loose dirt, dust, and debris from the surface, keeping your terrazzo floors clean and fresh.
Terrazzo floor burnishing is a specialized process that involves using a high-speed rotary machine to restore the gloss and shine of the terrazzo surface. We recommend this process when the floor starts to lose its luster or develop minor scratching. We have the expertise and equipment to perform the burnishing service in San Antonio.