Terrazzo Floors in El Paso
El Paso, Texas, a vibrant city nestled in the scenic westernmost corner of the state. Known for its captivating desert vistas and proud cultural heritage, the Sun City is a place where residents strive to craft stunning, one-of-a-kind spaces. When it comes to transforming your property with an everlasting charm, look no further than terrazzo flooring. It's not just a visual marvel, but a testament to durability. Investing in terrazzo flooring promises a stunning and robust foundation for your space.
Whether you're revamping your home, creating a breathtaking commercial space, or embarking on an ambitious hospitality project, terrazzo flooring offers a durable and beautiful flooring option. Enhancing both aesthetics and durability, it becomes the cornerstone of a space that truly resonates with your vision and aspirations.
Why Choose Craftsman Concrete Floors?
At Craftsman Concrete Floors in El Paso, Tx, we specialize in luxury residential and commercial terrazzo installations. With nearly 25 years of experience installing decorative concrete overlays and terrazzo, we're the preferred installer of countless luxury designers and builders.
Our in-house design team is available at no cost. We employ well-known veterans of the decorative concrete industry, many with decades of experience. Proudly, all our employees are full-time W-2 employees receiving a living wage. At Craftsman Concrete Floors, we never subcontract jobs.
No Square Footage Minimums
All in-house, W-2 labor
Servicing Texas since 1999
Choose Craftsman Concrete for Terrazzo Services in El Paso
Craftsman Concrete is dedicated to delivering exceptional craftsmanship, attention to detail, and customer satisfaction. With our expertise in terrazzo flooring, we can transform your El Paso space into a masterpiece of design and durability. Contact us today to discover how terrazzo flooring can elevate your El Paso space with its timeless beauty.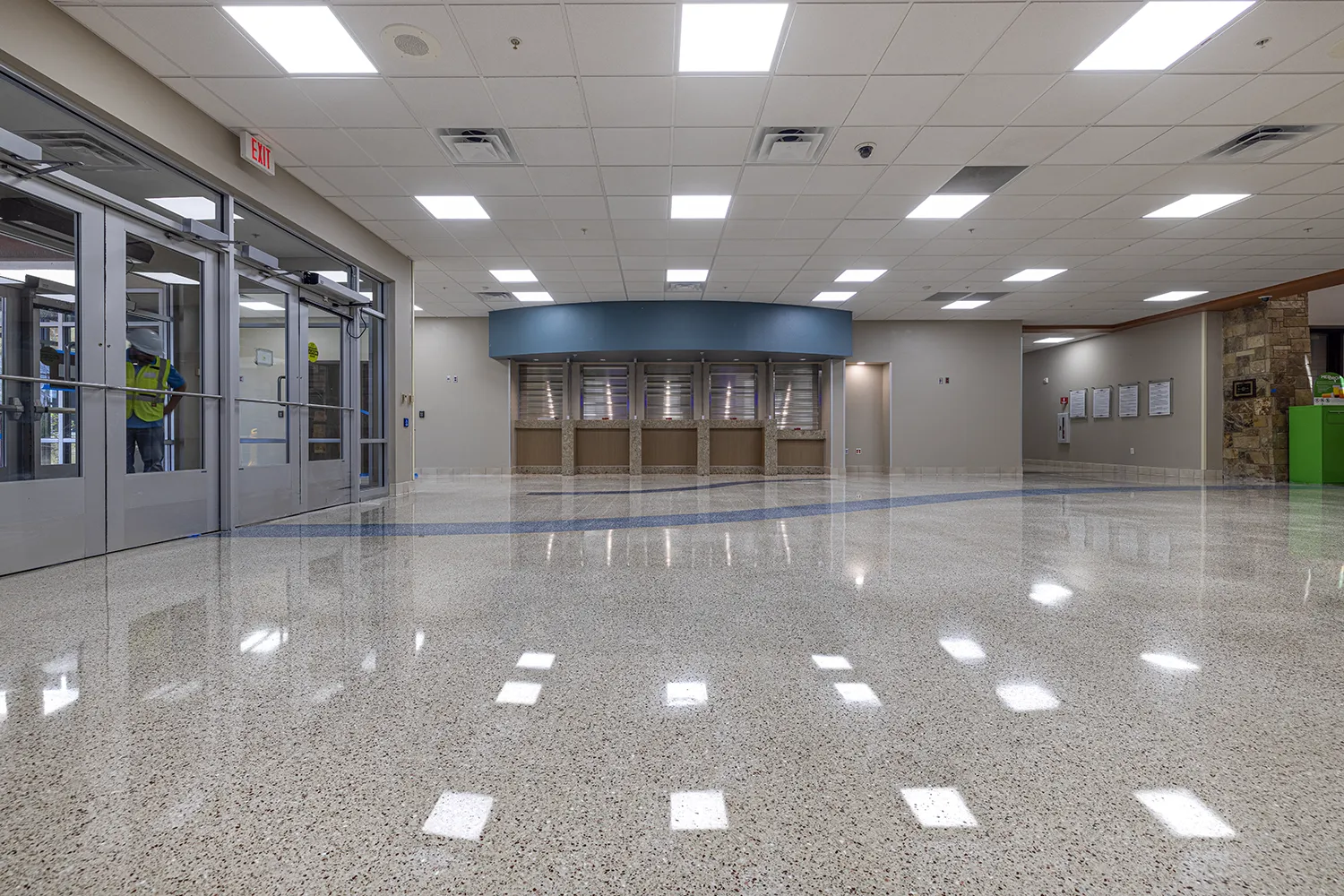 Want to Learn More About Terrazzo Flooring?
We're happy to provide a free terrazzo estimate. A Concrete Floor Specialist will get in touch with you within 1 business day.
Why choose craftsman Terrazzo Floors?
Terrazzo or Polished Concrete?
While polished concrete flooring has gained popularity among homeowners in El Paso, terrazzo floors stand out as a superior choice, adding a touch of elegance and sophistication to any space. Terrazzo flooring surpasses polished concrete with its limitless design possibilities. With a wide range of colors, patterns, and chip sizes available, terrazzo floors complement the abundant El Paso sun, providing a picturesque scene for a truly unique and personalized look to your El Paso property.
When considering flooring options for your El Paso property, it's essential to distinguish between terrazzo flooring and polished concrete floors. While both options offer advantages, terrazzo flooring boasts distinct qualities that make it a preferred choice for many El Paso residents, let's look into the differences and why terrazzo is superior:
Design and Aesthetics
Terrazzo flooring is a creative dream come true, allowing you to unleash your imagination and design floors that effortlessly reflect your unique style and complement your interior decor. In contrast, polished concrete floors embrace a more industrial and minimalist aesthetic, which may not cater to everyone's design preferences.
Durability and Longevity
Terrazzo flooring is renowned for its exceptional durability. It can withstand heavy pedestrian traffic, resist scratches and stains, and maintain its beauty for years to come. With proper maintenance, terrazzo floors in El Paso remain a long-lasting investment, providing you with a stunning and durable flooring solution. While polished concrete floors also offer toughness, they may be more prone to wear and tear over time.
Maintenance
Terrazzo flooring requires minimal maintenance to retain its pristine condition. Regular sweeping, mopping, and occasional polishing are generally sufficient to keep it looking its best.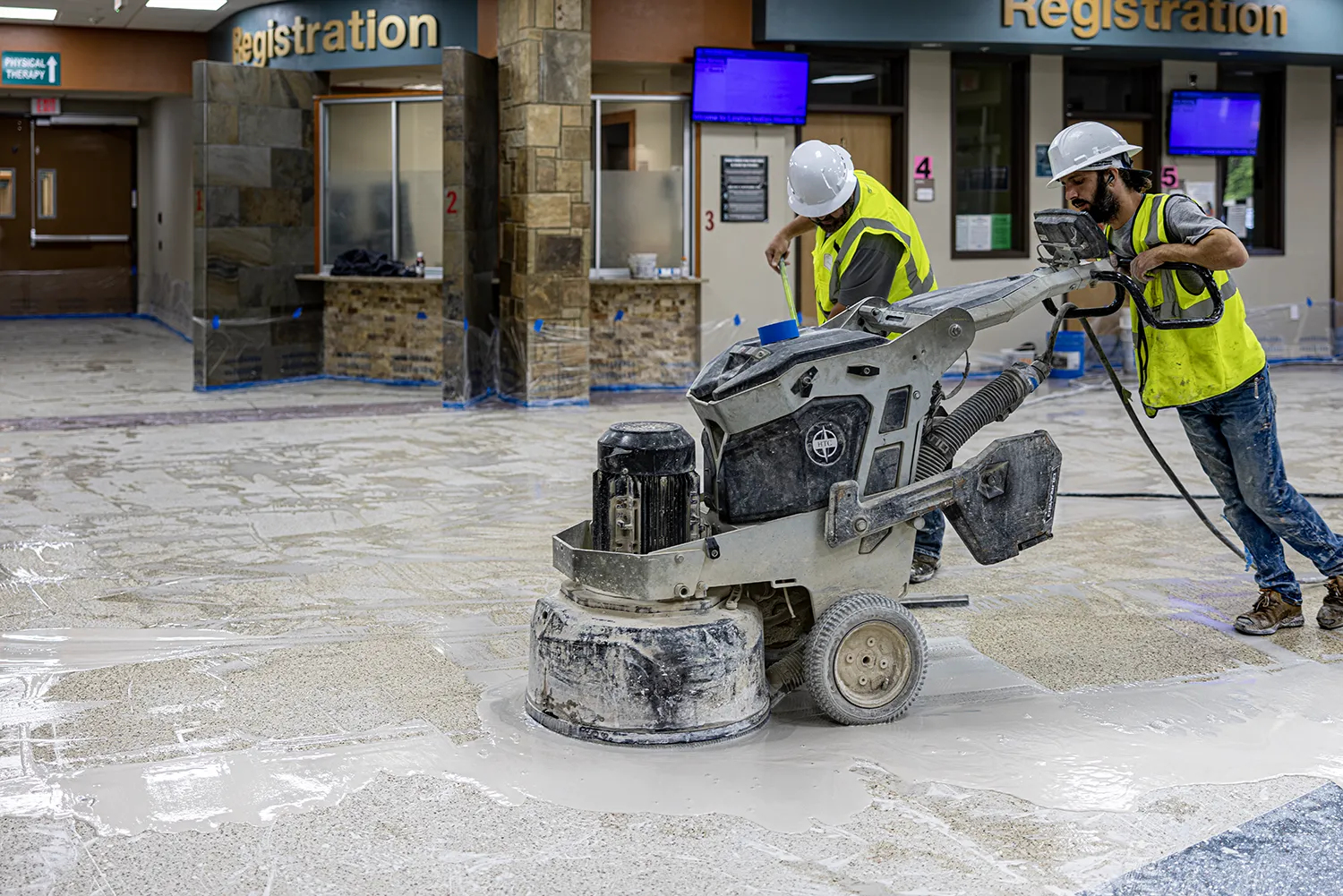 Locations We Service
Texas
Dallas, Austin, Houston, McKinney, Waco, San Antonio, El Paso, Fort Worth, Arlington, Corpus Christi, Plano, and Lubbock.
Colorado
Frequently Asked Questions about Terrazzo Floors
Terrazzo floors typically require polishing every 3 to 5 years, depending on factors such as foot traffic and wear. Polishing helps restore the shine and luster of the terrazzo surface, rejuvenating its appearance and enhancing its overall beauty. We offer terrazzo floor polishing in El Paso.
Yes, vacuuming is a suitable method for cleaning terrazzo floors. However, it is important to use a soft brush attachment, or a vacuum specifically designed for hard surfaces to prevent any potential scratching. Vacuuming helps remove loose dirt, dust, and debris from the surface, keeping your terrazzo floors clean and fresh.
Terrazzo floor burnishing is a specialized process that involves using a high-speed rotary machine to restore the gloss and shine of the terrazzo surface. We recommend this process when the floor starts to lose its luster or develop minor scratching. We have the expertise and equipment to perform the burnishing service in El Paso.