Terrazzo Installation in Arvada
Surrounded by the breathtaking scenery of Colorado, Arvada is a vibrant city celebrated for its tight-knit community and varied architectural designs. When seeking a flooring option that flawlessly merges enduring elegance with unmatched strength, Arvada locals have embraced the undeniable allure of terrazzo.
With its careful and precise craftsmanship, terrazzo effortlessly turns any area into a genuine masterpiece, imparting an air of refinement and enduring excellence. As the trusted provider of exceptional terrazzo services in Arvada, Craftsman Concrete proudly stands at the forefront. Our unwavering dedication to superior artistry ensures that your flooring aspirations come to life in stunning fashion.
Why Choose Craftsman Concrete Floors?
At Craftsman Concrete Floors in Arvada, Co, we specialize in luxury residential and commercial terrazzo installations. With nearly 25 years of experience installing decorative concrete overlays and terrazzo, we're the preferred installer of countless luxury designers and builders.
Our in-house design team is available at no cost. We employ well-known veterans of the decorative concrete industry, many with decades of experience. Proudly, all our employees are full-time W-2 employees receiving a living wage. At Craftsman Concrete Floors, we never subcontract jobs.
No Square Footage Minimums
All in-house, W-2 labor
Servicing Colorado since 1999
Experience the Timeless Beauty of Terrazzo
Craftsman Concrete is your reliable partner for terrazzo solutions in Arvada. Our exceptional service and commitment to customer satisfaction set us apart as a trusted choice for meeting your terrazzo needs. Terrazzo's ability to blend historical charm with contemporary sophistication can transform your Arvada space into something truly extraordinary. If you're ready to elevate your environment with exceptional terrazzo services, we invite you to contact Craftsman Concrete today. Let us bring your dream space to life, showcasing the timeless beauty of terrazzo.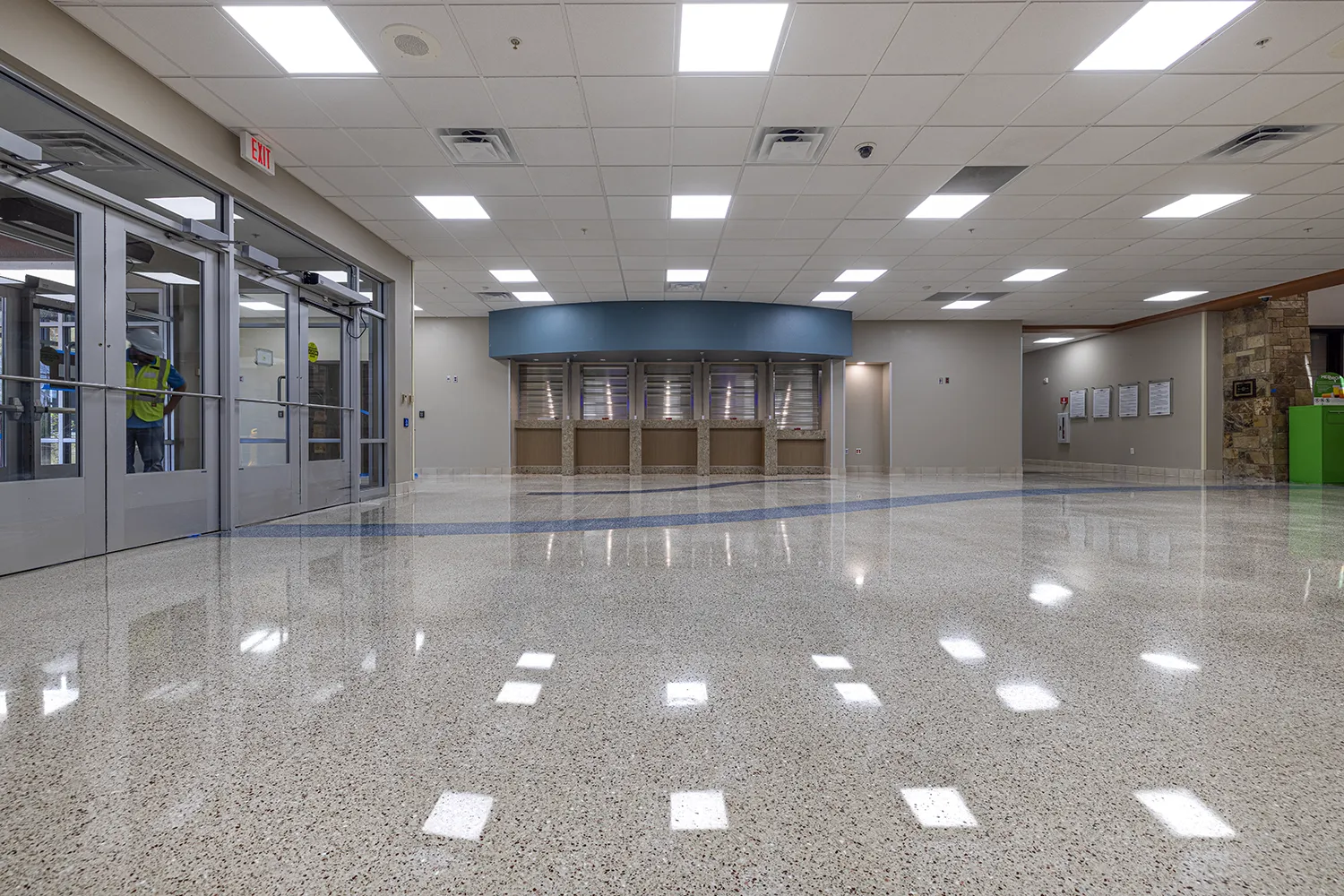 Want to Learn More About Terrazzo Flooring?
We're happy to provide a free terrazzo estimate. A Concrete Floor Specialist will get in touch with you within 1 business day.
Common Concerns about Terrazzo Flooring
While terrazzo makes an excellent flooring option in Arvada, you may still have some questions:
Is Terrazzo Slippery?
Polished terrazzo, the most used type, provides excellent traction and is not slippery. However, waxed terrazzo may have a slightly higher slip risk due to the wax coating. We can guide you on proper cleaning techniques and terrazzo floor maintenance to ensure safety.
Does Terrazzo Scratch?
Polished terrazzo is highly scratch-resistant and can withstand heavy foot traffic without losing its shine. Waxed terrazzo, with its wax coating, is more susceptible to scuffs and marks. Regular maintenance and proper care can minimize the risk of scratches.
Can Radiant Heating be Added to Terrazzo Floors?
Absolutely! Terrazzo's thermal conductivity makes it an excellent choice for incorporating radiant heating systems, providing efficient and comfortable warmth during colder months in Arvada, Colorado.
Can Water Damage Terrazzo Floors?
Terrazzo is highly durable and water-resistant when properly sealed. Sealed terrazzo floors resist moisture and stains. However, addressing spills or standing water promptly is essential to prevent potential long-term damage. Regular maintenance and sealing ensure the longevity and performance of your terrazzo floors.
How Often Should Terrazzo Floors Be Sealed?
The ideal sealing frequency depends on factors such as foot traffic and the specific sealant used. As a general guideline, we recommend terrazzo floors be sealed every 1 to 3 years to maintain its luster, protect against staining and enhance longevity. Consulting with a professional terrazzo service provider like Craftsman Concrete in Arvada, Colorado, can help determine the optimal sealing schedule for your specific flooring needs.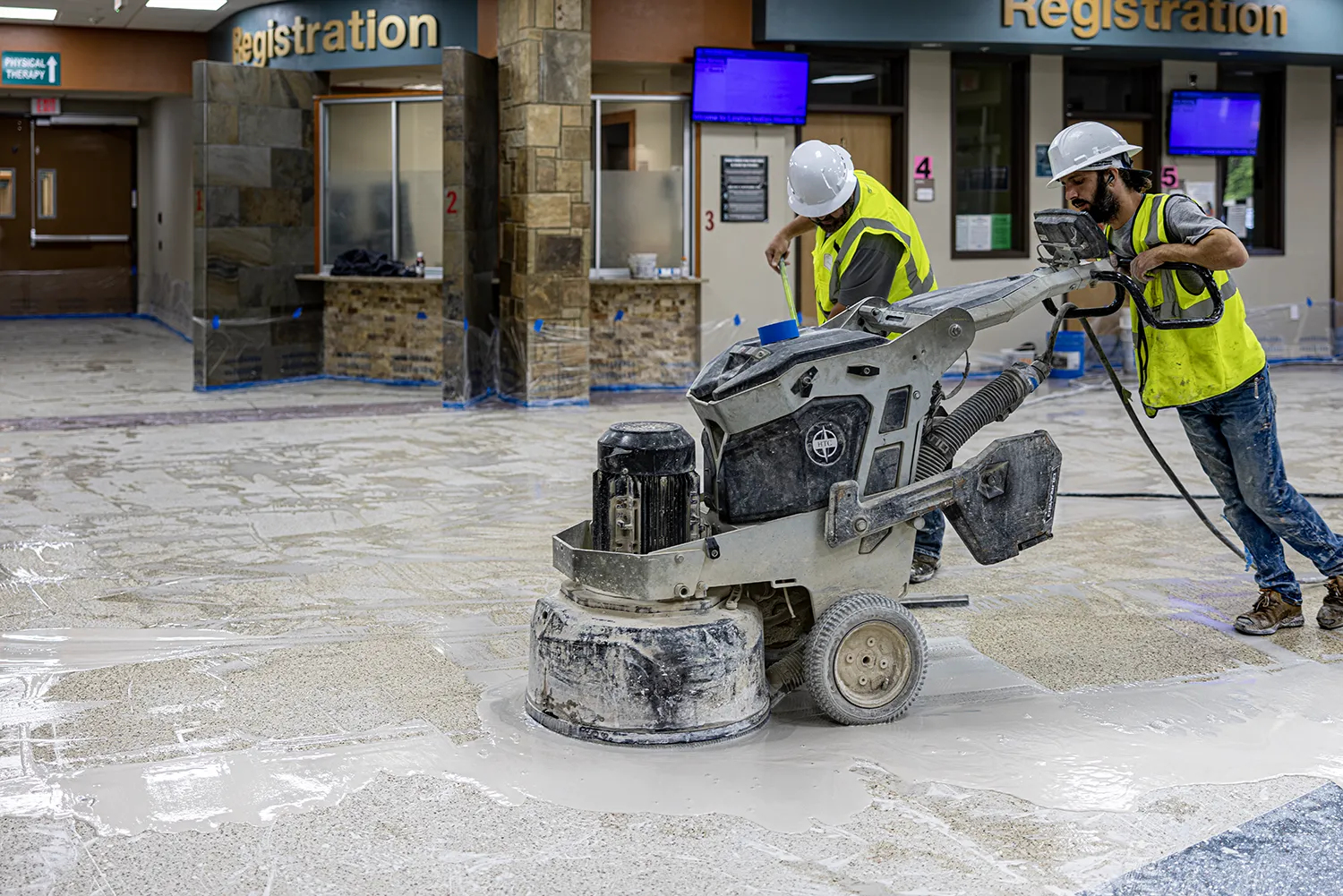 Terrazzo Applications in Arvada
Terrazzo's versatility makes it an ideal fit for various spaces in Arvada, whether residential or commercial. Enhance the beauty of your entryways, kitchens, bathrooms, living rooms, and outdoor patios with terrazzo in your home. Make a lasting impression in lobbies, retail spaces, restaurants, hotels, and more with terrazzo in commercial settings. Our meticulous craftsmanship and attention to detail ensure that every space we work on becomes a masterpiece of sophistication and durability.
What is terrazzo?
Terrazzo floors are a durable and visually stunning type of flooring. They are created by combining aggregates like marble or glass with a binder and then polishing the surface. Terrazzo offers a wide range of colors and designs, making it versatile for residential and commercial spaces. It is known for its durability, resistance to stains and scratches, and easy maintenance.
The Rich History of Terrazzo
Terrazzo flooring boasts a rich history that spans centuries, originating in ancient Egypt. Revered for its enduring beauty and versatility, terrazzo gained popularity in Europe and America, becoming synonymous with elegance and sophistication. Today, terrazzo thrives as a flooring choice that seamlessly blends historical charm with contemporary design concepts.
Locations We Service
Texas
Dallas, Austin, Houston, McKinney, Waco, San Antonio, El Paso, Fort Worth, Arlington, Corpus Christi, Plano, and Lubbock.
Colorado
Frequently Asked Questions about Terrazzo Floors
While terrazzo floors are incredibly durable, they require a specific maintenance protocol. At Craftsman Concrete Floors, we provide customized terrazzo maintenance systems to accommodate all types of terrazzo installations.
Most modern terrazzo floors are installed between 1/4″ and 1/2″ in thickness.