Terrazzo Installation in Highlands Ranch
Craftsman Concrete understands the timeless allure and durability of terrazzo floors in Highlands Ranch, Colorado. However, over time, your cherished floors may show signs of wear and tear, such as cracks, voids, or a loss of their original luster. That's where our dedicated terrazzo floor repair and restoration services come in.
In this article, we invite you to explore the exceptional craftsmanship and personalized solutions we offer to bring back the enchanting beauty of your terrazzo floors. Discover how we can revitalize your Highlands Ranch home with our expert repair and restoration services.
Why Choose Craftsman Concrete Floors?
At Craftsman Concrete Floors in Highlands Ranch, Co, we specialize in luxury residential and commercial terrazzo installations. With nearly 25 years of experience installing decorative concrete overlays and terrazzo, we're the preferred installer of countless luxury designers and builders.
Our in-house design team is available at no cost. We employ well-known veterans of the decorative concrete industry, many with decades of experience. Proudly, all our employees are full-time W-2 employees receiving a living wage. At Craftsman Concrete Floors, we never subcontract jobs.
No Square Footage Minimums
All in-house, W-2 labor
Servicing Colorado since 1999
Experience the Craftsman Concrete Difference
When it comes to repairing and restoring terrazzo floors in Highlands Ranch, Craftsman Concrete stands out as a trusted name in the industry. Our commitment to exceptional craftsmanship, personalized solutions, and unparalleled customer satisfaction sets us apart. We take pride in providing Highlands Ranch homeowners with terrazzo repair and restoration services that exceed expectations, ensuring the long-lasting beauty and durability of their floors.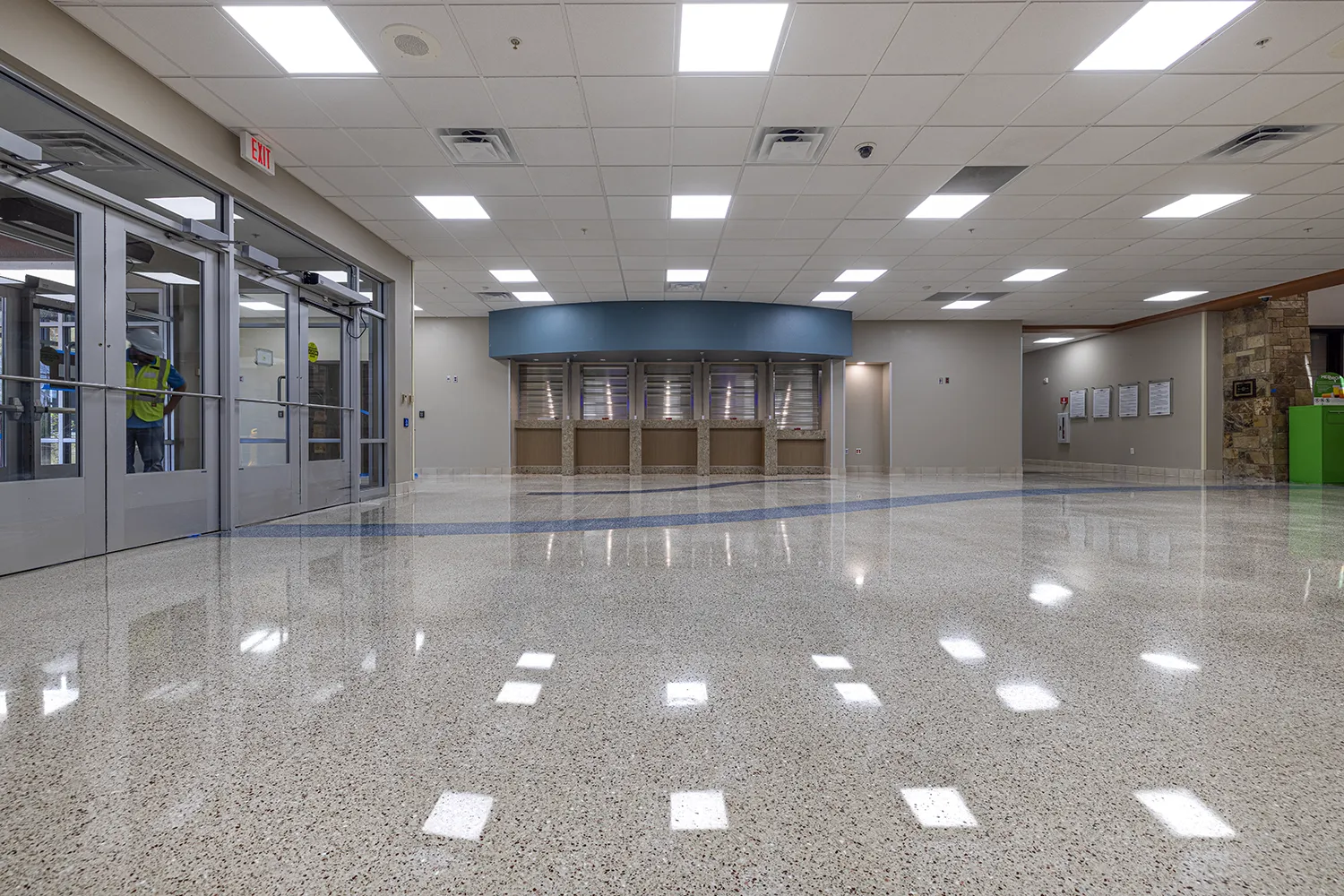 Want to Learn More About Terrazzo Flooring?
We're happy to provide a free terrazzo estimate. A Concrete Floor Specialist will get in touch with you within 1 business day.
What is Terrazzo?
Terrazzo flooring is a composite material that combines aggregates such as marble, quartz, granite, glass, or other materials with a binder, typically epoxy or cement. This unique combination creates a visually stunning, durable, and long-lasting surface that exudes timeless charm and sophistication.
Terrazzo Void Repair
Over time, your terrazzo floors may develop voids due to settling or other factors. Our meticulous repair techniques ensure that these voids are seamlessly filled, restoring the surface to its original flawless beauty.
Terrazzo Crack Repair
Cracks can sometimes mar the appearance of your beloved terrazzo floors. Our experienced technicians carefully assess the extent of the damage and employ precise repair methods to seamlessly blend and repair the cracks, resulting in a smooth and flawless finish.
Terrazzo Repolishing
Daily use and foot traffic can cause your terrazzo floors to lose their once stunning shine. Our expert terrazzo repolishing services are designed to restore the glossy finish, bringing back the natural luster and vibrancy of your floors.
Matching Existing Terrazzo
We understand the importance of maintaining a consistent and cohesive appearance in your Highlands Ranch project. That's why our skilled artisans possess the expertise to meticulously analyze your existing terrazzo floors and recreate the original design, color, and pattern. This meticulous attention to detail ensures a seamless match that blends harmoniously with the surrounding area, enhancing the overall aesthetic appeal of your space.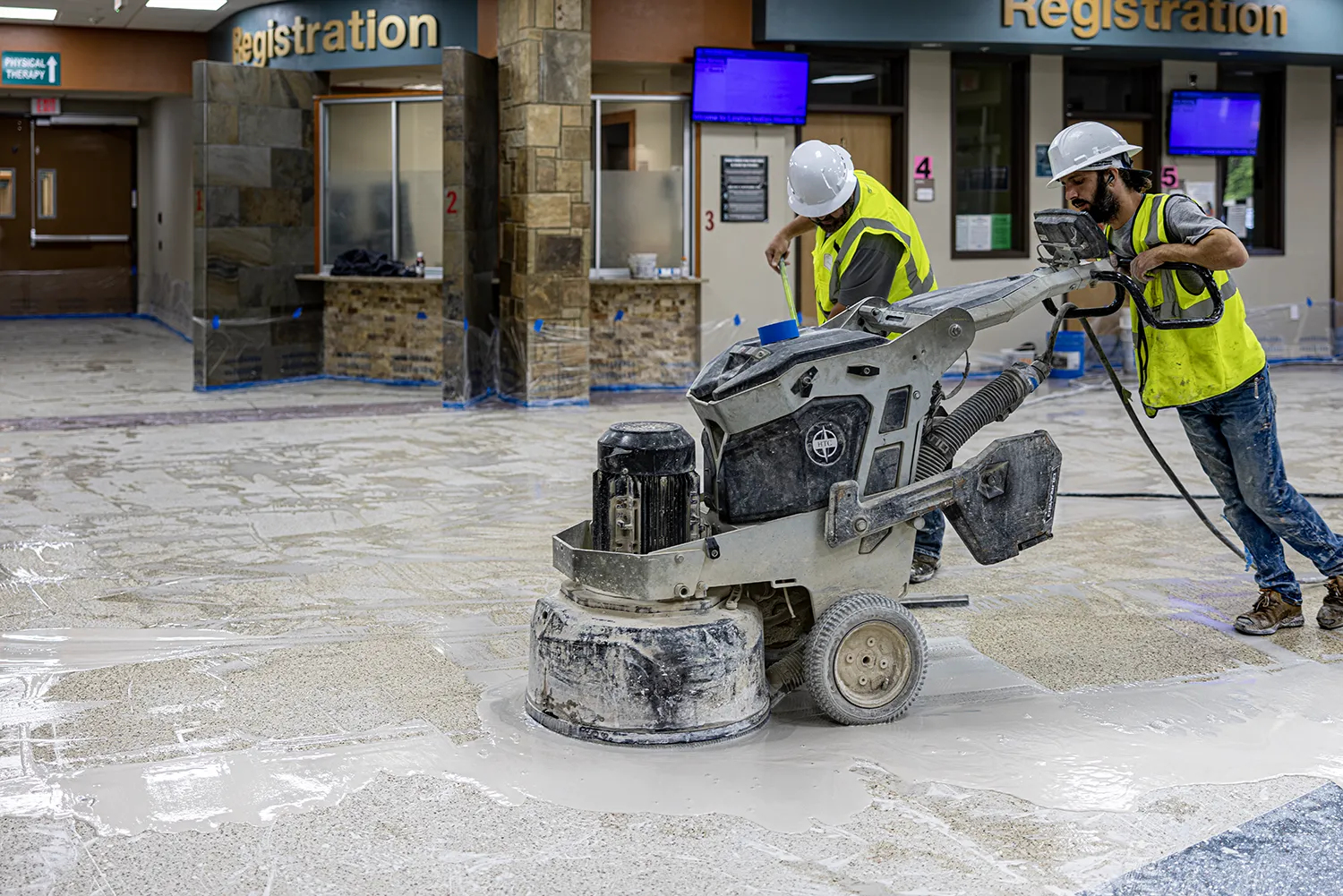 Locations We Service
Texas
Dallas, Austin, Houston, McKinney, Waco, San Antonio, El Paso, Fort Worth, Arlington, Corpus Christi, Plano, and Lubbock.
Colorado
Centennial, Colorado Springs, Aurora, Arvada, Boulder, Denver, Fort Collins, Lakewood, Highlands Ranch, Greeley, Longmont, Pueblo, Thornton, Westminster.
Frequently Asked Questions about Terrazzo Floors
While terrazzo floors are renowned for their durability, they can develop cracks over time due to various factors. However, our team of professionals is equipped with the knowledge and expertise to effectively address these cracks and restore the integrity of your cherished terrazzo floors.
Absolutely! Our skilled craftsmen have honed their abilities to recreate and match existing terrazzo floors with precision. Through a combination of expertise, artistry, and attention to detail, we ensure a flawless match that seamlessly integrates with your Highlands Ranch home.
Absolutely! Even if your terrazzo floors have seen years of wear and tear, our restoration services can breathe new life into them. We combine expert repair techniques, thorough cleaning, and meticulous repolishing to revitalize your aging terrazzo floors, restoring them to their former splendor.