Terrazzo services in Boulder
Terrazzo floors are a popular choice in Boulder, Colorado, known for their timeless beauty and durability. To ensure your terrazzo floors retain their best appearance, it is crucial to understand proper cleaning and maintenance practices.
In this comprehensive guide, we will explore the best methods for cleaning terrazzo floors, address common questions about specific cleaning agents, and highlight the superior terrazzo services provided by Craftsman Concrete, catering to the specific needs of Boulder residents.
Why Choose Craftsman Concrete Floors?
At Craftsman Concrete Floors in Boulder, Co, we specialize in luxury residential and commercial terrazzo installations. With nearly 25 years of experience installing decorative concrete overlays and terrazzo, we're the preferred installer of countless luxury designers and builders.
Our in-house design team is available at no cost. We employ well-known veterans of the decorative concrete industry, many with decades of experience. Proudly, all our employees are full-time W-2 employees receiving a living wage. At Craftsman Concrete Floors, we never subcontract jobs.
No Square Footage Minimums
All in-house, W-2 labor
Servicing Colorado since 1999
Superior Terrazzo Services for Boulder Projects
Proper cleaning and maintenance are essential for preserving the beauty of terrazzo floors in Boulder. By following the recommended cleaning practices and avoiding harsh agents, you can ensure your terrazzo floors remain beautiful for years to come. For all your terrazzo needs in Boulder, including cleaning products and services, trust Craftsman Concrete's superior services to elevate the aesthetics and value of your space.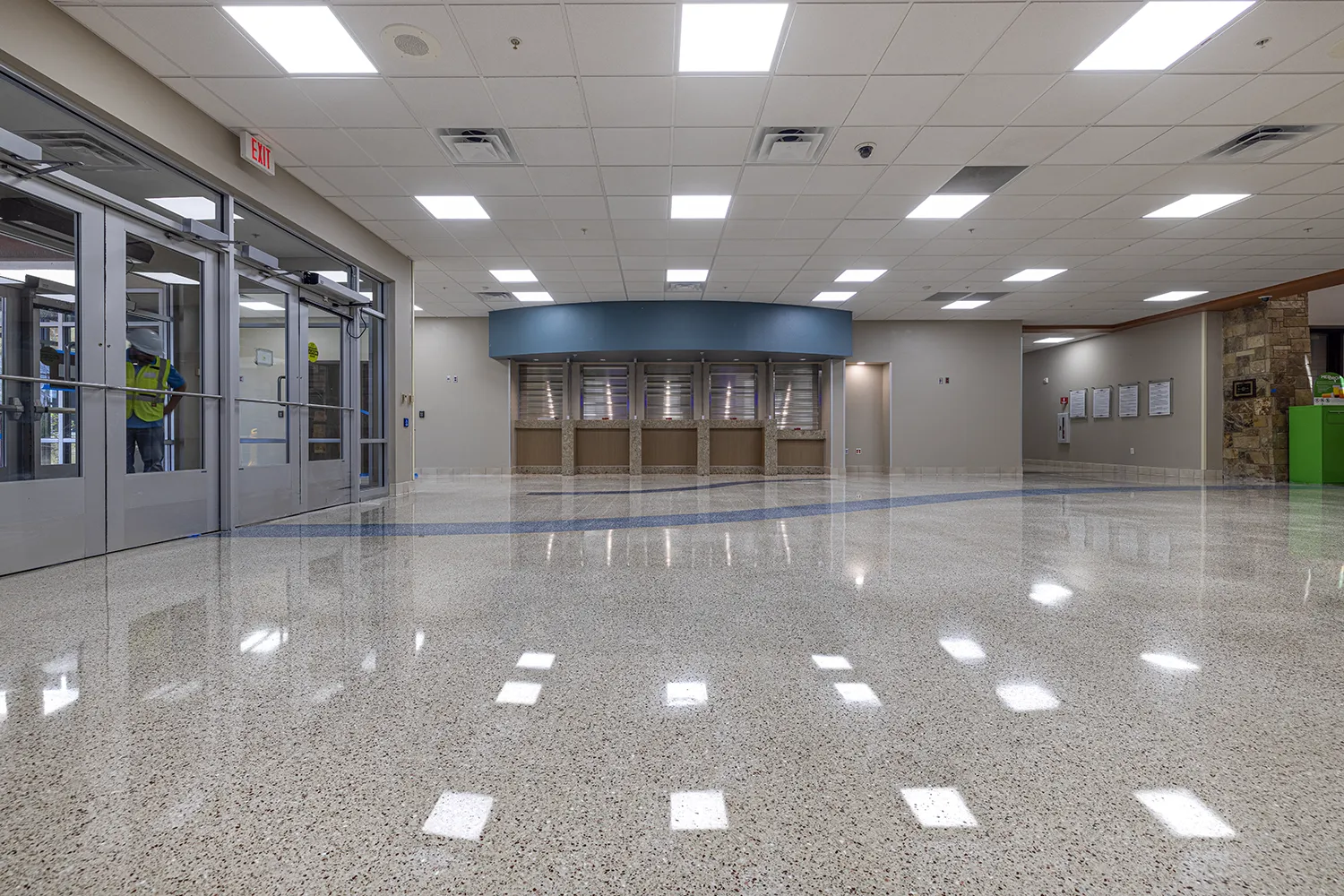 Want to Learn More About Terrazzo Flooring?
We're happy to provide a free terrazzo estimate. A Concrete Floor Specialist will get in touch with you within 1 business day.
Choosing the Right Cleaner for Terrazzo Floors in Boulder
When it comes to cleaning terrazzo floors in Boulder, selecting the appropriate cleaner is crucial. Opt for pH-neutral or mild cleaners specifically formulated for natural stone surfaces. These cleaners effectively remove dirt and grime without causing any damage. Look for non-abrasive and non-acidic cleaners that are safe for regular use on terrazzo floors.
What to Avoid Using on Terrazzo Floors
To protect your terrazzo floors in Boulder, it is important to avoid harsh or acidic cleaners that can harm the surface. Refrain from using vinegar, lemon juice, or other acidic ingredients, as they can dull the terrazzo's shine and compromise its integrity. Similarly, avoid abrasive cleaners, scouring pads, or brushes with stiff bristles that can scratch the surface.
Let's look at specific cleaning agents:
Vinegar
While vinegar is a common household cleaner, it is not recommended for terrazzo floors in Boulder. Its acidic nature can gradually deteriorate the terrazzo and diminish its appearance.
Murphy's Oil Soap
Although Murphy's Oil Soap is popular for certain cleaning tasks, it is not suitable for terrazzo floors in Boulder. Its oily formulation may leave a residue on the surface, affecting the natural shine of terrazzo.
Dr. Bronner's Soap
While Dr. Bronner's soap is mild and environmentally friendly, it is not specifically designed for terrazzo floors. For optimal results, use cleaners explicitly formulated for natural stone surfaces.
Pine-Sol Cleaner
Pine-Sol cleaner is not recommended for terrazzo floors as its strong chemical composition can damage the terrazzo's finish and potentially cause discoloration or etching.
Mop N Glow Cleaner
Avoid using Mop N Glow and similar wax-based products on terrazzo floors as they can lead to a buildup that dulls the surface. Removing such buildup may require professional assistance.
Bona
Bona is a reputable brand known for its floor cleaning products. However, for terrazzo floors in Boulder, it is important to use Bona's stone-specific cleaners specifically designed for natural stone surfaces.
Swiffer
Swiffer products can be convenient for everyday cleaning. Ensure you use Swiffer WetJet or Sweeper pads specifically made for stone or hard surfaces and avoid any Swiffer product containing acidic or abrasive components.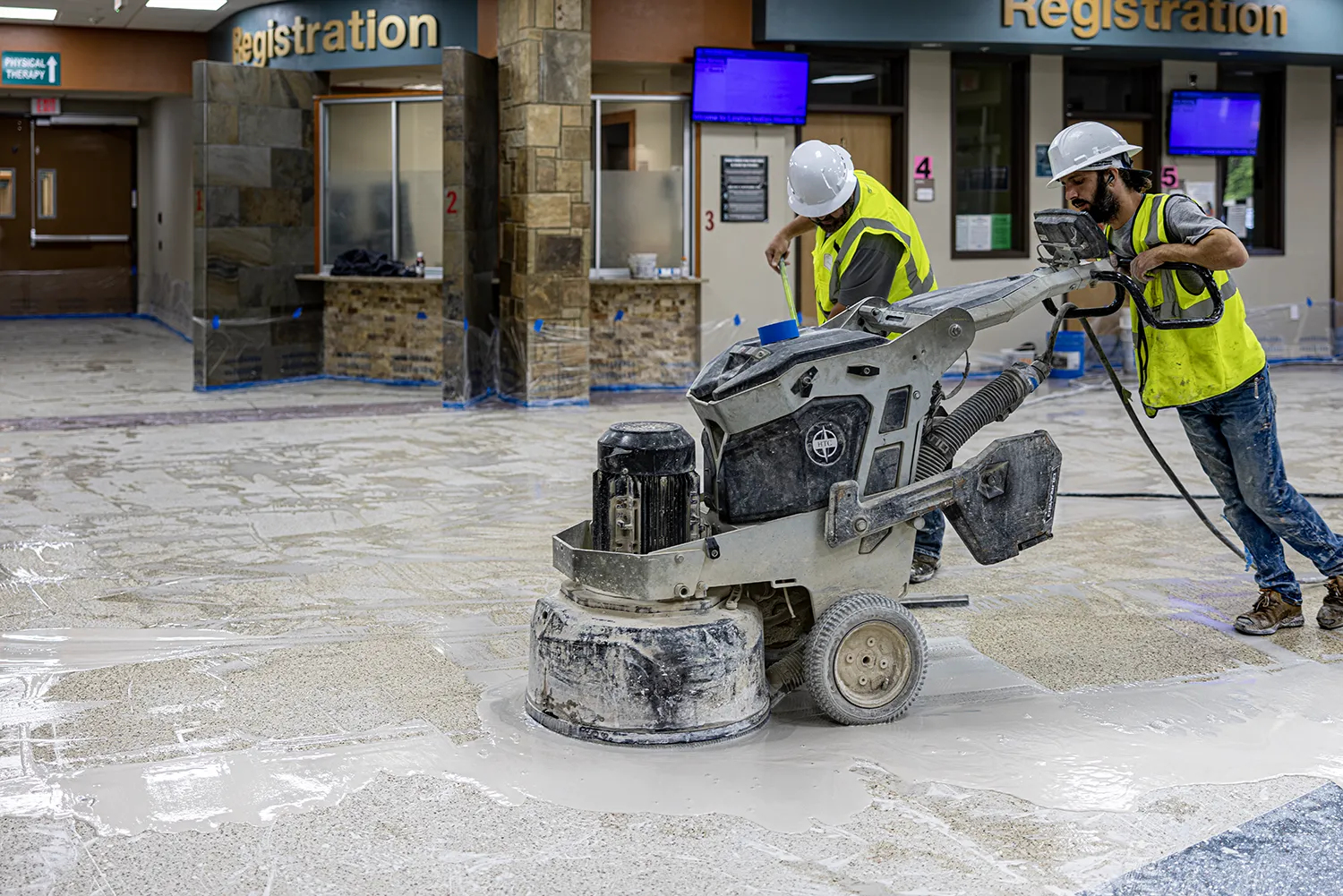 Preserving Terrazzo Floors from UV Discoloration in Boulder
Many Boulder residents wonder whether terrazzo floors are susceptible to UV discoloration. Rest assured, terrazzo is resistant to UV rays and should not experience significant discoloration when exposed to sunlight. However, we advise you protect your terrazzo floors from excessive direct sunlight using window treatments or applying UV-protective coatings to maintain their long-lasting beauty.
Locations We Service
Texas
Dallas, Austin, Houston, McKinney, Waco, San Antonio, El Paso, Fort Worth, Arlington, Corpus Christi, Plano, and Lubbock.
Colorado
Centennial, Colorado Springs, Aurora, Arvada, Boulder, Denver, Fort Collins, Lakewood, Highlands Ranch, Greeley, Longmont, Pueblo, Thornton, Westminster.
Frequently Asked Questions about Terrazzo Floors
While terrazzo floors are incredibly durable, they require a specific maintenance protocol. At Craftsman Concrete Floors, we provide customized terrazzo maintenance systems to accommodate all types of terrazzo installations.
Most modern terrazzo floors are installed between 1/4″ and 1/2″ in thickness.