Terrazzo Installation in Pueblo
Located in the heart of Colorado, Pueblo is a city renowned for its rich history and cultural heritage. Among the many flooring options available, Pueblo residents have come to appreciate the timeless beauty and exceptional durability of terrazzo.
Craftsman Concrete, the premier provider of terrazzo services in Pueblo, offers superior installations that transform living spaces. Discover the world of terrazzo and how Craftsman Concrete can elevate your environment.
Why Choose Craftsman Concrete Floors?
At Craftsman Concrete Floors in Pueblo, Co, we specialize in luxury residential and commercial terrazzo installations. With nearly 25 years of experience installing decorative concrete overlays and terrazzo, we're the preferred installer of countless luxury designers and builders.
Our in-house design team is available at no cost. We employ well-known veterans of the decorative concrete industry, many with decades of experience. Proudly, all our employees are full-time W-2 employees receiving a living wage. At Craftsman Concrete Floors, we never subcontract jobs.
No Square Footage Minimums
All in-house, W-2 labor
Servicing Colorado since 1999
Craftsman Concrete Terrazzo Services in Pueblo
Craftsman Concrete stands as the unrivaled provider of top-notch terrazzo services in Pueblo. With an unwavering commitment to exceptional craftsmanship and customer satisfaction, we have established ourselves as the go-to choice for superior terrazzo flooring solutions. Our skilled artisans combine the finest aggregates, precision installation techniques, and an in-depth understanding of design aesthetics to create breathtaking terrazzo masterpieces that enhance the ambiance and value of any Pueblo space.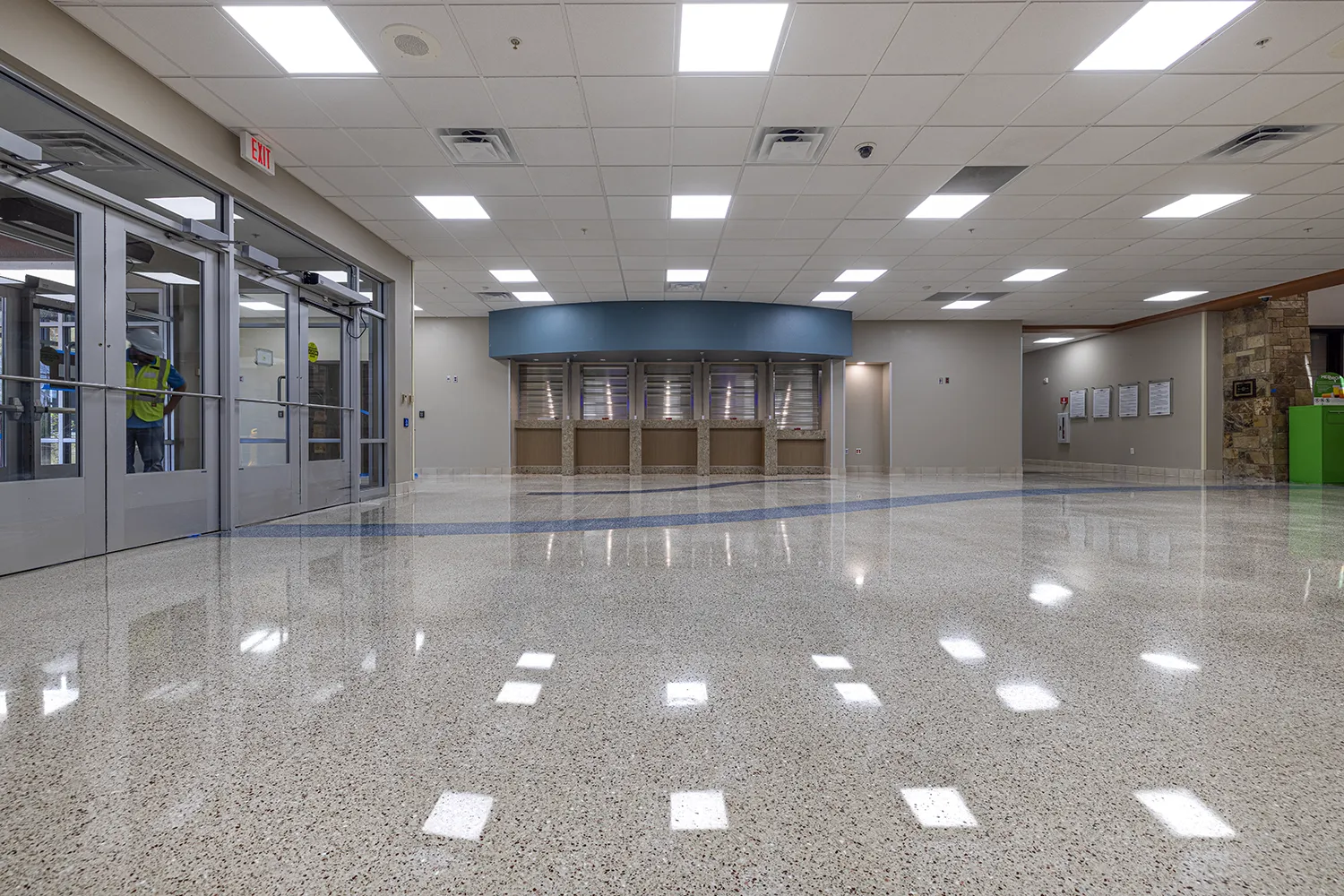 Want to Learn More About Terrazzo Flooring?
We're happy to provide a free terrazzo estimate. A Concrete Floor Specialist will get in touch with you within 1 business day.
Why Choose Craftsman Concrete Floors
The Rich History of Terrazzo
Terrazzo flooring boasts a fascinating history that spans centuries. Originating in ancient Egypt, this remarkable flooring material has been revered for its enduring beauty and versatility. Over time, terrazzo gained popularity in various regions, including Europe and America, becoming synonymous with elegance and sophistication. Today, terrazzo continues to thrive as a flooring choice that seamlessly combines historical charm with contemporary design concepts.
Poured Terrazzo vs. Terrazzo Tile
Pueblo residents have the luxury of choosing between poured terrazzo and terrazzo tiles to enhance their living spaces. Poured terrazzo offers a seamless and visually striking surface by blending high-quality aggregates like marble, quartz, and glass with a binder. Tiled terrazzo utilizes precast terrazzo tiles, allowing for intricate patterns and designs. Both options provide exceptional durability and versatility, enabling you to personalize your space according to your unique style and vision.
Many Applications of Terrazzo in Pueblo
Terrazzo's versatility makes it an ideal fit for various spaces in Pueblo, whether residential or commercial. In homes, terrazzo enhances the beauty of entryways, kitchens, bathrooms, living rooms, and outdoor patios. In commercial settings, terrazzo leaves a lasting impression in lobbies, retail spaces, restaurants, hotels, and more. Crafted with meticulous attention to detail, terrazzo transforms any space into a work of art, adding sophistication and durability.
Pueblo Terrazzo Floors From Craftsman Concrete
Craftsman Concrete is your trusted partner for all your terrazzo needs in Pueblo. Our exceptional terrazzo services, combined with competitive pricing and a dedication to customer satisfaction, make us the preferred choice among Pueblo residents. Discover the transformative power of terrazzo and experience the seamless blend of historical charm and modern sophistication it brings to your Pueblo space. Contact Craftsman Concrete today to elevate your environment with our exceptional terrazzo services.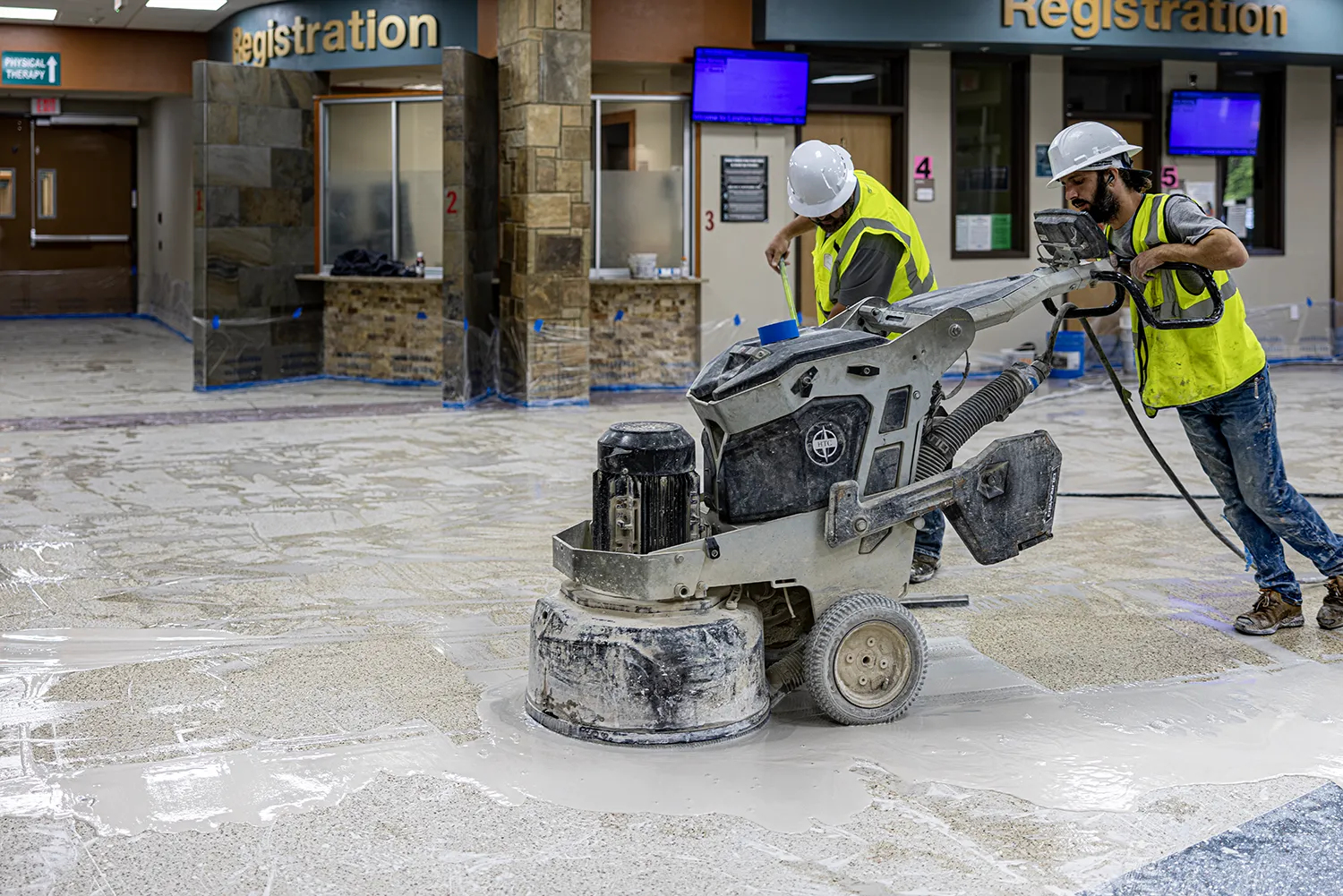 Locations We Service
Texas
Dallas, Austin, Houston, McKinney, Waco, San Antonio, El Paso, Fort Worth, Arlington, Corpus Christi, Plano, and Lubbock.
Colorado
Centennial, Colorado Springs, Aurora, Arvada, Boulder, Denver, Fort Collins, Lakewood, Highlands Ranch, Greeley, Longmont, Pueblo, Thornton, Westminster.
Frequently Asked Questions about Terrazzo Floors
Polished terrazzo, the most common type used in flooring, provides excellent traction and is not slippery. However, waxed terrazzo may have a higher slip risk due to the added layer of wax. It's important to exercise caution and maintain proper cleaning techniques to ensure safety.
Polished terrazzo is highly resistant to scratches and can withstand heavy foot traffic without losing its shine. However, waxed terrazzo is more susceptible to scratching, as the wax coating may be prone to scuffs and marks. Regular maintenance and proper care can help minimize the risk of scratches.
Yes, radiant heating can be added to terrazzo floors. The thermal conductivity of terrazzo makes it an excellent choice for radiant heating systems. This feature allows for efficient and comfortable heating, creating a cozy environment in your Pueblo home during colder months.