What Are Flake Epoxy Floors?
The vast majority of epoxy coating systems installed in residential garages are low solids, big-box retail epoxy flooring systems ripe for the DIY enthusiast. The allure of these garage floor paint systems is obvious—for a few hundred dollars a homeowner can make over their garage floor. Unfortunately, these systems are difficult to install properly and are simply an imitation of common industrial flooring installation. Generally, they're nothing more than a single part latex paint with a small amount of added epoxy resin.
These systems don't offer the benefits that a properly installed, high-quality epoxy garage floor system does. This article will discuss the benefits and drawbacks of our luxury garage floor epoxy system.
Luxury Garage Floor Epoxy
Unlike single-layer big-box retail systems, a luxury epoxy garage floor system is comprised of multiple layers of durable concrete coatings to protect your floor and provide an attractive, high-performance surface. These different layers are picked for their individual properties, providing an optimal system for performance and longevity.
Our system typically includes a 100% solids epoxy base coat, epoxy flakes broadcast to rejection, and polyurethane or polyaspartic topcoat.
Why Choose Craftsman Concrete Floors?
At Craftsman Concrete Floors in Texas, we specialize in residential and commercial epoxy installations. With nearly 25 years of experience installing commercial concrete coatings, we're the preferred installer of countless general contractors and builders.
Our in-house design team is available at no cost. We employ well-known veterans of the decorative concrete industry, many with decades of experience. Proudly, all our employees are full-time W-2 employees receiving a living wage. At Craftsman Concrete Floors, we never subcontract jobs.
No Square Footage Minimums
All in-house, W-2 labor
Servicing Texas since 1999
Advantages of Epoxy Garage Floors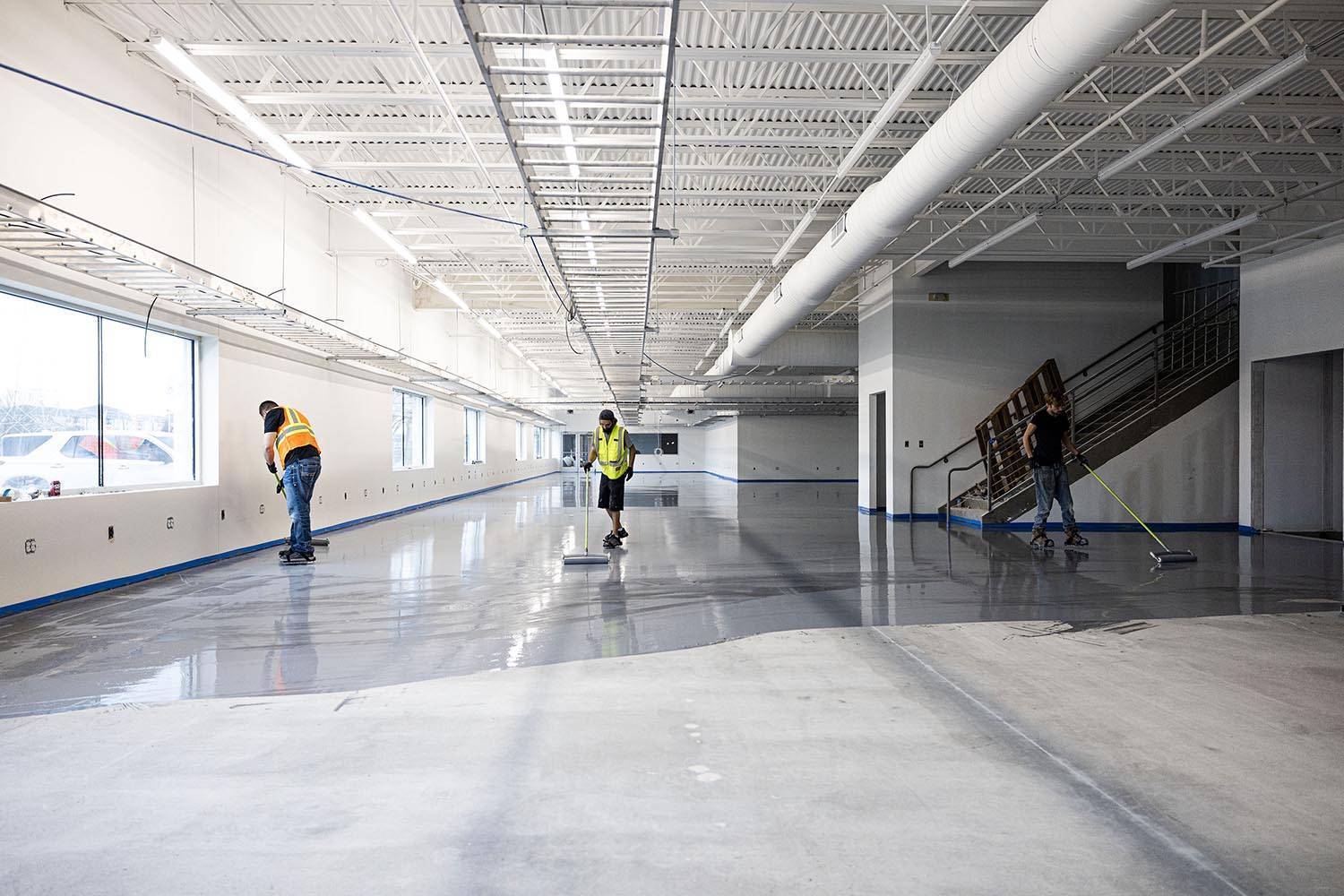 Durable and chemical resistant
The main reason the epoxy flooring material is so popular in garage installations is this highly sought-after benefit – its extreme durability. Unlike other materials, like hardwood flooring, for example, epoxy flooring offers chemical, resistance to motor oil, gear oil, gasoline, bleach, acids, and even many solvents. Even if vehicle fluids sit on the surface of an epoxy coating for a long period of time they can still be cleaned without staining. Simply put, protective epoxy flooring is a great solution for garages no matter what type of vehicle you're parking or project you're working on.
Further, due to epoxy's hardness and thickness, it's extremely resistant to abrasion from commonly used garage items such as metal wheeled tool boxes, floor jacks, and even jack stands. Epoxy flooring has high impact resistance as well, so dropped tools or even heavy free weights (if you're using your garage as a gym) typically do not chip or otherwise damage an epoxy coating.
Looking For Epoxy Flooring Color Options? Visit our 'Epoxy Floor Colors' Page
Attractive appearance
The appearance of garage floor epoxy is primarily due to the style and color of the broadcast flake chosen. Because of this, the options are endless. Epoxy flake is available in sizes from 1/32" to 1" or larger. The size chosen will have a very significant impact on the finished product. Smaller flakes tend to look great and modern in a color mix that utilizes multiple colors, while large flake tends to look best as a single-color installation.
In the past, most epoxy flooring systems used 3/8" flakes in a wide-ranged color combination such as white, gray, and black. These installations are intended to mimic terrazzo and are often described as having a very commercial aesthetic
In most modern residential epoxy flooring installations, we use a smaller flake and more neutral color palette such as 3 similar gray or tan tones. These aesthetics transition better to the interior design of a modern home and are less overtly masculine or commercial in appearance. We even take into account the materials we will transition to, such as wood flooring, to get a complimentary color match.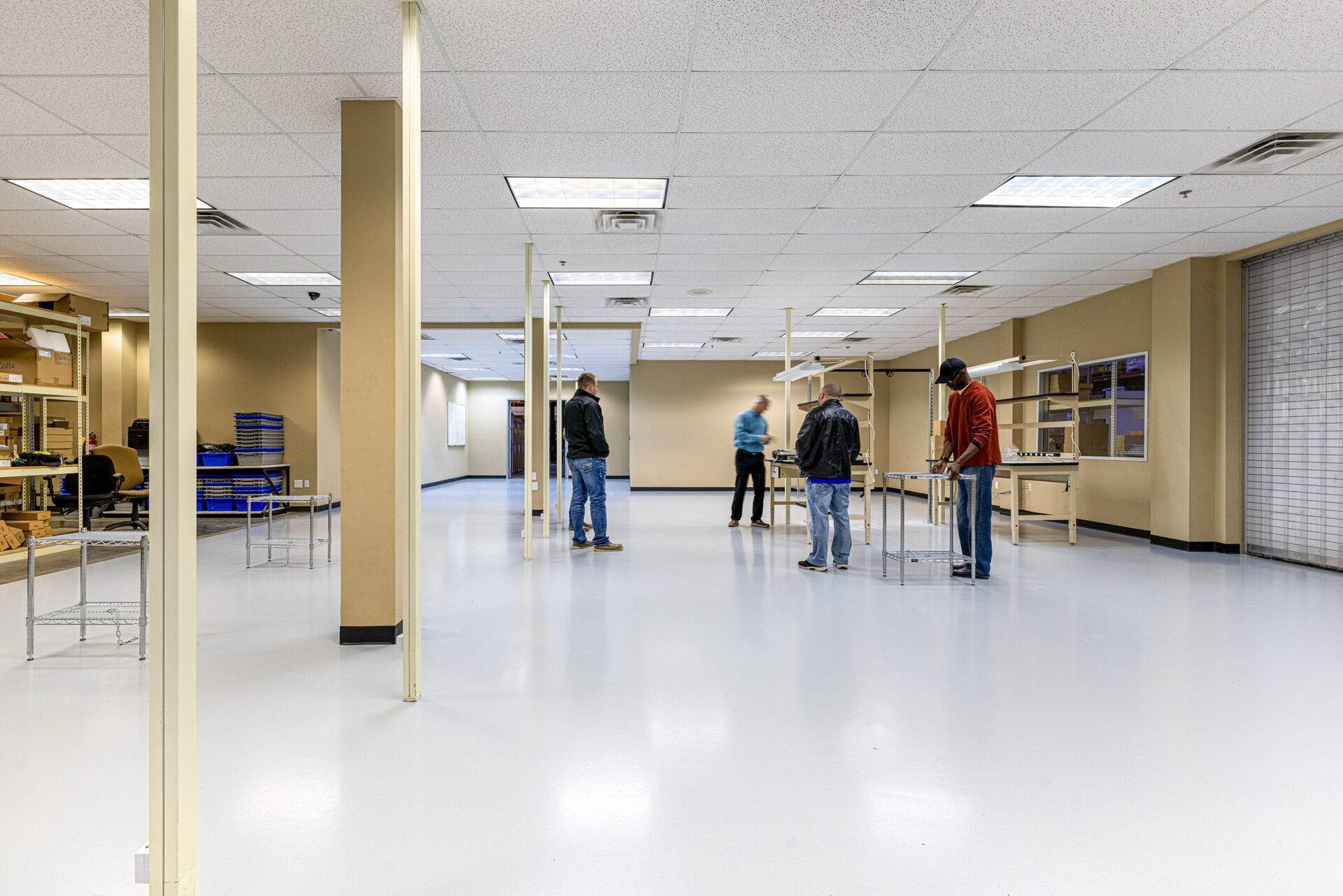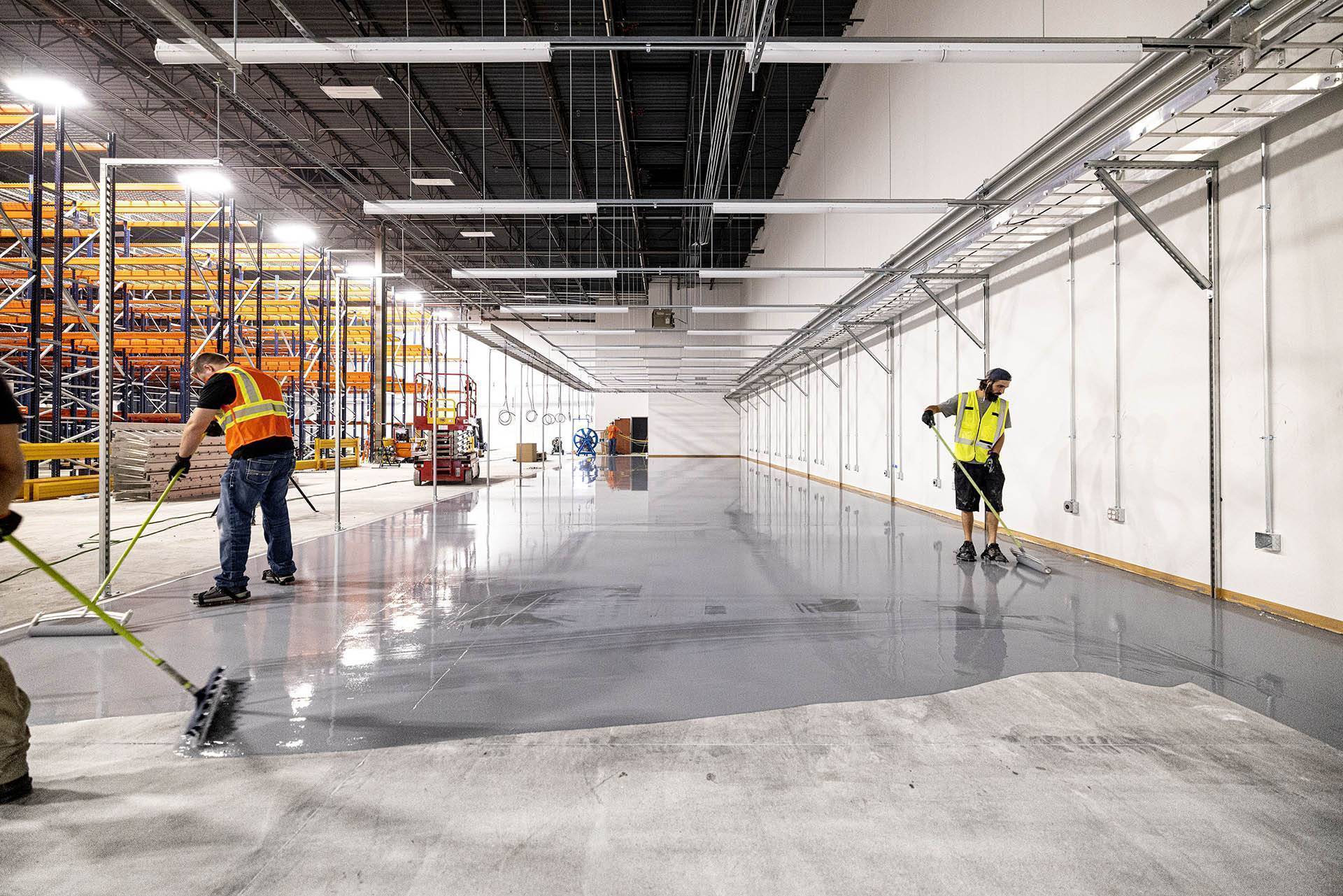 Easy to clean
Because epoxy floor coatings completely seal the underlying concrete, they're extremely easy to clean. Remember, this installation was originally intended for serious commercial installations like manufacturing and brewing. Like most other residential concrete floor finishes, epoxy floor coatings have been repurposed from the commercial construction space due to their very high durability.
In fact, fire station bays remain one of the most common epoxy floor installs. At fire stations, they're simply hosed off when they need to be cleaned.
In a residential installation, an epoxy floor coating can be cleaned in a similar way. If it won't damage adjacent drywall or trim, they can simply be hosed off or even pressure washed when they need to be cleaned. If that's not an option, a warm mop with a degreaser such as Simple Green will quickly clean the floor.
Slip-resistant
In epoxy flooring installs, the primary purpose of the broadcast flake is to the increase slip resistance of the epoxy floor coating. In fact, besides their low durability, big-box retail epoxy paint creates a surface that's dangerously slippery when wet.
When we broadcast an epoxy flake, it's applied to rejection, creating a surface with an orange peel texture. This texture increases epoxy flooring slip resistance, especially when wet. The size of the flake used will have a large impact on slip resistance. If you need a floor with very high slip resistance, choosing a medium-sized flake is ideal. Flakes that are too large or too small with both underperform in this aspect.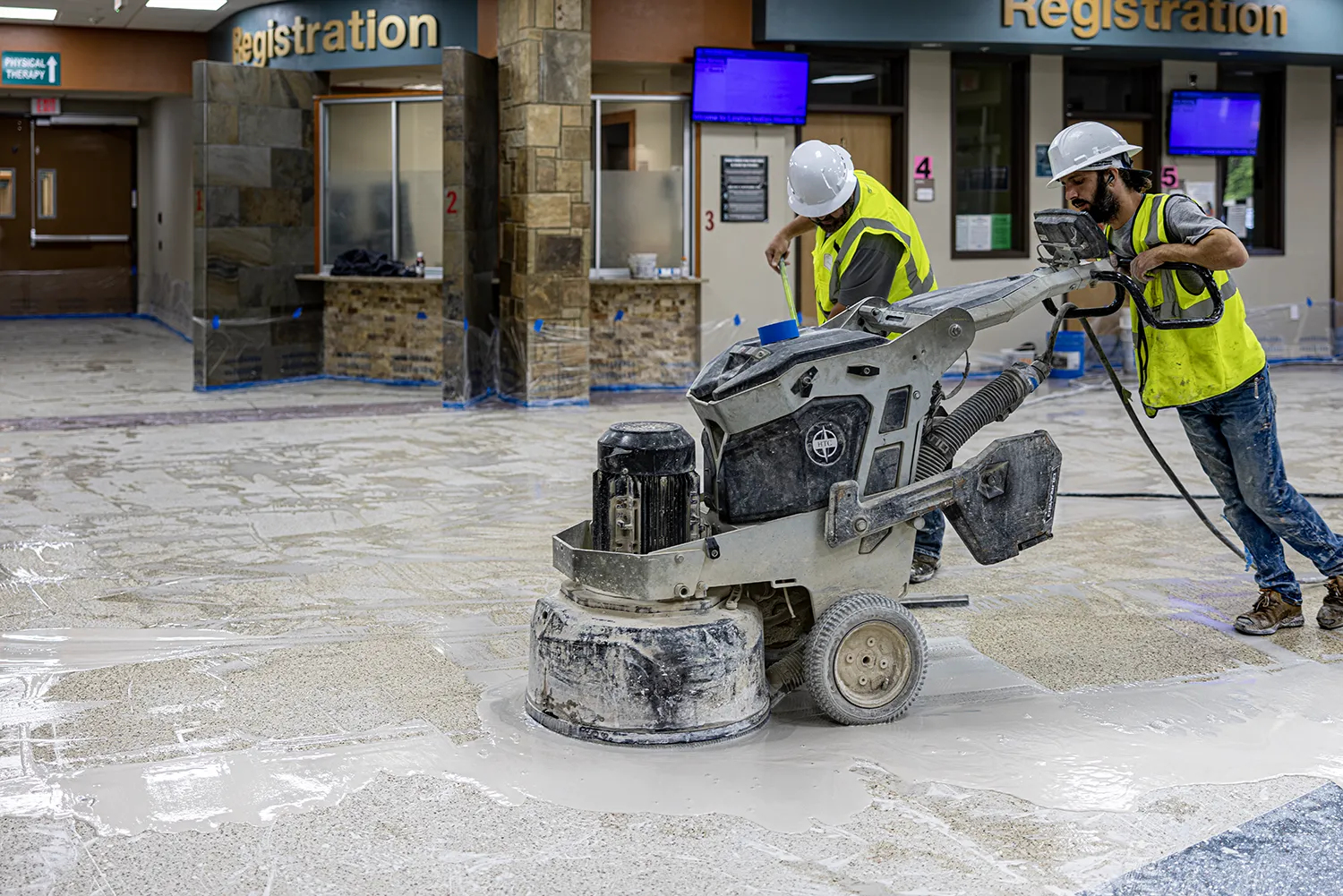 Gloss or satin finishes are available
For most installations, we suggest polyurethane topcoats over polyaspartic. Many 'one-day epoxy garage floor' companies rely on a polyaspartic topcoat because of its very fast cure time, however, it is much more viscous as well, which will reduce the inherent slip-resistant nature of flake epoxy flooring systems.
Polyurethane topcoats are very thin by nature, which allows us to properly seal the broadcast flakes without sacrificing epoxy floor coating slip resistance. Better yet, polyurethane topcoats are available in both high-gloss and matte finishes, allowing us to have better control of the finished aesthetic. There's nothing more modern looking than gray epoxy flooring with a matte topcoat.
Fast install time
Our standard garage floor epoxy installation time is two days. While there are many companies that offer one-day floors, as we discussed above, they simply do not perform as well.
Keep in mind that garage floor epoxy installations can fail prematurely if the underlying concrete floor isn't prepped properly, so it's important that they're installed professionally. DIY concrete surface prep is rarely sufficient for garage flooring installations.
Want to Learn More About Epoxy Flooring?
We're happy to provide a free epoxy estimate. A Concrete Floor Specialist will get in touch with you within 1 business day.
Drawbacks of Epoxy Garage Floors
Hot Tire Pick-Up
When hot tires are parked on an epoxy coating, they can cause softening and weakness leading to a condition called hot tire pick up. Simply put, hot tire pick-up is when a garage floor coating separates from the underlying cement and adheres to vehicle tires.
This is most commonly a concern with big-box retail epoxy flooring systems and in installations where the concrete slab was improperly prepared for an epoxy floor coating system. The low solids epoxy paints used in big-box retail systems simply aren't strong enough or thick enough to stand up to this persistent abuse. On properly installed luxury epoxy floors, hot tire pick-up is an unusual occurrence.
Epoxy is not UV stable
Epoxy coatings are not UV stable, so they will amber with exposure to sunlight. To solve this problem, we install epoxy flake to full rejection and apply a polyurethane or polyaspartic topcoat. Both of these topcoat materials are UV stable and therefore will allow for an attractive, long-lasting garage floor coating.
Epoxy can be damaged by welding
While not a common concern for most of our residential customers, heat from welding will burn an epoxy coating. If you need a concrete garage floor installation that can stand up to welding, polished concrete will provide the most durability.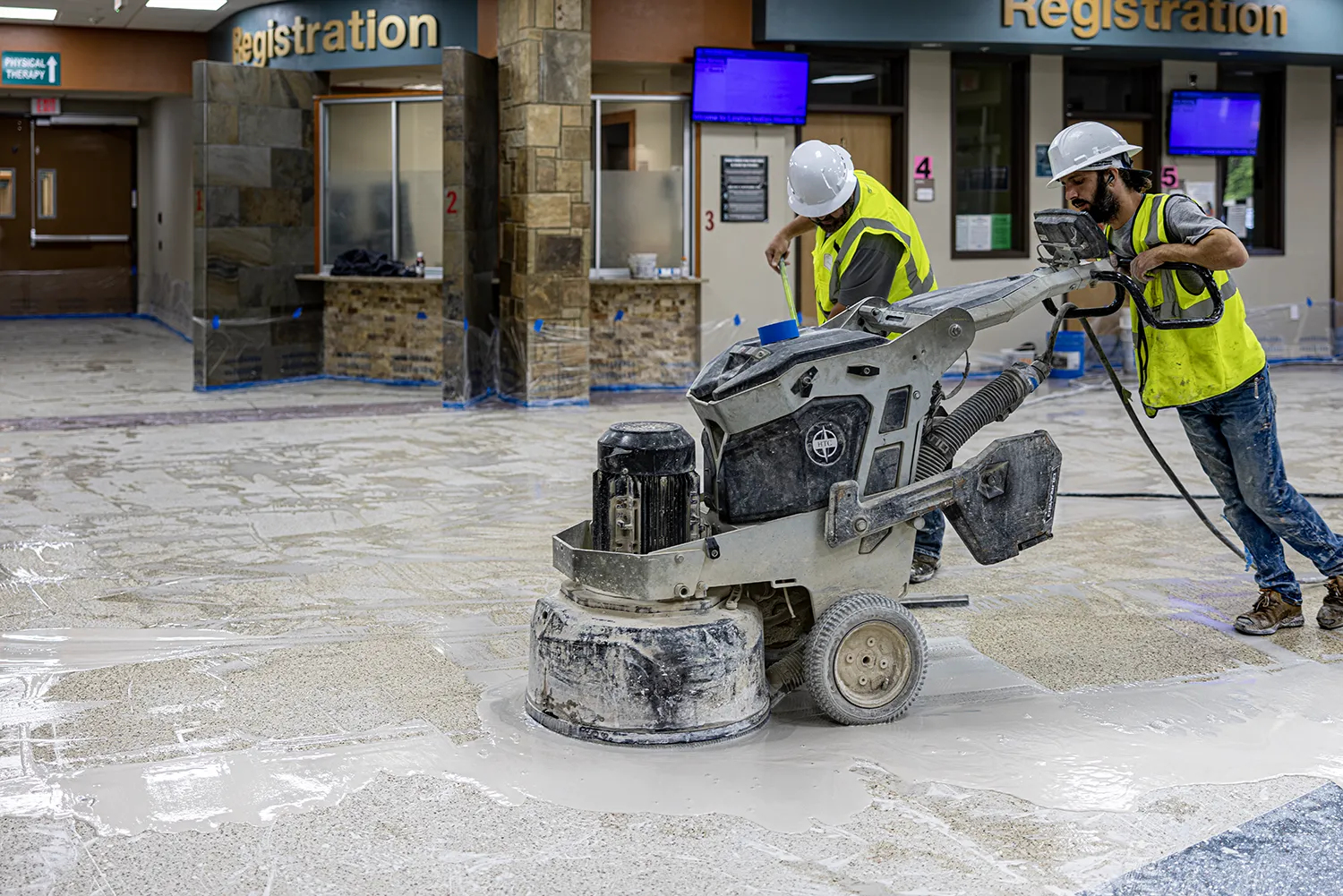 Other Epoxy Services we Offer
ESD EPOXY
ESD epoxy floors are a two-part resin system designed to create a conductive surface that eliminates static electricity build-up and prevents electrostatic discharge. This specialized material is used to safeguard delicate electronic components from static electricity and minimize the possibility of damage or explosions. We install ESD epoxy floors for many different uses such as electronics manufacturing and testing, logistics, and data centers.
Urethane Cement
Urethane cement is an extremely durable flooring material commonly used in manufacturing installations such as food and beverage manufacturing, pharmaceutical manufacturing and defense industry manufacturing. Urethane cement is made up of three components: a urethane polymer binder, Portland cement and sand aggregates. This tough combination allows the surface to stand up to extreme wear and tear–offering high chemical resistance and extreme resistance to thermal shock.
Frequently Asked Questions about Epoxy Floors
For standard residential garages, epoxy floors cost between $6 and $11 per square foot.
Exposure to UV rays can cause some discoloration and yellowing of epoxy floors over time. To minimize this effect, consider using window treatments, blinds, or applying UV-protective coatings on your windows to reduce the amount of sunlight reaching your floors.