Polished Concrete Floors in Grocery Stores & Supermarkets
A typical grocery store is open daily, for several hours, seeing hundreds of customers or more. Grocery store floors must appear clean and well-kept and they should be safe and easy to navigate for customers. They should also be durable, long lasting and easy to care for. At Craftsman Concrete Floors we have several polished concrete & epoxy coating solutions that are the optimal choice for grocery stores and the delis or bakeries operating within them.
As a supermarket owner, it's vital to find floor coatings that will provide both a hygienic and welcoming atmosphere for customers that is also safe for everyone involved. Supermarket flooring must be easy to clean and it should support proper mitigation of pathogens and microbes which could otherwise result in the growth of illness causing bacteria. In addition to withstanding heavy foot traffic, grocery store flooring must also be able to withstand the heavy shopping cart traffic, frequent use of dollies and floor jacks, and even the use of forklifts.
For most areas of the grocery store, polished concrete flooring & epoxy floor coatings are suitable choices that offer superior strength and longevity. Concrete flooring solutions for grocery stores are generally more cost-effective and longer-lasting when compared to things like vinyl tile flooring systems that are frequently found in supermarkets, particularly because these flooring solutions are easier to maintain without serious interruption to the business.
In areas of the grocery store where meat or other food preparation occurs epoxy floor coatings can withstand more stringent cleaning processes such as is required in the meat department, deli, or bakery. In these areas, epoxy coatings provide the necessary durability to hold up against tough sanitization practices.
Why Choose Polished Concrete for Grocery Store Floors?
Throughout the main areas of the grocery store the key concerns in floor coverings tend to be safety, health, and durability. Longevity is also important. Unlike other grocery store flooring options, polished concrete flooring is a great choice for the following reasons:
Longevity – Polished concrete flooring is long-lasting, typically withstanding heavy traffic for decades, and significantly exceeding the lifetime of vinyl flooring options that can start to peel or otherwise become damaged in the first few months of heavy use.
Safety – Polished concrete flooring maintains moderate slip-resistance even when wet, and epoxy floor coatings can be installed using additional slip-resistant additives to reduce the risk of slip and fall in the supermarket.
Easy Maintenance – Polished concrete grocery store floors are easily kept up, there is no weekly waxing or buffing. When maintenance is required to rejuvenate the floor's shine the process typically takes place overnight without any interruptions to everyday operations and no long-term closures of the store for maintenance.
Easy Cleaning – Polished concrete floors are easy to keep clean with daily sweeping and mopping with warm water or a gentle cleanser. In food preparation areas, where epoxy coatings are used, more stringent cleaning & sanitization practices can take place.
Store managers welcome the easy cleaning that comes along with a polished concrete flooring solution while store owners appreciate the fact that polished concrete supermarket floors are likely to outlast virtually any other flooring solution that is available for a grocery store.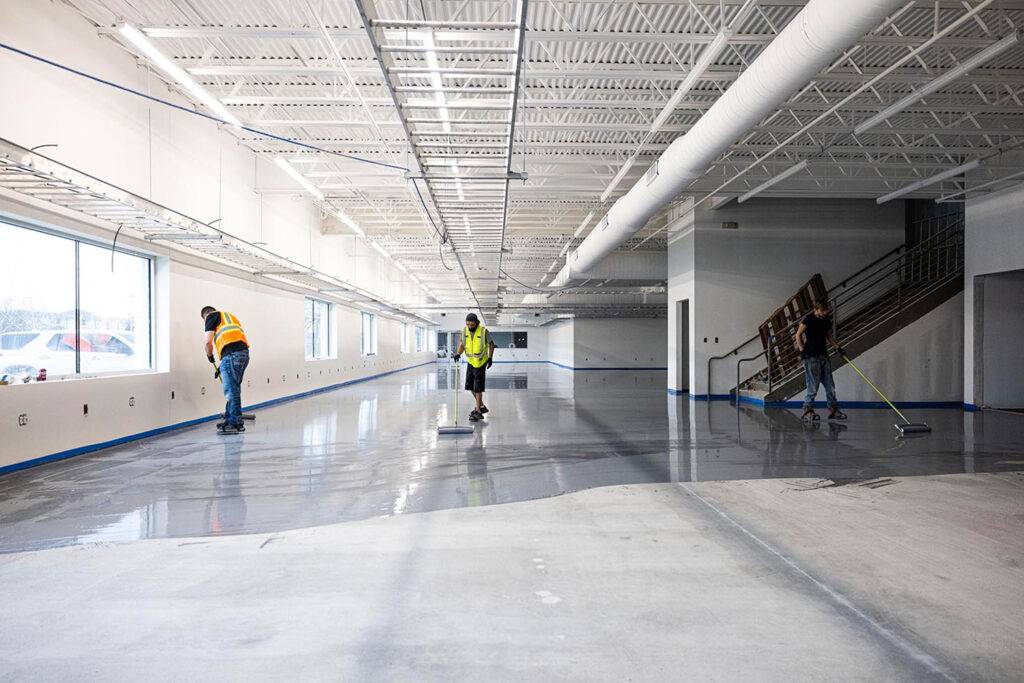 Why Consider Epoxy Floor Coatings in Grocery Stores?
Epoxy flooring solutions are frequently chosen for food preparation areas, such as the meat department and deli, but a resinous solution like this is actually ideal for virtually the entire grocery store. In fact, many store owners choose to have epoxy floor coatings installed throughout the entire grocery store because it's easy to clean and may provide the greatest overall value for the investment.
In a grocery store setting, the potential for spills or for food or other contaminants to fall on the floor is relatively high. Spills and food messes that are left behind can contribute to buildup of dangerous bacteria, especially on floors where grout or other porous surfaces are present. However, USDA-compliant epoxy flooring for grocery stores is resistant to these kinds of bacteria and mold, ensuring safety for employees and for customers.
Throughout the grocery store, epoxy flooring finishes are an ideal choice that contributes not only to the store's aesthetics, but to the overall cleanliness and safety of the store, too. Resinous epoxy flooring solutions for supermarkets are versatile enough to be installed throughout the entire store, including meat and food preparation areas, restrooms, and within storage zones, too. These flooring solutions are durable, long-lasting, and easy to clean and maintain.
Fully Customizable Grocery Store Floor Finishes
At Craftsman Concrete Floors, we provide a wide range of fully customizable grocery store floor finishes that are ideal for any supermarket. Our polished concrete floors and epoxy finishes can be customized to a wide array of colors, tones, and styles that meet the aesthetic demands of each department throughout the store including customer-facing retail areas as well as food preparation spaces and storage zones.
Creating a uniform appearance throughout the store with fully USDA compliant epoxy floor coatings and polished concrete finishes is certainly a priority for most grocery store owners. Customizable flooring solutions are attractive and easy to maintain throughout the grocery store. The seamless finish is not only easier to clean and maintain than traditional tiles or vinyl flooring systems, but lack of grout lines also makes it less likely to gather dirt and other bacteria causing debris making concrete flooring systems safer overall for customers and employees.
Ready to Get Started?
At Craftsman Concrete Floors we have many epoxy coatings and polished concrete flooring solutions for supermarkets. To learn more about polished concrete floors and epoxy coatings for your grocery store, contact us today.