Polished Concrete Flooring for Pharmaceutical Manufacturing
Within the pharmaceutical industry the focus is on cutting edge scientific experiments, the production of life-altering medications, and the research, development and industry-scale synthesis of pharmaceutical drugs and potential lifesaving treatments for illness or disease. Just like choosing the right equipment is vital to the overall success of the manufacturing unit, so too is choosing an impermeable flooring solution that ensures strict adherence to pharmaceutical quality guidelines and productivity safety standards.
Throughout the pharmaceutical manufacturing industry, strict hygienic maintenance and adherence to extreme safety protocols is essential to the workers and staff within the pharmaceutical laboratory as well as to the customers or patients that will receive treatments, pharmaceutical medications, and other potentially life-altering chemicals that are produced within the pharmaceutical manufacturing setting. Choosing the right high-performance pharmaceutical factory flooring is absolutely essential to maintaining the sterile environment which is necessary for the safe manufacturing of pharmaceutical medications and other approved drugs.
At Craftsman Concrete Floors, we offer several safe and USDA-approved concrete flooring finishes for pharmaceutical laboratories, pharmacies, and pharmaceutical manufacturing facilities, including pharmaceutical epoxy flooring finishes which are USDA compliant and government agency approved. For help choosing a flooring solution that meets the critical performance needs of your pharmaceutical manufacturing facility or the rigorous safety standards set forth by OSHA and other governmental agencies, contact one of our expert flooring specialists to discuss the benefits of premium epoxy coatings and floor finishes for your pharmaceutical needs.
Pharmaceutical Epoxy Flooring Critical to Sterile Environments
A key consideration in pharmaceutical factory floors and flooring in pharmaceutical manufacturing facilities is maintaining a sterile and sanitary environment. Epoxy flooring for pharmaceutical laboratory settings and research facilities features solvent-free, zero VOC formulations that are critical in sterile environments where superior cleanliness is important to everyday operations. When sterility, and cleanliness are necessary to the manufacturing practices of your pharmaceutical laboratory, choosing a flooring system that meets rigorous performance criteria is absolutely vital.
Unlike vinyl floor tiles or vinyl sheets which can have pockets between the concrete substrate and the surface of the floor in which moisture, mold and bacteria can fester and grow, epoxy floor coatings adhere seamlessly to the existing concrete surface to mitigate mold and bacteria growth for superior sterility. Epoxy flooring is VOC-free whereas many vinyl adhesives release harmful VOCs into the pharmaceutical environment.
Pharmaceutical Factory Flooring that Follows cGMPs
In food and drug manufacturing, the FDA requires compliance with current Good Manufacturing Practices (cGMPs) and guidelines. These are stringent standards that are set forth by the FDA to govern the overall mechanical, chemical, and impact durability of flooring systems that are used in the pharmaceutical manufacturing industry as well as to govern many other aspects of pharmaceutical production including research facilities, storage areas, and packaging systems.
The use of epoxy floor coatings in pharmaceutical manufacturing can mitigate potential for biological contamination. Static controlled floor coatings used in areas where pharmaceutical production occurs can provide further protection against the risk of explosion or fire where volatile compounds are used in the manufacturing process. These represent flooring choices that are compliant with cGMP standards.
Durable Pharmaceutical Flooring Systems
Epoxy floor coatings for pharmaceutical factories are resistant to damage caused by chemicals or solvents that may be used during the production of pharmaceutical compounds or medications. Corrosion-resistant floor coatings and protective epoxy floor finishes are incredibly durable which makes them particularly valuable in pharmaceutical settings where ionic liquids and organic solvents used throughout the production of pharmaceutical medications can frequently come into contact with the flooring and would otherwise damage most traditional flooring surfaces.
Craftsman Concrete Floors provides a large selection of epoxy floor coatings and finishes that are long-lasting, durable and effectively designed to withstand harsh solvents and chemical cleanings which occur at the pharmaceutical level. Whether you're operating a fully functioning pharmaceutical production facility or a pharmaceutical laboratory, we've got a pharmaceutical flooring system that's durable, easy to clean, and safe for you.
Slip-Resistant Epoxy Flooring Solutions for Pharma Industry Protect Worker Safety
Professional flooring experts at Craftsman Concrete Floors understand the importance of safety and the responsibility pharmaceutical manufacturing plant managers have in ensuring a safe working environment for their staff. Steps can be taken at every stage of production to ensure proper practices are followed and controls are in place to mitigate worker risk, but the safety of factory workers goes all the way back the construction of the factory, specifically the installation of the flooring!
Epoxy floor coatings for pharmaceutical manufacturing facilities contribute to a slip-resistant, easy to navigate environment where the potential risks associated with slip-and-fall go beyond that of simple injury to include exposure to potentially dangerous chemicals or other substances. Worker safety is of incredible importance when handling sensitive substances in pharmaceutical manufacturing environments. To increase traction and minimize any potential slip and fall risks, slip resistant additives can be incorporated into the epoxy installation to achieve the desired level of surface slip resistance and traction control.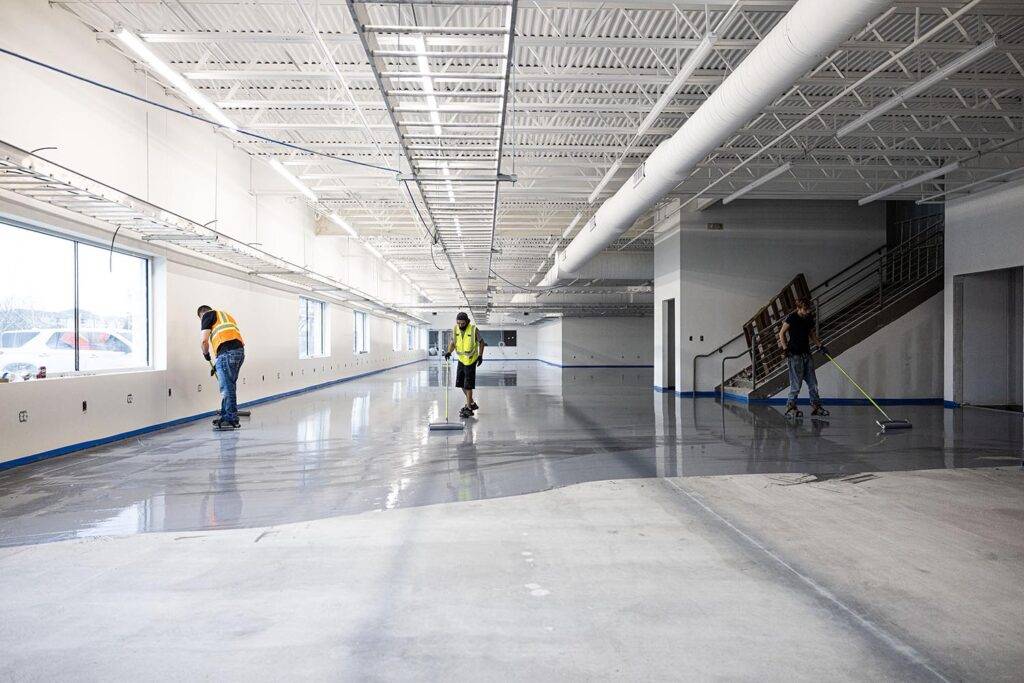 Safe, Durable, Hygienic Pharmaceutical Flooring Solutions
As a pharmaceutical flooring manufacturing facility manager, your focus is on keeping your workers safe and your facility operating efficiently, but maintaining a sterile and sanitary environment is equally important, particularly for USDA compliance. Epoxy floor coatings for pharmaceutical production and research facilities deliver the crucial cleanliness and sterility expected in these environments while supporting the FDA cGMPs, resisting chemical and corrosion damage, and delivering customized slip-resistance to ensure efficiency & safety throughout the facility.
Our pharmaceutical flooring solutions deliver long-lasting results which are integral to safe and efficient pharmaceutical manufacturing. Durable, impact-resistant epoxy flooring finishes for pharmaceutical manufacturing facilities are engineered to maximize efficiency in the manufacturing setting.
Ready to Get Started?
Contact us today to talk with our flooring professionals about the ultra-high-performance epoxy flooring solutions we can provide for your pharmaceutical manufacturing facility.