Polished Concrete Floors in Office Spaces
The first impression your business makes on a client or customer could be the difference in whether you succeed or fail, and great first impressions start with an amazing appearance. Is your office flooring making that great first impression, or is it looking old, worn out, and downright dirty? A clean, visually attractive, impression-setting floor sets the stage for the relationships you build in your office. Seamless polished concrete flooring sets a positive image for your guests while providing a healthy, safe & attractive workplace for your staff.
High-performance, ultra-durable polished concrete floors for office spaces are not just for large organizations in major cities. Modern businesses are turning to designer concrete flooring solutions throughout Texas for their economic cost efficiency, low maintenance, and long-lasting durability. At Craftsman Concrete Floors, we have many concrete flooring solutions including polished concrete floors for office spaces and epoxy coatings that can outlast carpet or tile and will withstand the conditions of busy office buildings that see frequent foot traffic, abrasive moving of office furniture, and the occasional spill, too.
Increased Light Reflection for Increased Productivity
Studies have proven the connection between the ambiance of a workplace and the productivity of workers. What they've found is that an office that is aesthetically pleasing and features natural lighting or ambient artificial lighting that brightens the space is more likely to increase productivity for workers within the space. Polished concrete floors feature a highly reflective surface that improves light reflection throughout the space resulting in increased worker productivity.
The typical office employee will spend anywhere from 6 to 12 hours inside the office on a given day. While they may miss out on catching their Vitamin D outside, they're probably not going to be missing deadlines inside the office when the atmosphere includes plenty of ambient lighting and polished concrete flooring. Polished concrete floors brighten the office space creating a vibrant, happy, and healthy work environment for office employees.
Polished Concrete Office Floors are Modern & Professional
Polished concrete floors inside an office are a modern choice in interior design that creates a sophisticated space that is attractive both to clients and staff. For a clean and professional appearance that's going to outlast virtually any other flooring solution that might be chosen for office space, polished concrete floor finishes are a beautiful addition that coordinates well with various types of office furniture and décor.
Customization options are limitless in any office where decorative polished concrete finishes are the chosen flooring solution. This seamless flooring is a go-to solution for corporate office spaces, lobbies, and private areas where client impressions are everything! Our expert flooring professionals can help you decide on the exact colors and tones for your office space and can even incorporate decorative overlays or custom designs to match your corporate logos and branding to make a grand statement to those who enter your facility.
CONTACT CRAFTSMAN CONCRETE FLOORS TO LEARN ABOUT THE STYLES, COLORS, AND TEXTURES THAT ARE BEST FOR YOUR OFFICE.
Easy-to-Clean Floor Finishes for Any Office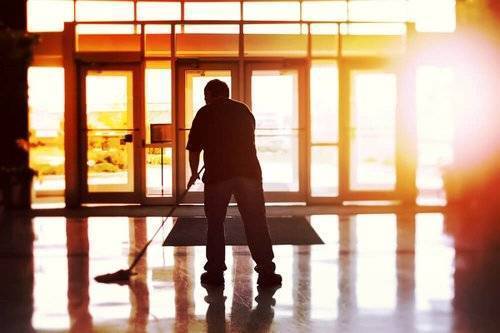 The typical office has a lot of foot traffic to contend with and that means there's the potential for a lot of dirt and grime to be brought into the office throughout the day. Carpets trap dirt and moisture resulting in bacteria growth which can lead to horrible odors and stains, while trapped dust and debris can increase allergens inside the office. Tile or wood flooring solutions have their own downfalls in an office space, particularly as they can be prone to scratching, chipping, or breaking under the pressure of office furniture.
Polished concrete floors will not trap allergens, dirt, or debris and they're incredibly easy to clean. Unlike carpets, decorative concrete floor surfaces are easy to sanitize and clean. Daily sweeping to prevent dirt or debris from building up on the floor's surface is generally all that's required in day-to-day maintenance. A nighttime routine of mopping office floors with warm water will keep them looking shiny and new for years.
To learn more about cleaning & maintaining polished concrete floors in your office space, check out our How to Clean Polished Concrete Floors page, or Contact Us to speak with a flooring expert.
A Durable Low-Maintenance Office Flooring Solution
After several years of foot traffic and steady use, even the most durable office floors are bound to require a bit of maintenance. Polished concrete floors that no longer have the same glossy finish are easily re-polished. While this type of maintenance is generally only required after several years of use, rest assured it won't take long! Most offices can have their floors completely rejuvenated overnight, with no interruptions to daily office routines or work schedules.
If you're worried about the damage potentially caused by swivel chairs and frequent adjustments to office furniture layouts, don't! Polished concrete flooring is ultra-durable and generally stands up to this type of routine office use without any major repercussions. Floors don't easily scratch or break. Furniture doesn't easily chip or otherwise damage the polished concrete surface.
Benefits of Polished Concrete Flooring in an Office



A Smart Business Decision
Polished concrete floors in an office are a long-lasting, easy to clean, and maintain solution that will save you money in the long run. Similar to seeking savings in other business operations, or to finding tax cuts, as an office owner, you realize the importance of economic business decisions such as those involved in choosing a flooring solution that will increase your bottom line.
Polished concrete requires absolute minimal maintenance and cleaning when compared with any other commercial flooring solution on the market. With the time and money, you'll save on cleaning crews and maintenance for your office floors, once and done polished concrete flooring almost pays for itself! Any smart business owner can see the value in the investment.
Your polished concrete office floors won't stop at saving you time, these floors also help to curb heating and cooling-related expenses throughout the office. Concrete naturally stays warmer in the winter and cooler in the summer, resulting in huge energy savings on top of the potential savings in long-term maintenance costs and potential cleaning fees. This flooring choice will almost certainly result in substantial reductions to your existing business expenses and is bound to save exponentially over the many years that you own your office space.
Polished concrete floors can be installed & maintained in your office for a FRACTION of the cost of tile, carpet or hardwood flooring and the install requires virtually ZERO downtime!
Contact a Flooring Professional
Before you start entertaining bids for professionally polished concrete floors in your office space, it's important for you to understand that all polished concrete surfaces are not the same!
The initial process of polishing the concrete flooring for an office is very labor-intensive and requires the knowledge of a professional to ensure the floor's surface is not overworked or burnt as well as to ensure the proper sealing and polishing takes place to ensure the floor's long-term protection. Multiple steps or passes of grinding at various grit levels are required in order to achieve the desired surface level sheen and quality of the concrete floor.
Hiring a professional that won't cut corners & will ensure all appropriate steps are taken to guarantee the quality of your polished concrete office floor is crucial to the longevity, and long-term savings, that are to be expected of a professionally polished concrete floor.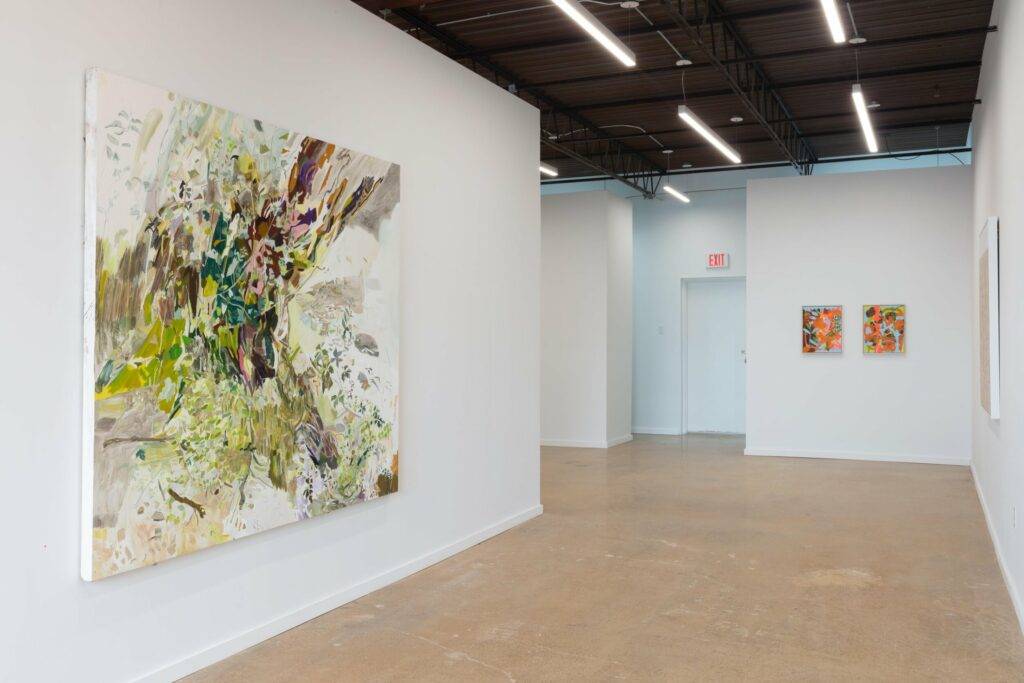 Ready to Get Started?
At Craftsman Concrete Floors, we don't cut corners, but we do provide beautiful polished concrete flooring solutions that are ideal for a variety of office spaces and settings. Contact us now to speak with a flooring specialist about your office.