Polished Concrete Floors in Churches & Religious Centers
To the untrained eye, liturgical design needs are an oversight, but ask any Pastor, Rabbi, or Priest about the design of their sanctuary or synagogue and they'll immediately mention the religious significance of various colors, styles, fabrics, or other elements within the design theme. Polished concrete floors in church worship areas and surrounding properties provide functional strength, durability, and aesthetic flexibility for religious venues where specific colors and styles play a key role in the underlying design needs of the church.
Your floor is as much a part of your church's cohesive branding as any other elements or furnishings are within your worship center. It plays a pivotal role in your interior design and how your visitors perceive the surroundings of your church venue.
Why Choose Polished Concrete for Church Floors?
Churches frequently see high foot traffic and frequent moving of tables, chairs, pews, and other furnishings throughout the worship areas as they adjust and adapt to accommodate members of the congregation. Polished concrete flooring is the ideal flooring solution for a church as it can withstand the heavy foot traffic and the constant moving of furniture and furnishings that typically take place within these busy worship centers.
Whether your church holds weekly functions throughout the year, VPK or summer school for the little ones, or just weekly wear and tear following communion and interactions at the main altar and platform areas, polished concrete floors are a popular choice over VCT, commercial-grade laminates, tile and carpet flooring options which tend to require more frequent and invasive maintenance.
Craftsman Concrete Floors has many different flooring solutions for religious organizations. Give us a call to learn more!
RICH REVERB & ACOUSTICAL SOUND
Enter any historic sanctuary that was built for worship alongside a beautiful pipe organ and a large group of worshipers, and you'll immediately notice the lack of carpet or other reverb reflecting fabrics and sound-absorbing elements. Historic sanctuaries naturally focused on limiting sound absorption to create a reverberant space. Polished concrete floors are amazing for congregational signing and acoustics. In fact, some say that putting a choir on a carpeted sanctuary floor is the equivalent of pulling out the choir's vocal cords!
SLIP RESISTANT SURFACE
Polished concrete floors have a high gloss, wet look, but they are not slippery as long as the surface is kept free from dust and debris. These floors are actually slip-resistant and generally safe for a variety of congregational use cases including use in the narthex, sanctuary, and other areas of the church.
AFFORDABLE LONG-TERM CHOICE
Choosing the right flooring for your church is essential not only to the liturgical design of your worship area, but also because you want your church to be welcoming to worshippers and you want to be sure that the flooring you choose is not a waste of church funds. Polished concrete floors are an affordable long-term flooring solution that provides great value with limited maintenance required.
When compared to carpets and commercial-grade vinyl or tile which typically requires replacement every 5-7 years, polished concrete floors are a cost-effective, long-lasting, and low-maintenance flooring option that can last decades with minimal routine maintenance. Polished concrete floors are ideal for churches, synagogues, and worship venues.
LOW MAINTENANCE
Great stewardship requires consistent reinvestment of your time into the church but that time doesn't all have to be spent on maintenance! Taking care of commercial polished concrete floors in your church is really simple. A microfiber cloth can be used to remove dust and dirt while a mop with lukewarm water is ideal for stubborn stains. No harsh chemicals or invasive cleaning steps are required!
Traditional church flooring options such as laminate, vinyl, and commercial grade carpet, require frequent cleaning and maintenance that may include several days of interruption to remove and replace damaged or irreparable, dirty floors. Polished concrete floors require very minimal day-to-day maintenance and any necessary rejuvenation can take place overnight without halting church functions or otherwise interrupting the busy church schedule.
When properly cared for, a polished concrete floor can provide decades of functional beauty for your church with minimal interruption for maintenance every 3 to 5 years.
DURABLE
Polished concrete floors can withstand heavy foot traffic and frequent rearrangement of furnishings that often occur with ministry in a church setting. These floors are durable and they are generally resistant to scuffs, stains, and scratches. Where there is increased potential for stains or possible abrasion of the floor's surface, a densifier can be added during the polishing process to improve floor resistance to this sort of heavy wear and tear. Craftsman Concrete Floors will assist you in creating the most durable and long-lasting flooring solution for your worship center.
If building a new church, ask our concrete flooring specialists about the "Wet cure" process. This process provides optimal hydration while curing the concrete to minimize any risk of random stress cracks. Wet curing is ideal for a continuous polished concrete floor texture that does not include control joints which may otherwise cure differently causing slight variations in color when dyes or stains are used during the concrete polishing process.
AESTHETICALLY APPEALING NATURAL FINISH
Throughout any church, a focus on seamless integration of classrooms, gathering spaces, and worship areas are commonplace. Polished concrete floors feature many customizable colors and textures from masculine earth tones to elegant and relaxed finishes ideal for any space in the church. One of the greatest draws to polished concrete outside its longevity and low maintenance is its customizable beauty and aesthetic appeal. Polished concrete floors have a natural appearance that coordinates well with pews, stained glass, and many fabrics that are introduced into worship centers.
How Long Do Polished Concrete Floors Take to Install in a Church?
If it's time to update your church floors and you're considering polished concrete, you're probably wondering how long it will take. The area of the floor, the complexity of any intricate or difficult-to-reach locations, and the current state of the floor will play a role in the total amount of time that it takes to polish the surface. A typical floor can be polished at a rate of about 1,500 square feet per day per crew, however, the desired end finish will also directly impact overall application times as additional polishing is required for the highest gloss finishes.
Polishing typically takes several days. Any dyes, colors, or densifiers to improve the floor's strength and protect it from spills or stains are applied during various stages of the polishing process. The church floor is ready for immediate use as soon as the polishing process is complete. A typical congregation can have completely redesigned polished concrete flooring surfaces ready for use in about a week whereas smaller congregations may only take a couple of days from start to finish.
Contact us to Learn more about what you can expect during the installation of polished concrete floors for your church.
Concrete Flooring Solutions Every Church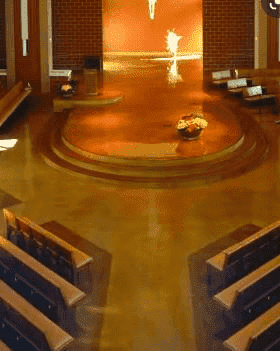 Whether you're renovating a church or building a brand new church sanctuary, polished concrete floors are a budget-friendly option that will make a lasting impression on your congregation. They're durable, easy to clean and maintain, and resilient even under heavy traffic and frequent furniture adjustments, making them an ideal choice in church design throughout the sanctuary, narthex, and other fellowship areas throughout the church property.
Ready to Get Started?
At Craftsman Concrete Floors we have a variety of beautiful, functional and long-lasting polished concrete flooring solutions and epoxy coatings that are perfect for any church or religious organization. Contact us to speak with a flooring expert about your church floors!