Polished Concrete Floors in Industrial Spaces
Choosing the most suitable industrial flooring options for your facility is an important step to creating an environment that is safe, efficient, and effective for your workers. Industrial polished concrete floors are a durable and low-maintenance flooring solution that is recommended for a variety of industrial uses or settings including heavy manufacturing and production environments. Our industrial concrete floor polishing solutions are ideal for many different settings.
Flooring in an industrial environment must be able to maintain heavy use and a lot of wear and tear, particularly under the weight of heavy machinery including forklifts and other equipment. Bare concrete slabs might seem like the most feasible choice at first, but they produce dust that can make a warehouse or similar industrial setting feel unkempt and downright messy! In order for flooring to be long-lasting and cost-effective in industrial settings, it should be waterproof and resistant to chemicals, otherwise a plant will have to replace its floors every few years!
At Craftsman Concrete Floors, we provide several of the best industrial flooring options for industrial settings and manufacturing environments including polished concrete floors and industrial grade epoxy floor coatings that will last a lifetime.
Craftsman Concrete Floors has many different industrial concrete flooring solutions. Give us a call to learn more!
A Cost-Effective Flooring Solution for Industrial Spaces
Polished concrete floors are an economical flooring solution that is especially ideal for large manufacturing facilities. Finance teams specifically appreciate the cost-effectiveness of a polished concrete surface which requires minimal upkeep and maintenance every 3-5 years, unlike many other industrial flooring solutions which can cost significantly more upfront and long-term in the form of repairs or necessary ongoing maintenance needs.
Industrial concrete floor polishing is typically faster to achieve than the installation of other industrial flooring solutions. In a typical industrial setting, about 1,500 square feet of flooring can be polished per crew per day. In large industrial settings, multiple crews may be brought in to reduce installation times. When compared to other flooring options, polished concrete and industrial grade epoxy floor coatings have a minimal per-square-foot cost and low maintenance costs, too. The average polished concrete floor in an industrial setting costs about half as much to maintain as vinyl composition tile (VCT) which is commonly used in similar environments.
To find out what it might cost to install plished concrete floors throughout your industrial space, contact us for a free quote.
A Customizable Solution that Fits Your Practice
Epoxy coatings and decorative concrete flooring options are largely customizable to include company logos or organization-specific branding and colors. Choose virtually any color or combination of colors to coordinate with the colors of your practice.
At Craftsman Concrete Floors we offer a variety of concrete flooring solutions for your practice that are equally attractive as they are sanitary and safe for the animals you treat. Give us a call to learn more about veterinary flooring solutions for your practice.
Installation, maintenance, and cleaning are not the only ways that polished concrete floors can you're your Texas manufacturing plant money! Polished concrete floor coatings feature a high gloss shine that reflects natural lighting that enters the building to produce stronger ambient lighting. The enhanced light reflection reduces the need for additional light fixtures resulting in further energy savings throughout the property. Polished concrete floors are an excellent choice for industrial settings where budget and long-term savings are key!
Easy to Clean in Harsh Environments
Cleaning concrete flooring that is unfinished is a constant headache as concrete slabs produce a lot of dust when they are not sealed and polished. However, sealed, polished concrete floors are easily cleaned with daily sweeping to remove dirt, dust, and debris while mopping with lukewarm water will break down tougher dirt or grime. In industrial settings, including warehouses or shops where oil, grease, or other harsh liquids are likely to frequently come into contact with the floor's surface epoxy coatings can provide a more durable, cleanly flooring solution.
Craftsman Concrete Floors provides both polished concrete floors and epoxy floor coatings for use throughout industrial environments where the potential for dirt, debris, and different liquids to impact the floor's surface is present. Ask us about the most suitable flooring solution for your specific industrial setting.
Want to learn more about the cleaning process and what it takes to maintain polished concrete floors? Learn More
Durable Enough for Heavy Traffic Industrial Settings
Whether you're the owner of a manufacturing facility, a factory, or an industrial warehouse, you need flooring that is as durable and sustainable as the equipment and operations taking place atop the floor's surface. Polished concrete has incredible strength and is highly resistant to wear and tear from heavy equipment, frequent foot traffic, and various spills including grease, oil, water, or various chemicals.
In areas where food processing, pharmaceutical manufacturing, or caustic chemicals are involved in the processing facility, epoxy coatings are a more suitable industrial flooring solution that can withstand contact with heavy chemicals and cleaning processes.
To further strengthen polished concrete floors, densifiers are incorporated into the concrete creating a protective barrier that prevents liquids from seeping into the floor to cause stains, cracks, or other damage to the surface. Other surface-level concrete flooring mediums, such as tile, actually seal off the concrete preventing the surface from breathing and increasing the likelihood of surface damage, including stress cracks, to occur.
A Sanitary Option for Industrial Manufacturing
Polished concrete and epoxy coatings create an easy-to-clean, sanitary surface ideal for many types of manufacturing plants. The polished concrete surface, although porous, is not prone to holding dirt, dust, or debris the way joints and cracks along tile floors often can. Studies have even mentioned that polished concrete floors might be conducive to better air quality within manufacturing plans.
Slip-Resistant & Safe for Workers
Polished concrete floors are ideal in dry manufacturing environments, provided special care is taken to minimize the amount of dust or debris that is left behind on the floor's surface. Exposure to fine dust, sand, or other debris can make these floors slippery, but they are otherwise moderately slip-resistant even when wet.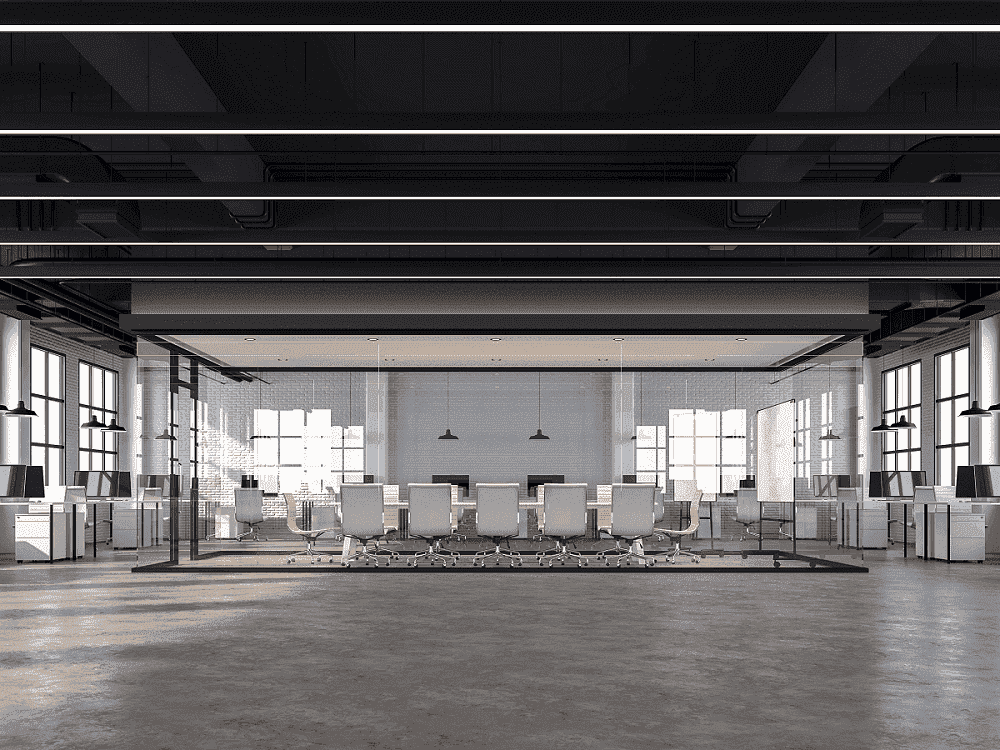 Each manufacturing or industrial facility manager is expected to take any and all necessary precautions to prevent workplace injuries. This includes taking measures to prevent slipping, falling, or injuries that could occur as a result of workplace hazards. Facility managers must take every practical step possible to ensure their floor systems are as safe as possible for their employees and for anyone that enters the facility. Polished concrete floors actually exceed OSHA requirements for flooring friction as set by ASTM C1028 standards.
The smooth, flat surface of polished concrete is safer for employees to walk on and it provides a safer foundation for material handling. Equipment moves effortlessly across the smooth, flat floor finish without any interruption caused by joints or changes in the surface level of the floor making polished concrete a safer option where heavy equipment is involved.
Long-Lasting & Built to Withstand Heavy Use
Polished concrete floors are built to withstand extensive foot traffic and heavy equipment operation that is popular in industrial settings. These floors can last decades with very minimal maintenance and cleaning. The average lifespan of polished concrete flooring is at least 20 years without any serious need for maintenance outside of basic polishing for rejuvenation which can generally take place overnight.
Professional Appearance for Modern Industrial Settings
Polished concrete is the chosen flooring solution for industrial settings such as warehouses, showrooms, storerooms, and factories. Featuring a variety of acid stains and dyes, polished concrete floors can be customized to suit various color combinations and style options while maintaining a clean, professional appearance. Appearances range from a smooth, glossy finish that results from light buffing of the floor's surface to a very pronounced visibility of the floor's aggregate resulting from heavier grinding to reveal the unique texture of the substrate in the originally poured concrete. Various buffing, grinding, dying and staining processes can result in very unique outcomes and appearances for your polished concrete floors.
Fast Application & Minimal Downtime
A polished concrete finish can be applied over just a few days, even in very large area applications and as soon as the surface has been polished it is ready for immediate use, there is no added cure or set time.
Thanks to countless benefits and the many different sustainable advantages that come along with using polished concrete floors in industrial environments, many facility managers are making the switch to polished concrete over other industrial floor surfaces. As a Texas leader in large industrial floor polishing, contractors seeking the support of Craftsman Concrete Floors find our services to be incredibly efficient and expertly tailored to their needs. Our industrial concrete floor polishing and application of epoxy coatings provide long-lasting and safe solutions that are ideal for use throughout manufacturing plants and in a variety of industrial settings.
Ready to Get Started?
Contact Craftsman Concrete Floors to learn more about polished concrete floors and epoxy coatings for your industrial business anywhere in Texas!