Polished Concrete Floors in Commercial Kitchens
Easy to clean surfaces are crucial to commercial kitchens, but flooring for commercial kitchens must also be functional, safe, and in open kitchen or hibachi style locations flooring must be fashionable, too. At the end of a busy day of food preparation and cooking, commercial kitchen owners want an atmosphere that can be quickly cleaned & is easy to maintain yet also meets any local and regional health regulations and compliance standards that have been set forth.
Outside of cleanliness, a key component for commercial kitchen floor finishes is the safety. Together, these are the two more important considerations when choosing flooring for commercial kitchens. At Craftsman Concrete Floors we provide several epoxy commercial kitchen flooring solutions that meet the functional needs of business kitchen environments while adhering to the sanitization compliance standards set forth by the USDA.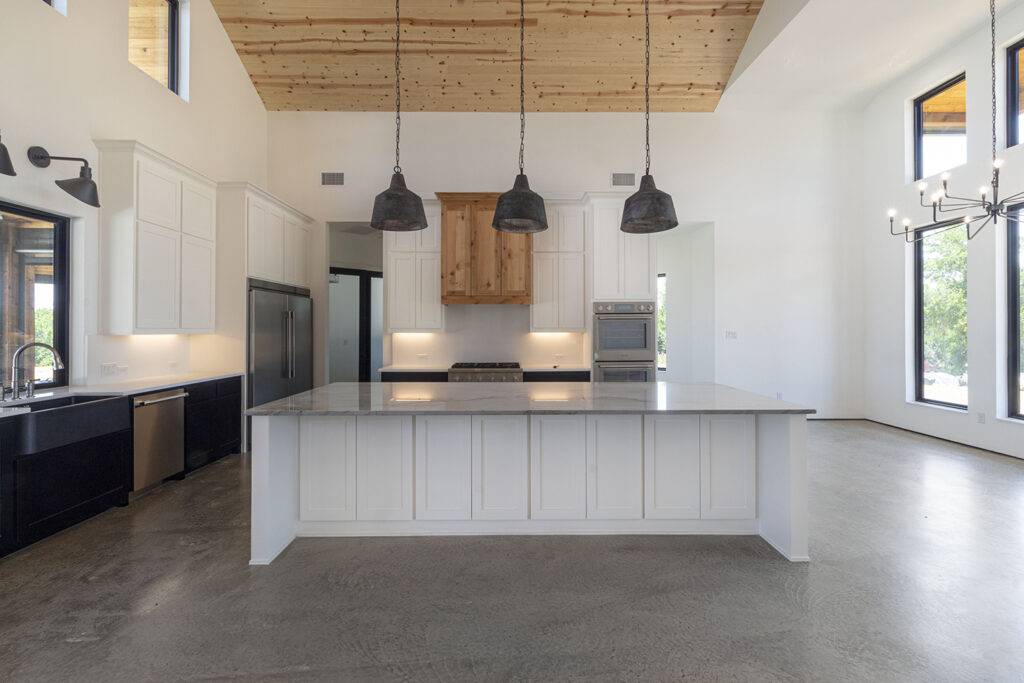 Floors that Will Stand Up to Unique Flooring Challenges in Commercial Kitchens
Like most environments, flooring in commercial kitchens have very unique challenges to overcome. A commercial kitchen flooring system must be durable and long-lasting to prevent interruptions in service, but it must also be safe and easy to clean. The best flooring for a commercial kitchen is a system that can hold up to harsh wear and tear, frequent spills, and stringent sanitization.
Each commercial kitchen has its own unique challenges that threaten the flooring choice assumed by the kitchen owner.
For instance:
Dishwashing areas & food preparation areas must be able to withstand extreme heat ovens and hot water from washing dishes.
The entire kitchen area must be able to withstand abrasive chemical cleansers used to sanitize and break down grease or grime.
Floor surfaces must be able to resist damage from spilled foods throughout the day including foods that break down into acidic or alkaline bases such as animal fats, grease, oils, and blood.
Floors must also be able to resist damage from scratching caused by sugar, salt, or spice granules or gouging from heavy pots, pans or utensils that are dropped on the floor's surface.
Concrete floors in a kitchen must resist damage from heavy foot traffic, equipment, carts and crates that are pulled across the surface potentially scratching or otherwise damaging the surface.
In all of this, flooring for commercial kitchens must also be non-slip or skid resistant to ensure the safety of employees according to OSHA standards.
Easy to Clean Commercial Kitchen Floor Finishes
Resinous epoxy flooring for commercial kitchens provide an easy to clean and durable finish that can withstand stringent sanitization standards for an inspection-ready commercial kitchen. Featuring stain and wear resistant applications that can hold up to high heat or high pressure cleaning and abrasive chemicals that break down grease and grime, epoxy floor coatings for commercial kitchens represent a long lasting, high-performance flooring solution that cleans quickly and easily.
Epoxy flooring in commercial kitchen environments is easily cleaned using high pressure washing and chemical sanitization. Durable epoxy coatings hold up to rigorous, pathogen killing cleaning procedures as set forth by the USDA, FDA, or similar government agencies to ensure a hygienic cooking environment.
When compared to tiled flooring solutions for restaurants and commercial kitchens, the epoxy floor's seamless surface is cleaner and relatively unattractive to pests and rodents. Because epoxy coatings leave a seamless finish void of any grout lines or other porous areas which could easily absorb liquids, spills or other debris, these flooring finishes inhibit bacteria growth and mold that could otherwise contaminate a commercial kitchen. Commercial kitchen epoxy floors create a seamless bond to the concrete substrate, preventing liquids or harmful contaminants from seeping below the surface or otherwise puddling or pooling to cause contamination. Wall-to-floor coving eliminates the potential for pathogenic buildup along crevices, cracks, or corners
Safe Commercial Kitchen Flooring Solutions
Industry regulations on commercial kitchen flooring options are largely in place to ensure the safety of workers and of customers that may be served foods from the commercial kitchen environment. Workers are expect to move quickly throughout the space, despite frequent spills and layers of dirt and grime that may already be on the floors' surface therefore non slip commercial kitchen flooring is a must. Epoxy floor coatings for commercial kitchens can be adjusted to provide various degrees of slip resistance minimizing the risk of slip-and-fall accidents among workers.
Non-slip flooring for commercial kitchens is particularly important throughout mixing areas, behind the bar, and anywhere there is a splash or spill zone. This is particularly important throughout the kitchen to mitigate any potential risk of slip-and-fall related injury among workers present in the kitchen.
Polished concrete flooring is non-porous, therefore it will not absorb moisture that builds up in a commercial kitchen as a result of daily activities such as cooking, cleaning, dishwashing, or other concerns. This is important because a flooring that absorbs moisture is more prone to bacteria growth which can not only make workers, and others, sick but may also increase the potential risk for slip and fall related injuries.
The application of specialized compounds and aggregate to create a skid resistant flooring throughout the kitchen can improve restaurant safety. Talk with a concrete flooring specialist about the most appropriate compounds or aggregates to include during the installation of your epoxy flooring to improve traction and mitigate slip and fall risks
Durable Flooring for Commercial Kitchens
Restaurant owners face several challenges in finding and choosing the most suitable commercial kitchen flooring, especially when it comes to finding a concrete flooring solution that's going to be as durable and long-lasting as it is functional and safe. Epoxy floor coatings for commercial kitchens are durable and can resist permeation of any abrasive cleaning chemicals or compounds such as animal fats, oils, or other liquids which may break down along the surface of the floor following a spill.
When kitchen equipment regularly spews grease, hot oil, or boiling water onto the floor's surface, managers can rest assured that their kitchen floor coatings will remain in-tact despite exposure to hot liquids and harsh chemicals. In fact, epoxy coatings are even strong enough to withstand frequent use of steel-wheeled carts and storage crates rolling across the surface even when the flooring is already covered in dirt, dust, or debris. Strength like this is vital to a commercial kitchen floor's surface to prevent frequent needs for maintenance.
Commercial Kitchen Flooring Solutions for Every Situation
Just like today's commercial kitchens come in all different shapes and sizes, with very different needs, so do today's commercial kitchen flooring solutions. Our strong, long-lasting, non-slip commercial kitchen flooring options include many different decorative epoxy finishes, polished concrete finishes, and specialty coatings that are just right for your commercial kitchen environment.
Ready to Get Started?
At Craftsman Concrete Floors we provide a variety of commercial kitchen flooring solutions for virtually every situation and any need. Contact us today to learn about our polished concrete & epoxy flooring systems for your commercial kitchen.