Polished Concrete Floors for Commercial Food Processing Facilities
In a high-volume commercial food processing facility, flooring must provide an essential balance between meeting rigorous safety and compliance standards while also being incredibly functional, too. Food processing plants often face extreme temperatures, stringent sanitization practices, and an "always-wet" atmosphere that must withstand heavy traffic, abrasive cleansing, and excessive use of carts and other heavy equipment throughout. These, and other unique challenges, that come along with operating a commercial food processing plant are some of the first considerations when choosing food processing flooring and floor coatings.
Flooring must have different performance levels or potential benefits for each zone, even within various areas of a commercial food processing plant as each zone faces very unique challenges in respect to traffic, temperature, safety, and sanitization. Inside food labs, flooring must be able to withstand frequent, heavy foot traffic. Inside a commercial freezer, temperature extremes pose very unique challenges for flooring, particularly in regards to safety under these extremes. Likewise, food production areas require special steps be taken to ensure USDA or FDA compliance when it comes to the flooring choice.
At Craftsman Concrete Floors we have a number of food-grade floor coatings, such as epoxy flooring, for food processing facilities that are both FDA and USDA approved for use in food and beverage production plants. We understand the importance of safety and productivity in food processing environments, and the role that food-grade floor coatings and floor finishes play in ensuring the health and safety of production facility workers and the general customer.
Whether you're looking for commercially approved flooring solutions that are designed to stand up to the aggressive sterilization techniques required by the USDA in food processing plants or it's most important for you to find a flooring that is going to withstand exposure to harsh chemicals such as acids, alkalis, or other elements, Craftsman Concrete Floors has a concrete flooring solution that's just right for your food or beverage processing facility.
Safe USDA Compliant Flooring for Commercial Food Processing Plants
Much of the focus is on safety and cleanliness when it comes to flooring in a food processing facility. The USDA, FDA and other agencies have their own regulations in regards to the safety and sanitization practices that are required within each commercial processing plant. USDA-approved floor coatings, such as resinous epoxy flooring for food processing facilities is formulated to pass the rigorous safety standards that are set by these top government agencies.
Not only are these flooring finishes durable and easy to clean, but they're built to withstand the heavy traffic and industrial equipment that is utilized within the plant during day-to-day operations. Epoxy finishes can withstand extreme conditions, extensive sanitization with harsh chemicals and cleaners, and exposure to a variety of chemical compounds and high concentrations of things like oils, animal fats, acids or alkaline compounds.
Durable Epoxy Flooring for Food Processing Plants
The food processing industry requires durable flooring solutions that are built to stand up against harsh exposure to extreme conditions including temperature extremes and frequently wet environments. Epoxy flooring is able to withstand heavy use of steel-wheeled carts loaded full of foods or food products, heavy crates, and the forklifts, floor jacks and other heavy equipment or machinery required to move these crates and carts around the facility. Flooring must be safe and remain in-tact with minimal maintenance required as no food processing plant can viably afford to be shut down by the plant owner or by the USDA for things like failure to pass the unscrupulous inspections of the USDA, FDA, or OSHA.
Choosing a floor coating that's right for your food processing plant is essential to preventing any accusations of unsafe or unclean food handling practices that could otherwise get the facility barred from operation. Epoxy floor coatings last several years before renovation is necessary, making them an ideal fit for food and beverage processing plants. These floors can endure aggressive wash-downs and frequent high-temperature cleanings that are necessary to prevent bacteria buildup and subsequent threats of contamination.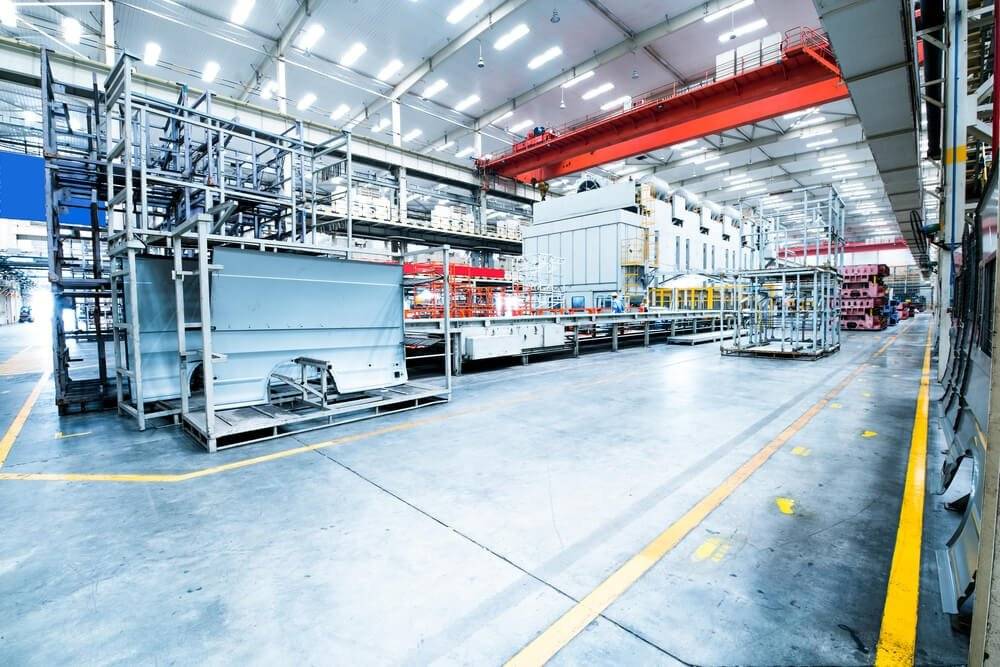 Ready to Get Started?
At Craftsman Concrete Floors, expert flooring specialists are prepared to help you choose a food-grade floor coating that's ideal for your food manufacturing facility needs. For personalized recommendations on food-safe flooring solutions that are right for your plant, contact us today.