Polished Concrete Floors in Schools, Colleges & Universities
Whether a primary school, college, or university, educational institutions regularly endure floods of traffic from students, parents, teachers, and staff. Choosing the right flooring for each area of the school campus is an important decision that is largely based on safety, function, and ease of maintenance. No matter what, flooring in schools must be durable & long-lasting.
You may not always have the same flooring from classroom to cafeteria, to chemistry lab, and although your students probably don't pay much attention to the school's flooring, everyone will notice a dingy, dirty floor if you have one! At Craftsman Concrete Floors we have several concrete flooring solutions to meet the unique and diverse needs of your educational facility including polished concrete and epoxy flooring systems which are easy to maintain and cost-effective, too.
Craftsman Concrete Floors has many different flooring solutions for schools, colleges, & universities. Give us a call to learn more!
Long-Lasting Polished Concrete for Schools
A typical school can have hundreds or even thousands of students in attendance that regularly walk the halls, study in classrooms, and otherwise engage in activities around campus. That's a lot of wear and tear each day on any floor surface, but add to that the fact that children are inherently messy! School flooring materials must be virtually indestructible if they are to hold up against the daily foot traffic from students, teachers, parents, and staff.
Durability isn't the only reason to consider concrete flooring schools. Facility managers, particularly maintenance managers and janitors for schools appreciate the easy cleaning and low maintenance of polished concrete floors and epoxy coatings. Polished concrete floors can withstand extremely heavy foot traffic, with simple dry sweeping and light mopping with lukewarm water or nightly cleaning with a floor machine – no harsh chemicals needed!
Polished concrete in college & university settings will complement the aesthetics of virtually any school's existing structure and with proper care, they can withstand years of heavy use before additional rejuvenation is required. When the surface shine begins to fade after several years of daily use, an overnight re-polish will bring your school's floors back to their original glory! No more nightly waxing, no downtime, no school closure, and no missed classes!
Interested in finding out how much you can save by choosing polished concrete flooring & epoxy finishes for your school? Check out our page, How Much Do Polished Concrete Floors Cost? or Contact Us for a free estimate.
Many schools, including colleges and universities, are turning to polished concrete flooring because it is a cost-effective alternative to tile, vinyl, or hardwood surfaces. The subdued, natural tones of polished concrete flooring in schools can make the environment feel more sophisticated, promoting concentration and improving work and study habits among students and staff.
Safe & Customizable Epoxy Flooring for Schools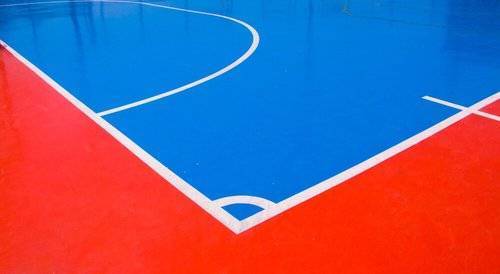 Many areas of a school require specialty flooring for performance beyond typical foot traffic and normal wear and tear. In science labs, food service areas, bathrooms, and school locker rooms, epoxy flooring provide a safe alternative to bare concrete or porous flooring which can be prone to bacteria growth, stains and odor. Epoxy flooring is the ideal choice in areas where moisture mitigation is of absolute necessity such as in lavatories and in locker rooms.
A key area of concern in flooring choice for any school is slip resistance for the safety of staff and students. The Polished concrete flooring and epoxy coatings used in schools are formulated to maximize safety and slip resistance. A variety of products may be used to strike the desired balance between safety & style throughout your school including slip-resistant flooring solutions that coordinate perfectly with your school colors and logos.
Safety isn't the only major reason to consider epoxy flooring for your school. Function & aesthetic appeal are the driving force behind many decisions when epoxy floor coatings for schools are chosen by the school management. In fact, many larger schools are turning to decorative concrete coatings in order to imprint school logos, colors, and branding to increase school spirit throughout the campus. Completely customizable epoxy floors demonstrate your school's unique branding while carefully placed directional units guide visitors around campus.
Many school managers are surprised at how many custom color options and combinations are available when it comes to decorative concrete surfaces in schools.
At Craftsman Concrete Floors, our flooring experts will work closely with you to come up with a completely customized flooring solution that's ideal for every area of your school.
Easy-to-Maintain School Flooring
A typical day for a school floor is all about traffic, and in between the traffic, there are food spills, scuff marks, and various other impediments to the surface. There's no doubt, school flooring materials must stand up to heavy foot traffic and lots of it. Despite all of this, these floors are expected to remain visibly clean and shiny and they should be easy to maintain.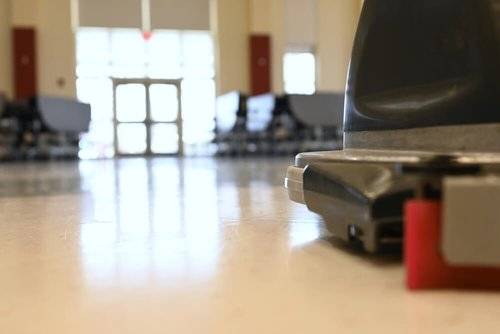 Polished concrete and epoxy flooring for schools outperform VCT and carpet flooring solutions that are frequently used inside classrooms, auditoriums, and other school settings, and they require significantly less maintenance than these other flooring systems. There is no monthly waxing or invasive maintenance schedules that could threaten to interrupt class time. Where schools that use these other flooring solutions often require extensive downtime, generally over the summer months, in order to strip, wax, and burnish VCT flooring in preparation for the next year, polished concrete flooring in schools and epoxy coatings can go years with virtually no maintenance.
These long-lasting, flooring options will save your school maintenance team countless hours, and your school will look amazing without any major maintenance being performed! Basic nightly cleaning, no harsh chemicals or powerful scrubbing is required!
Check out our How to Clean Polished Concrete Floors page to learn more about how easy maintenance can be for your school!
Proven Flooring Solutions for Every School
Whether building a new school or refurbishing the flooring throughout an existing school, polished concrete floors and epoxy flooring in schools will bring your school's flooring up to date and prepare it for the future. Old, worn concrete surfaces and school floors that have been covered in tile, carpet, VCT, or other floor systems can be refurbished for a modern & updated appearance, cleanliness, and amazing longevity that will last several years.
Every school, old or new, large or small, can benefit from the durable, long-lasting, and aesthetically pleasing concrete flooring systems provided by Craftsman Concrete Floors.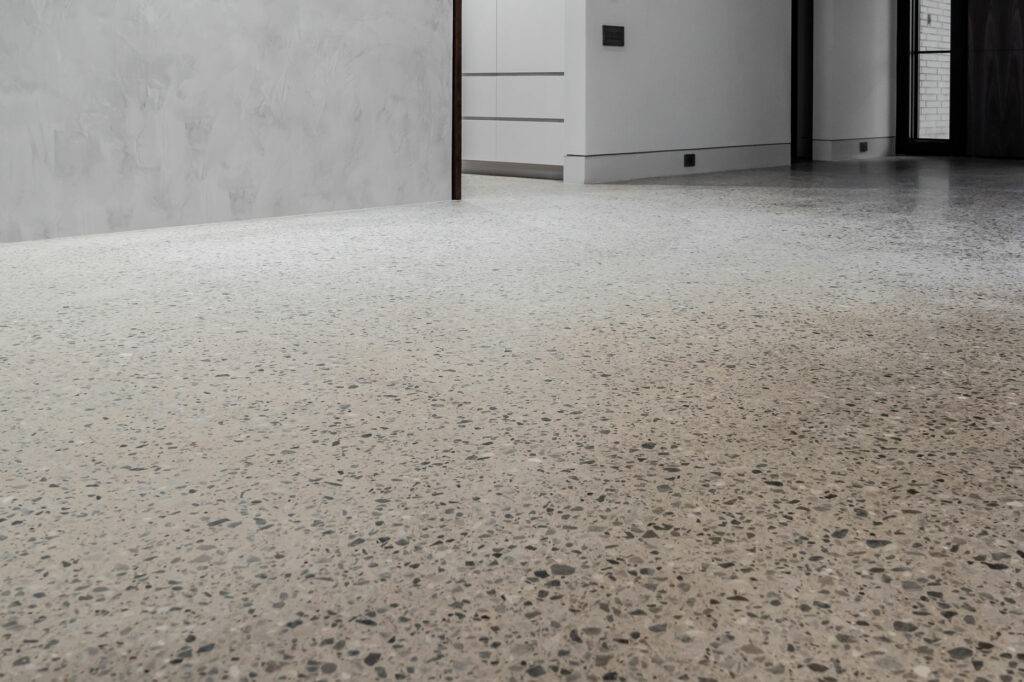 Ready to Get Started?
From primary school to college, we provide a wide variety of professionally designed floor coatings that can be customized to meet the needs of your school. Contact us today to speak with a flooring expert.