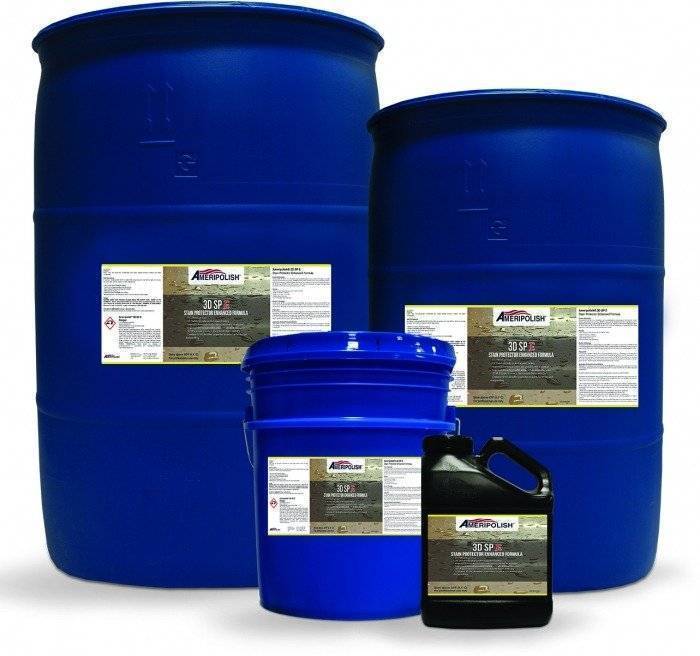 AMERIPOLISH 3D SP IS A BREATHABLE SEMI-PENETRATING / SEMI-TOPICAL SEALER THAT HELPS TO PROTECT SURFACES AGAINST STAINS AND ETCHING.
3D SP CREATES A WATER-RESISTANT BARRIER THAT PREVENTS LIQUIDS FROM INFILTRATING THE SURFACE, PROTECTING AGAINST STAINING AND COLOR DISPERSION. THIS IS THE INDUSTRY STANDARD STAIN PROTECTOR AND IS USED IN MOST POLISHED CONCRETE INSTALLATIONS.
Sealing Polished Concrete Floors
Polished concrete floors are a very specific type of installation where the surface of the floor is ground with progressively finer diamond tooling. This tooling is very similar to the tooling used to polish natural stone countertops, and the finished polished concrete floor surface closely resembles a granite counter in texture, feel and wear characteristics. However, concrete is extremely porous and therefore prone to staining if untreated. To prevent this, sealers must be used to reduce porosity.
SILICATE DENSIFIERS
On polished concrete floor installs, silicate densifiers do the heavy lifting when it comes to stain protection. Silicate densifiers are reactive, penetrating liquids that fill the pores left in the concrete from the initial concrete pour. While silicate densifiers reduce staining significantly, an additional sealer such as Ameripolish 3D SP must be used to fully protect a polished concrete floor.
Types of Concrete Sealers for Polished Concrete
There are three main categories of sealers for sealed concrete floors:
Penetrating Sealers
Penetrating sealers are silicone-based products designed to prevent both water-based and oil-based stains. The penetrating sealer we use most frequently is Ameripolish sr2. Because these sealers fully penetrate, they generally don't alter the appearance of the concrete. They're ideal for outdoor sealed concrete floors as well as areas that require additional stain protection such as bathrooms, kitchens, and industrial spaces. While they do not wear due to foot traffic, they're very prone to breakdown and will require reapplication. As these sealers breakdown performance will noticeably fade and a maintenance re-application will be required.
Semi-Penetrating Sealers
Semi-penetrating sealers are the most commonly used products on polished concrete floors as they both protect the surface of the floor and enhance the color and sheen of the surface. Amerpolish 3D SP, the material covered in this datasheet, is the industry standard polished concrete stain protector. These products are extremely low VOC, easy to install, and will allow the concrete slab to breathe after install. While they're durable, they will require reapplication as they show wear in high-traffic areas. If you need additional longevity or chemical resistance, a topical polyurethane or epoxy is suggested.
Topical Sealers
Topical sealers are materials that completely encapsulate the concrete surface, creating an impermeable barrier. The most common topical sealers are polyurethanes and epoxies. These products are durable, stain-resistant, and chemical-resistant high gloss sealers.
While these products may sound very attractive, topical sealers are known for showing scratching as well as being extremely slippery while wet. Further, they can yellow due to exposure to UV. Due to this, they require frequent maintenance which makes them impractical for residential installation. These products are most commonly used on garage floors, or in commercial or industrial settings where maintenance on sealed concrete floors can more easily be addressed.
Looking for More Information About Polished Concrete?
See our polished concrete floors page for resources and galleries. As always, give us a call for a free consultation.