High Lumber Prices
With lumber prices quadrupling from march 2020 to now, many national home builders are switching from hardwood floors to polished concrete. In this short blog post, we will discuss this trend and what it means for smaller home builders and individual homeowners.
Benefits of Polished Concrete
Low, stable material costs
High durability
More efficient installation process
Modern, unique aesthetic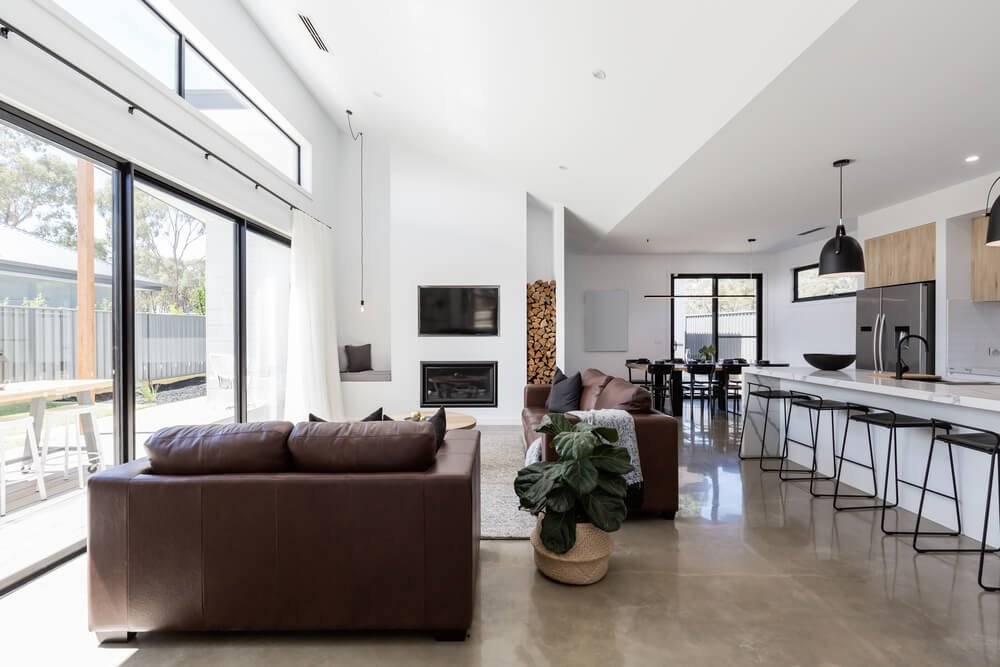 Polished Concrete in Residential Construction
Polished concrete is a unique flooring solution because its install is primarily a labor-based process. The main material used is the concrete slab a house sits on. Because of this, polished concrete pricing can be set far in advance with a low risk of cost fluctuations. While hardwood floors are generally installed near the end of a home build, polished concrete is typically installed either before or immediately after a house is framed. This timing adjustment is significant, as the floor can be polished concurrently to the mechanical, roof and even window installs.
Are Concrete Floors Less Expensive Than Wood?
Because material costs for polished concrete floors are six to eight times lower than that of high-quality hardwood floors, polished concrete is significantly less expensive than wood in new residential construction. In 2022, a typical white oak floor install can range from $12 to over $22 a square foot. A cream polished concrete floor is generally $3.50 to $5 per square foot depending on slab size and level of gloss. Stained concrete floors are generally similar in price to polished floors.
If you're unfamiliar with what a cream polished concrete floor is, please check out our page styles of polished concrete floors. For project-specific advice or information, please schedule a free design consultation.
Need More Information About Polished Concrete Pricing?
Our polished concrete page covers pricing in more detail, as well as has resources about the install.