There happens to be a common misconception among customers that polished concrete floors require no maintenance and unfortunately that's just wrong! Although polished concrete flooring may require substantially less maintenance than vinyl, carpet, or tile, to say it requires "no maintenance" is simply untrue. Therefore, when we work with new clients to provide professionally polished concrete floors in San Antonio or anywhere in Texas, we like to be upfront with them about maintenance needs. Going into the project with a plan on how to maintain a polished concrete floor is important specifically for the longevity of your floor.
A planned maintenance process will ensure your polished concrete floors maintain the same top quality, finished appearance for many years to come. Although a polished concrete floor isn't a "No-maintenance" flooring option, they are certainly "low-maintenance." That's why when it comes to teaching new clients how to maintain a polished concrete floor that's installed in their home or business, we typically offer the following advice.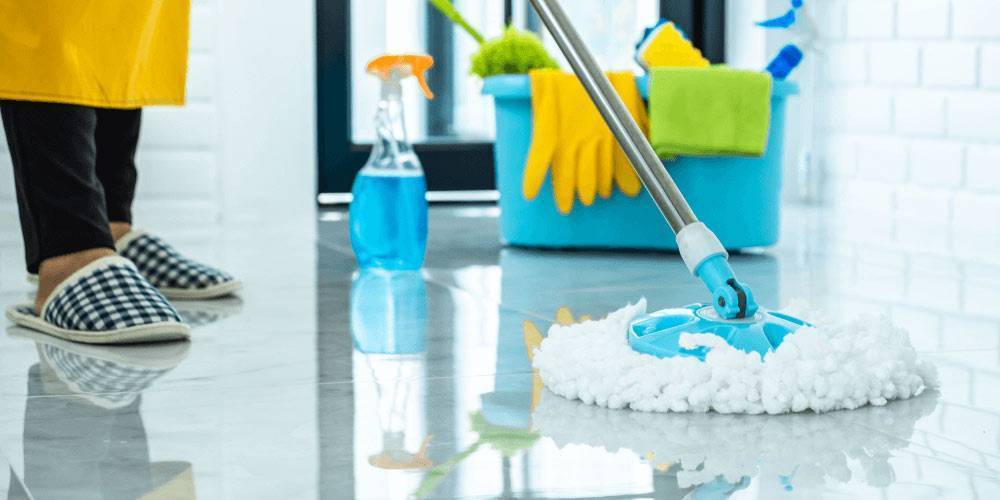 Dust Mop with a Clean Microfiber Pad
To prevent surface damage to your concrete flooring, we recommend you dust mop daily with a clean, microfiber cloth pad. The use of dirty pads, or rough surfaces can damage the polished concrete surface of the floor. You don't want anything that will scratch or etch the surface of your floor when you're dusting. Removing soil from the surface area is important because left behind dirt and debris has the potential to scour and scratch the surface damaging the floor finish.
Mop with Clean Water & Neutral-PH Floor Cleaner
Polished concrete floors can generally be cleaned with clean water and a clean mop. If you feel the need to use a cleaner, neutral-PH cleaners should be chosen to avoid potentially deteriorating the concrete. Cleaners that are acidic or that are too alkaline in nature may cause surface damage that could dull the shine of your polished concrete floors.
Polished concrete floors do not require abrasive cleaners or chemicals. In high traffic areas, where additional cleaners are necessary, an automatic floor scrubber that has been equipped with a clean, non-abrasive pad, should be used. Neutralized cleaners are important to clean spills and prevent stains.
Clean Spills Immediately to Prevent Surface Penetration & Stains
Spills can and will result in stains to the polished concrete surface if they are allowed to remain on the floor for an extended period of time, especially if the spill contains any liquid that is acidic, caustic, or citric. These types of liquids can cause surface etching if they are left on the floor for too long so it's important to clean spills as they occur.
Professional Maintenance Solutions for Polished Concrete Floors
When daily cleaning doesn't seem to be bringing your polished concrete floors back to their previous luster professional maintenance may be required. This is especially true if your floors have stains or if there are areas of the floor that have had liquid left sitting on them where the surface has now been etched. Restoration becomes an important consideration at this point.
Professional concrete flooring specialists use water-based floor stripping agents to clean away dirt and debris in order to begin the restoration process required to bring polished concrete floors back to their original beauty. Specialty cleaners can restore floor color and shine while floor protectants help to guard the surface from staining.
Stain protectors and densifiers are used to seal the surface in the final polishing restoration step. Different floor maintenance products are used based on the desired benefits with a focus on improving shine, surface performance, wear resistance, and weathering. Surface protectants also help to prevent etching from acidic spills or water-based stains.
Learning how to maintain a polished concrete floor is something that really takes time and patience for a new concrete floor owner. Most maintenance is achieved by the property owner, through daily upkeep and simple cleaning to prevent stripping or damage to the floor surface. However, as foot traffic and weathering occur, polished concrete floors will require professional maintenance in addition to the day-to-day cleaning. As discussed, the actual amount, type, and frequency of maintenance is dependent on the amount and type of traffic that the floor endures.