Warehouses are busy places. With forklifts and other heavy machinery and equipment zipping around, it's no wonder that the flooring can take a beating. For that reason, warehouses need sturdy and highly-durable floors that can withstand such strain with minimal maintenance.
Concrete floors, especially polished ones, are the optimum solution for a warehouse flooring installation. They're resistant to many factors and offer high safety measures for all warehouse workers.
Here are 11 reasons Polished Concrete Floors are a better solution for your warehouse:

No More Dusting Caused by Efflorescence
When water is left to evaporate off unpolished concrete, it leaves behind water-soluble salts that look like white powder or dust. This process is called efflorescence, which later leads to dusting. Dusting causes the delamination of epoxies, toppings, and other coatings and sealants from the concrete floor. Maintenance can be costly when this happens.
Meanwhile, Polished Concrete warehouses do not have that problem. Since the floor coating does not need additional toppings, you won't risk delamination or incurring extra maintenance costs.

By densifying the surface, polishing concrete transforms a porous floor into a tightened dense surface. This process prevents any oils or contaminants from penetrating and staining the floor, which makes your warehouse flooring stain and chemical-resistant.

When polishing concrete, the surface is densified because polishing fills in the pores of the slab. Densifying the slab provides greater strength and abrasion resistance. Even for old, deteriorating surfaces, polishing helps strengthen it by removing any patchy, partial, or whole coatings and hardening the exposed slab beneath.
Doing this process will increase the surface's high-grade impact resistance and make it suitable to withstand the heavy traffic of a busy warehouse.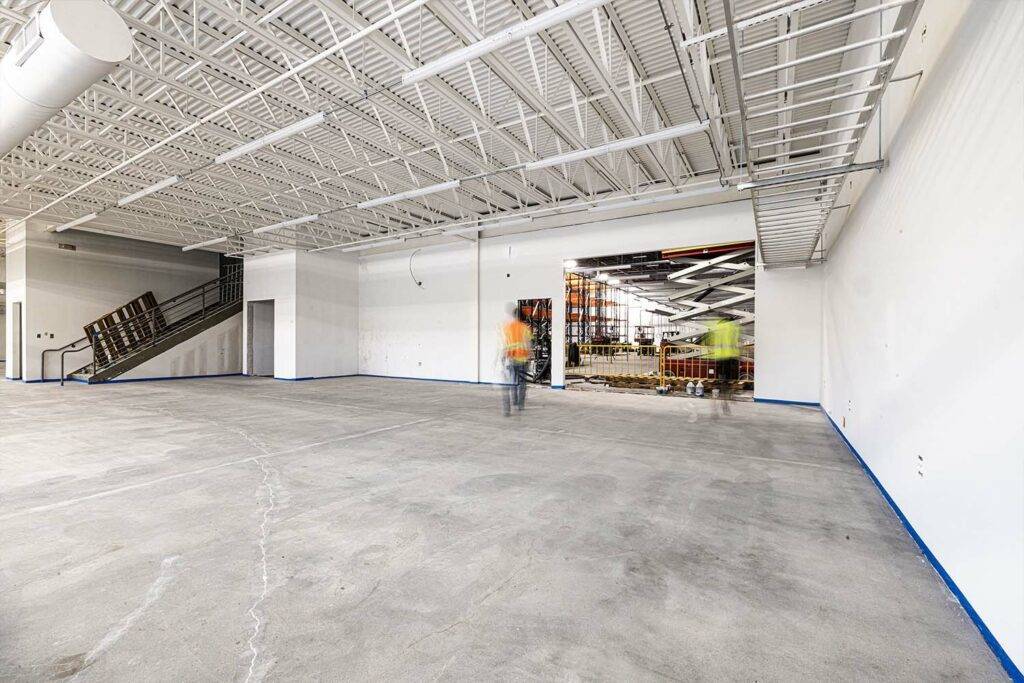 Improve the Property's Overall Lighting
One of the underrated advantages of polished concrete for a warehouse floor, or any other industrial floor, is how it improves the place's lighting. Its reflectivity increases the site's ambient lighting, which will ultimately reduce your energy bill and make your facility look bright and cheerful.

Polished concrete is the perfect option for floors that are smooth and shiny yet safe and not slippery. The benefits of mechanically grinding and polishing the floor will increase friction when compared to other toppings and sealants. Consequently, having more friction offers higher safety measures for all warehouse workers.

Warehouses are places where heavy machinery and equipment are frequently moving around. Polishing concrete for warehouse flooring allows it to resist tire marks from forklift trucks, vehicles, industrial hoppers, and parts baskets. Tire marks are permanent with other floor systems until the floor is completely repaired.
These marks are unavoidable on other surfaces because when a forklift burns out on a coated floor, the friction caused between its tire and the surface leaves a mark. This does not occur on a polished concrete warehouse floor as there is no resin or floor coating to burn.

Less Fork Truck Tire Wear and Tear
In heavy industrial facilities, rough and uneven surfaces can cause forklift tires to wear out quickly. Most concrete floors have small "curling" joints when the slabs bow upward on the edges during the curing process. Polishing will level uneven joints and make the entire warehouse floor smooth. A smooth, even warehouse floor means a longer lifetime for the tires.

Most flooring systems, like tile and vinyl, require aggressive scrubbing to maintain a clean, hygienic environment and an attractive appearance. Polished Concrete surfaces are tightly compacted, reducing stains and dirt spots. The floors also do not require any waxing or stripping to maintain their sheen, making them an optimal option for a warehouse floor.

They are an overall cost-efficient option for warehouse flooring since they require minimal maintenance, reduce tire wear, and due to their floor coating, also emit ambient lighting increasing the total efficiency score compared to other flooring systems.

No Production/Plant Shutdowns
You can put polished warehouse floors into service right after installation. Since the process is relatively clean and includes no toxic or hazardous chemicals, these floors can be functional while the plant is up and working.

LEED stands for Leadership in Energy and Environmental Design, a worldwide green building certification program. Polishing could utilize existing concrete surfaces, eliminating additional materials like coatings and coverings, and promoting sustainable building. It also contains no VOCs, aka Volatile Organic Compounds, making it eco-friendly and LEED-friendly.
Frequently Asked Questions about Warehouse Flooring
What is the best flooring for a warehouse?
Concrete polishing and epoxy floor coating are two standout options for storage warehouses and other industrial & commercial facilities. This is due to their even surface and high durability for heavy traffic. You can combine additional options, such as polyaspartic, with epoxy coatings to maximize its high performance.
How do you seal a concrete warehouse floor?
There are a few options when it comes to sealing an industrial warehouse. First, you can use a densifier to polish the floors and protect them from oil stains and foot traffic. You can also use a penetrating oil-repellent sealer. And last but not least, you can use industry-level warehouse floor coatings such as epoxy coating.
What is the floor of a warehouse made of?
Concrete is typically the most used material for warehouse floors because it's durable and cost-effective. But keep in mind that untreated concrete, although durable and inexpensive, has a problem with its porosity, so polishing it, is crucial.
What is the best finish for a concrete floor?
Epoxy flooring and polyurethane coatings are both high-performance warehouse floor coatings. They are known for their hardness, high-grade durability, and impact resistance, which is why they are the most popular options for warehouse floor coating. Both floor coatings will provide chemical resistance and overall durability for warehouse floors.